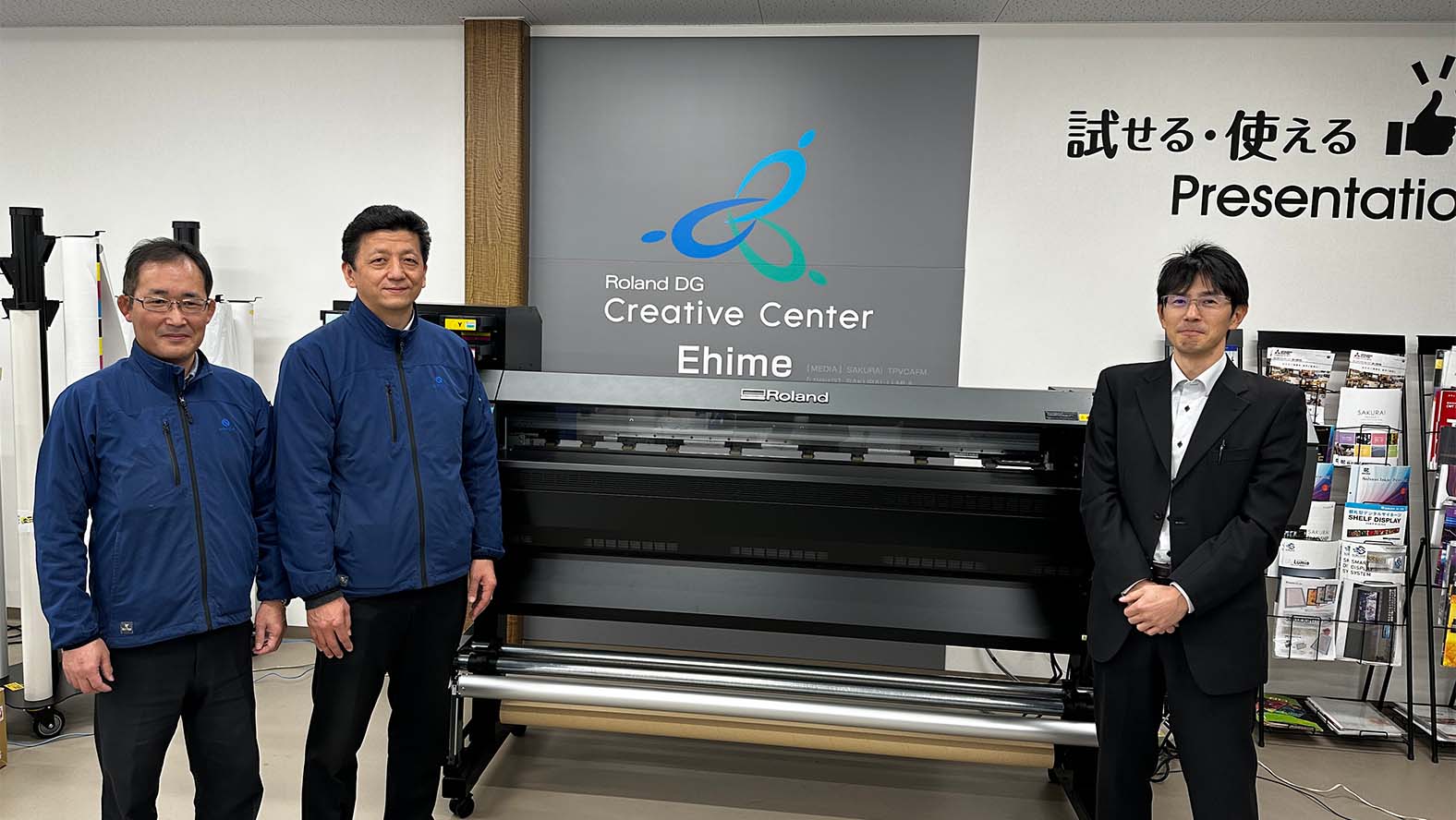 Nishida Paint Receives the First TrueVIS AP-640 Resin Printer
02/20/2023 Digital Printing
We delivered our first TrueVIS AP-640 resin printer, which was released on January 26, 2023, to Nishida Paint company, a valued customer and dealer who has been a long-time supporter of Roland DG. We had the opportunity to speak with the company's Senior Managing Director Nishida (center in photo), Division Manager Horikawa (left in photo), and the printer operator and get their feedback.
To commemorate the first delivery of the AP-640, Ryo Baba (right in photo), the printer's development producer, was also present to assist and test the printer's usability during the installation.
Long-standing relationship predates Roland DG's first inkjet printer
Nishida Paint, located in Matsuyama City, Ehime Prefecture, Japan, is primarily engaged in the sale of various paints and related products, including building materials, as well as materials for signs and displays. Our relationship with Nishida Paint began before the release of our first aqueous inkjet printer, the CJ-70, when we were mainly manufacturing cutting machines. Over the years, they have used several generations of inkjet printers, including the CJ-70 and the first eco-solvent inkjet printer, the SC-500. They are a valuable business partner who has supported our growth and development for a long time. In 2019, they opened the Roland DG Creative Center in Ehime as one of 12 creative partners nationwide in Japan.
Even though they sell Roland DG products, they also own and sell products from other manufacturers, and sometimes offer urgent print services when customers' printers malfunction.
VG3-640 eco-solvent inkjet printer also installed at the end of January 2023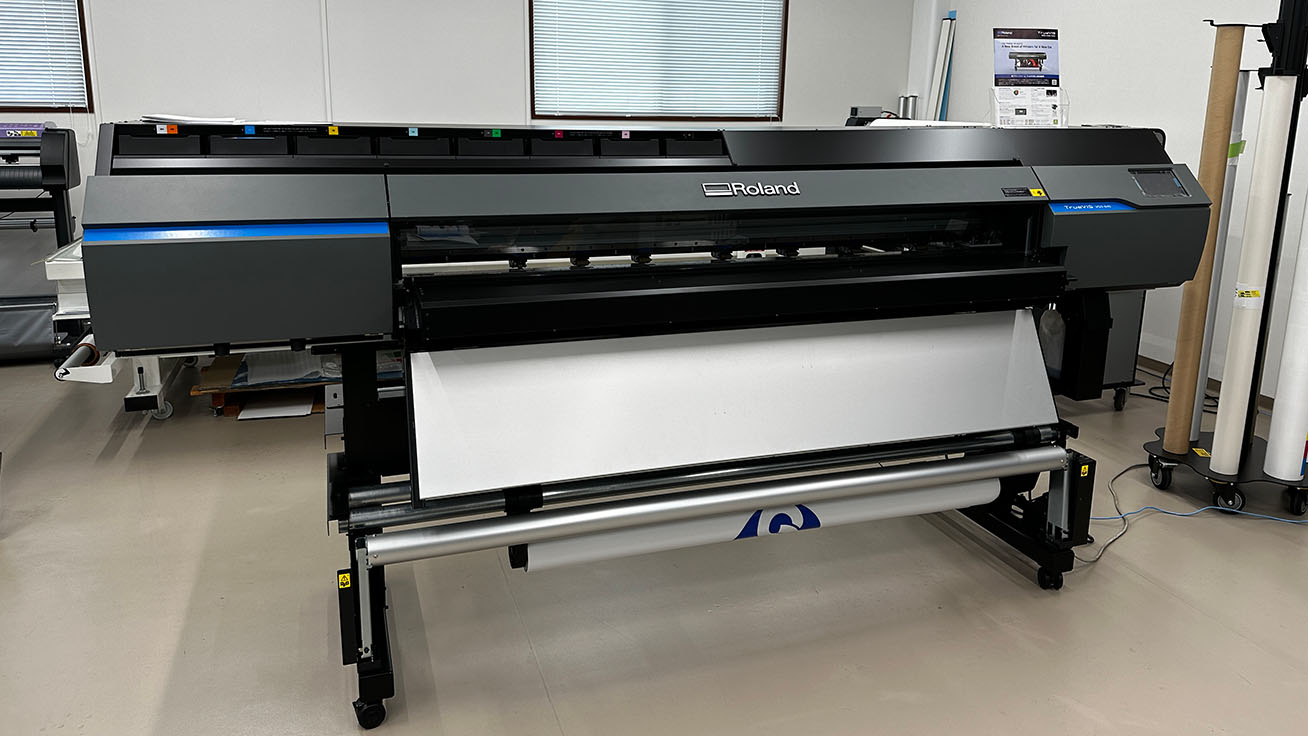 TrueVIS VG3-640 eco-solvent inkjet printer was also added in the end of January 2023.
Roland DG: What kind of business do you operate using our products?
Nishida: As the chemical sales department, we primarily focus on selling and providing print-on-demand services using Roland DG products. We own multiple Roland DG products for demonstrating their capabilities to our clients and to provide print services. Many of our clients are loyal fans of Roland DG's products due to their user-friendly interface and versatile functionality. We also ensure that we establish a solid support system and provide top-quality maintenance services to avoid customer dissatisfaction. Our sales team is comprised of operators with printing experience who have a thorough understanding of the strengths and limitations of the products. We believe that this approach is apparent to our customers. Although 54-inch (approx. 1,300 mm) printers are standard in Japan, we decided on a 64-inch printer to accommodate printing wider materials of up to around 1,600 mm, which cannot be achieved using a 54-inch printer. This is a unique selling point that sets us apart from other businesses in our industry.
How do you feel after using our successive products for so many years?
Roland DG products have a significant advantage over those of other manufacturers in terms of high operating rates due to quick startup and ease of use as well as user-friendly RIP software*. The VG3 series features an improved operation panel with a color LCD for more intuitive use. We also highly appreciate the ability to print and cut, which allows for immediate cutting after printing. Although some prefer to do them separately, the benefits of being able to do them together are greater.
We have previously raised issues we wanted to improve, and we have the impression that Roland DG is constantly striving to improve its products.
We also have multiple products from other manufacturers, so we use them based on the characteristics of each product for printing data.
* RIP stands for Raster Image Processor, which is a device or software that converts data created in various applications into forms suitable for printing.
Early adoption of AP-640 resin printer despite solvent dominance in Japan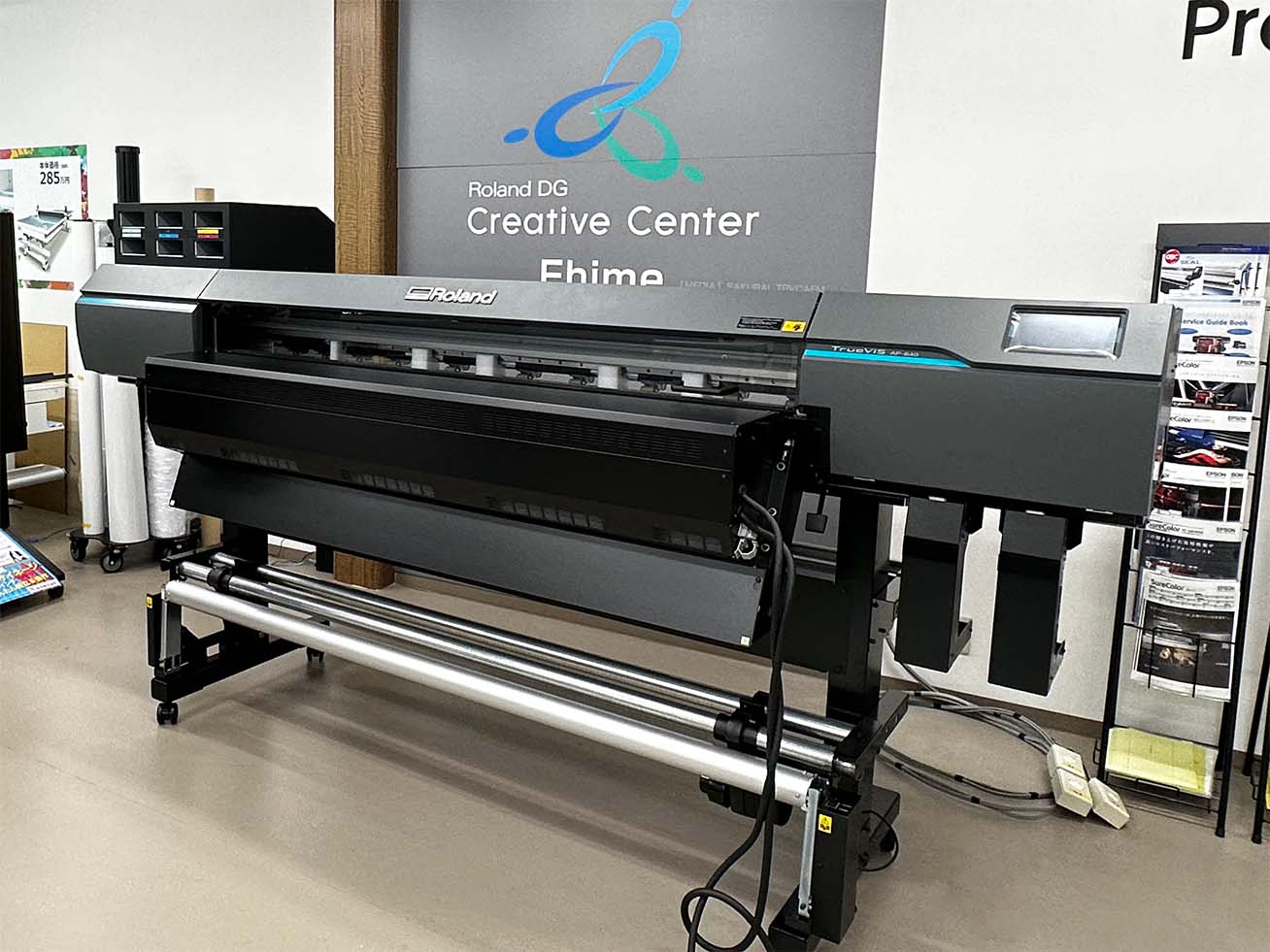 What were the initial impressions and reasons for adopting the AP-640 at the time of its release?
When I heard that a resin printer was coming out from Roland DG, I thought, "Finally!" I had a gut feeling that it would be good and had high expectations. I had been receiving more requests for wallpaper printing jobs and was actually considering other manufacturers' aqueous printers at the time. I tried to print the data which was difficult to reproduce with printers in the past, but the AP-640 delivered flawless solid color. I was amazed at the quality of the colors, which looked as if they were printed by an eco-solvent printer and I couldn't believe it was reproduced by a 4-color CMYK model. After seeing the actual product and witnessing the high speed of printing and the printing quality of solid black color, I made my decision immediately.
How do you plan to utilize the resin printer in the future?
We anticipate utilizing the AP-640 for printing items with short lead times due to its fast-printing speed. Resin printers offer several advantages over eco-solvent printers, such as not requiring drying time which reduces the time burden on printing operators in case of reprints. As I mentioned earlier, we are seeing an increase in requests for wallpaper printing for seasonal store decorations and we plan to focus on this area. We would like to recommend resin printers to our customers due to their low environmental impact.
Nishida Paint's vision for the future
What are your plans for the future of your company?
We will be hosting an exhibition on February 21-22 for our customers where we plan to provide a wealth of useful information utilizing the Creative Center.
Please check out Nishida Paint's website and social media for more information. (Japanese text only)
Website: http://www.nishidatoryou.co.jp/
Instagram: https://www.instagram.com/nishidatoryou_kasei/
Facebook: https://www.facebook.com/profile.php?id=100077651340087
Thank you very much for the interesting talk and insight.
By standardizing the structure of our printers on a common platform, service engineers can better understand the assembly procedures during delivery and installation, reducing their workload. This has led to a reduction in delivery and installation time, which ultimately shortens our customers' downtime. We are also working on standardizing operability between printers. Additionally, we will continue to pursue product development that prioritizes user-friendliness, ensuring satisfaction for those who use them.