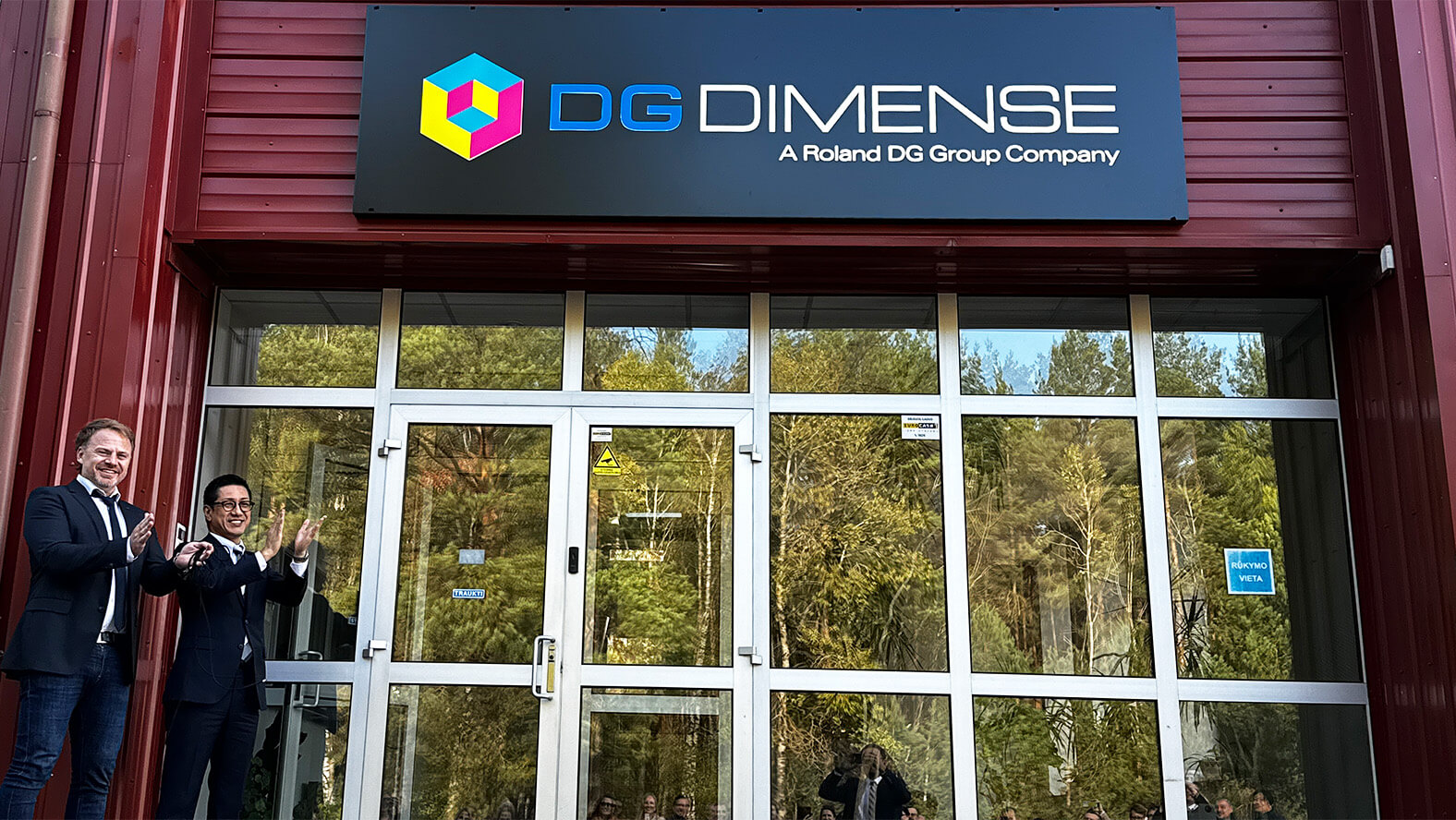 Establishment of UAB DG DIMENSE
10/12/2023 Corporate Activities, Digital Printing
We are thrilled to announce that we have officially acquired the stock of UAB Dimense print as of October 4, 2023 (Lithuanian time). Simultaneously, the company's name has been officially changed to UAB DG DIMENSE. A founding ceremony was held at Vilnius University Botanical Garden on October 6, attended by numerous guests, including executives from Japan.
Related Press Releases
Announcement Regarding Acquisition of UAB Dimense print (Lithuania) Shares
Establishment of UAB DG DIMENSE, Starting Operations as a Roland DG Group Company
Foundation ceremony
At the foundation ceremony, a warm welcome and greetings were extended to the DG DIMENSE employees by Roland DG's President Tanabe. He expressed gratitude and anticipation for the synergy between the two companies, reflecting on the excitement he felt when he first encountered DIMENSE™ products. He acknowledged the challenges faced, such as those posed by the pandemic, and expressed gratitude for the collaboration opportunity. Following this, Aleksey, the newly appointed CEO of DG DIMENSE, expressed gratitude to the guests and participants. Aleksey emphasized the honor of becoming a part of the Roland DG Group, highlighting the synergy resulting from the integration of both companies' technical prowess and sales capabilities which aim to amaze the world with "WOW!"
Exchange of commemorative gifts and guest speeches
The ceremony included a signing session and an exchange of commemorative gifts between Tanabe and Aleksey. Our gift to DG DIMENSE featured traditional Japanese lacquerware with a design symbolizing the changing seasons with cherry blossoms and autumn leaves signifying eternal prosperity and good fortune. In return, DG DIMENSE presented us with a traditional Lithuanian sash, symbolizing unity and the enduring bond between us.
During the event, we had the honor of inviting Ambassador Ozaki from the Embassy of Japan in Lithuania, who delivered a congratulatory speech. Ambassador Ozaki expressed his admiration for our event and the fusion of Japanese and Lithuanian technologies aligning with Roland DG Group's purpose of "To Empower Creativity and Excitement Worldwide."
(Featured on the official facebook of the Embassy of Japan in Lithuania.)
Messages from Roland DG Group employees
Subsequently, the new organizational structure and officers of DG DIMENSE were announced, followed by the presentation of commemorative gifts. Each employee was individually recognized and presented commemorative gifts by Tanabe and Aleksey. Tanabe offered Roland DG Group badges, lacquerware accessories engraved with the event date and DG DIMENSE's logo, and traditional eel pies from Hamamatsu, a local sweet. Aleksey presented new company ID cards, straps, commemorative notebooks, letterheads, and more. The heartfelt joy and bright smiles of the employees as they were called forward, many of whom immediately displayed the Roland DG Group emblem, added to the warmth of the atmosphere.
Following this, we screened a heartfelt message video created by all Roland DG Group employees, including overseas subsidiaries, welcoming DG DIMENSE with enthusiasm. The emotional response from DG DIMENSE's employees included tears of appreciation.
Commemorative tree planting
Although uncommon in Lithuania, a commemorative tree planting ceremony was held in line with Japanese corporate traditions. A maple tree, a beloved symbol in Japan for centuries, was planted in the Japanese garden of Vilnius University Botanical Garden, representing eternal prosperity and good fortune. We hope it thrives despite Lithuania's harsh winters.
Returning to the venue, an explanation of our future direction was presented.
Sake barrel breaking ceremony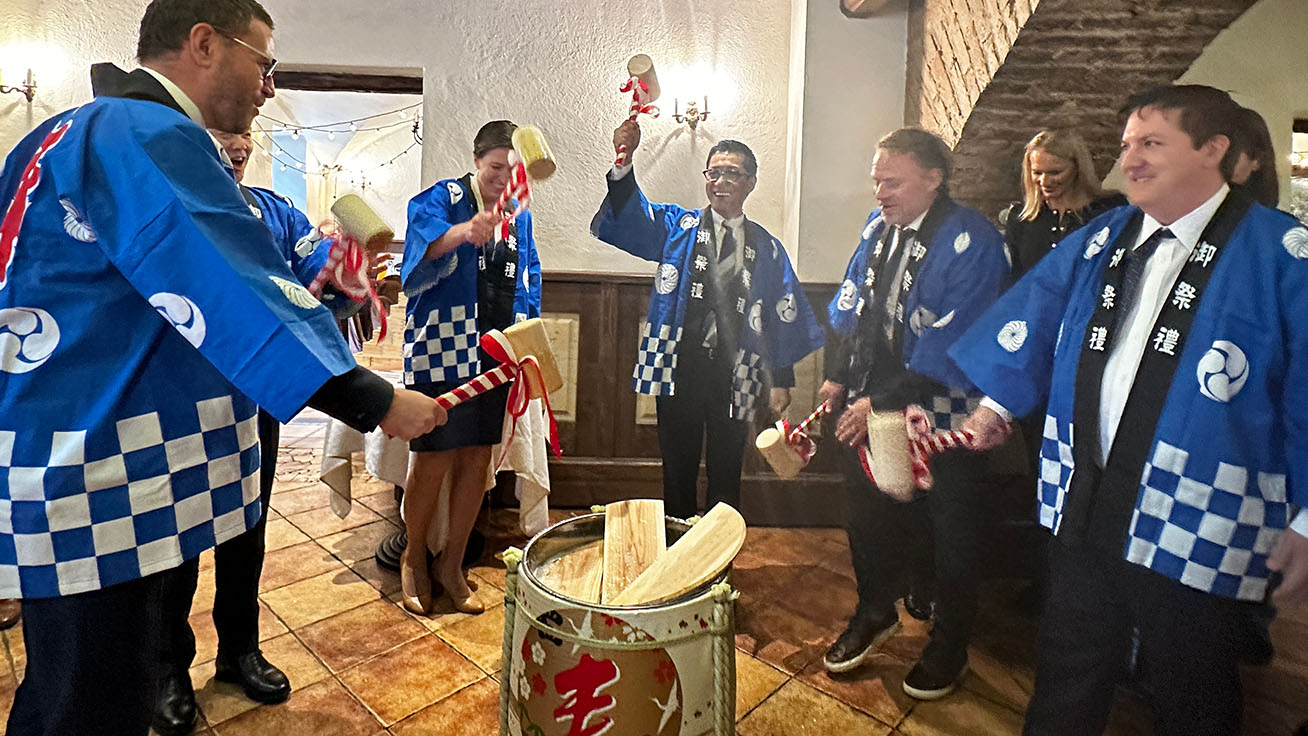 After the strategy briefing, we hosted a lunch party. To infuse the event with a touch of Japanese tradition, we sent "Kagamibiraki" sake barrel opening paraphernalia from Japan in advance. With a resounding chorus of "DG DIMENSE!" from all attendees, we successfully performed the Kagamibiraki ceremony. DG DIMENSE's employees who were experiencing this for the first time, greatly enjoyed the ceremony. Locally sourced Japanese sake was well received, and we also presented each employee with a square wooden sake cup engraved with DG DIMENSE's new logo.
Ceremony of unveiling the signboard
After the lunch party, we boarded a double-decker bus and returned to DG DIMENSE's office for the unveiling of the company's signboard. With a resounding cry of "DG DIMENSE!" from everyone, the curtain was drawn, and cheers and applause filled the air. The striking signboard, visible even from a distance, was proudly displayed.
Throughout the day, the bright smiles of DG DIMENSE employees, their genuine enjoyment of the event, and their hopeful attitude toward their new roles infused us with tremendous energy.
Moving forward, Roland DG and DG DIMENSE will strive to be a unique and exciting business partnership worldwide, delivering creativity and excitement to amaze the world with "WOW!" beyond just delivering products.