Product News
03/09/2004
Roland DG Corporation
Roland Improves Successful METAZA Photo Impact Printer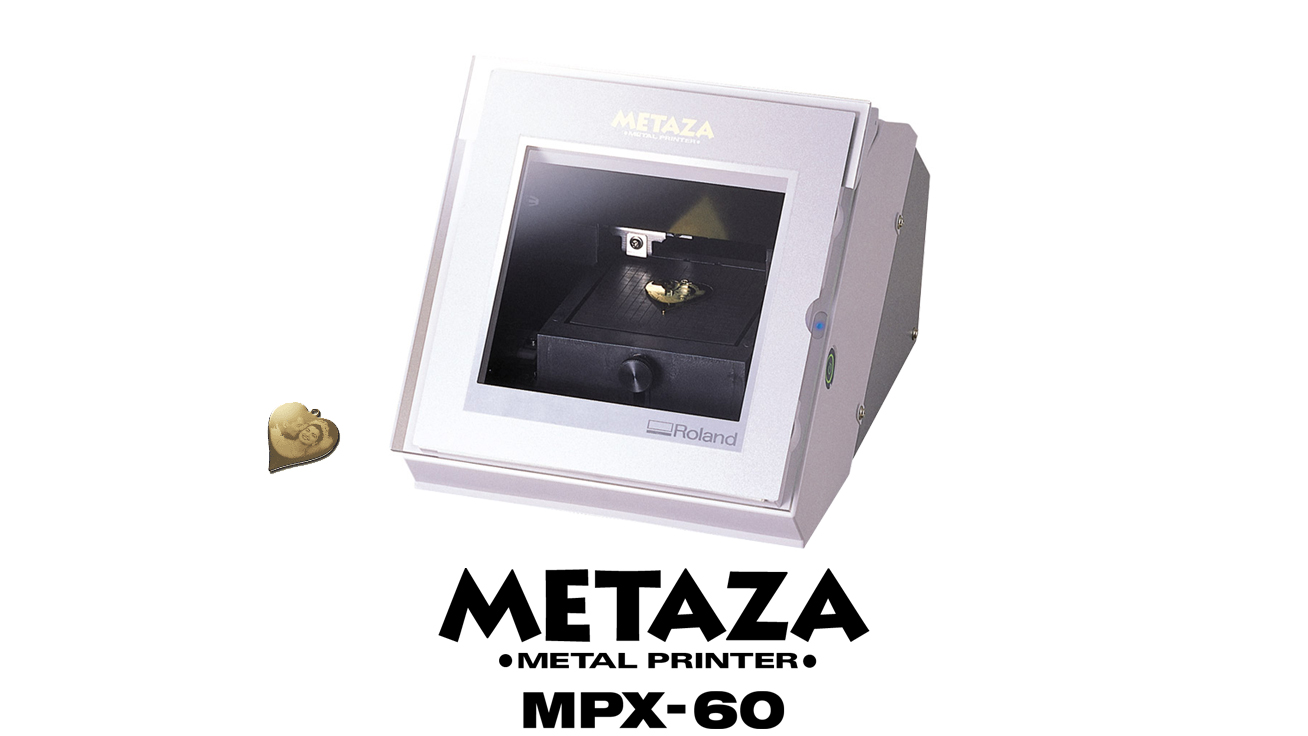 Hamamatsu, Japan, March 9, 2004 – Roland DG Corporation, a worldwide leader of digital solutions for transforming your imagination into reality, today introduced a new generation of METAZA desktop Photo Impact Printers with improved quality and ease of use.
Like the original, highly successful METAZA Photo Impact Printer, the MPX-60 uses a diamond-tipped stylus to permanently imprint graphics and text into metals and acrylics for attractive gifts, awards and mementos. "This unique stippling technology removes no material and operates quietly, making it ideal for jewelry stores and mall kiosks," said M. Osamura, Roland DG Marketing Manager. "As the only Photo Impact Printer on the market," he continued, "it represents the fastest and easiest way to personalize jewelry, pendants, tags and awards."
MPX-60 features
‐ Easy imprinting of photos and text on metals and acrylic.
‐ USB port for fast and easy setup and operation
‐ Able to handle multiple imprinting jobs simultaneously by connecting more than one METAZA to a PC
‐ Bundled Dr. METAZA 2 software lets you remove backgrounds and rotate images.
‐ Reads image data in JPEG or BMP formats as well as from digital camera or TWAIN-32-compatible scanners.
‐ Compact footprint easily fits on a small counter
The new USB port makes setting up the METAZA as easy as a desktop printer. Dr. METAZA2 photo-imprinting software allows even first-time users to begin editing images and adding text, frames and borders immediately. With the new version, users can quickly remove backgrounds and rotate images. The software imports data files in JPEG or BMP format and also accepts data from digital cameras and TWAIN_32-compatible scanners.
With its compact footprint, the METAZA MPX-60 fits on any small desk and works with desktop and notebook PCs running Windows® 98SE or later. It imprints on flat gold, silver, platinum, brass, copper, aluminum, and stainless steel as well as acrylic up to 90 mm long x 90 mm wide x 20mm thick (3.54" x 3.54" x 0.78") with a maximum printing area of 80 mm x 80 mm (3.14" x 3.14").
Roland DG Corporation (TSE symbol 6789) - First Section, Tokyo Stock Exchange
Phone: +81 (0)53-484-1201 / Fax: +81 (0)53-484-1216