Product News
09/01/2004
Roland DG Corporation
New, Larger VersaCAMM Speeds Up Production Workflow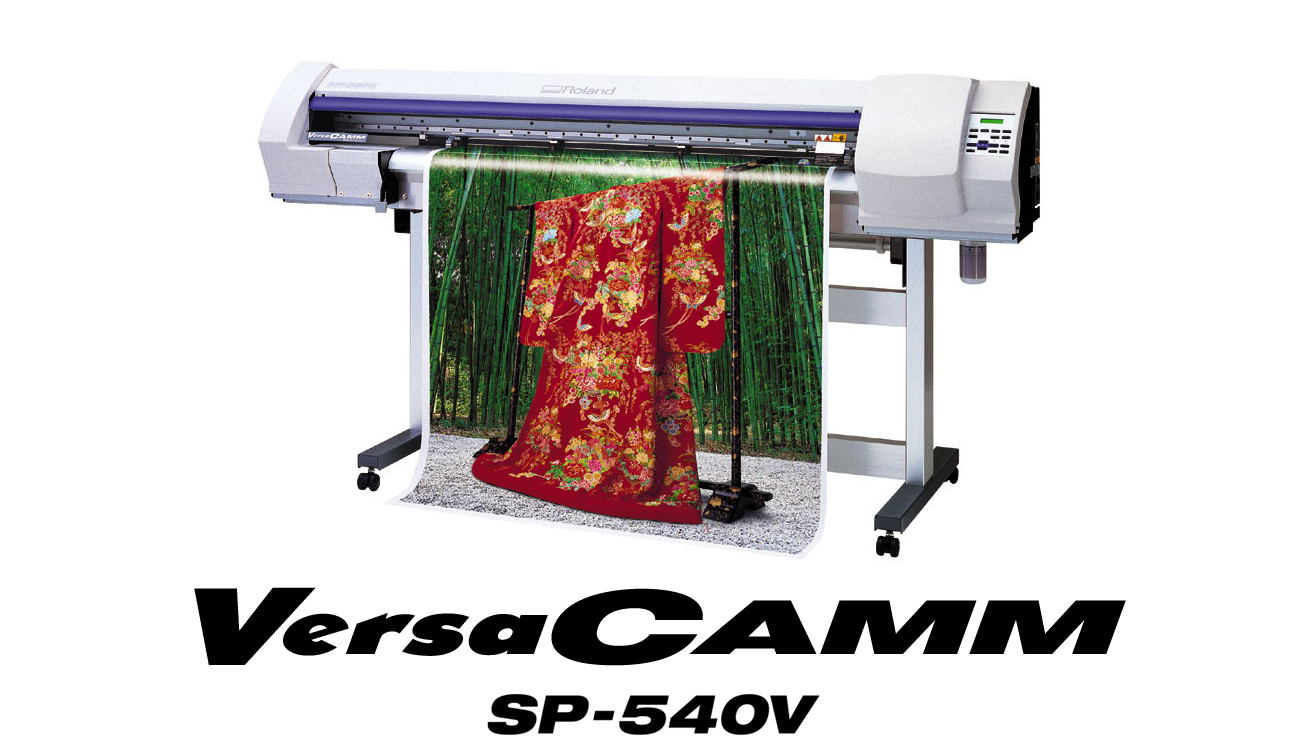 Hamamatsu, Japan, September 1, 2004 – Roland DG Corporation today introduced the VersaCAMM SP-540V, a 4-color, 54" wide ECO-SOL INK printer/cutter.
"The 30" VersaCAMM SP-300 quickly became a best seller all over the world as it lowered the price/performance threshold for businesses using digital inkjet printing technology," said A. Suzaki, Roland DG Color Product Manager. "Very soon, however, voices began calling for a wider and faster VersaCAMM. We responded by producing a second VersaCAMM inkjet model. The SP-540V is everything the SP-300 is and more. It prints up to 10.6 m2/h (114 sqft/hr) at 360 dpi and is even easier to use for those who desire professional printing and precision contour cutting in a single, simple-to-operate device."
Included with the SP-540V is a revolutionary new software RIP. After reviewing all the current RIPs available, Roland developed Roland VersaWorks" exclusively for the SP-540V.
"Even those unfamiliar with RIPs will find VersaWorks easy-to-use with its drag-and-drop capabilities and its at-a-glance screen with icons," Suzaki said. "Everything you want to know is visible on the screen without clicking menus."
VersaWorks includes precision color management to faithfully reproduce color and astonishingly fine details. Before printing, you are able to preview your color adjustments on screen and take advantage of a wide variety of layout functions, such as nesting and tiling, to reduce ink and media consumption. VersaWorks is built upon a genuine Adobe® PostScript®3™ engine to provide reliably smooth output production.
SP-540V Features
‐ Able to print on uncoated PVC media as well as a full range of coated substrates, from paper and canvas to backlit film
‐ Graphics are UV, scratch, and water resistant up to 3-years outdoors*1
‐ Outstanding print quality with variable droplet technology and up to 1440 dpi resolution
‐ Additional Add-On Pinch Rollers to ensure precision feeding and quality output on heavyweight media
‐ Performs as printer, printer/cutter, or standalone vinyl cutter
‐ Requires no expensive die cutter for decal production
‐ Roland VersaWorks™ software RIP provides total color management and contour-cutting capability with user-friendly operation
‐ VersaWorks includes a genuine Adobe® Postscript®3™ engine and is able to import a wide variety of file formats including PDF1.5 (Acrobat 6.x compatibility)
‐ Quadralign®, Roland's unique optical registration system, enables precision contour cutting of laminated graphics, even with skew and distortion.*2
‐ ECO-SOL INK is gentle for both users and the environment, requiring no expensive ventilation equipment
‐ Meets ENERGY STAR® guidelines*3
*1 Three years outdoor durability is based on accelerated weather tests conducted by Roland DG. Results may vary depending upon location and application.
*2 A large amount of distortion or poor reloading may affect contour cutting results.
*3 As an ENERGY STAR® partner, Roland DG Corporation has determined that this product meets the ENERGY STAR guidelines for energy efficiency. ENERGY STAR is a U.S. registered mark.
Roland DG Corporation (TSE symbol 6789) - First Section, Tokyo Stock Exchange
Phone: +81 (0)53-484-1201 / Fax: +81 (0)53-484-1216