Product News
09/26/2005
Roland DG Corporation
Roland Introduces New Photo Impact Printer MPX-70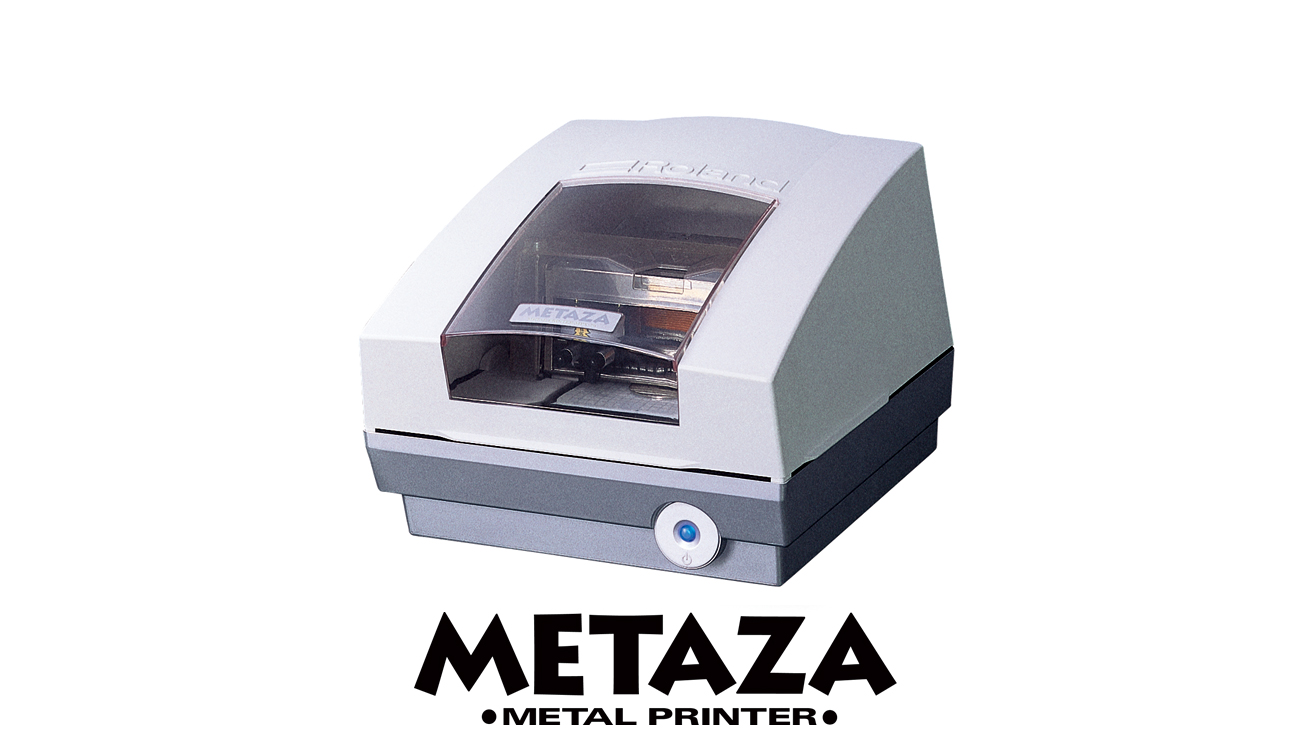 All-new MPX-70 Features Twice the Resolution and Three Times the Speed of the MPX-60
Hamamatsu, Japan, September 26, 2005 – Roland DG Corporation, a pioneer in the photo marking industry, today introduced the new METAZA MPX-70, the latest in the METAZA series of photo impact printers and a powerful production tool for creating custom, personalized mementos out of hard acrylic and metal surfaces including gold, silver, platinum, stainless steel, brass and aluminum.
Roland's original METAZA photo impact printer was introduced in 2000 as the world's first device to permanently imprint photos on jewelry and other flat items. The MPX-70 represents the third generation of advanced METAZA technology and has been enhanced with twice the resolution and three times the speed of its predecessor, the MPX-60.
"The MPX-70 is our fastest, most precise METAZA to date," said Toshi Yahiro, Roland DG 3D Product Manager. "We are proud to introduce this state-of-the-art innovation into the rapidly expanding photo marking market. Since its introduction, thousands of METAZA units have been sold, helping entrepreneurs worldwide launch profitable METAZA businesses with a low initial investment — and often with no previous industry experience."
The MPX-70 is as easy to setup and use as a desktop printer and customizes eye-catching pendants in less than six minutes. With a maximum resolution of 529 dpi, the MPX-70 offers the resolution required to accurately reproduce even the most delicate gradations, lines and text. It personalizes objects up to 90mm x 90mm x 20mm (3.54" x 3.54" x 0.78") and is compact enough to fit on a small desk with a standard desktop or notebook PC running Windows® 98SE or later.
The MPX-70's advanced carbide-tipped stylus cartridge helps ensure quality output and smooth, uninterrupted operation. The cartridge contains nine tips and is designed to automatically replace tips as needed. Empty cartridges are easy to replace as well.
MPX-70 Features:
- Ideal for jewelry and gift stores, mall kiosks and photo labs
- Quickly transforms pendants, key rings, lighters and ornaments into heirlooms by adding professional-quality photos, names and messages
- Personalizes pendants in less than six minutes
- Achieves resolutions of up to 529 dpi
- Operates like a printer and requires no special training
- Minimal investment required to start a METAZA business and to quickly generate a substantial profit
- Includes easy-to-use Dr. METAZA2 design software
- Equipped with a standard USB port for easy setup
- Compact footprint accommodates small work spaces
- Easy-to-replace carbide-tipped stylus cartridges
Photo marking with METAZA in three simple steps:
1.Import an image into your PC from a digital camera, cell phone, scanner or other compatible device.
2.Design your image with the Dr. METAZA2 software included.
3.Position the item to be personalized on the METAZA and imprint it.
Bundled Dr. METAZA2 photo editing software makes it easy to manage images and add text, frames and borders. It even allows users to remove backgrounds and rotate text and images. The software imports data files in JPEG or BMP format and accepts data from digital cameras and scanners (TWAIN-32 compatible). No other program is needed.
Roland DG Corporation (TSE symbol 6789) - First Section, Tokyo Stock Exchange
Phone: +81 (0)53-484-1201 / Fax: +81 (0)53-484-1216