Product News
02/18/2010
Roland DG Corporation
Roland's Innovative Imprinting Technology for Personalized Gifts, Industrial Serial Plates and More New METAZA MPX-90 Desktop Impact Engraver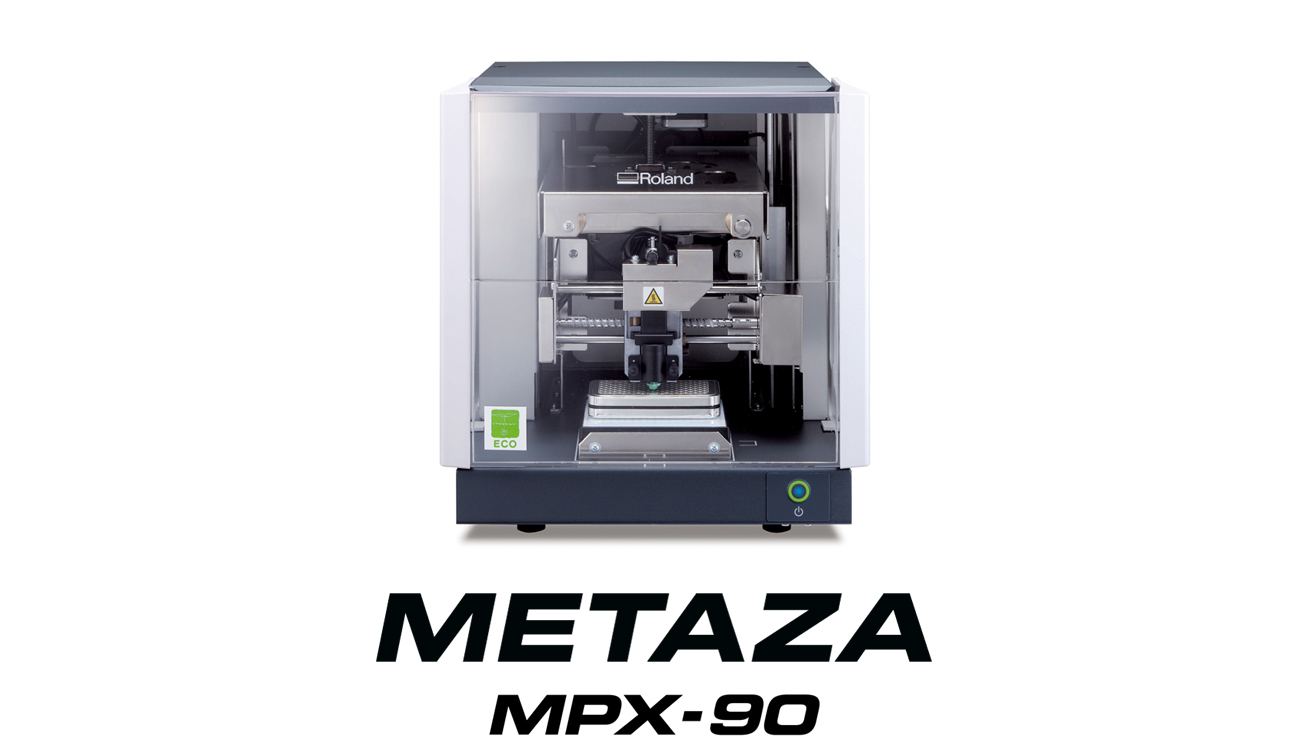 Hamamatsu, Japan, February 18, 2010 – Roland DG Corporation, a worldwide leader of engraving and 3D milling machines, is proud to announce the release of the desktop impact printer METAZA MPX-90. The MPX-90 strikes metallic surfaces with a precision diamond-tipped stylus, reproducing smooth photo gradations, logos and text inscriptions at high speed and pin-sharp accuracy.
"The MPX-90 allows you to permanently inscribe a wide variety of differing shaped and sized items - including products much larger than the work table. So, whatever your personalisation needs, whether it is adding dates and names on a baby's photo frame or engraving a family crest or monogram on silver cutlery as a wedding gift, the MPX-90 has the flexibility and impact power to create an everlasting impression." said Yuri Nagashima, Roland DG 3D product manager. "Furthermore, the MPX-90 uses a durable diamond-tipped stylus, which can clearly imprint text, logos and photos on a broad range of materials and finishes including brushed and textured surface such as oil-filled lighters and stainless steel watch backs" she added. "With the bundled intuitive METAZAStudio design software users can create stunning inscriptions combining photos, illustration and text."
Precision imprinting on a wide variety of metallic materials including iron, stainless steel and titanium, the MPX-90 is also ideal for producing the industrial serial plates or directly marking tooling and components for traceability or security/identification purposes - on demand, and with minimal running costs. The bundled Dr. Engrave software allows users to import variable data such as sequential serial numbers and date codes and quickly output them using the MPX-90. Unlike traditional engravers and laser engraving machines, the MPX-90 allows first-time users to produce perfect results straight away without complex training, extraction or maintenance.
Roland METAZA MPX-90 Features:
‐ The MPX-90 strikes metal surfaces using a precision diamond-tipped stylus to create gradational photo images, illustrations and text.
‐ Imprints precisely and clearly on a wide variety of materials including gold, silver, copper, platinum, brass, aluminium, iron, stainless steel, titanium, nickel, acrylic, as well as surfaced-finished materials, etc.*1
‐ With a work area of 80 mm x 80 mm (3.1" x 3.1"), the MPX-90 accepts items as large as 100 mm (width) x 200 mm (length) x 40 mm (thickness) [3.9"(W) x 7.9"(L) x 1.5"(H)].
‐ The included centre vice securely holds pens and other non-flat items in place.
‐ The MPX-90 does not burn or remove material on impact, providing a clean operation, free of odor and debris. No daily maintenance is required.
‐ Includes easy-to-use software for great results from the very first job, with no special training or engraving skills required.
‐ METAZAStudio design software
‐ Dr. Engrave software for variable data applications
*1 HV hardness of material must be 200 or less. Some shapes cannot be imprinted. Test materials first for best results.
Easy-to-use METAZAStudio Design Software Included
The MPX-90 is a complete solution including everything required to start and run a successful business. METAZAStudio design software accepts artwork, designs and photos from a variety of sources including digital cameras, mobile phones, jpg or bmp files, and common vectored design files such as Adobe ai and eps*2. METAZAStudio supports a wide variety of TrueType fonts and allows users to wrap text around an arched line or contours of a design. METAZAStudio also generates both single-stroke and infilled fonts. METAZAStudio is compatible with Windows® 7 Professional (64bit/32bit), Windows Vista® (32bit) and Windows® XP.
*2. The MPX-90 imports Adobe Illustrator version 7 and 8.
Dr. Engrave software for variable data applications
The MPX-90 included Dr. Engrave software imports Microsoft Excel database files in CSV and text format for variable data applications. With sequential numbering functions, creating serial number plates is a simple task. Dr. Engrave is compatible with Windows® 7 Professional (64bit/32bit), Windows Vista® (32bit) and Windows® 2000/XP.
Roland DG Corporation (TSE symbol 6789) - First Section, Tokyo Stock Exchange
Phone: +81 (0)53-484-1201 / Fax: +81 (0)53-484-1216