Product News
09/24/2013
Roland DG Corporation
Roland Expands VersaUV Line with New Larger Benchtop Flatbed UV Printer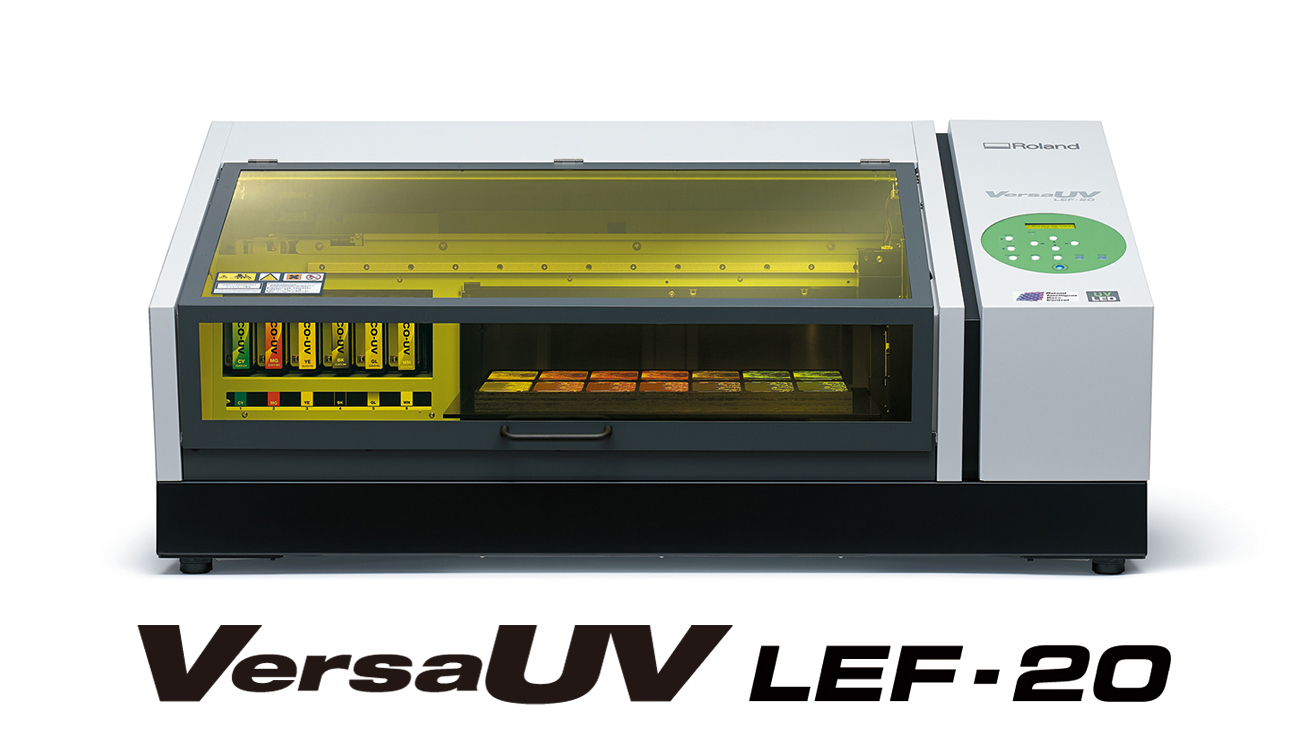 Hamamatsu, Japan, September 24, 2013 – Roland DG Corporation has introduced the VersaUV LEF-20, a new addition to its line of benchtop flatbed UV inkjet printers. At 20 inches wide, the LEF-20 combines award-winning print technology, a new, more powerful LED curing system, advanced ECO-UV inks and optimized print control technology to bring greater productivity, outstanding print quality and ease of use to providers of custom promotional products, giftware and awards, as well as product designers and businesses specializing in UV printed items for the packaging and prototyping markets.
"Since its introduction two years ago, the revolutionary LEF series has opened up new creative possibilities for these businesses, enabling direct printing on a wide variety of solid materials,"said Koji Owada, research and development manager for Roland DG Corporation "Now we have taken this technology to the next level. In addition to expanding the print area, we have introduced a new LED curing system, advanced ECO-UV inks, and optimized print control technology which dramatically increase the LEF's productivity and overall performance."
The LEF-20 prints directly on materials measuring up to 508 mm width, 330 mm length and 100 mm in height. Its powerful UV-LED lamp cures the ink much faster than the previous model,*1 printing at more than twice the speed for CMYK and gloss varnish. Up to 20 different presets are available to store settings for both the print area and height position. With this feature, users can automatically set up the LEF-20 for their most popular jobs, saving valuable time and labor.
The innovative UV-LED lamp cures UV inks instantly and allows users to print directly on a wide variety of substrates, including PET, ABS, polycarbonate, TPU,*2 leather and fabric materials, as well as 3D objects, ranging from golf balls, key chains and pens to metal tablet covers, smart phone cases, awards, and both industrial and consumer products.
The LEF-20 features Roland ECO-UV ink in CMYK, white and clear formulations for wide color gamut, bright, high-opacity white images and text, and premium varnishing and embossing effects. For jobs involving transparent or dark colored materials, the LEF-20 features advanced ECO-UV high-density white ink and optimized print control technology which achieve approximately 40 percent more opacity than the previous model.*1 Clear ECO-UV ink can be layered into interesting patterns and textures in both gloss and matte finishes.
To ensure the ultimate in reliability, the LEF-20 features an enclosed airtight cover to protect the operator from UV light during printing and to prevent dust from settling onto the surface of materials. The flatbed design of the LEF-20 automatically adjusts the distance between the print head and the surface of the material for maximum print quality.
The LEF-20 includes Roland VersaWorks® RIP print management software, which features an intuitive interface for easy operation and job management. Roland VersaWorks® allows the user to choose from generic print mode for printing fine details and distance mode for printing on curved surfaces. Variable data printing is also included, making it easy to personalize printed objects with individualized serial numbers, logos, graphics and names.
*1 Introduced in 2011 as the industry's first desktop UV flatbed printer, the LEF-12 offers a print area of 305 mm width by 280 mm length.
*2 Thermoplastic polyurethane (TPU) is commonly used to produce smart phone cases.
LEF-20 Applications

From left to right: welcome sign, engine ignition switch, photo album and cosmetic packaging prototypes
VersaUV LEF-20 will be showcased at the following events worldwide in 2013
| Date | Exhibition | Area (Official URL) |
| --- | --- | --- |
| 9/24 - 26 | Viscom Paris | Paris, France (http://www.viscom-paris.com) |
| 9/24 - 27 | LABELEXPO EUROPE 2013 | Brussels, Belgium (http://www.labelexpo-europe.com/) |
| 10/2 - 5 | JGAS | Tokyo, Japan (http://www.jgas.jp/en/) |
| 10/3 - 5 | Viscom Italy | Milan, Italy (http://www.visualcommunication.it) |
| 10/8 | Roland Experience Day | Madrid, Spain (http://www.rolanddgi.com/es/events/roland-experience-day) |
| 10/23 - 25 | SGIA | Orlando, FL U.S.A. (http://www.sgia.org/) |
| 10/24 - 27 | IPMEX | Kuala Lumpur, Malaysia (http://www.ipmex.com/) |
| 11/7 - 9 | Viscom Düsseldorf | Düsseldorf, Germany (http://www.viscom-messe.com/) |
| 11/18 - 20 | FESPA China | Shanghai, China (http://www.fespa.com/china/en.html) |
Roland DG Corporation (TSE symbol 6789) - First Section, Tokyo Stock Exchange
Phone: +81 (0)53-484-1201 / Fax: +81 (0)53-484-1216