Product News
10/05/2015
Roland DG Corporation
Roland DG Introduces EUV4 Ink for VersaUV Printers
Hamamatsu, Japan, October 5, 2015 – Roland DG Corporation, a leading worldwide manufacturer of wide-format inkjet printers and 3D devices, announced today that the company has released EUV4 ECO-UV ink developed specifically for use with its VersaUV UV-LED inkjet printers.
ECO-UV ink is cured by exposure to UV light enabling Roland DG VersaUV users to print brilliant color on an exceptionally wide variety of materials, including paper, film, leather, and rigid materials such as polyester, ABS, and acrylic, making it popular for decorating labels and decals, packaging materials and personalized consumer products such as smart phone cases. The addition of clear ink produces unique textures and simulated embossing effects.
The new EUV4 ink features a change in chemistry that reduces odor and the shrinking of thin film materials like BOPP, PE and PET when curing. In addition to a 220 cc cartridge, a new, larger 500 cc cartridge has been introduced in response to user requests (white ink is only available in 220 cc cartridges). According to Yuko Maeda, Roland DG division president of digital printing market development, the larger size not only accommodates less ink cartridge replacements, but the price is more economical, thus allowing for a reduction in running costs.
Roland DG introduced the VersaUV printer series in 2008 as the world's first UV-LED inkjet printer/cutter line. Today, the company provides seven different devices in the VersaUV line, including the LEF-20, a benchtop flatbed printer capable of printing on three-dimensional objects up to 508 mm width, 330 mm length, and 100 mm in height.
EUV4 Ink specifications
- Ideal for extended production runs, EUV4 ink is available in high-volume 500 cc cartridges of CMYK and Clear for the LEJ-640 flatbed and LEC-540/330/300A/300 printer/cutters.
- EUV4 is also available in 220 cc cartridges of CMYK, White and Clear for the LEJ-640 flatbed, LEC-540/330/300A/300 printer/cutters, and LEF-20/12 benchtop flatbed printers.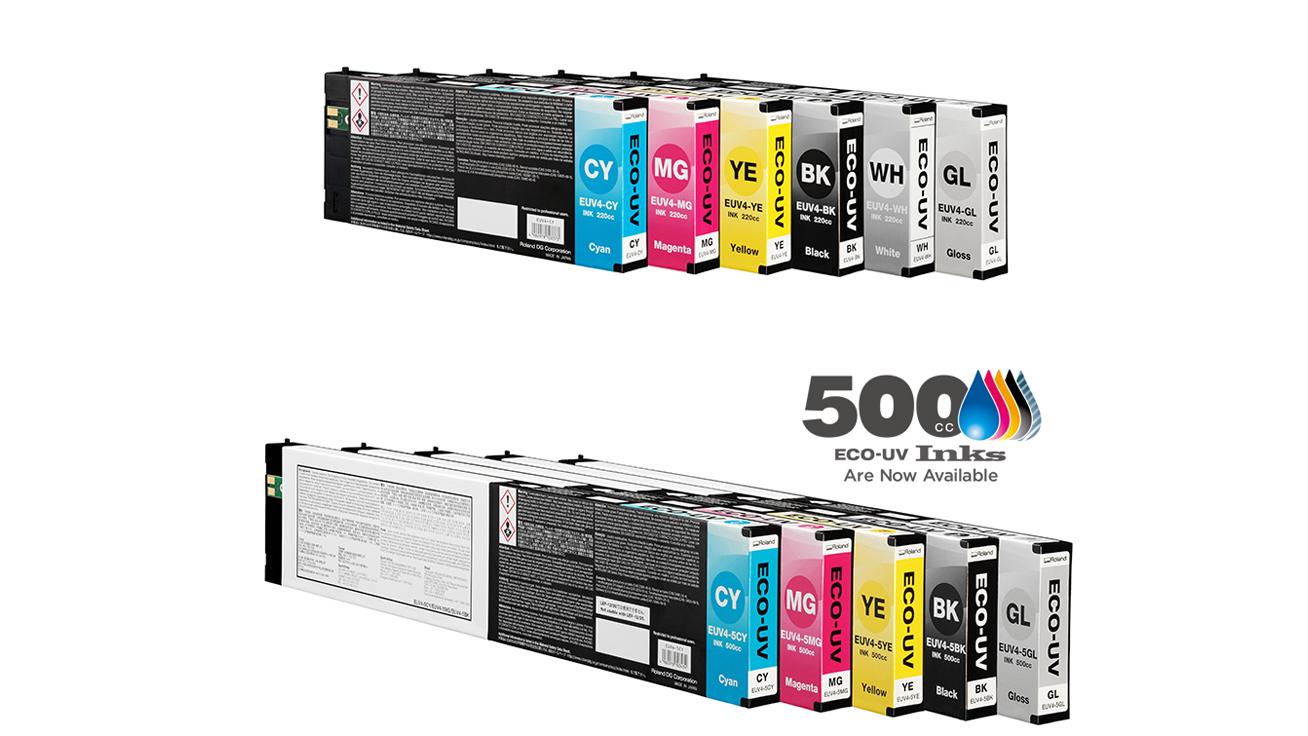 For more information, contact:

Toshiyuki Okino
+81 (0)53-484-1201
E-Mail:rdg-globalpr@rolanddg.co.jp