Corporate News
10/16/2015
Roland DG Corporation
Roland DG to Host Worldwide Competition for its Service Engineers
Hamamatsu, Japan, October 16, 2015 – Roland DG Corporation, a leading manufacturer of wide-format inkjet printers and 3D devices worldwide, announced its Global SE Awards 2015 competition, to be held at its Hamamatsu headquarters from October 20 to 22, 2015, for service engineers (SEs) engaged in the repair and maintenance of Roland DG products.
Following its beginning in 1981, Roland DG established a comprehensive customer services and support capability now called Roland DG Care to ensure that its products continue to perform well for many years, thereby increasing customers' peace of mind and ensuring the smooth operation of their businesses. According to Mr. Takaaki Koshita, general manager of Roland DG technical services, the goal of the Global SE Awards is to recognize SE abilities both regionally and globally and motivate them to raise the standard of Roland DG Care even further. "By providing a series of regional competitions leading up to a final global contest, we will be challenging the knowledge and technical skills SEs have cultivated in their daily work and encouraging them to share their best practices and individual know-how with their peers."
The first Global SE Awards was held in 2013. The second worldwide competition has been expanded to emerging nations and regions, including the Middle East, Africa, Balkans and China. Local competitions were held in 15 locations from February to August of 2015 with 449 certified SEs from 50 countries and regions participating. Based on their performance, 21 finalists were selected to compete for the title of World Champion. The finals will consist of three challenges taking place over two days, including replacing inkjet heads in the company's wide format inkjet printers, repairing broken machines, and taking a comprehensive written exam that tests participants' knowledge of maintenance services.
"Customer service and support are becoming increasingly important," Koshita said, "both in terms of brand differentiation and in order to maintain and enhance customer confidence and peace of mind. Our mission is to provide high-quality, standardized maintenance services throughout the world, including in emerging countries."
Prior to applying for the local competitions, participants must first obtain certification as a Roland DG Care Certified Service Engineer. In order to ensure its customers receive the same high-quality service and support worldwide, Roland DG offers a rigorous training and certification program for its service engineers. To become a certified SE, candidates learn how Roland DG products are built and receive in-depth training on how to carry out product installation, make repairs, conduct inspections and maintenance, and pass both practical and written exams proving that they possess the appropriate knowledge and skills.
"More than simply selecting a Champion," Koshita said, "we are emphasizing the sharing of SEs' respective know-how, together with producing a climate and culture conducive to providing high-quality services throughout Roland DG as a whole. At present, we are preparing an online system for SEs to share information and help one another when they face difficulties. By combining the Global SE Awards and online systems, we intend to build a world class customer service and support system second to none."
SE Awards of the World 2013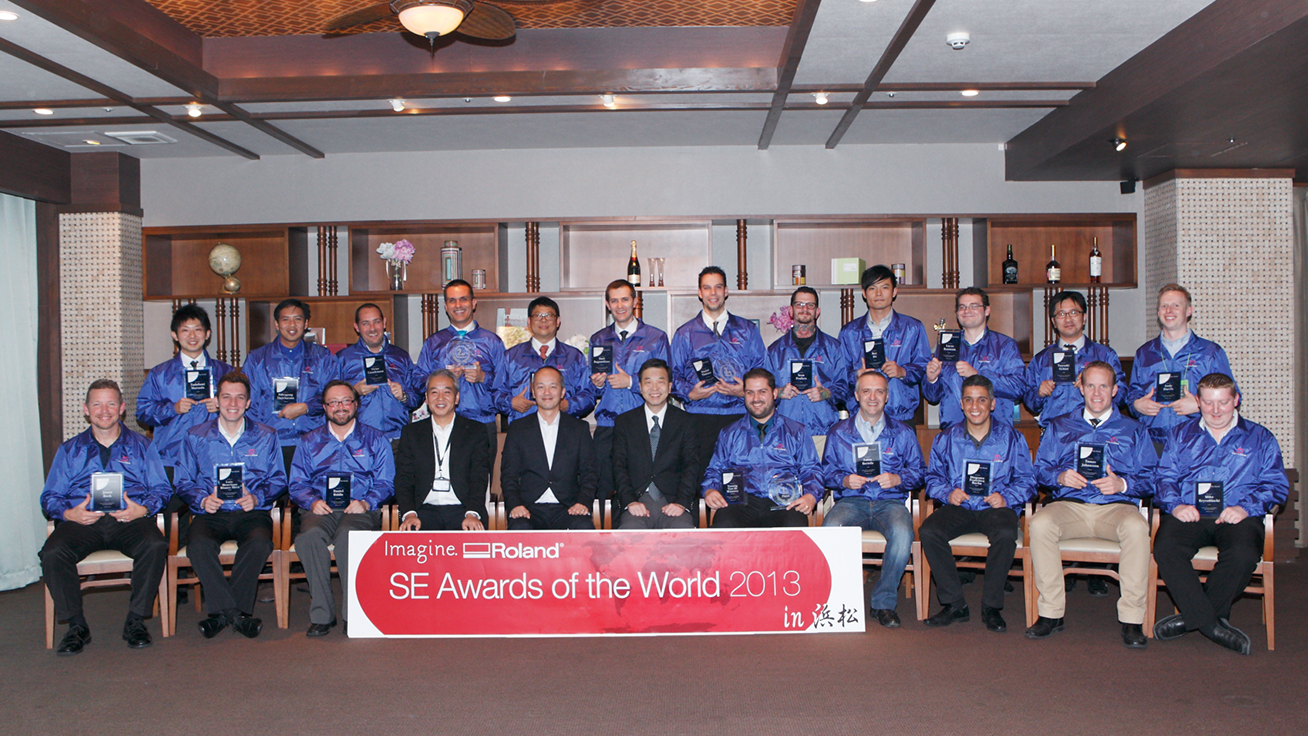 Event Overview – Global competition
- Event dates: October 20 to 22, 2015
- Venue: Roland DG Corporation headquarters, Hamamatsu, Japan
- Regions: Japan, USA, Brazil, United Kingdom, Italy, Portugal, The Netherlands, Belgium, Lithuania, Russia, Serbia, Australia, Indonesia, China, Korea, Taiwan, UAE and South Africa
- Schedule:
- Day 1: October 20th
- 09:30 Opening Ceremony
- 10:50 Hands-on exam
- Mission 1: Print head replacement
- Mission 2: Troubleshooting
- Day 2: October 21st
- 09:50 Mission 3: Written exam
- Day 3: October 22nd
- 17:30 Award ceremony
For more information, contact:

Nami Shiokawa
+81 (0)53-484-1201
E-Mail:rdg-globalpr@rolanddg.co.jp