Corporate News
11/25/2015
Roland DG Corporation
Roland DG Hosts Worldwide Competition for Its Service Engineers
Hamamatsu, Japan, November 25, 2015 – Roland DG Corporation, a leading manufacturer of wide-format inkjet printers and 3D devices worldwide, announced the successful conclusion of its Global SE Awards 2015 competition held at its Hamamatsu headquarters from October 20 to 22 for service engineers (SEs) engaged in the repair and maintenance of Roland DG products.
Following its beginning in 1981, Roland DG established a comprehensive customer services and support capability now called Roland DG Care to ensure that its products continue to perform well for many years, thereby increasing customers' peace of mind and ensuring the smooth operation of their businesses. The goal of the Global SE Awards is to recognize SE abilities both regionally and globally and motivate them to raise the standard of Roland DG Care even further.
The first Global SE Awards was held in 2013. The second worldwide competition was expanded to include emerging nations and regions. A total of 440 certified SEs from 50 countries and regions participated in 15 local competitions. The winners of these competitions were then brought together for the final contest held in Japan to compete for the title of World Champion. 21 finalists from 18 countries and regions competed in three challenges including practical and written exams to demonstrate their superior abilities as Service Engineers.
In the practical exam where contestants had to replace the inkjet heads in the company's wide format inkjet printers, they were judged not only on the accuracy of their basic maintenance work and the quality of their performance, but also on the care and thoroughness displayed in the handling of machines and parts, based on the idea that the products belong to customers. The challenge also provided opportunities for observation and learning by opening the tests to other SEs for viewing, which encouraged the sharing of skills and individual know-how. In the practical exam of printer troubleshooting, contestants' problem-solving skills were tested by intentionally setting up situations that went beyond the contestants' normal assumptions. In the written exam, contestants were judged not only on the knowledge required for maintenance work, such as analyzing graphics printed with inkjet printers and analyzing schematics of machine electronics, but also on their abilities to satisfy a wide variety of customer demands.

Named Champion of the Second Global SE Awards was Terry Carpenter with 14 years' experience representing authorized Roland DG reseller Far From Normal located in Fargo, North Dakota, U.S.A. "I had a wonderful time learning new things and meeting all the other finalist SEs from around the world," Carpenter said. "The competition expanded my understanding and knowledge base. To be able to tap into that larger network of SEs really helps. What I learned from the competition was to take your time, be careful and do things step-by-step. Even when you know what you're doing, it's important not to rush."
Alexandre Geraldi, contestant from Brazil whose performance earned him second place in the competition, said of his work: "I had to perform under pressure, but it was good because, in real life, we are always pressured by the customer. The customer cares a lot about his equipment, his business, his family – and we have a very important role when working on their machine. To our customers, a machine is not just a machine -- it's a dream of success."
Peter De Bont of Belgium finished in third place. "There were things I learned during the competition which will help me to solve problems easier and faster in the future," he said.
First place winner

Terry Carpenter from the U.S.A.

Second place winner

Alexandre Geraldi from Brazil

Third place winner

Peter De Bont from Belgium
Roland DG's Chairman and President Masahiro Tomioka praised the fine efforts of all who participated. "I really respect your participation in this competition as Roland DG representatives from all over the world. In order to provide optimum solutions to our customers, it is essential that SEs provide the finest on-site services around the world to ensure that Roland DG products deliver the outstanding quality they are designed for. As the best SEs in the world," Tomioka said, "you are all expected to be the leaders in your respective regions while continuing to demonstrate and refine your skills and communication abilities."
Roland DG sells its products in more than 200 countries and regions around the world. According to Mr. Takaaki Koshita, general manager of Roland DG technical services, the company is creating an online system to share information and promote cooperation in real time with not only those who participated in the contest, but with all Roland DG SEs around the world. "By combining the Global SE Awards competition and our online systems, we hope to build customer service and support systems that are the best in the world," he said.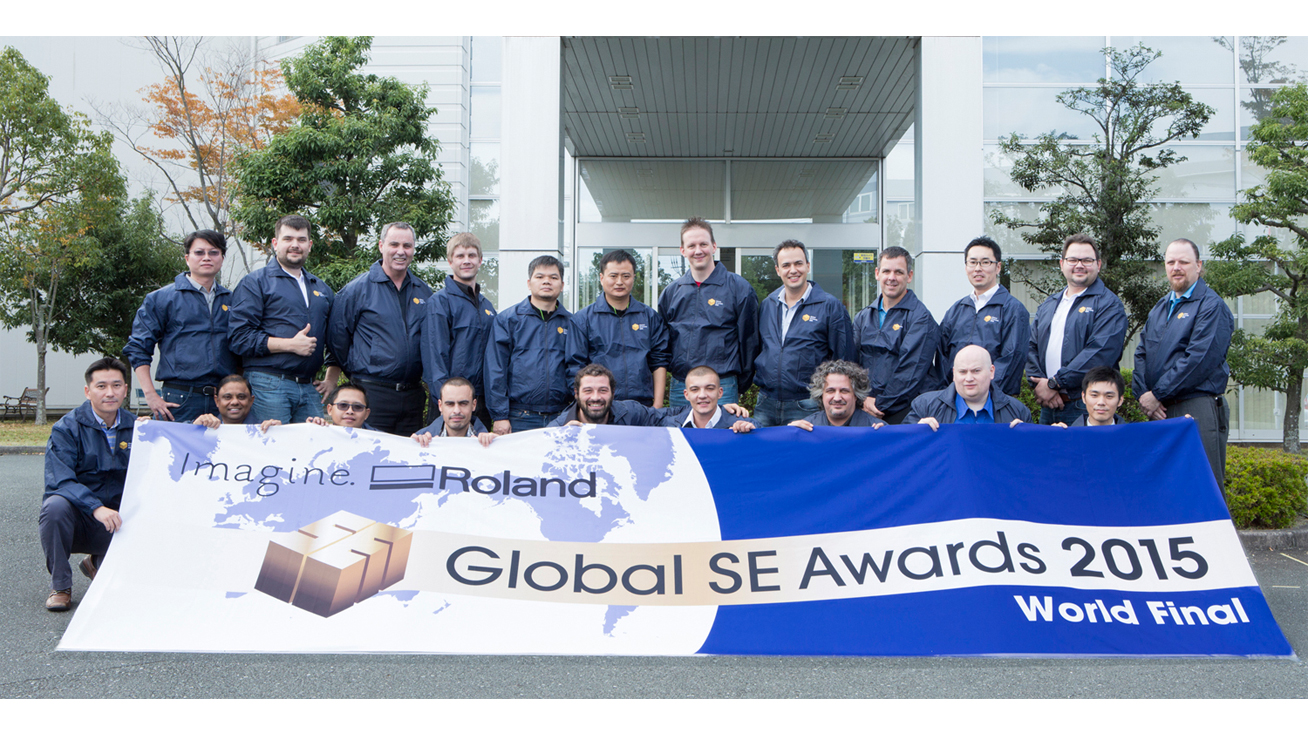 The 21 finalists who participated in the global competition qualified by winning local competitions held in 15 countries from around the world.
About Roland DG Care Certified Service Engineers
Roland DG offers a certification program for its service engineers in order to provide uniform high-quality service to our customers worldwide. SEs are instructed in how Roland DG products are built and receive in-depth training on how to carry out product installation, make repairs, conduct inspections and maintenance. Only after passing practical and written exams proving that they possess appropriate knowledge and skills can trainees be approved as certified SEs.
For more information, contact:

Nami Shiokawa
+81 (0)53-484-1201
E-Mail:rdg-globalpr@rolanddg.co.jp