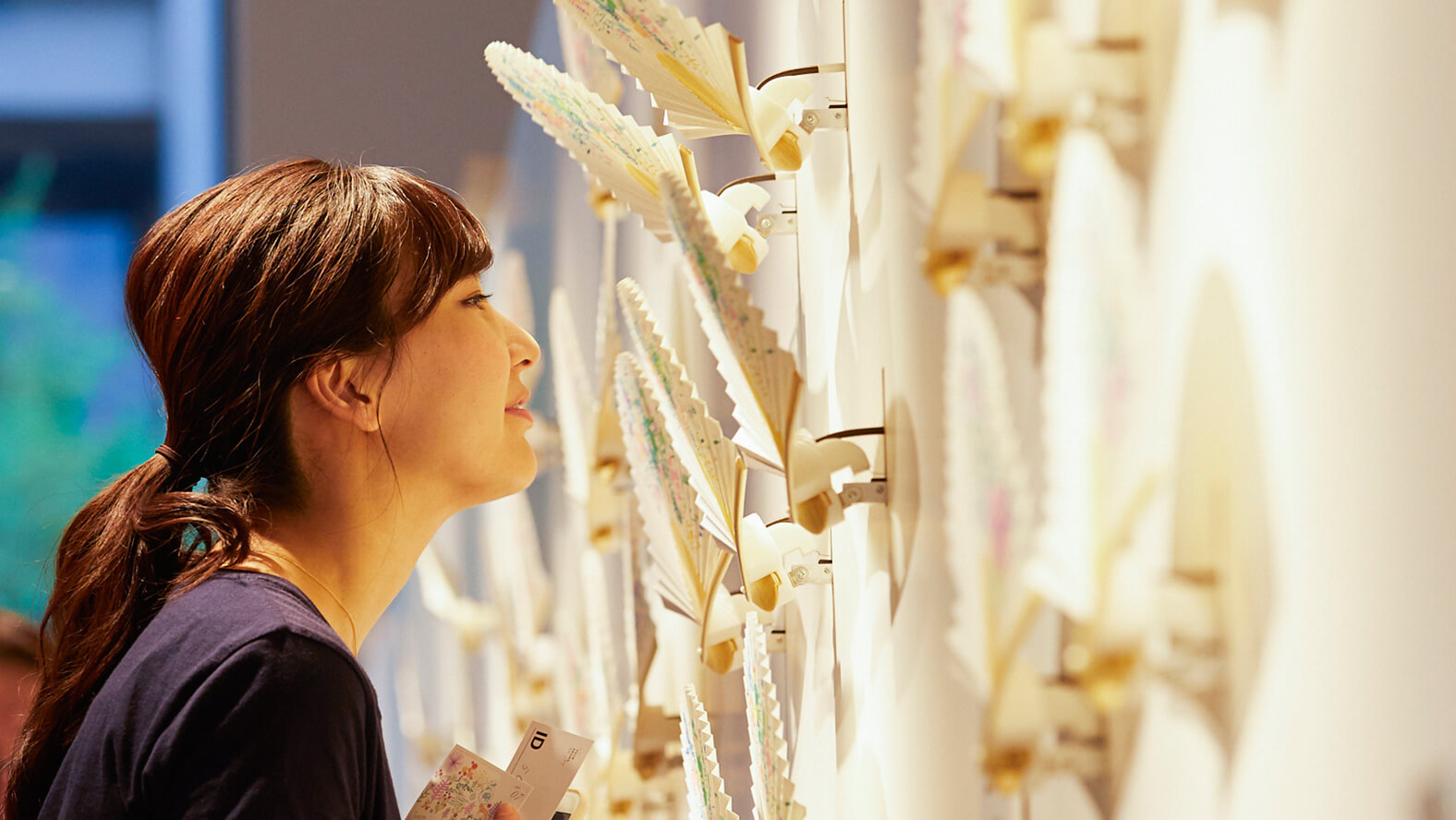 Personalizing Folding Fans and Discovering Ideal Aromas
Lion Corporation, a leading Japanese manufacturer of household supplies, recently held a promotional event, giving visitors a personalized fragrance experience from the SOFLAN Aroma Rich range of aromatic fabric softeners. The popup gallery, "Sense Your Aroma Gallery Produced by Aroma Rich," was open to the public in Omotesando, Tokyo between August 4th and 7th allowing visitors to discover their very own fragrance.
The gallery was designed with a cool and quiet interior to create a relaxing mood. Visitors who came to try out the aromas were presented with tailored gift sets containing folding fans featuring exclusive design prints and aroma mist diffusers to spray them with. Event organizers utilized Roland DG's UV printers to customize the folding fans. Details of the event are included below.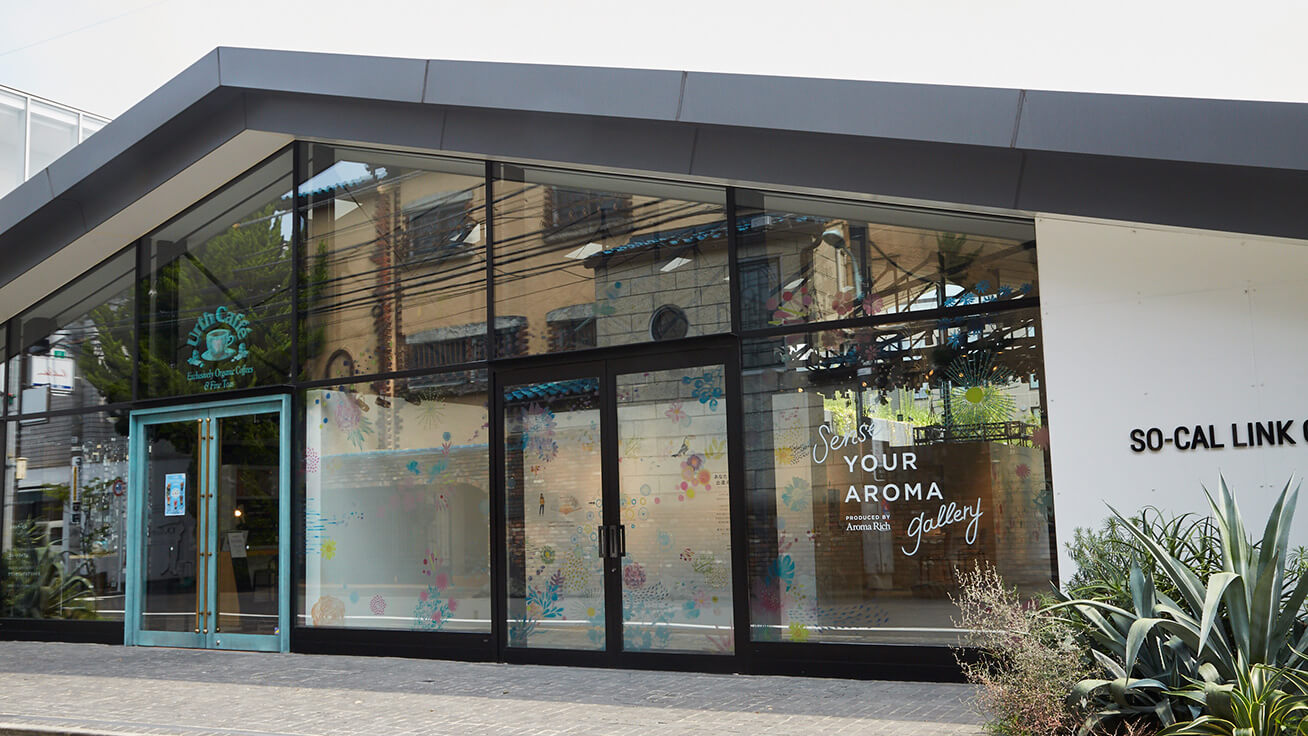 The gallery exterior
The interior gallery walls featured a colorful range of folding fans that were designed to move by themselves when visitors approached, treating visitors with a hint of the ten different scent blends based on the Aroma Rich collection. Gallery decorations and the folding fans featured floral designs, birds and other illustrations created by international artist Niky Roehreke. This combination of scents and visuals made for a relaxing atmosphere throughout the venue as elegant aromas wafted along with the gentle breeze.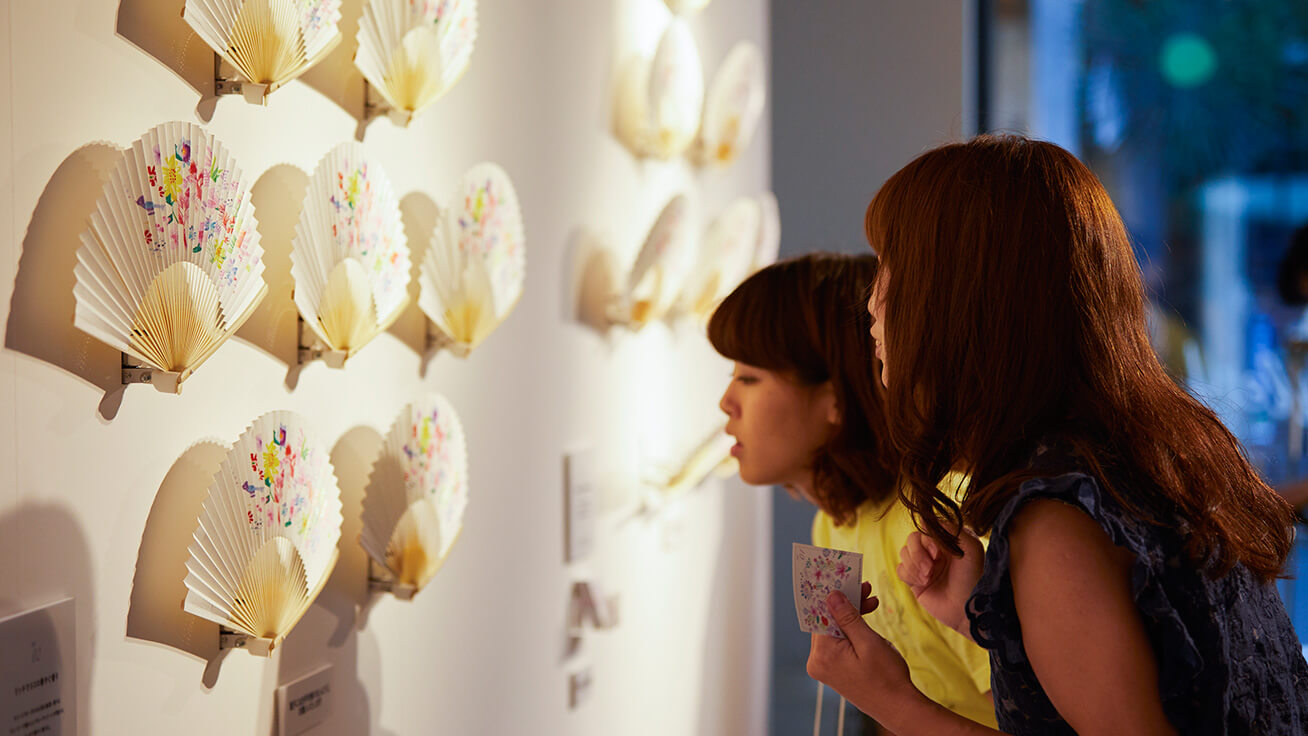 Savoring various fragrances from moving fans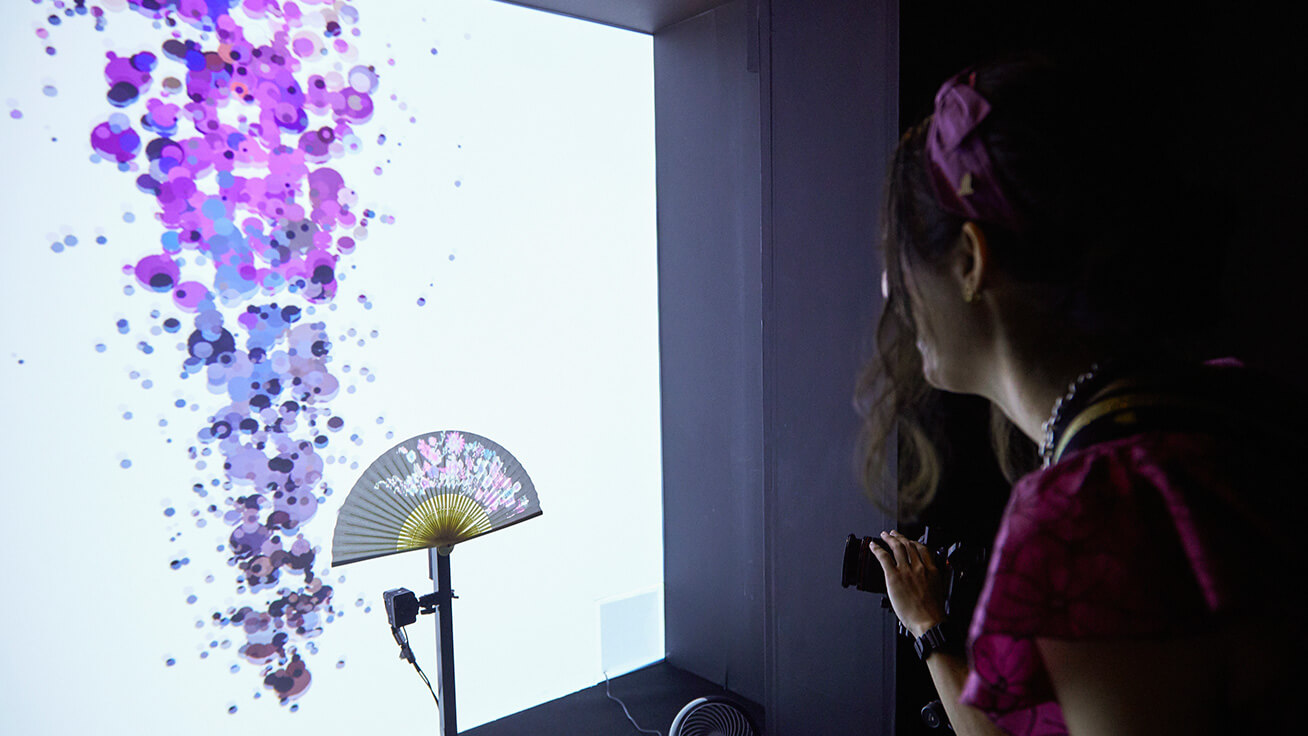 The photo booth
The highlight of the event was based on the concept of providing fragrances and folding fans custom-designed to each individual visitor. A proprietary color analysis system identified color patterns in clothing and other items as visitors were asked to stand in a photo booth for a full-body photograph after entering their name into a control pad. The photos were then streamed live on a screen inside the booth together with attractive animations and background music while the system analyzed color patterns, which took around 30 seconds to complete. The resulting graphic design matched the visitor's clothes, and was superimposed over a white folding fan.
Behind the scenes, each visitor's custom design and name were printed directly onto folding fans using Roland DG's UV printers. Illustrations featuring the peaceful designs of Niky Roehreke were reproduced perfectly on the folding fans, which took around 10 minutes to print.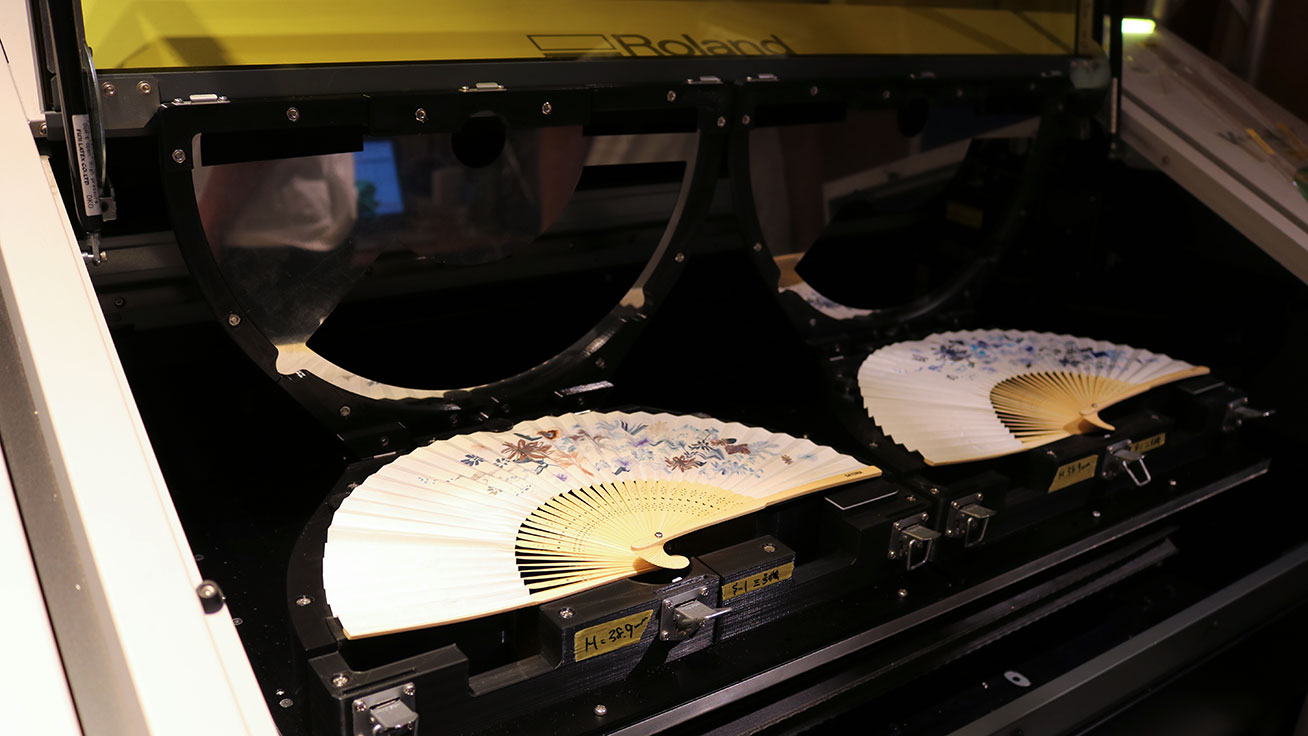 Personalized folding fans being printed at the gallery using UV printers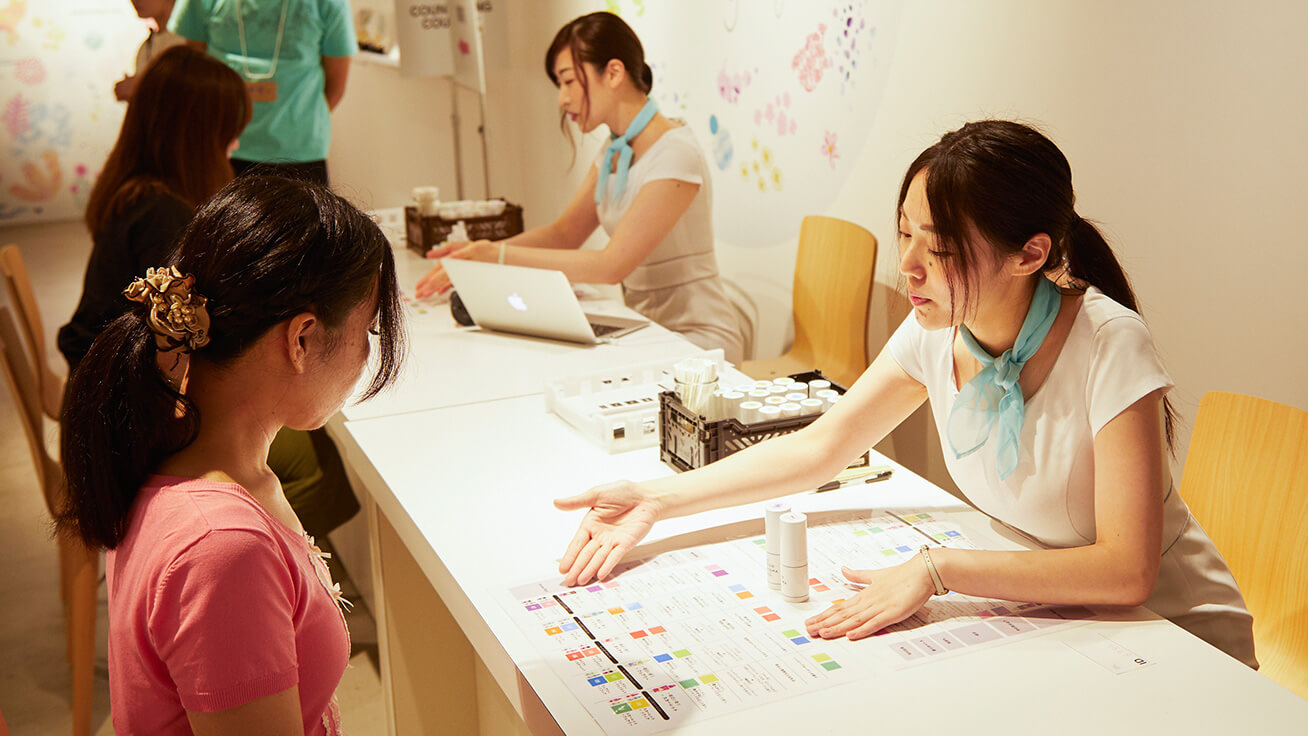 Visitors receiving advice on fragrances
While waiting for their fan to be printed, visitors spent time with advisors at the fragrance desk to discover the scents that suited them best. Advisors blended various scents with Aroma Rich fragrances to match colors identified from visitor's clothes and added a softer or crisper touch as desired to create fragrances tailor-made to each individual. Visitors could take home the resulting aromatic blend as a gift to spray onto their personalized folding fan. They were also provided with samples of the Aroma Rich range of fabric softeners, and instructions on how to blend them to create the same tailor-made fragrance, to add a little excitement while doing the laundry at home.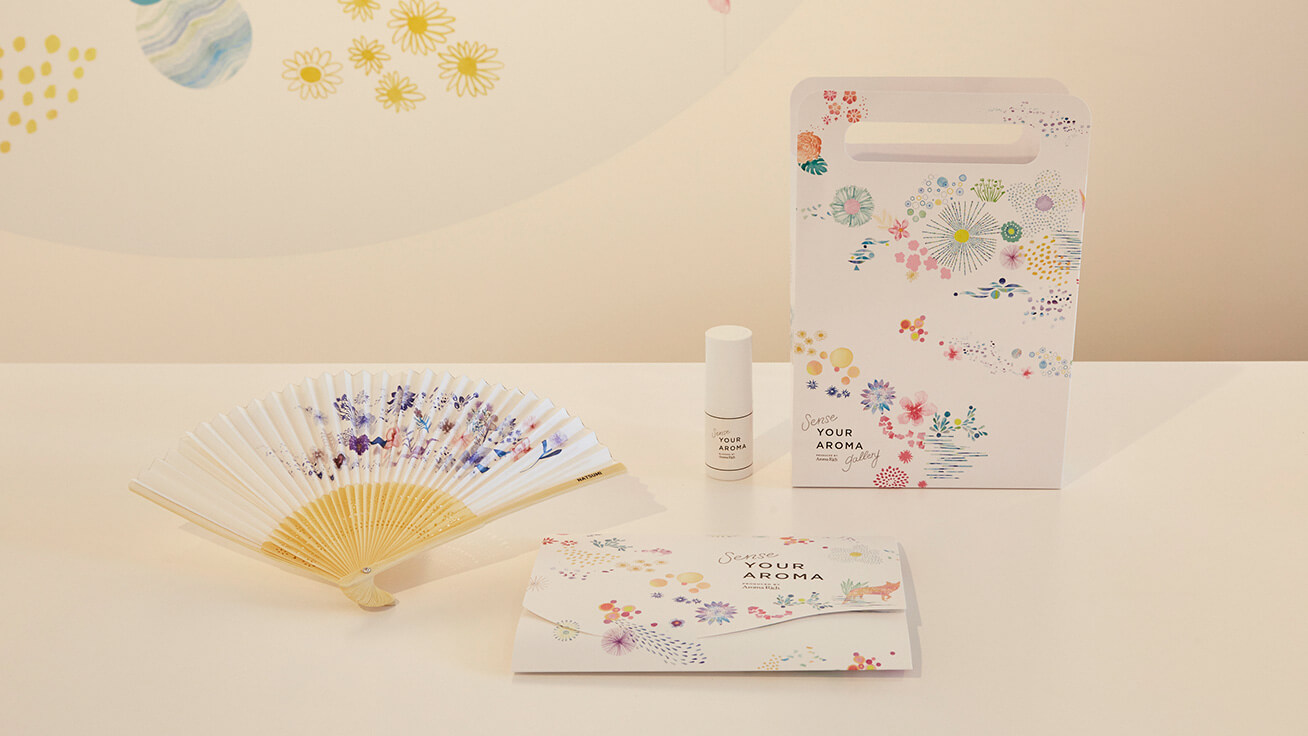 Gift set including aroma mist and one-of-a-kind folding fan
Visitors were then presented with their very own folding fan made by our UV printers, featuring a unique design on the folded paper and their name on the outer frame. When sprayed with their selected aroma mist, the fans allowed visitors to savor fragrances tailored to their own dress sense or style.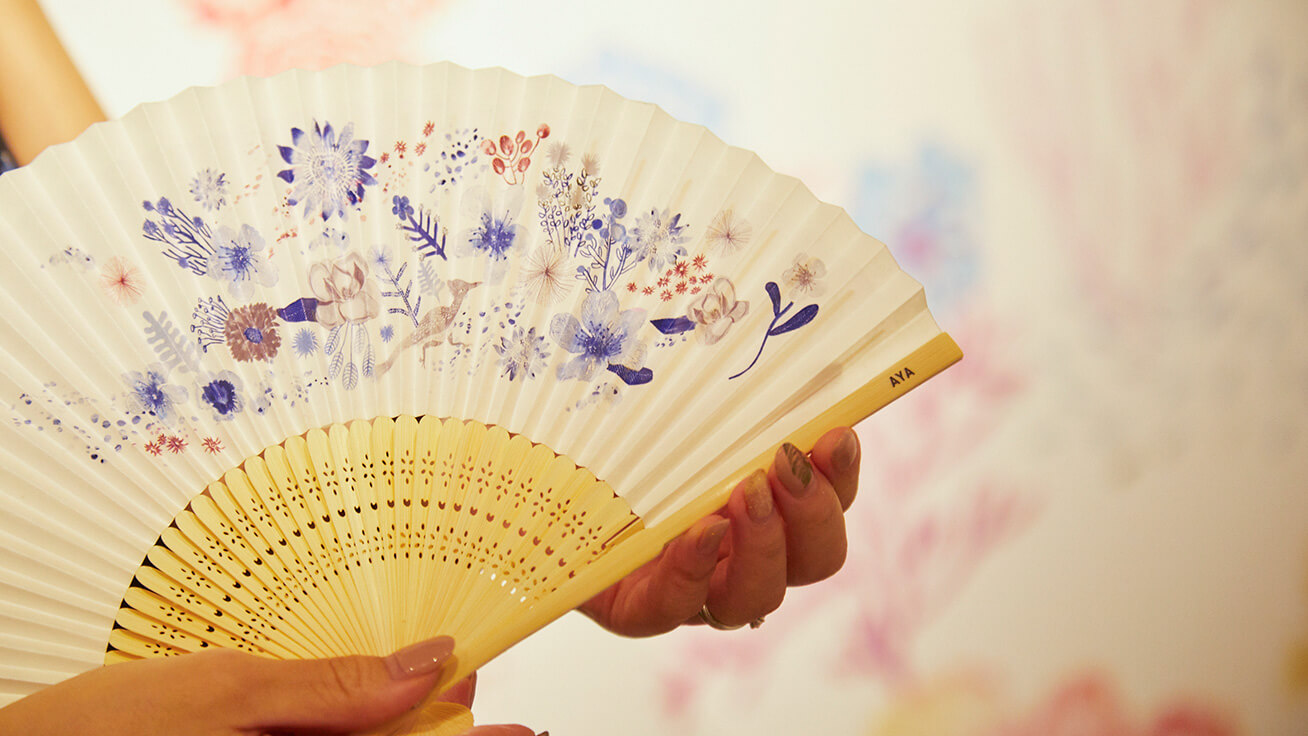 Custom-made folding fan designed to match color patterns in visitors' clothes
See more in the video digest of the event.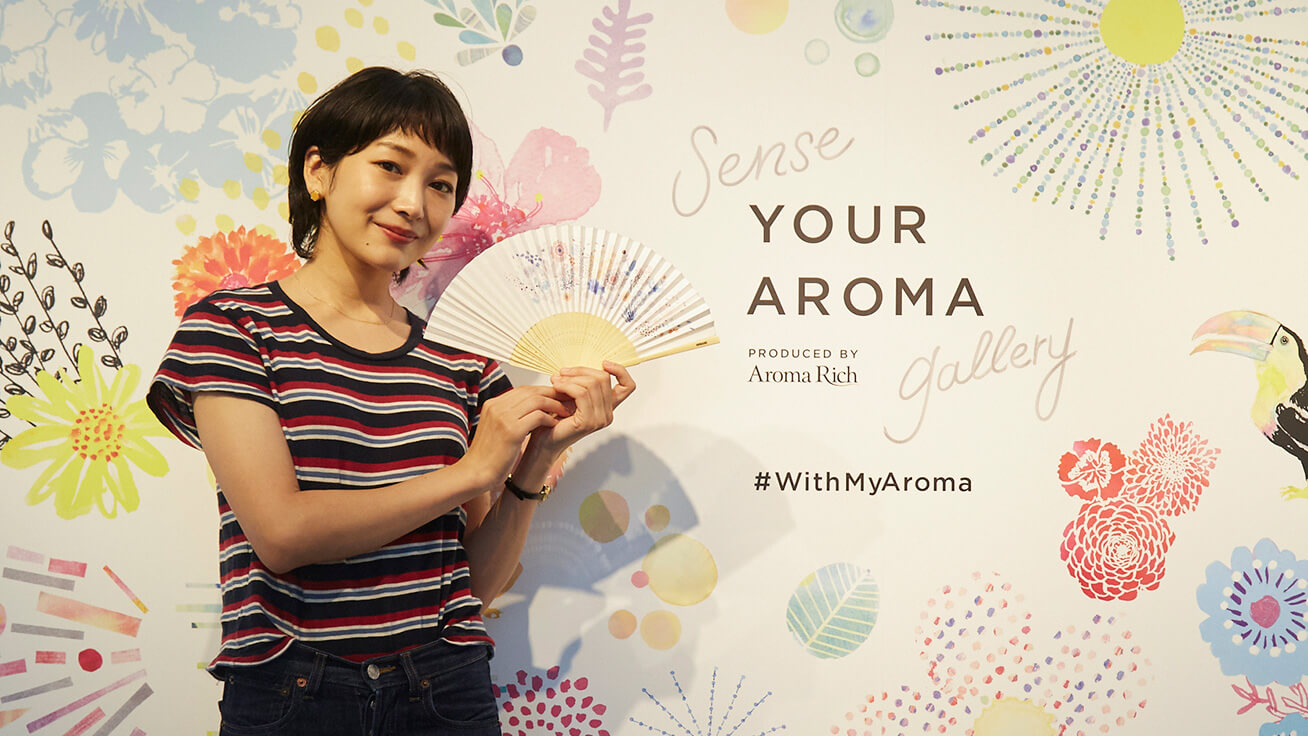 A section of the venue contained an area where visitors could take photos with their completed fans.
We spoke with Brand Manager Rika Kato and Communications Manager Koji Hamada from Lion Corporation who organized the event.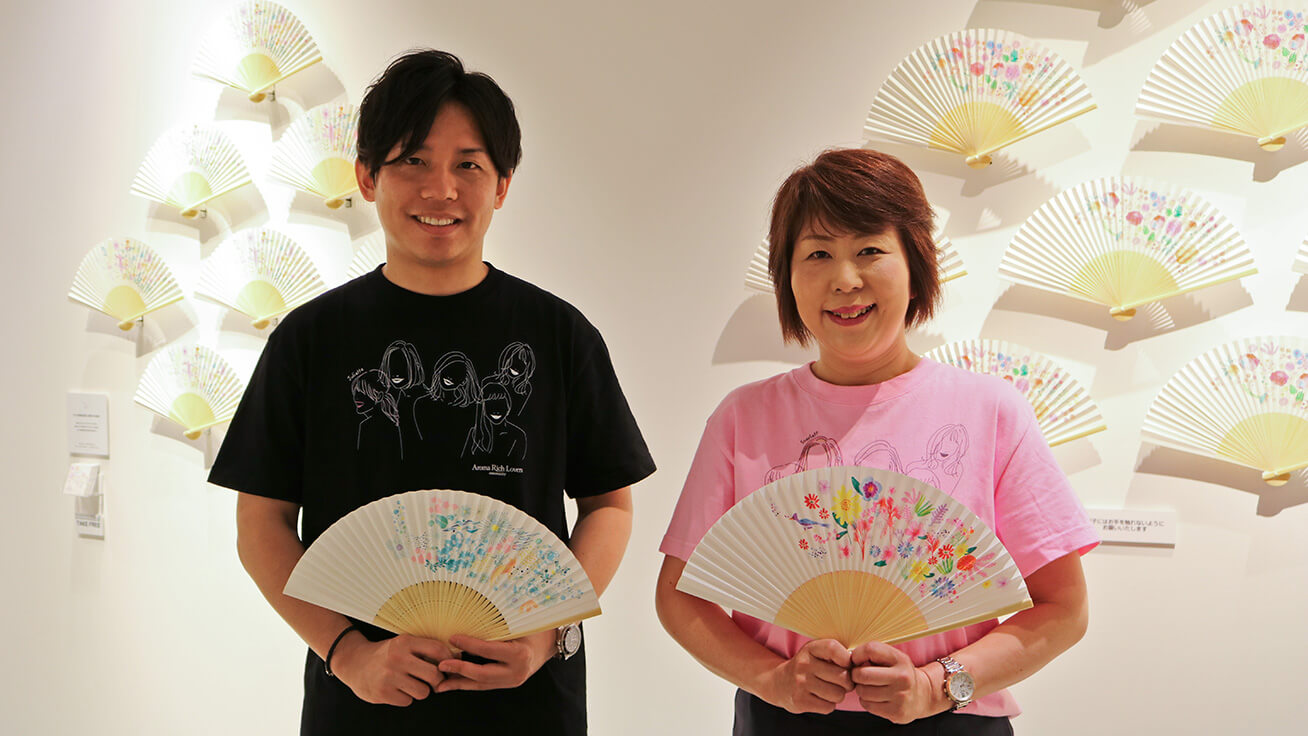 Rika Kato (right) and Koji Hamada (left) from Lion Corporation
Comments from Rika Kato – Brand Manager, Health and Home Care Products Division, Fabric Care Business Department
Aroma Rich was first marketed as a fabric softener with aroma being one of its most important features. The lineup was updated in January of this year with a new range of products to give our customers exciting new ways to enhance their lifestyles by enjoying these fragrances. After launching this updated range of products, customers started posting feedback on various social media outlets like, "I finally found the scent I had always been looking for!" This got us thinking about ways to let more customers discover scents that match them perfectly, so we decided to organize this event. We want to help visitors find their ideal aroma, and together with these folding fans, hope that they will continue enjoying those aromas at home.
Comments from Koji Hamada – Manager, CX Planning Team, Communication Design Department
After launching a new range of products in January of this year, Aroma Rich ran a number of promotional campaigns encouraging customers to better utilize fragrances to enhance their lifestyles with the core message: "Find the perfect fragrance to live life your own way – even if you are feeling down or lacking confidence after things you see and read around you, or comparing yourself with others." We looked closely at the best way to convey our products' values to consumers, and planned a promotional event where they could actually visit and enjoy the various fragrances we offer. We implemented various ideas – from selecting the venue to the interior decorations as well as setting up a section for a photo booth to get more people interested in the event such that they would promote it on social media. The tailor-made folding fan gift presented to visitors proved extremely popular, with its personalized design featuring the visitors' name and the color of clothes or accessories that they were wearing that day. Watching the UV printers make the fans was so exciting that I even took a video of it myself. Unfortunately, we were not able to have these on display during the event, but I think the way the printers operate is just so instagrammable.
The gallery was very popular during the four days it was open. More than 700 one-of-a-kind folding fans made for visitors, far exceeding the expectations of the organizers. The concept behind the event was very effective as it provided a unique way to escape the summer heat.