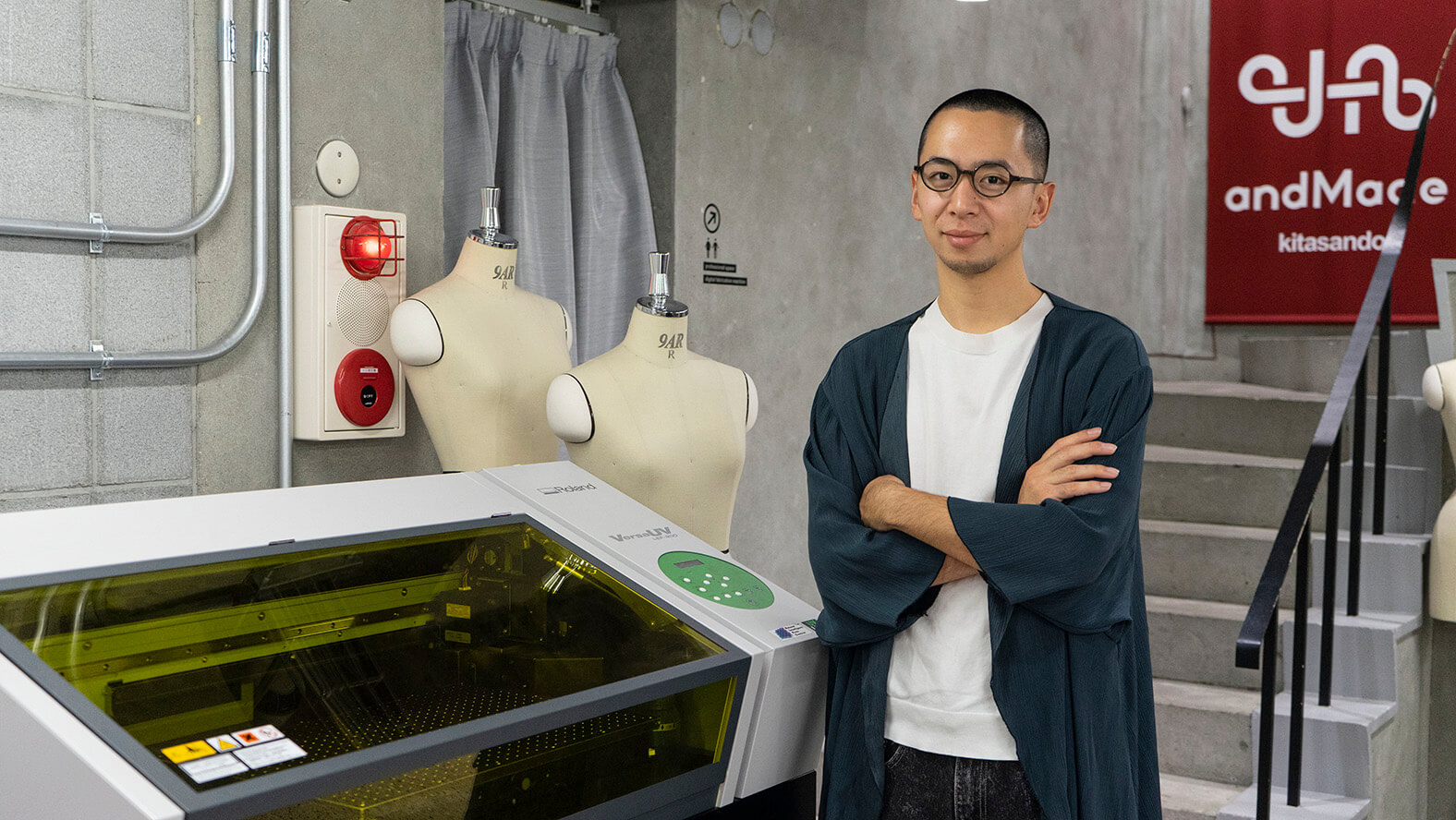 Fashion-makerspace andMade Gets a Fresh Look
andMade.kitasando, a makerspace for handmade, fashion-oriented goods located in Sendagaya, Tokyo that was previously featured in this blog, reopened this fall with a fresh new look combining an event and exhibition space with a fabrication studio. We spoke with store manager Naoto Suzuki (pictured above) to provide details about previous activities and future objectives.
andMade.kitasando opened in April 2017 as a membership-based makerspace where people can create their own clothing articles using professional-grade sewing machines and state-of-the-art digital tools. Run by Furutachi Project, an entertainment agency that manages celebrities such as TV anchor Ichiro Furutachi, andMade.kitasando utilizes Roland DG's UV printer and vinyl cutter.
Check out the previous blog here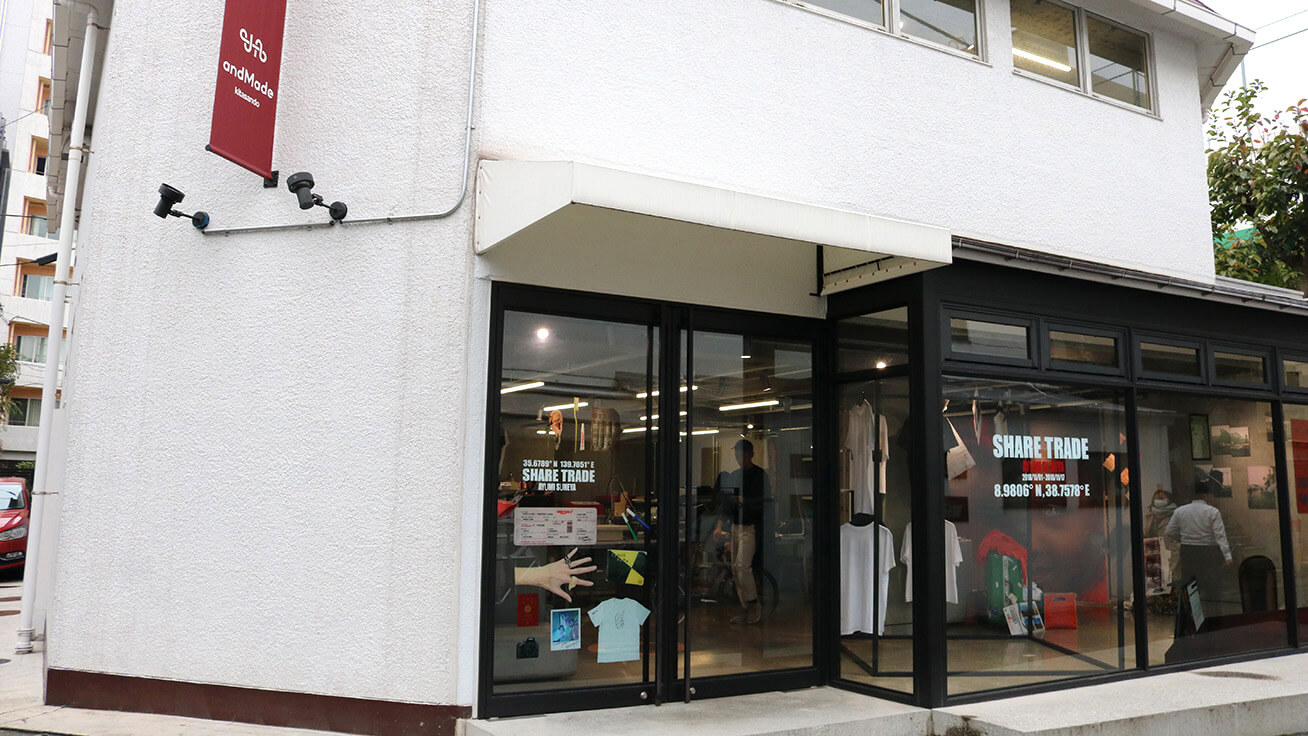 The view from outside andMade.kitasando.
Reasons for the updated interior
What type of people use the services now offered?
Suzuki: Most of our members are workers from the many apparel-related companies located around the Kitasando area, as well as designers and people who manage their own fashion brands. They mostly use andMade for creating their own products or customizing clothing items.
Tell us more about the events leading up to the updated interior.
Suzuki: Although we are a membership-based makerspace, we wanted to make it easier for non-members who are unaware of andMade to come in, so we started thinking about how to raise awareness of the activities available here. To achieve these goals, we rearranged the layout in October of this year, with the andMade STUDIO area on the first floor that can be used as a gallery, showroom or event space that non-members can enter, and the andMade ATELIER on the second floor for use by members only.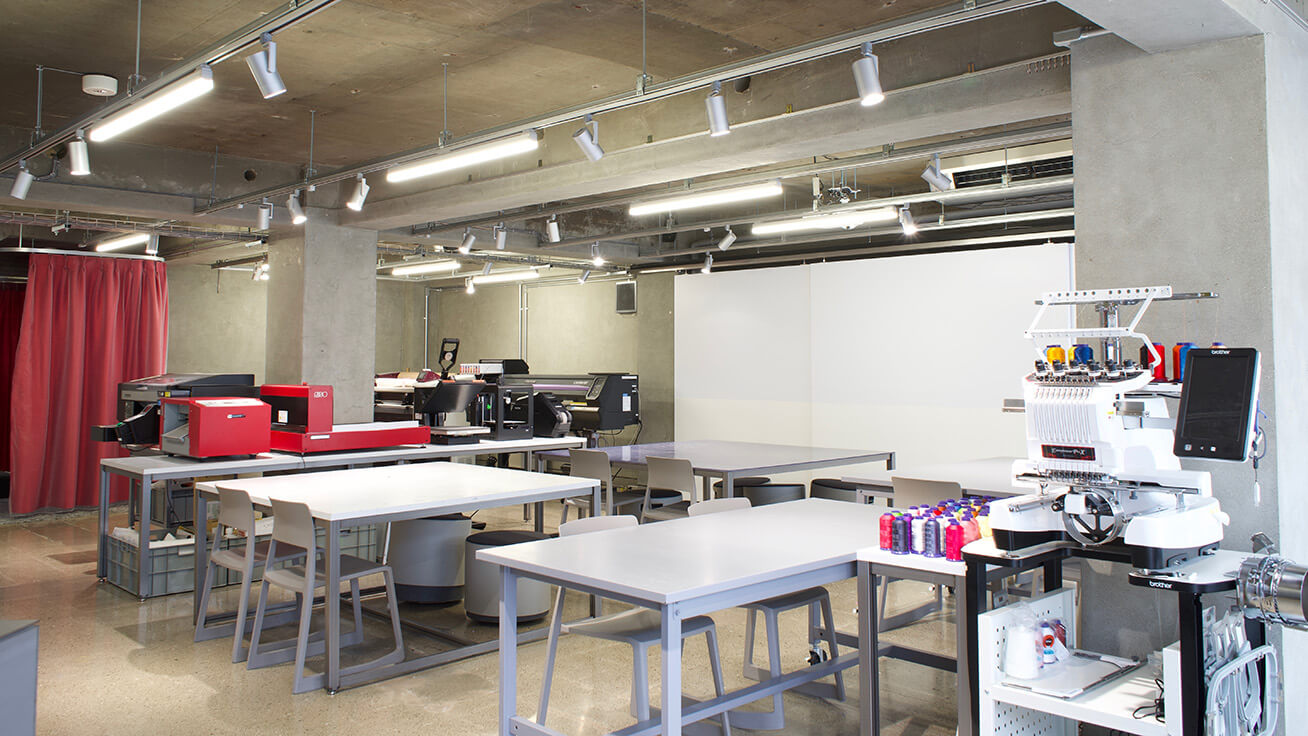 andMade STUDIO space on the first floor is also open to non-members.
Roland DG's UV printer LEF-200 as well as laser cutters and other state-of-the-art digital tools are available at andMade STUDIO.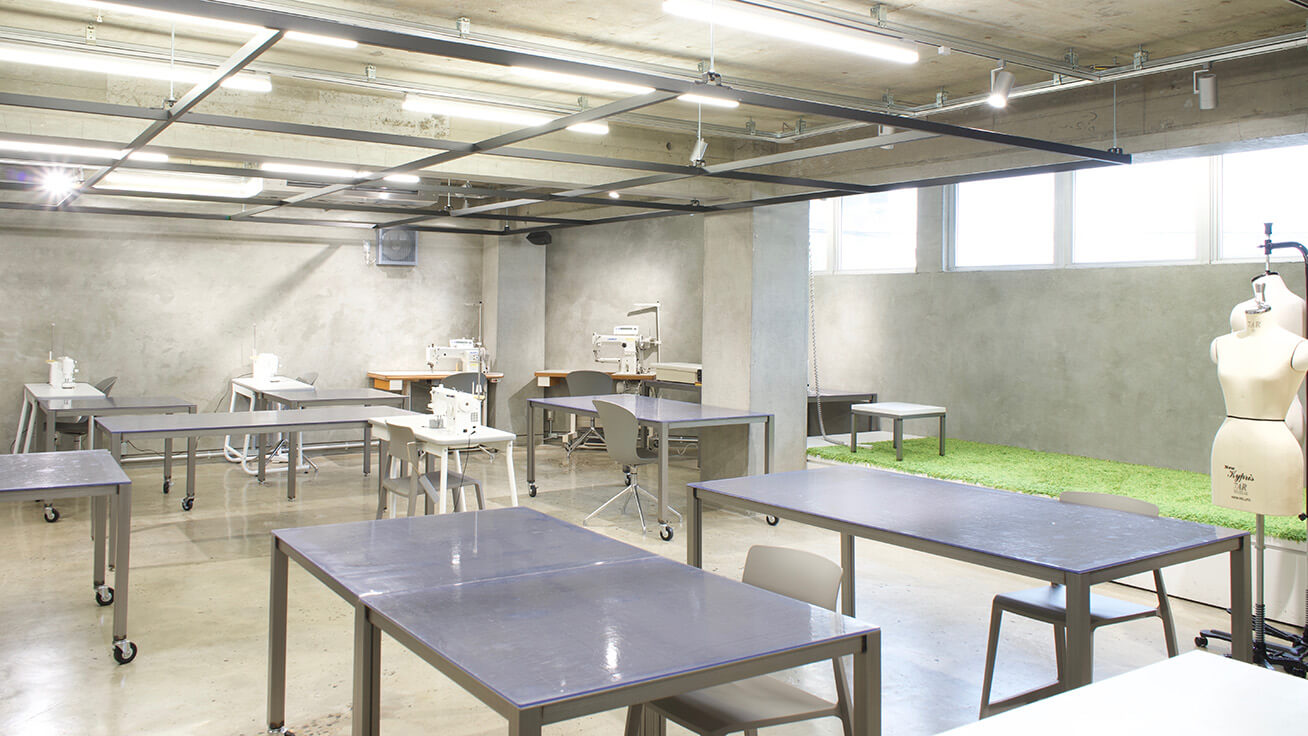 andMade ATELIER on the second floor where members can create their workpieces.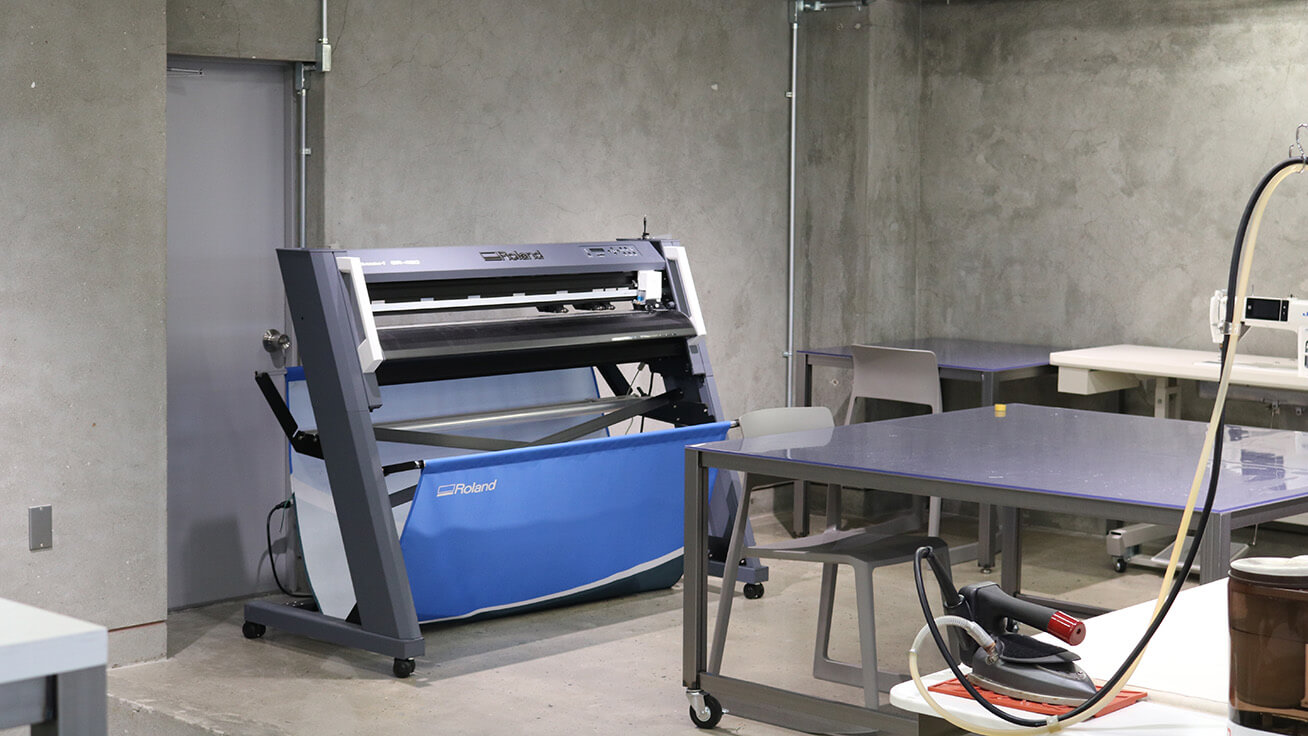 Roland DG's GR-420 vinyl cutter ready for member use at andMade ATELIER.
What was the response like after setting up andMade STUDIO?
Suzuki: andMade STUDIO hosts various unique events in a broad range of fields like fashion, art and culture, and we have even run events related to manga comics and movie posters. Having exhibits displayed on the first floor brings in a lot of foot traffic from those walking past outside. The mood in the studio can vary quite significantly depending on the type of items on display, and the response from visitors is better with more impressive events.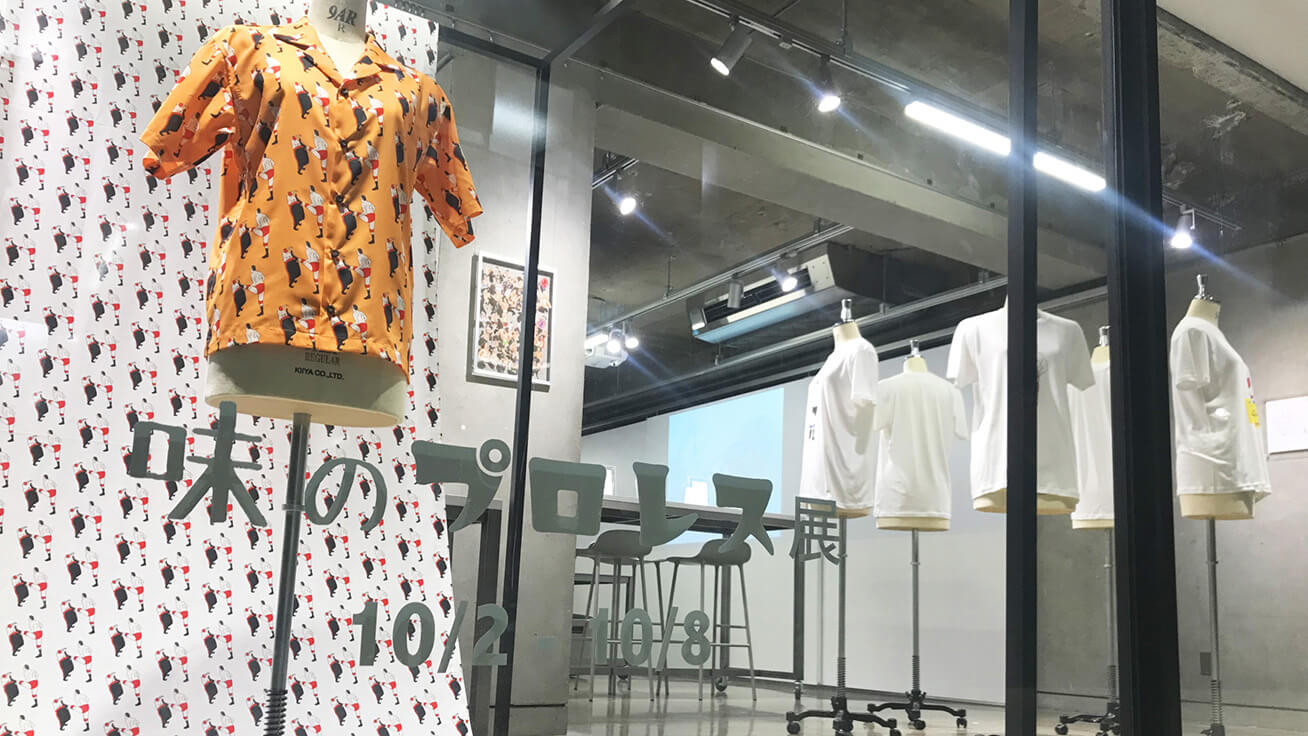 The first event was based on the 4-panel comic strip "Aji no Pro Wrestling."
What type of digital tools are used for events?
Suzuki: Equipment like UV printers, laser cutters and garment printers are used to create exhibits and decorations, as well as T-shirts, key rings and other original merchandise that are available for sale. I think that having these digital tools available for use is really beneficial for the exhibitors. It means they do not need to keep stock of any merchandise, and exhibitors like being able to make the items that visitors want right here for them to take home.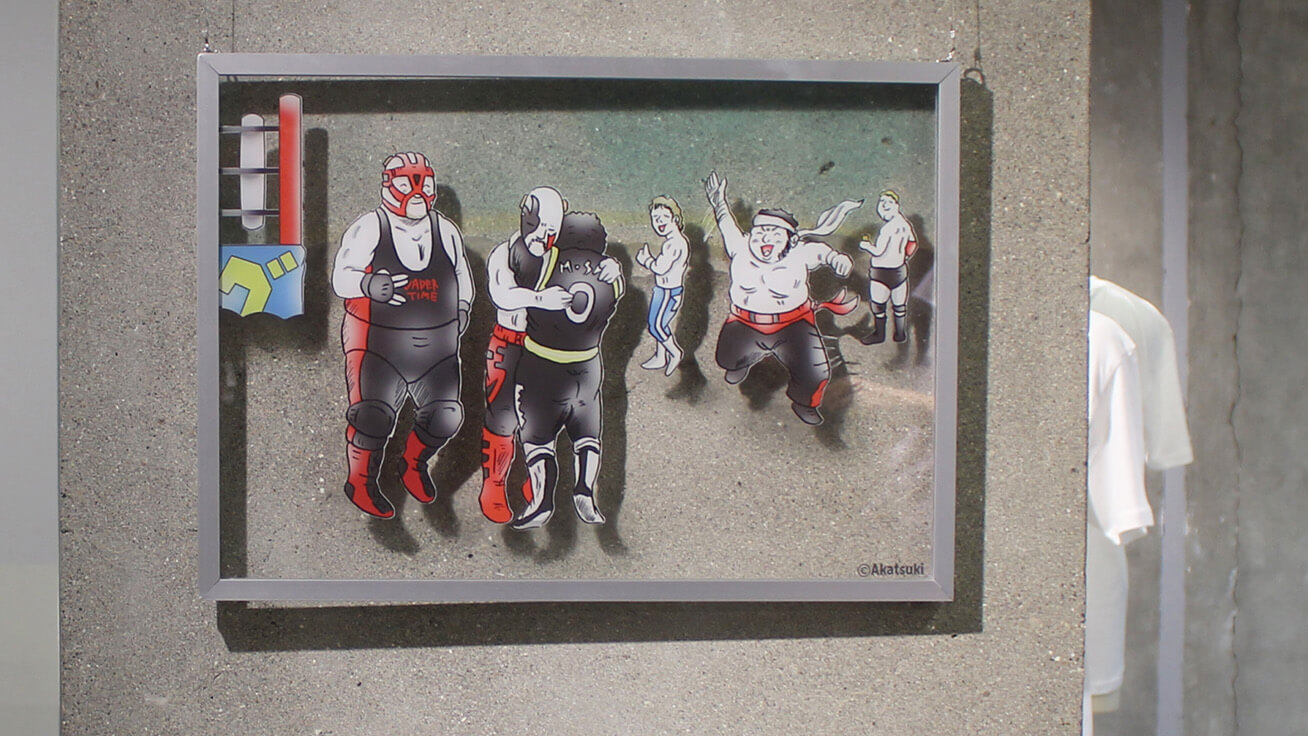 During the "Aji no Pro Wrestling" event, a UV printer was used to print replicas of characters from the comics.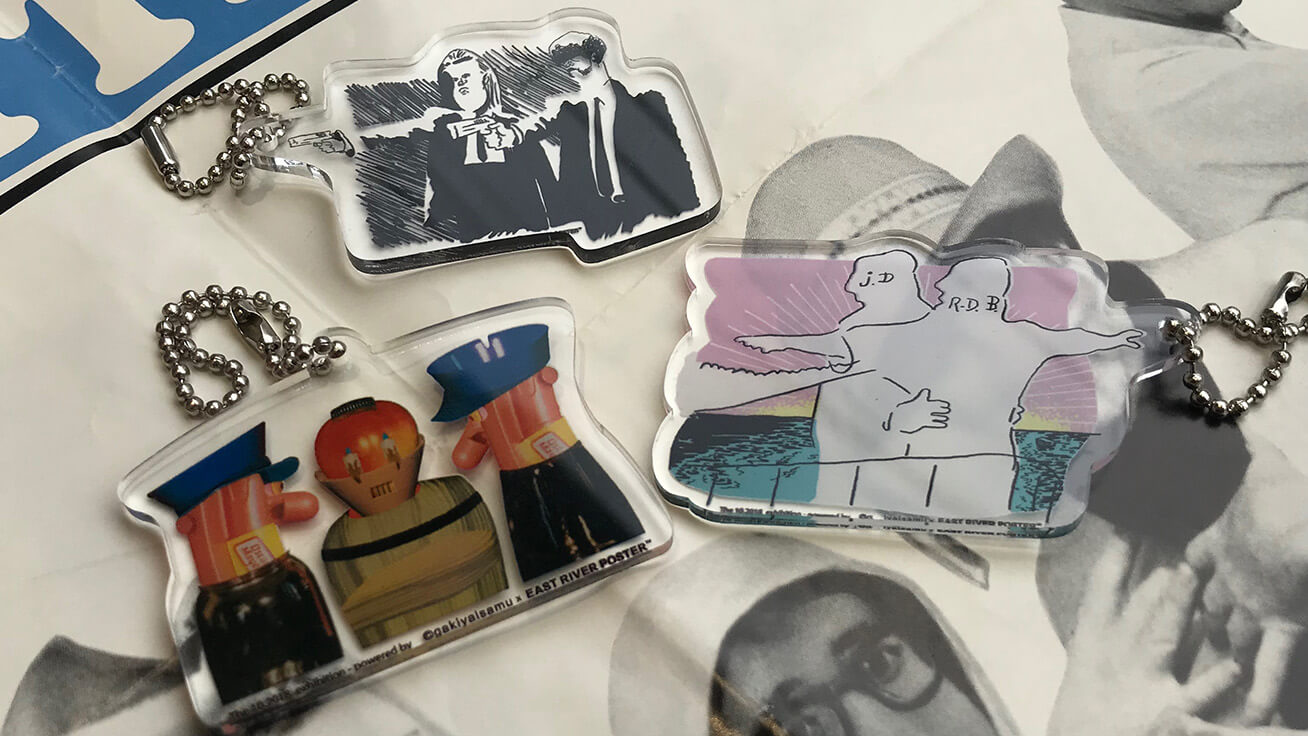 Key rings printed with characters from famous movies highlighted the movie poster event.
About a current event recently held
The interview at andMade was conducted during an event held from November 1 to 17, 2018 by non-fiction creator AYUMI SUNEYA, who makes clothes printed with scenes from her travels around the world and the people she met along the way. We asked SUNEYA about her thoughts on the exhibits.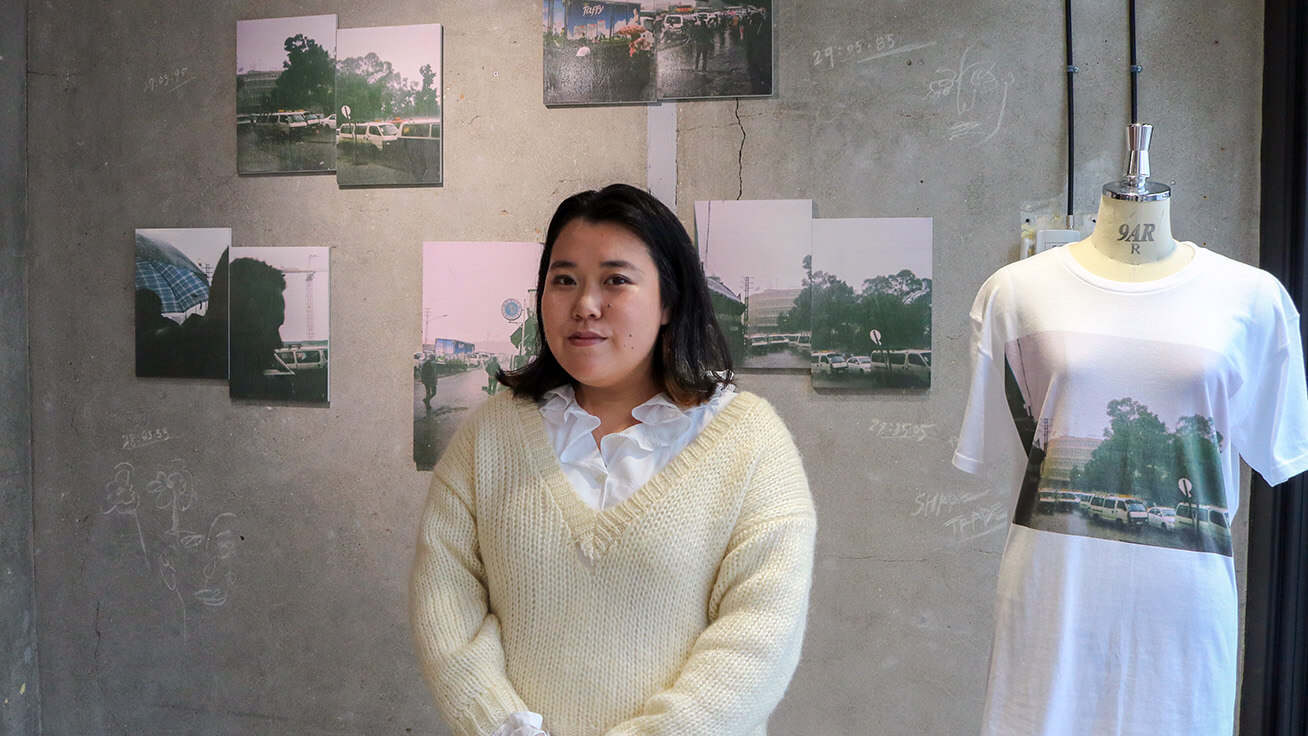 Non-fiction creator AYUMI SUNEYA
Tell us more about the exhibits you are showing.
SUNEYA: Being an andMade member gave me an opportunity to run an event for exhibiting and selling photos, illustrations, clothes and other items highlighting my travels through Ethiopia, an experience which left a lasting impression on me. I make sure that all my creations are made with sustainable fashion in mind, and the items on show here are made using mill-ends or other materials that were discarded due to small scratches or imperfections.
How did you make your exhibits?
SUNEYA: I asked andMade staff for advice on how to use different types of materials for my exhibits, and they suggested that I might be able to use the UV printer to print directly onto materials, so we tried various ideas together. I printed photos from my travels directly onto the cardboard and wooden mill-ends, and also made great use of the UV printer to produce the merchandise on sale and the graphics displayed at the entrance.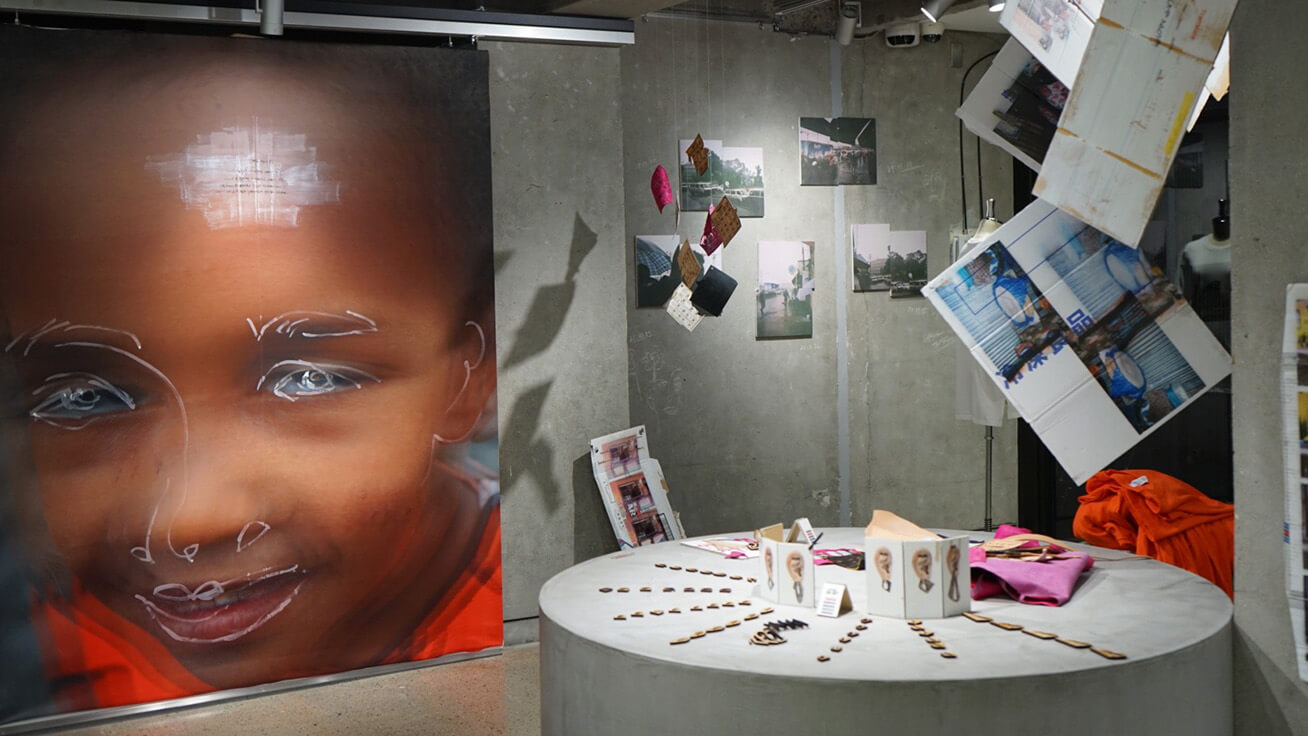 Photos printed directly onto the cardboard and wooden materials maximized their textures.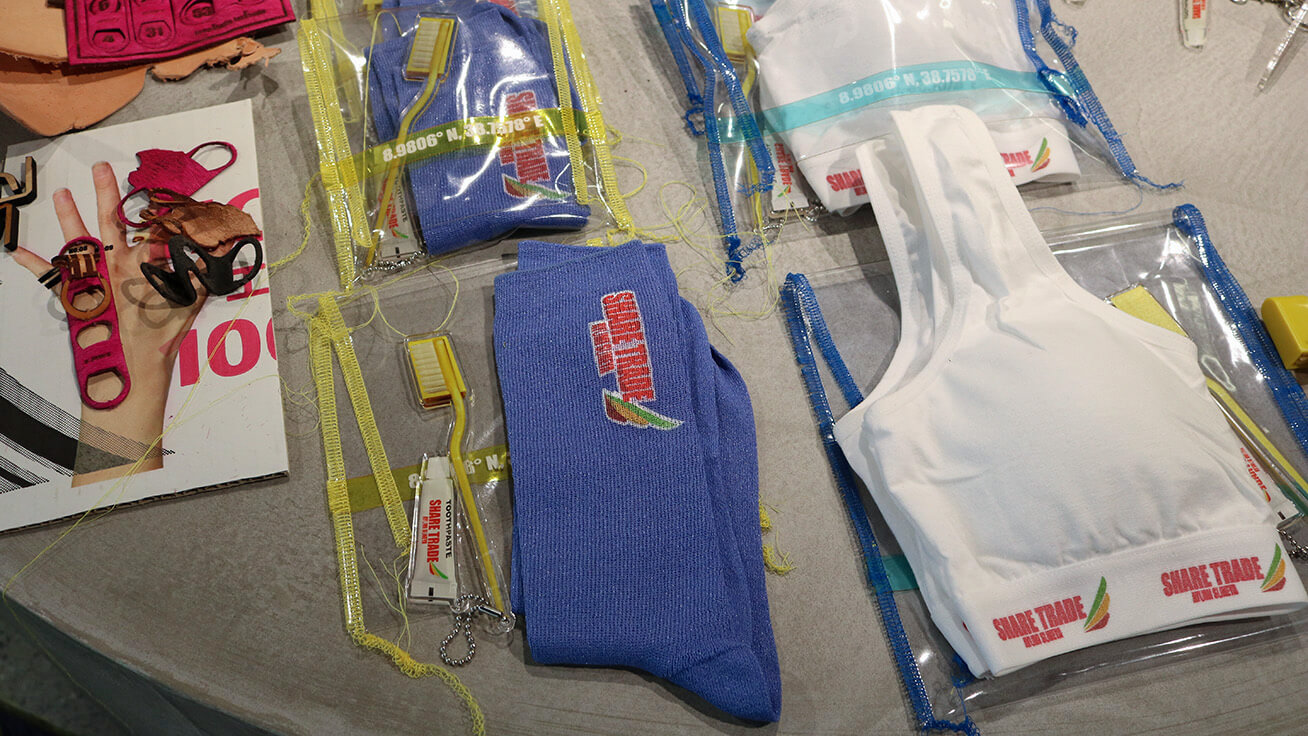 SUNEYA used the UV printer to make her own acrylic key rings, socks and other items.
andMade—past and future
We had a few more questions for Suzuki.
How is andMade making use of UV printers and other digital tools?
Suzuki: Members like making one-of-a-kind patterns by using the UV printer to print onto leather and other materials, and by using the laser cutter to print onto acrylic. Our staff is always coming up with new ways to use the equipment, such as the pincushions made recently by combining the UV printer and an embroidery machine.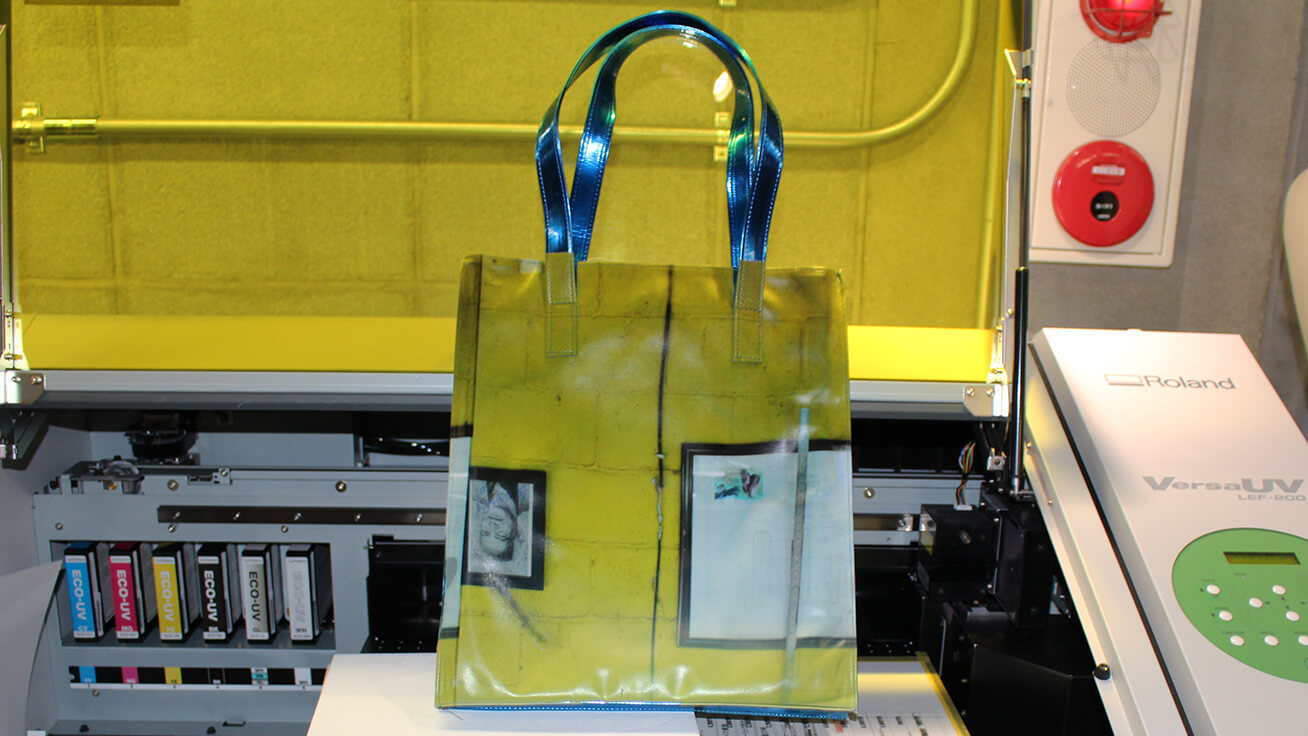 A handbag made by one of the members.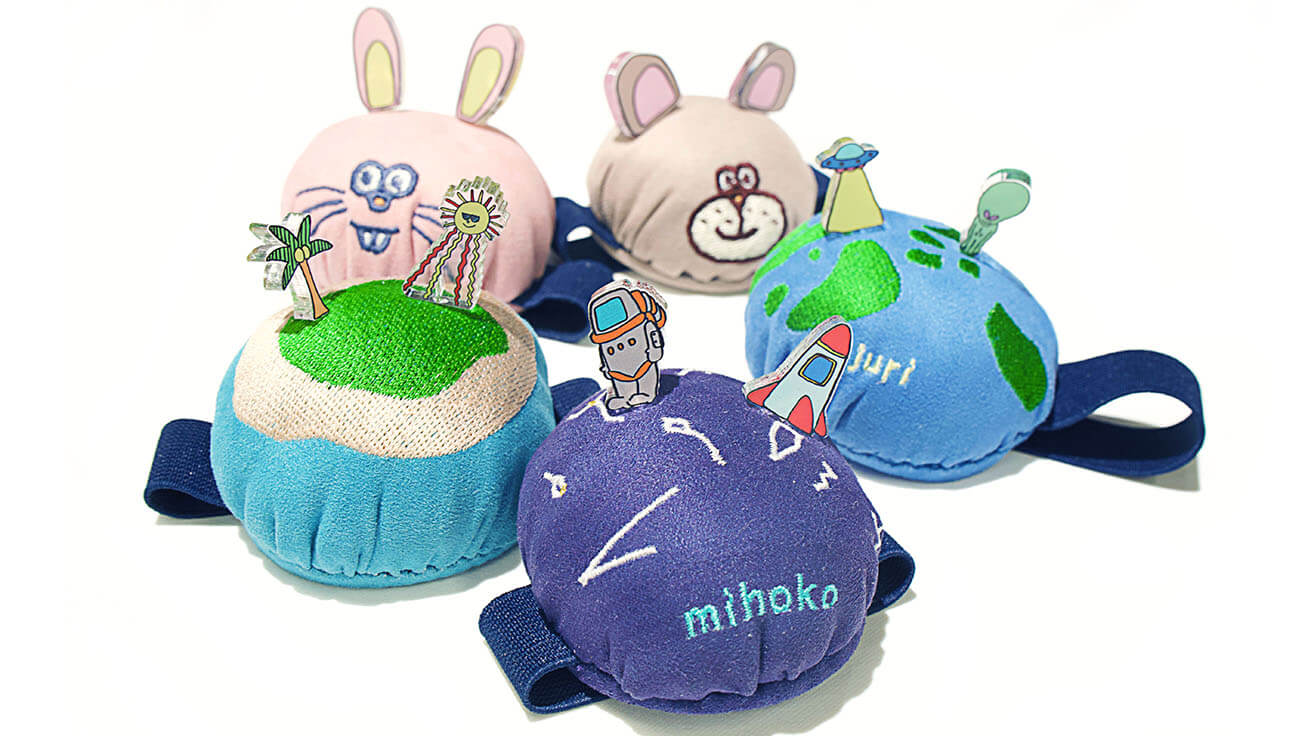 andMade one-of-a-kind pincushions featuring illustrations drawn by staff that were printed on pins with the UV printer, and onto cushions using an embroidery machine.
Are there any new ideas that you want to try using these digital tools?
Suzuki: I want to hold more workshops aimed at making items with customers using digital tools. An interesting example is using a laser cutter to cut acrylic into the shape of a ring, and using a UV printer to create a collage on the ring featuring the customer's photos.
What are your plans for the future of andMade?
Suzuki: We are currently making plans for a number of events that we will be holding soon. I want to work with artists from a broad range of fields and run some exciting events in the future. The best thing about andMade is that it is a makerspace operated by an entertainment agency, which means a great blend of various forms of media, fashion and fabrications, so I want andMade to become the source of many new ideas and concepts.
andMade is planning numerous fashion designs workshops and unique events featuring masks with an African theme. We wish them the best success with their future plans!