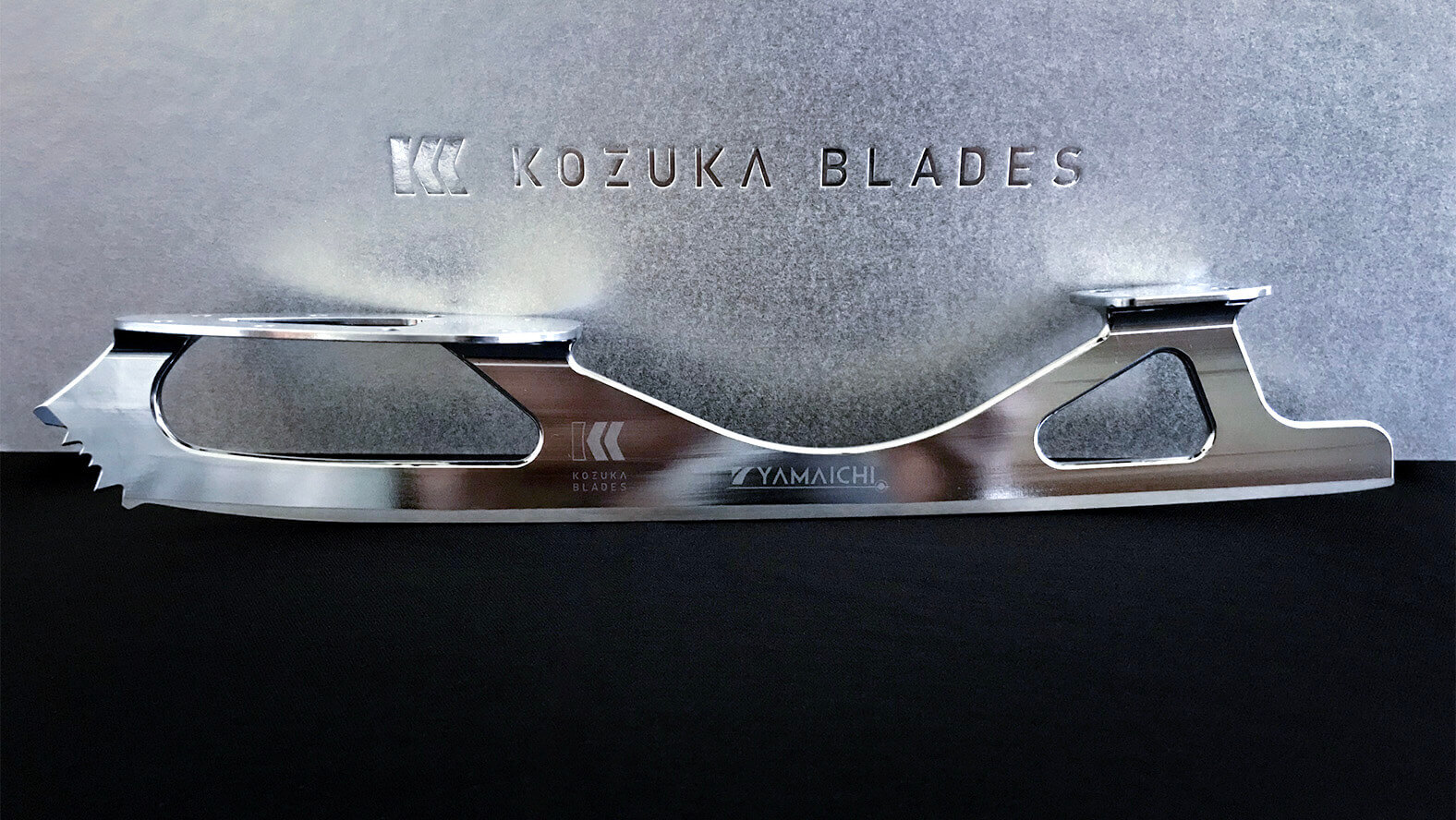 Giving Olympic Figure Skaters a Cutting Edge – Yamaichi Special Steel
Japanese figure skaters are among the best in the world, and many famous skaters hail from Nagoya in Japan. Nagoya-based Yamaichi Special Steel Co., Ltd., a high-grade steel-work company, has been working with Nagoya native and 2010 Olympic figure skater Takahiko Kozuka to develop a new set of blades used for figure skating. Roland DG's photo impact printer was used to imprint the catchy logo on the surface of the blades, so we decided to find out more about the development process.
Specialist steel manufacturer and elite skater team up
2010 Olympian and 2011 world championships silver medalist Kozuka captivated figure skating fans with his elegant style of skating, and he is one of Japan's leading skaters who helped boost the popularity of figure skating in Japan. He retired from the sport in 2016 and is currently involved in a range of activities aimed at increasing participation in figure skating and other sports.
Yamaichi Special Steel's expertise is with special, high-strength steel with unique properties. They machine automotive and semiconductor components at their own plants.
Yamaichi Special Steel and Kozuka have teamed up to develop a completely new style of blade made of steel that has been machined as a single unit, rather than welded together like conventional blades. After six years of development, Kozuka Blades first went on sale in April last year. We spoke with Takaki Ishikawa and Hidetaka Muguruma from Yamaichi Special Steel about how these new blades were developed.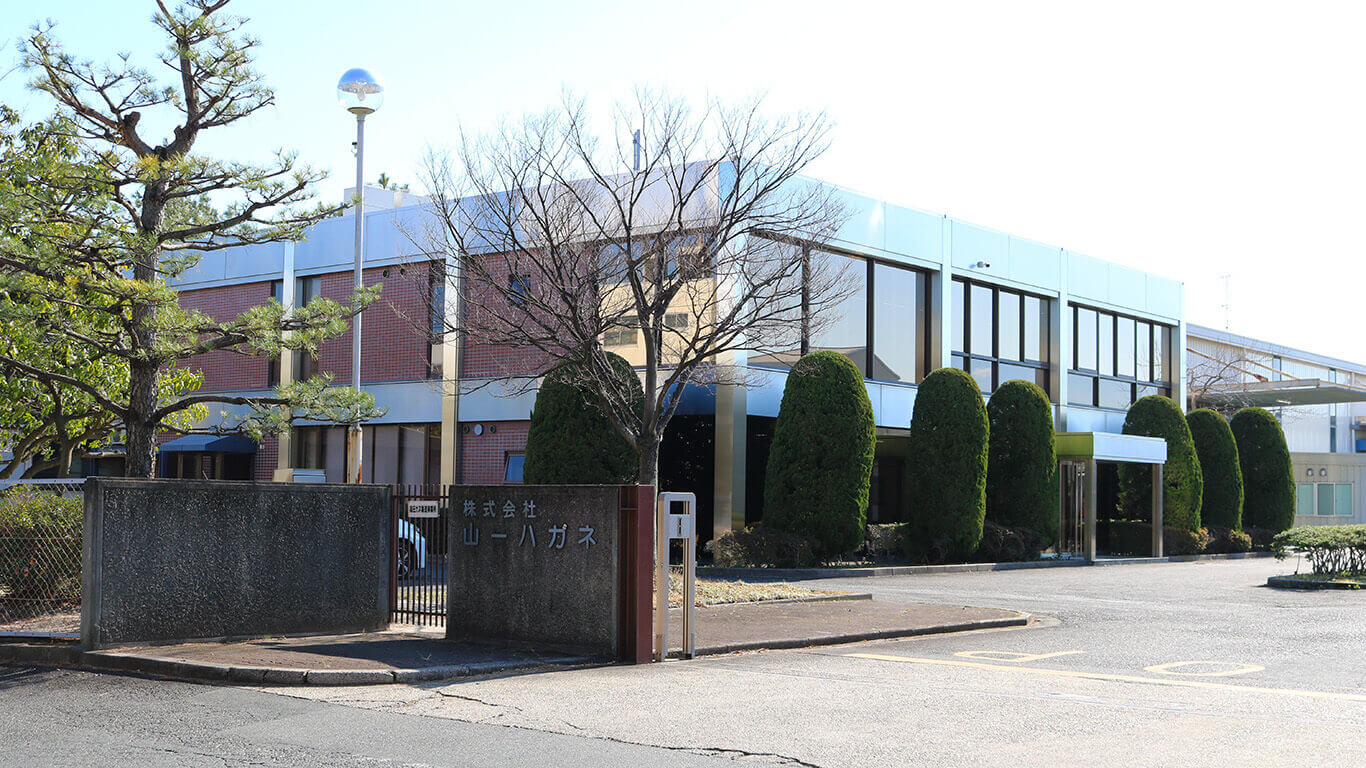 Yamaichi Special Steel headquarters is located in Midori-ku, Nagoya.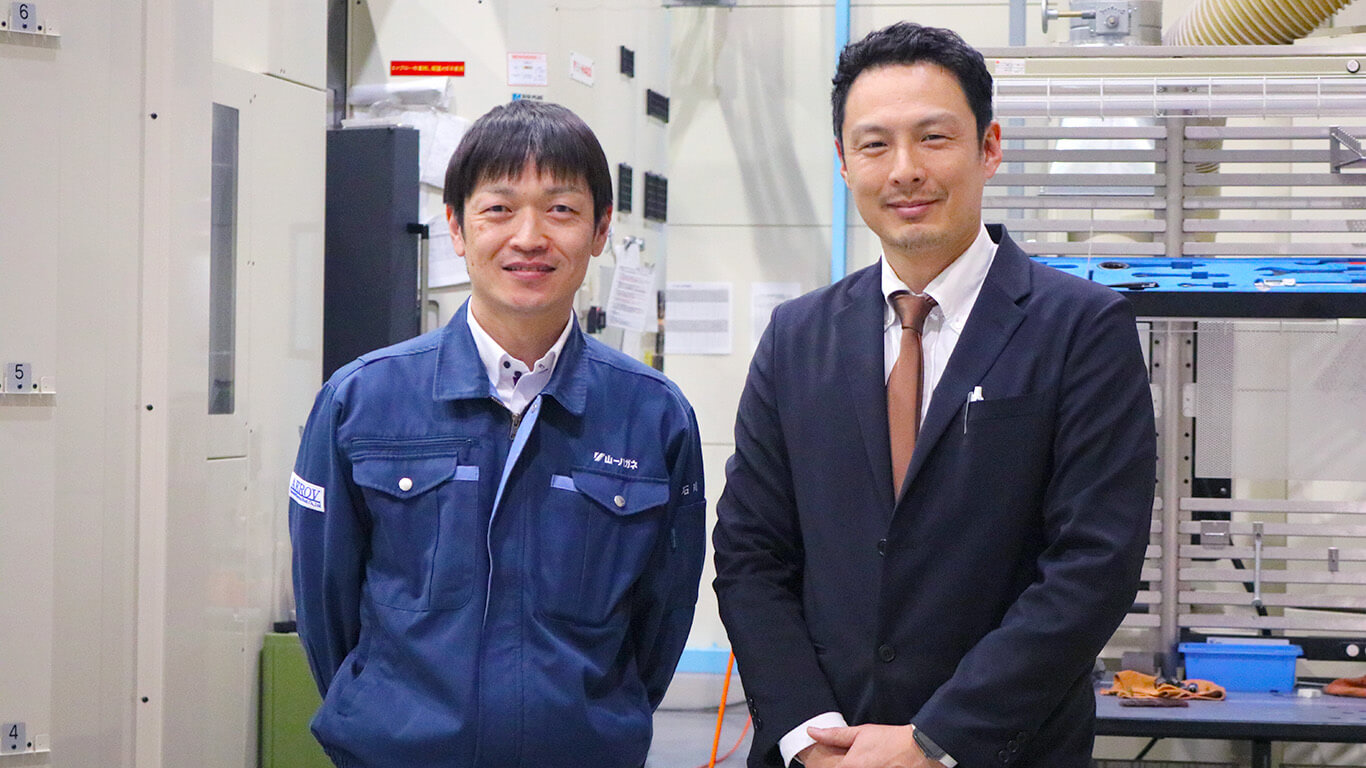 Takaki Ishikawa (left) and Hidetaka Muguruma (right) of Yamaichi Special Steel.
What type of company is Yamaichi Special Steel?
Ishikawa: We have been involved in the sales of special steel for many years, but more recently, we have been catering to our clients' needs by machining materials at our plants to give them greater added-value. Most of our products are molds used to make components for the automotive and other industries.
How did you come to work with Kozuka to develop these blades together?
Ishikawa: We helped take measurements of foot moldings back in 2012 when Kozuka was still a full-time skater. At the time, designing new skating boots meant that Kozuka likely had to travel to manufacturers overseas just to take measurements, but upon learning that a local company had high-precision 3D measuring instruments, he decided to find out more. Kozuka visited our offices so that we could measure the moldings of his feet, and then we used the 3D data to machine an exact replica of his foot out of aluminum. When Kozuka saw what we had made, he was both delighted and amazed by the level of technology employed.
While our President was discussing things with Kozuka, he learned that Kozuka had been facing various issues with his skating boots, particularly regarding the differences in durability and quality of the blades and how they end up bending due to the extreme forces when landing a jump. As specialists in steel manufacturing, we thought that there must be a way we could use our company's technology to make better quality blades, and we suggested this to Kozuka, marking the start of development. As the division in charge of machining and milling, I covered the engineering side of things, while Muguruma handled the product planning and negotiation aspects.
Can you tell us more about the blades used in figure skating?
Ishikawa: The boots and blades used by skaters are made by different companies, and skaters select the blades to attach to their boots. While there are no regulations governing the shape or length of blades used in skating competitions, there are various blade patterns available that result in slightly different curvatures depending on the skater's skill level, or the type of discipline like singles or ice dancing. We have used a pattern that is popular for singles skating.
What are the features of Kozuka Blades?
Ishikawa: With conventional skating blades, the base parts that mount to the boots and the blade parts are welded together by hand, which naturally results in slight individual differences between blades. Kozuka Blades are based on 3D data and are made from a solid steel block using a milling machine to create a single-piece blade. The resulting features are exceptionally high quality and strength with light weight.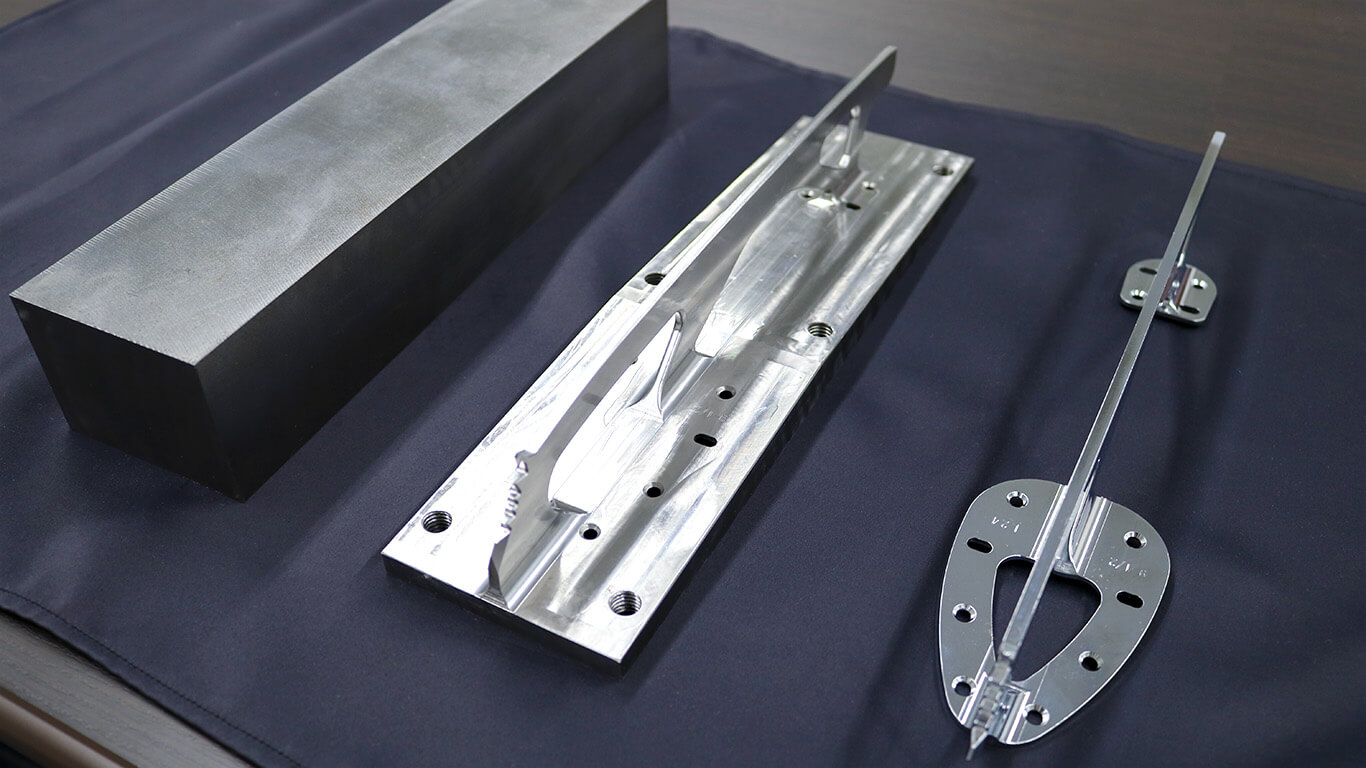 A steel block weighing more than 10kg (left) is carved out with a milling machine (center), to create the finished product (right) that weighs just 270g, or around 2% of the original block.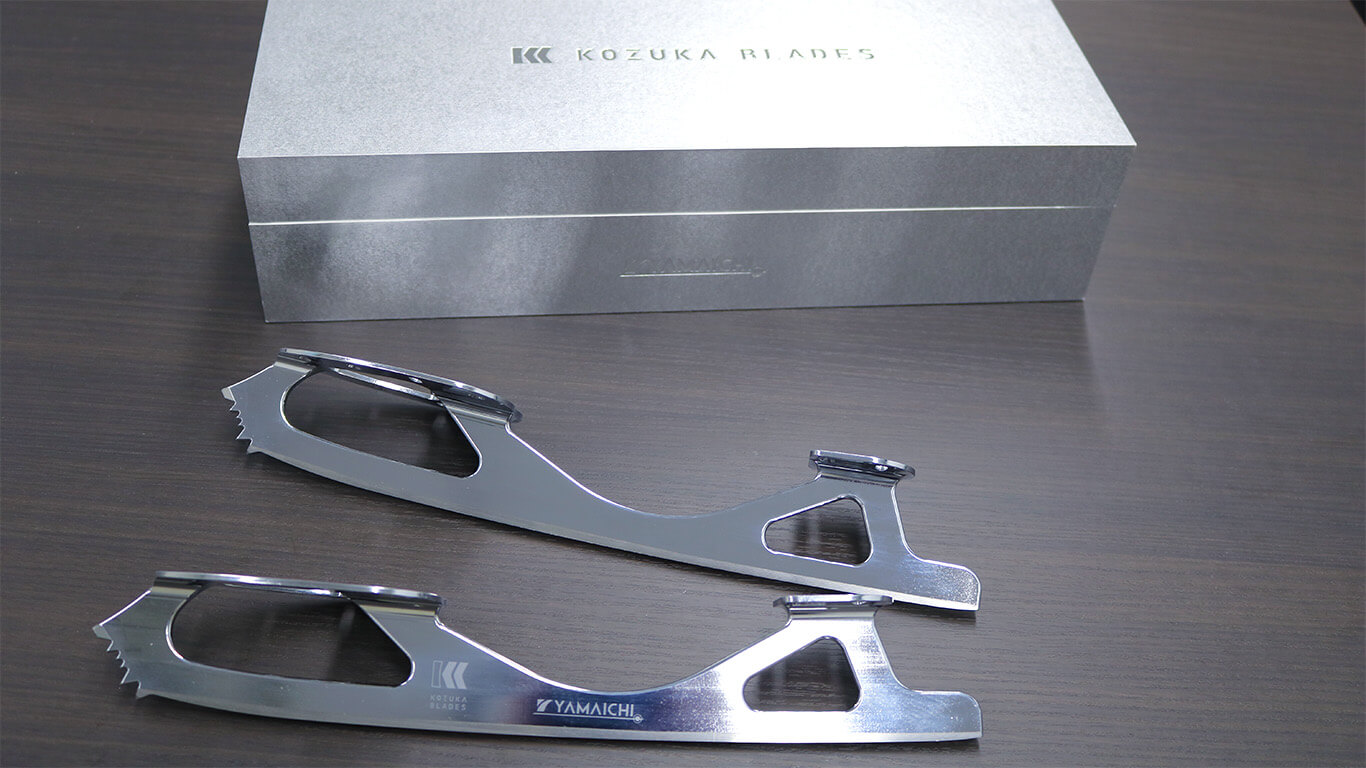 Completed blades (bottom) and their packaging that resembles a solid steel block (top).
Processes involved in developing ideal blades that are comfortable to use
How does blade development begin?
Ishikawa: Our company prides itself on its machining technologies, however this was our first project involved in developing products for use in sports. We did not have much experience with figure skating, so our biggest challenge was to see if we could make a blade that skated well.
Muguruma: We made countless prototypes, which Kozuka and many other current skaters used in actual competitions, and then they provided us with feedback and advice. Ishikawa and I also visited skate rinks to test our prototypes, so development was indeed a process of trial and error.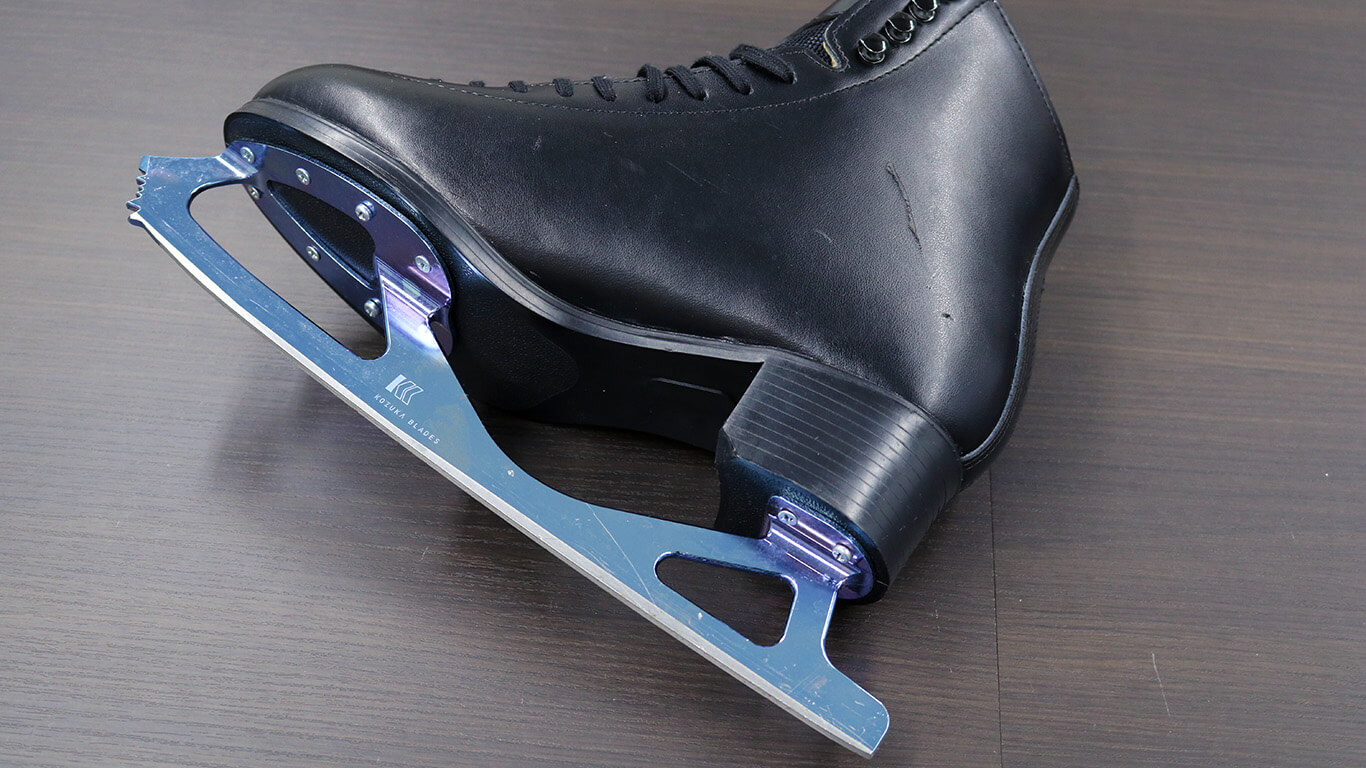 A skating boot with a prototype blade that Muguruma tested. The scuff marks on the boot are evidence of just how challenging the development phase was.
What did you focus on the most during development?
Ishikawa: Our primary focus was to make blades that are comfortable to use for each skater's body type. To withstand shocks when landing jumps, we used a special steel that is flexible to better resist bending and impacts, but which also has high-strength characteristics. We heard that skaters often injure themselves when holding the blades while spinning or during other moves, so we designed them with bevels machined into edges that skaters can safely hold with their hands.
What are the steps involved for finishing the blades?
Ishikawa: After machining and milling the steel block, we imprint the logo using Roland DG's photo impact printer. Finally, we add chrome plating to the blades for greater corrosion resistance and a better appearance.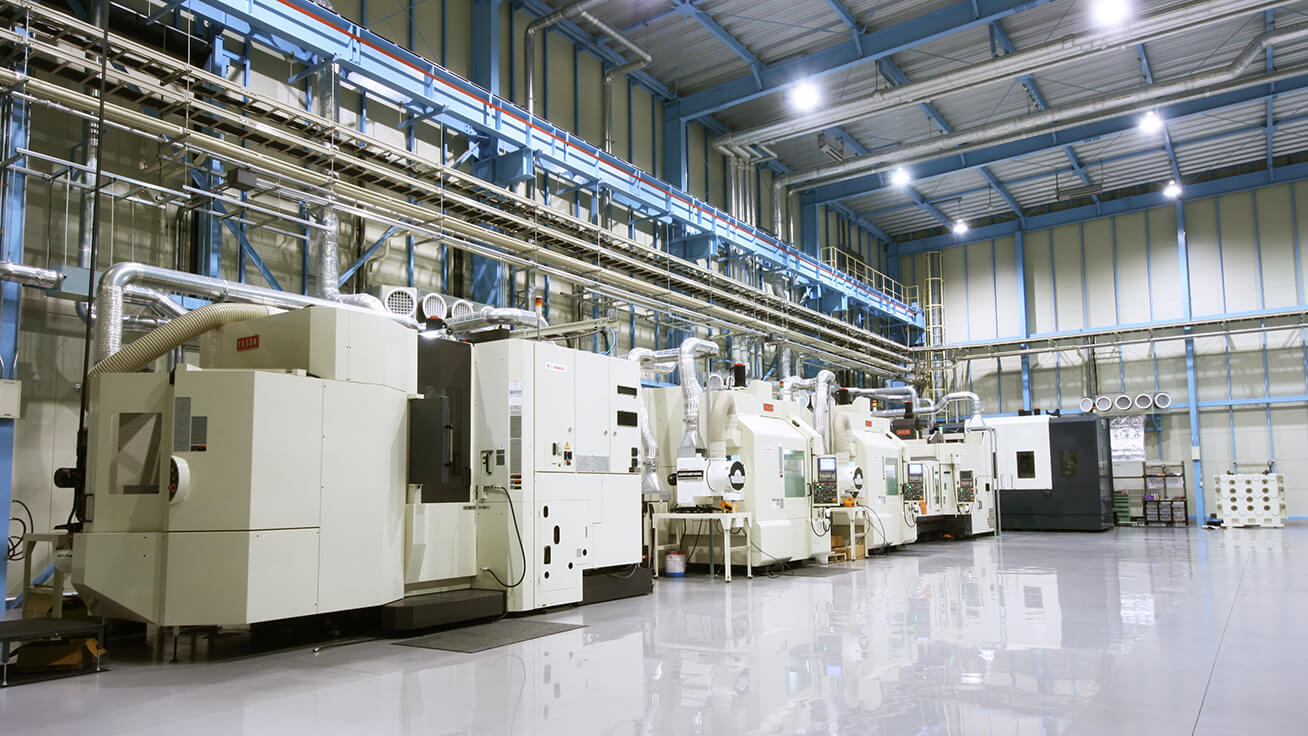 Blades are made at Yamaichi Special Steel's own CNC machining center, where steel is machined in a temperature-controlled environment.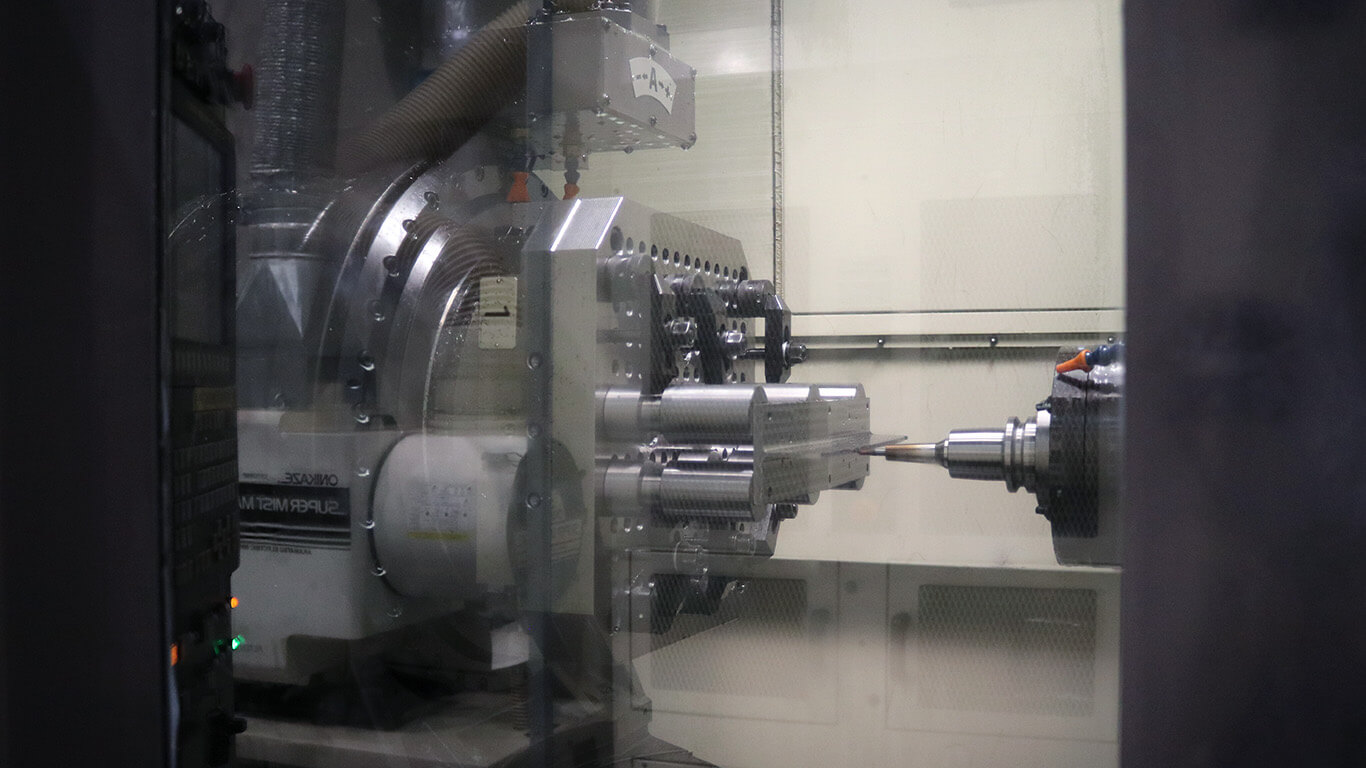 Blades machined with a high-precision CNC machining center that automatically switches between 20 different tools.
To imprint logos onto the blades, in 2016 Yamaichi Special Steel began using Roland DG's METAZA MPX-90 photo impact printer that is capable of reproducing text, illustrations and other graphics on metal surfaces.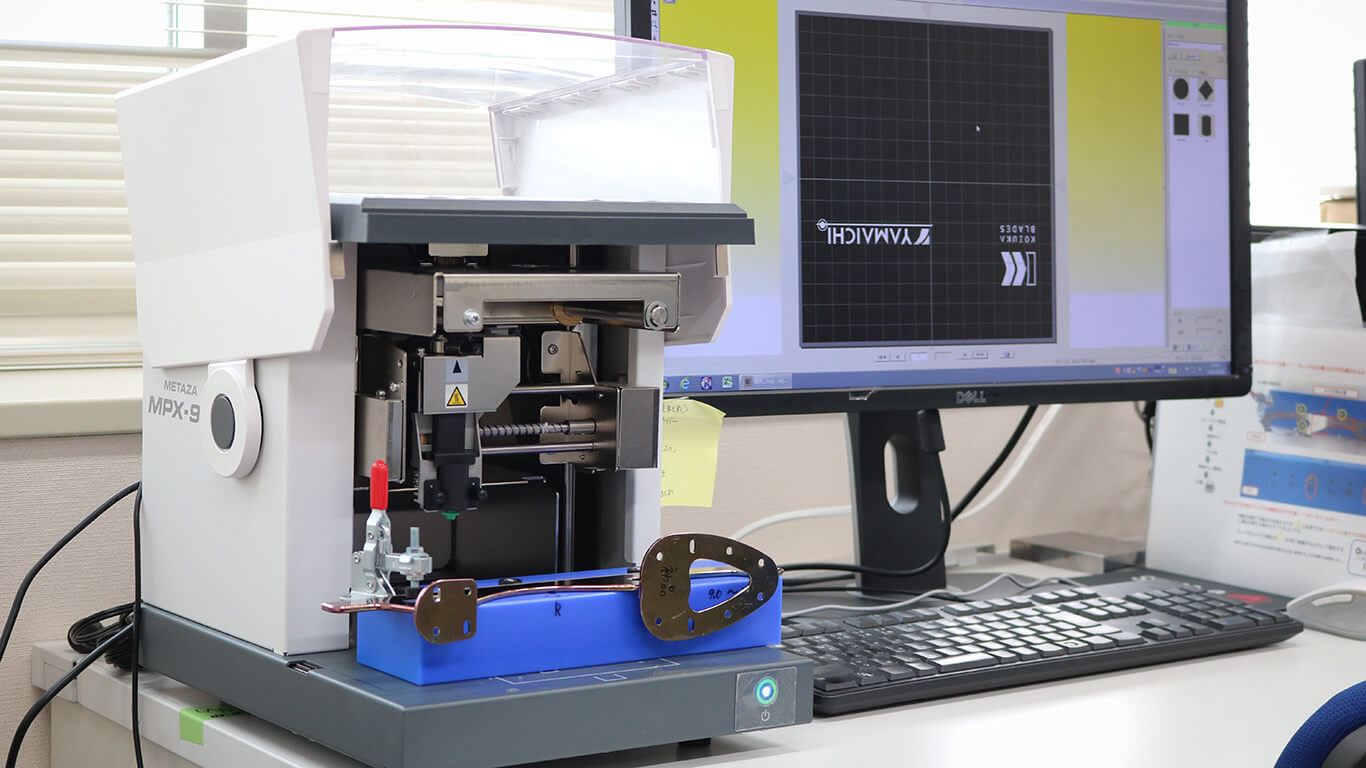 Roland DG's photo impact printer installed in Yamaichi Special Steel CAD room.
What was the background to using a photo impact printer?
Ishikawa: We initially outsourced the logo imprinting because of the low number of blades produced at the start of development. We discovered Roland DG's photo impact printer when we started thinking about mass-production and how we could add the logos on site, instead of outsourcing the process. We witnessed a demonstration of the printer in action, and knew that it was ideal for imprinting logos on site. Blades are prone to rusting because they are used on ice, so we wanted to eliminate any scratching that might cause rust to form. A deciding factor to go with a photo impact printer is that it uses a system that strikes the metal surface and prevents rust from forming.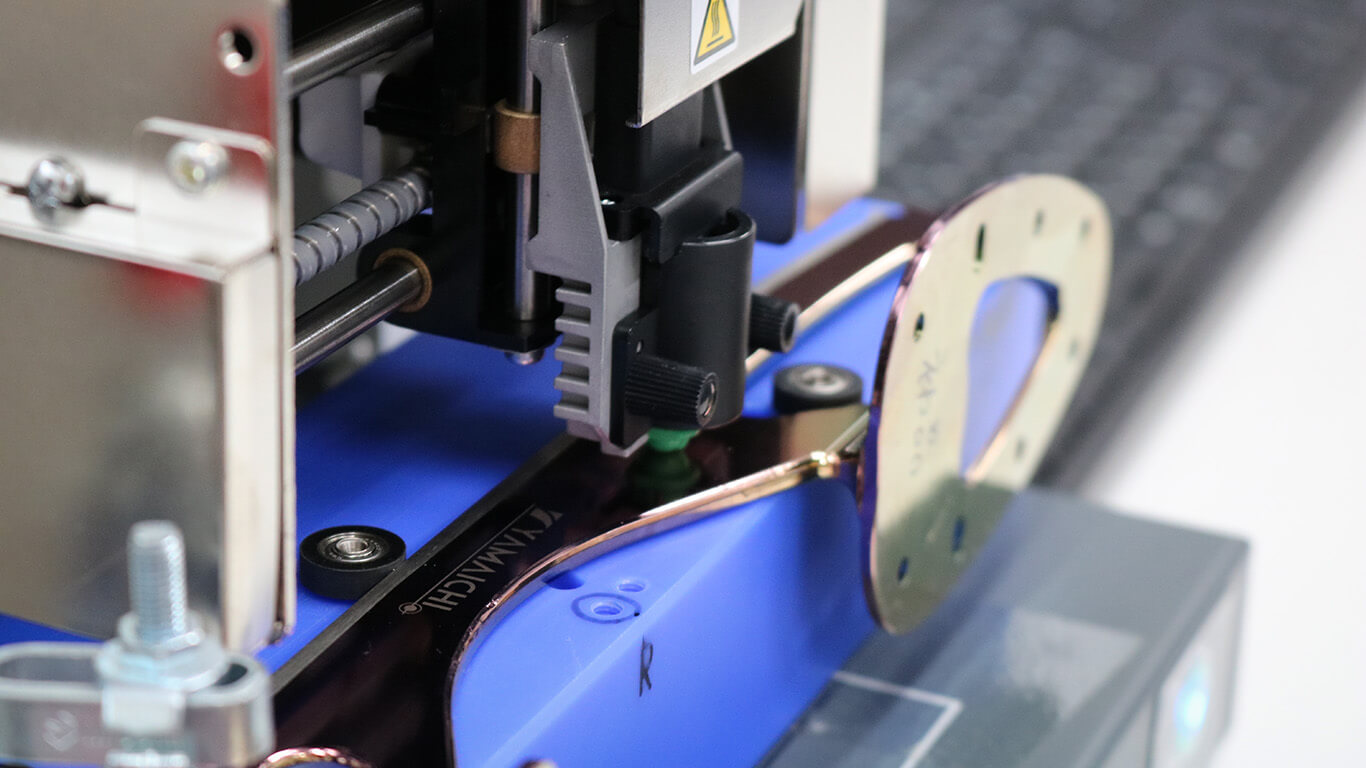 A photo impact printer strikes the blade surface to imprint logos.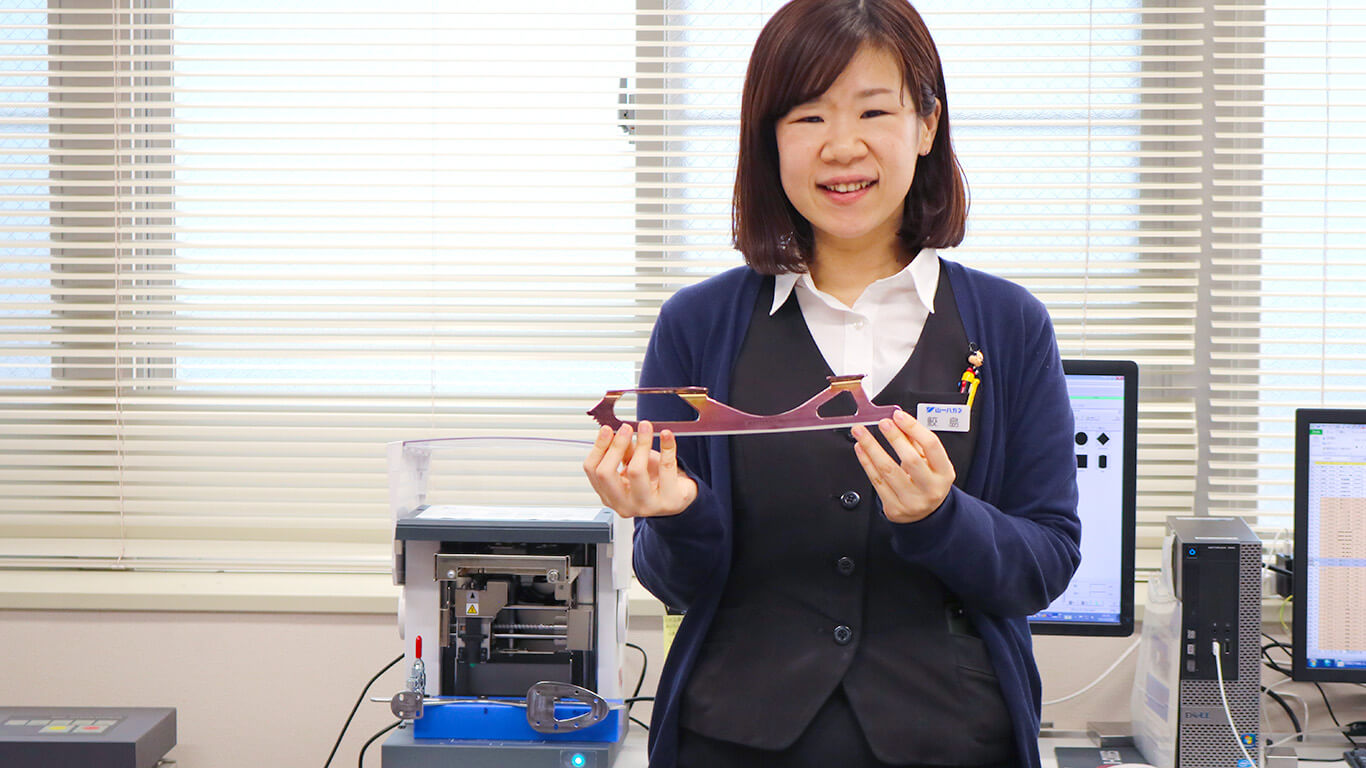 Ayano Sameshima in charge of the imprinting process at Yamaichi Special Steel explained, "The printer is great because it is easy to use without needing any special knowledge."
How are you using the photo impact printer?
Ishikawa: The outside surface of the blades features the Kozuka Blade logo and our company logo, and the base that mounts to the boots is imprinted with a serial number. Customers can add their own name to the inside surface if they want, and skaters say they love the exclusive feel of having their own name on their blades.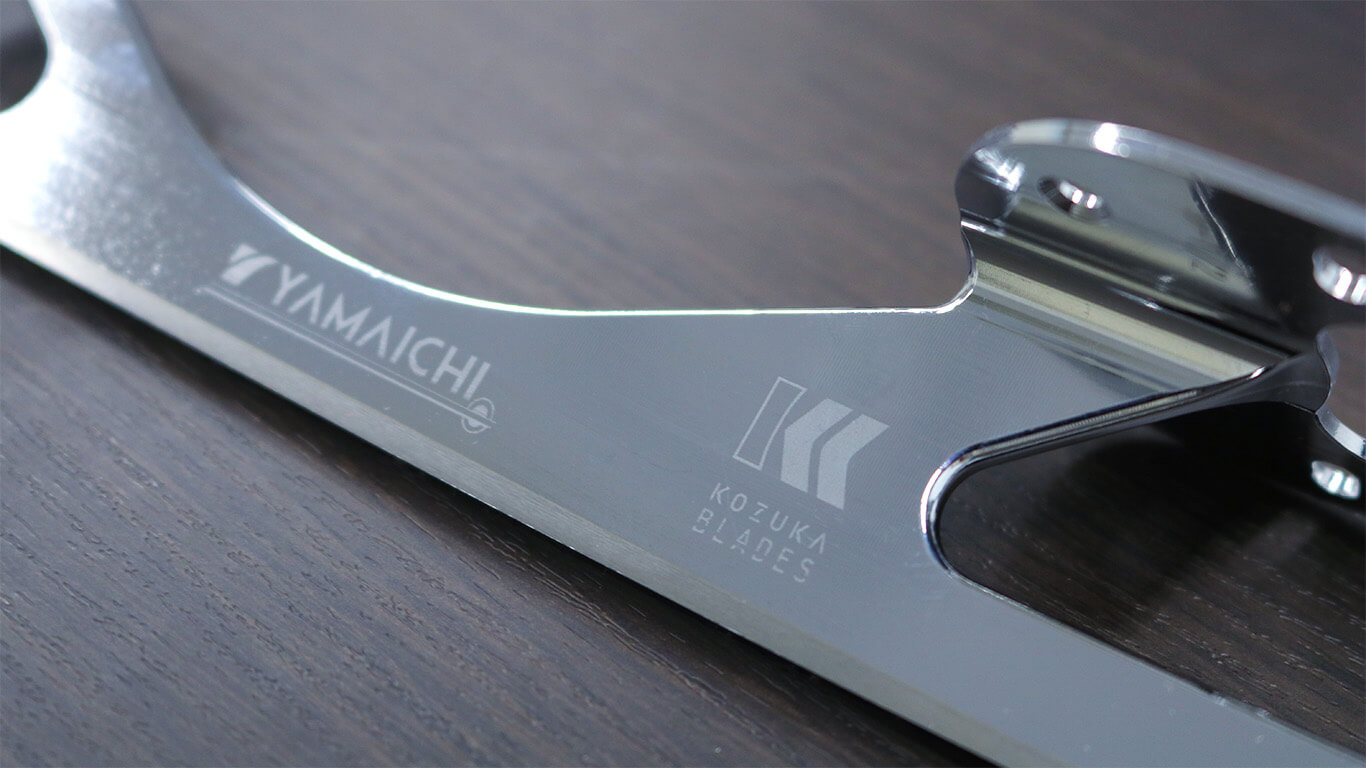 The Kozuka Blades logo (right) and Yamaichi Special Steel logo (left) imprinted on the blade.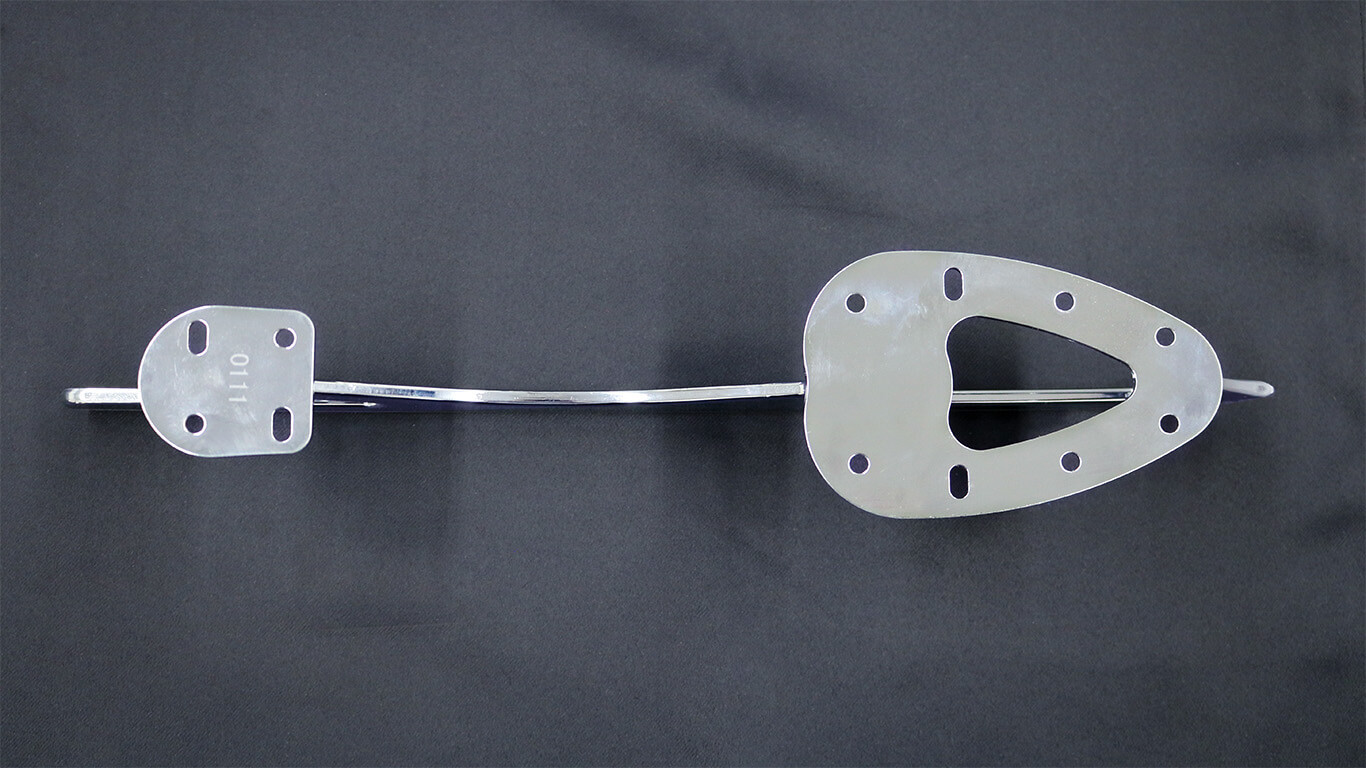 A serial number is imprinted on the blade base.
Future developments for the blades
What is feedback like from users of the blades?
Ishikawa: The blades have been covered a lot in the media and are certainly drawing more attention. We have had an increase in the number of inquiries from skaters, and there were even six skaters using Kozuka Blades in the Japan Figure Skating Championships at the end of last year. I have also heard that there are some skaters from overseas using them.
Muguruma: Skaters using these blades report that they can glide with almost effortless power. We are studying the feedback, and think that this is due to the higher strength of the single-piece design and tougher material being used. Most users are those participating in top level competitions, but for users who want to improve their overall skating skills, we hope that these blades provide them with a way to bring out their best performance.
What have you learned through your experience developing the blades?
Ishikawa: I think that everyone at the company feels great when they see skaters using their blades, especially when they are so visible like at competitions shown on television. We do not sell our products to consumers so it is difficult to see how they are actually being used. As someone involved in manufacturing, every effort is worth it when we receive direct feedback or opinions from skaters who are using our blades.
Finally, what goals do you have for moving forward?
Ishikawa: These blades have been developed with the technologies available at our company, and I want to put in the effort to make the blades better known among those involved with figure skating so that more users can experience the blades themselves.
Muguruma: Advances in equipment used in figure skating seems to be lagging behind other mainstream athletic sports. I feel that we have developed a product that is bound to bring changes throughout the skating world.
Based on feedback from users, we are currently developing prototypes of blades with different patterns and colored blades coated in various colors. We hope to continue developing the blades while collecting any feedback and advice from skaters.
Thanks to Yamaichi Special Steel for providing such valuable insight into the development process.
It is clear from the interview that Yamaichi Special Steel wants to assist figure skaters by providing their manufacturing technologies. Next time you are watching figure skating, be sure to keep an eye on the blades they are using!
Click here for more details about Kozuka Blades (Japanese text only)