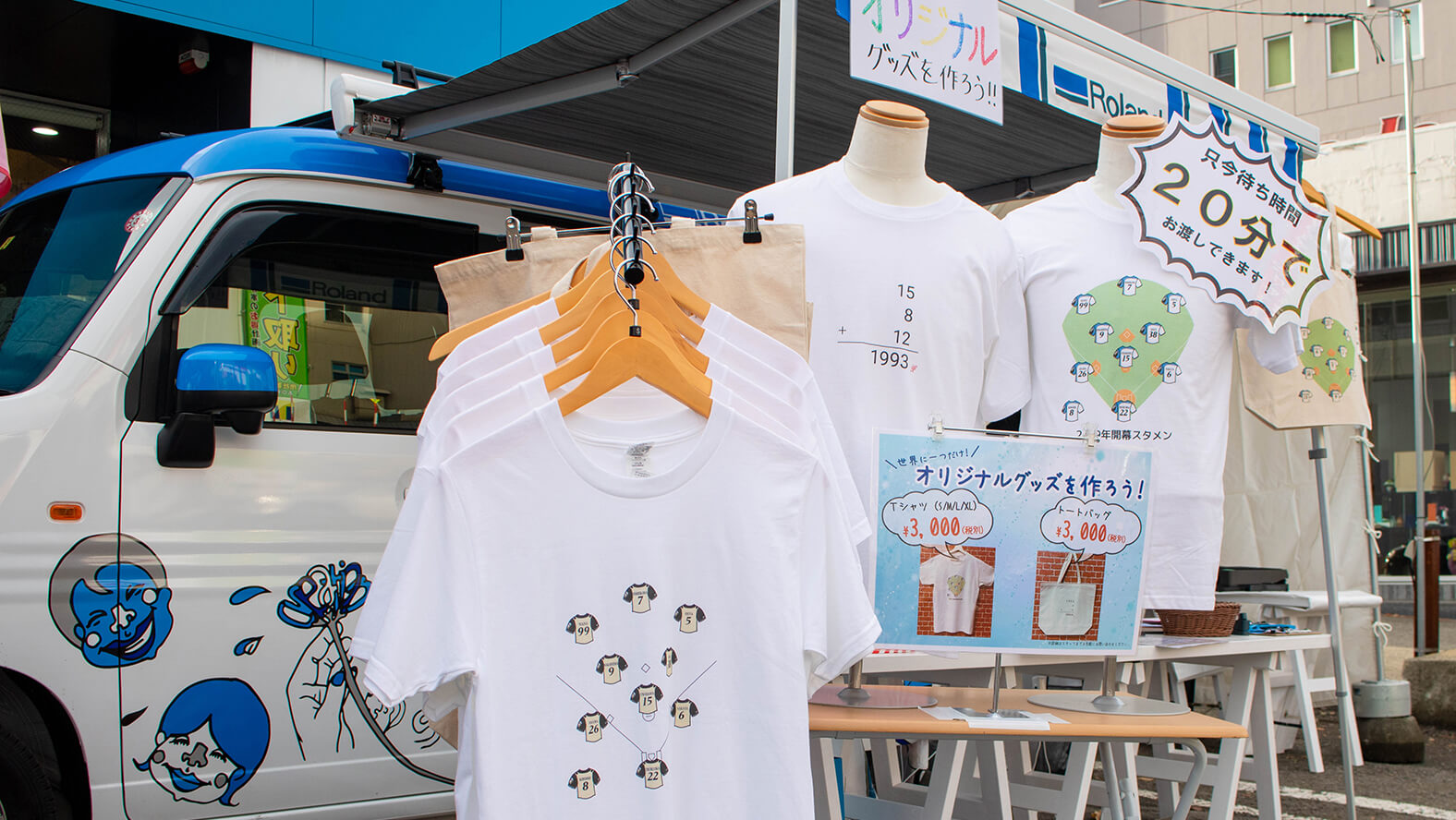 Creating Unique Experiences with Fans at Hokkaido Nippon-Ham Fighters Official Store
Roland DG's custom vehicle COTOVAN recently visited the official store of the Hokkaido Nippon-Ham Fighters Japanese baseball team near the team's home field at Sapporo Dome in Hokkaido, Japan. Equipped with digital tools including direct-to-garment printers, COTOVAN helped visitors create one-of-a-kind tote bags and t-shirts printed with player uniform numbers, names and other design features.
Mobile fabrication workshop held at the official Fighters store during Fan Festival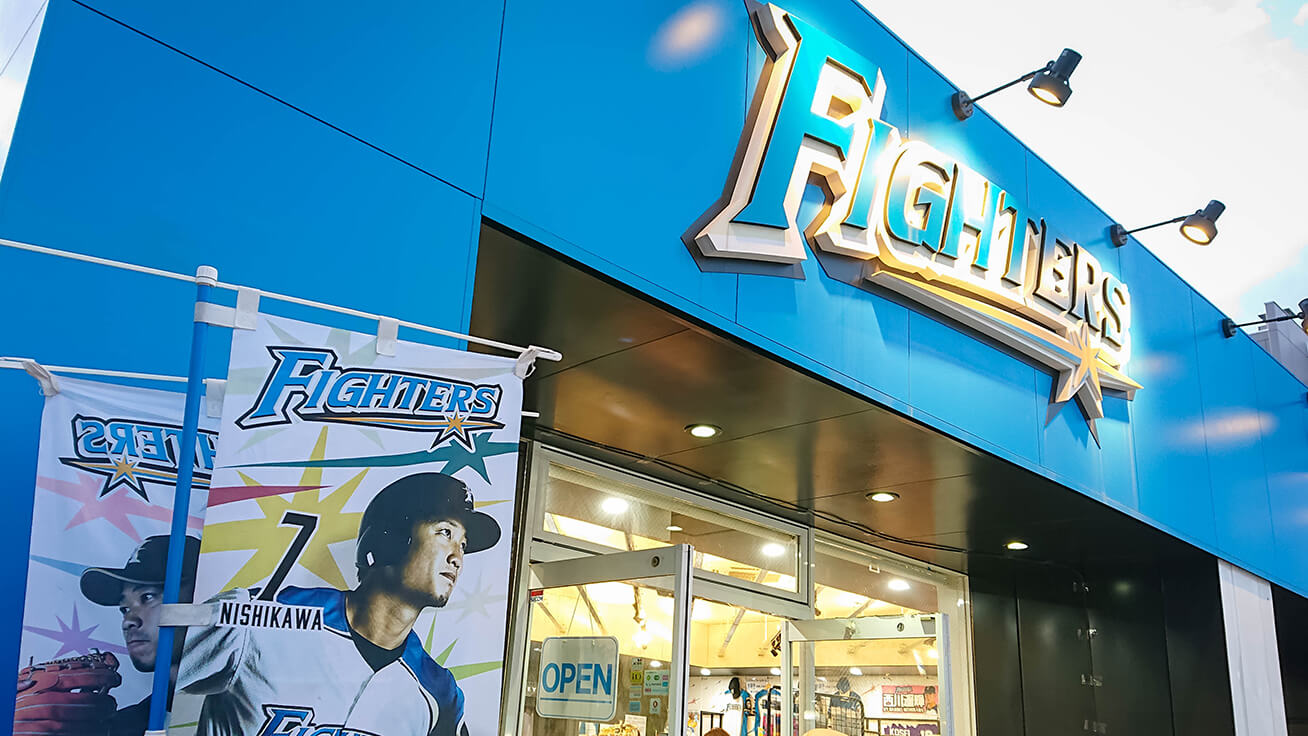 The Hokkaido Nippon-Ham Fighters official store CLUBHOUSE offers some 20,000 merchandise items for sale
COTOVAN is equipped with a range of our digital tools, and travels to various event sites to provide visitors with a special opportunity to create their very own, one-of-a-kind items.
The once-yearly Fighters Fan Festival was held at Sapporo Dome on November 24, 2019, so a mobile workshop event was scheduled to be held at the nearby official CLUBHOUSE store.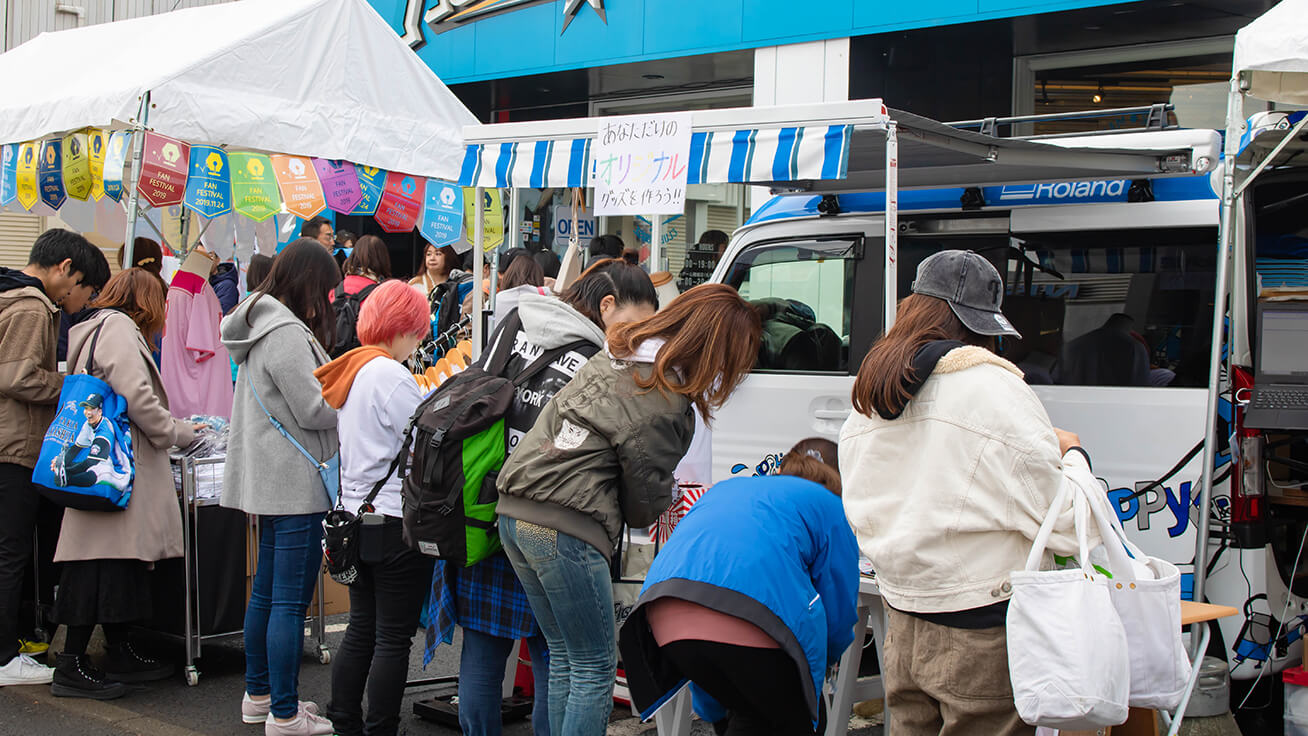 Team supporters visiting the CLUBHOUSE had the opportunity to create personalized items with COTOVAN.
Approximately 34,000 team supporters attended the Fighters Fan Festival held at Sapporo Dome.
COTOVAN has been showing up at events held in various locations around Japan, but this was its first visit to Hokkaido.
Click here for details of van visiting the Honda showroom
Click here read more about the van driving around Kyushu
Team supporters made their own items featuring team players
Visitors to the event had the opportunity to create their own fan merchandise, including a large tote bag of the ideal size for carrying all those extra things to attend a baseball game, and a t-shirt that also doubles as casual wear.
There were two designs available: My Favorite Nine featuring nine of the customer's favorite players and DH (designated hitter); and Fighters Formula where customers could choose any of their favorite player's numbers arranged as a mathematical formula.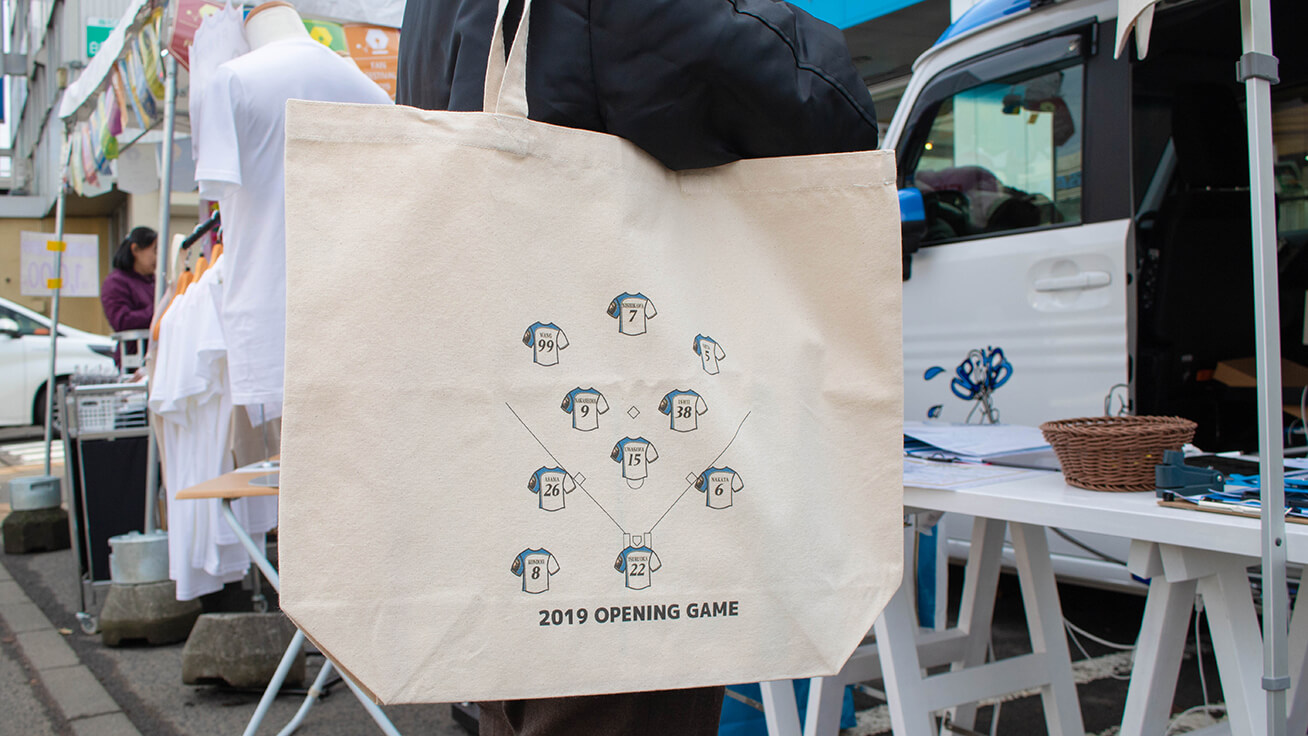 Tote bag printed with the 2019 opening game lineup players.
My Favorite Nine
Numbers of the customer's favorite players, or other combinations including starting lineup players from a memorable game could be arranged to create a personalized design.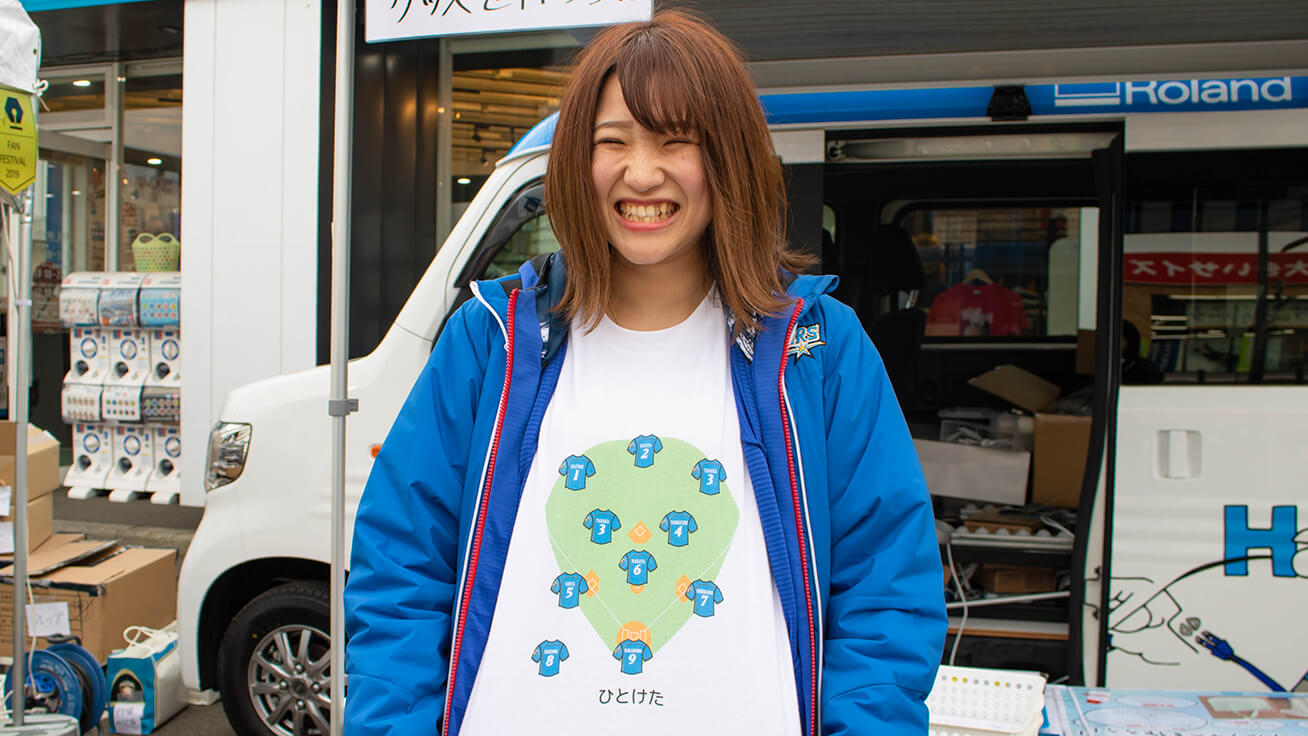 CLUBHOUSE staff member Yuko Ito chose a baseball field design featuring only single-digit player numbers. "These players would never be in these positions in an actual game, but I thought it made an interesting design!"
Fighters Formula
A style designed by the Fighters official store staff included player numbers, birthdates or any other numbers or letters arranged to create a unique formula.
CLUBHOUSE staff Rina Hisaoka made a shirt printed with the birthday of her favorite player, Yuya Taniguchi.
Fighters official store staff Yumiko Nakagawa who designed the Fighters Formula explained, "I came up with an exciting design that includes popular player numbers, or combinations of their favorite player numbers. We had a lot of fun creating the ideas behind the various samples."
Nakagawa also showed us her one-of-a-kind team mascot Polly Polaris tote bag that is trending on the Fighters official Instagram page.
The My Favorite Nine or Fighters Formula designs created by customers were arranged by staff using cotodesign, the design and print management software that allows layouts to be edited easily on a tablet. The tote bags or t-shirts were then printed using the BT-12 direct-to-garment printers installed in COTOVAN, allowing customers to pick up their customized item in as little as 20 minutes.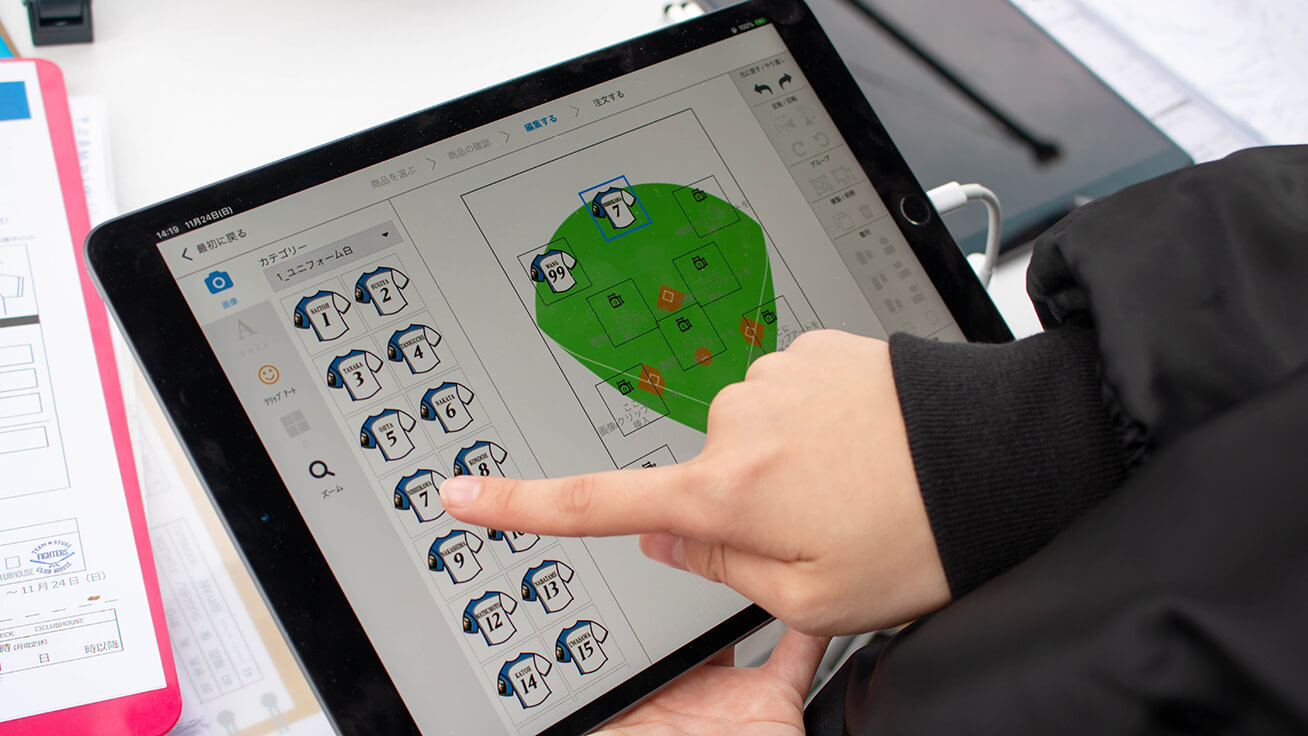 cotodesign software makes it easy to create unique experiences at event sites by simply creating designs on a tablet before printing them out.
Many team fans stopped by in the evening on their way home from Sapporo Dome.
One-of-a-kind items also made at the Sapporo Station official store
In addition to the COTOVAN event day, the design service was available from November 6 to December 7, 2019 at the team's two official stores, CLUBHOUSE and ON-DECK in front Sapporo Station.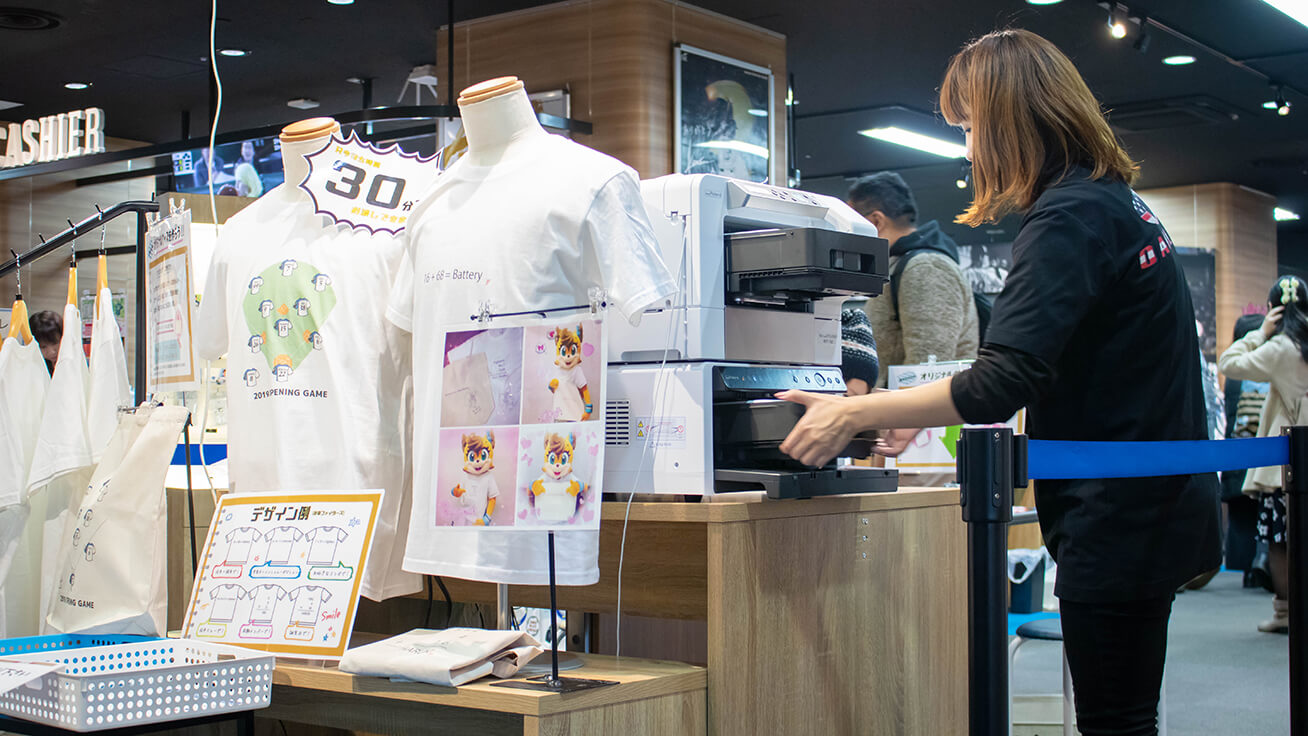 At ON-DECK located in front of Sapporo Station, store staff were able to easily use the direct-to-garment printer and software after some quick training.
We asked the event organizer what type of items captivated fans
We met with manager of Hokkaido Nippon-Ham Fighters Corporation Kentaro Maki (photo below), who has years of experience with merchandise sales in the sports sector.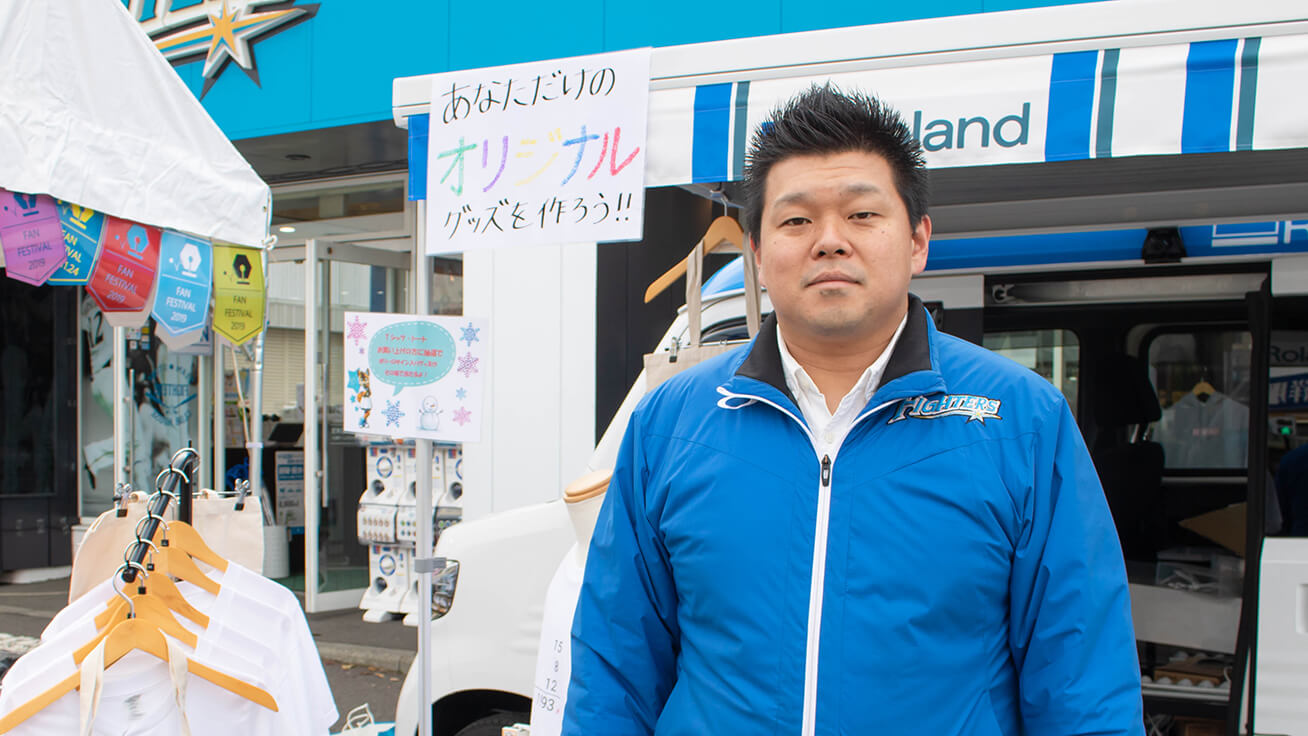 How did you come up with the idea of having customers design their own unique items?
In the past, only merchandise featuring some of the most popular players sold well, but these days that is not enough to meet the demand of team fans. Ideally, we would like to make merchandise available in versions for all players, but we are faced with production lot and stock restrictions. We looked into making items directly at stores by entering player data, but we found it too difficult to implement in practice.
While we were exploring options, Roland DG suggested a way we can make items at stores without having to keep stock on hand and they helped us organize this event.
Why did you focus on trendy items that can be used in everyday situations?
Breaking away from the notion that professional baseball is geared to older males, baseball teams around Japan are trying to expand their fan base to include females and younger generations. We are focusing on items and designs that appeal to this fan base. Team fans indicated that they prefer items with designs they can use on a daily basis, rather than those limited to supporting their team during games, and we have applied that feedback for this event.
What plans do you have for the future?
This was a great way to try a new approach to running events. If we can come up with ideas that give customers a better range of design options, I think it will be possible to make this service a permanent feature in our stores or at games.
Thank you for your insight.
We saw many unique items that conveyed the true passion of Fighters team fans. A big thank you to everyone who participated in the event!
Click here for details of the official Fighters stores, CLUBHOUSE and ON-DECK (Japanese text only)