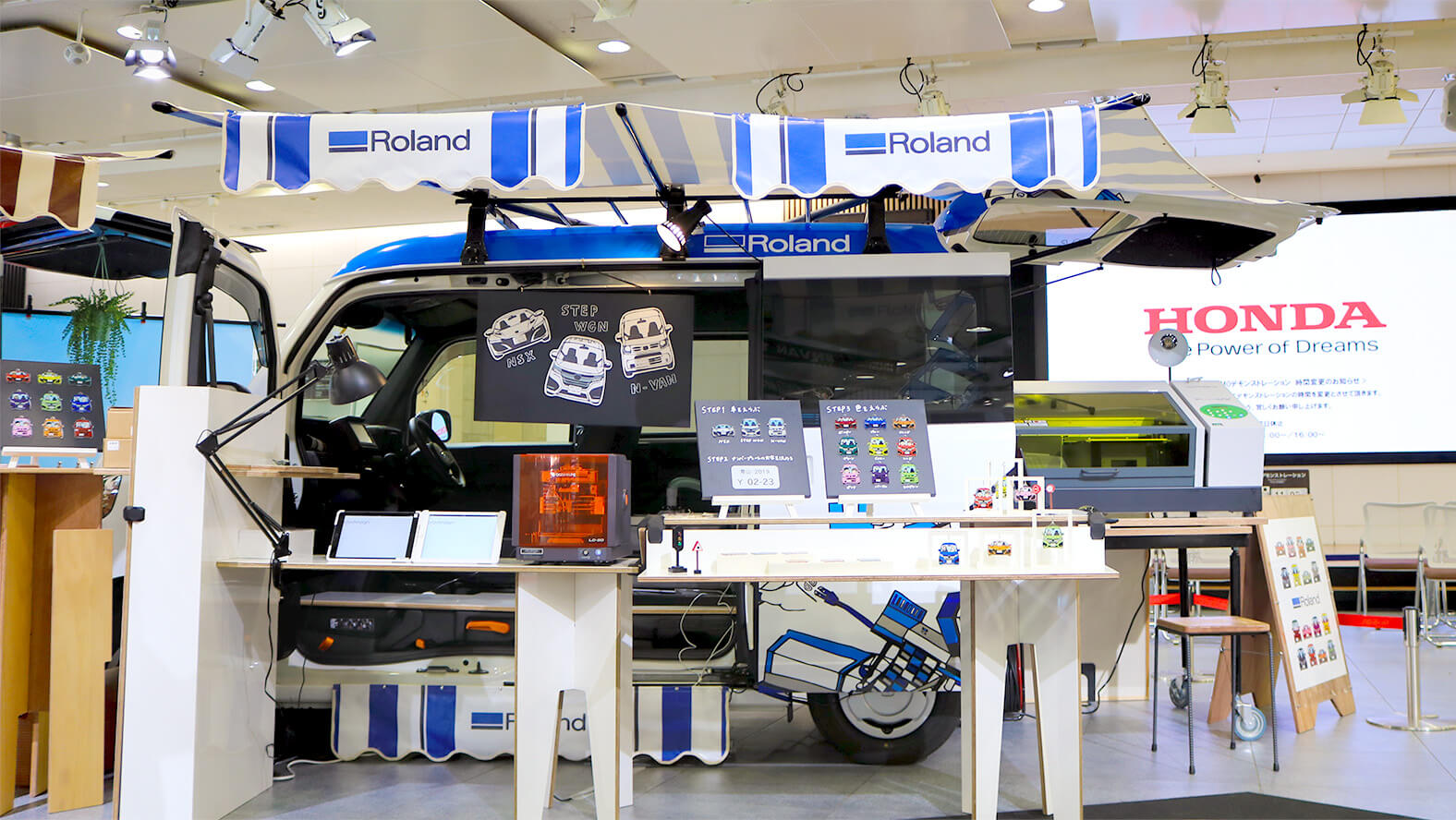 Roland DG Combines Vehicles and Digital Tools to Create Unique Experience at Honda Showroom
The Honda Welcome Plaza AOYAMA located on the first floor of the Honda AOYAMA Building in Aoyama, Tokyo, recently displayed a customized Honda N-VAN minivan which gave visitors an opportunity to express their own sense of style using Roland DG's digital tools including a UV printer. Visitors were able to have portraits and facial photos printed on acrylic to create one-of-a-kind car-shaped key chains as a souvenir.
Digital tools and a custom van deliver a unique experience
Roland DG customized a Honda N-VAN minivan, a popular model that suits a broad range of work and leisure duties. The N-VAN was customized to drive to different events and provide visitors access to the latest digital tools so that they could have fun creating their very own accessories.
To help make the custom vehicle, the membership-based shared factory Makers' Base came up with the theme for the exterior design and display fixtures. The vehicle wrap was created with the help of Kanbanman.com using Roland DG inkjet printers.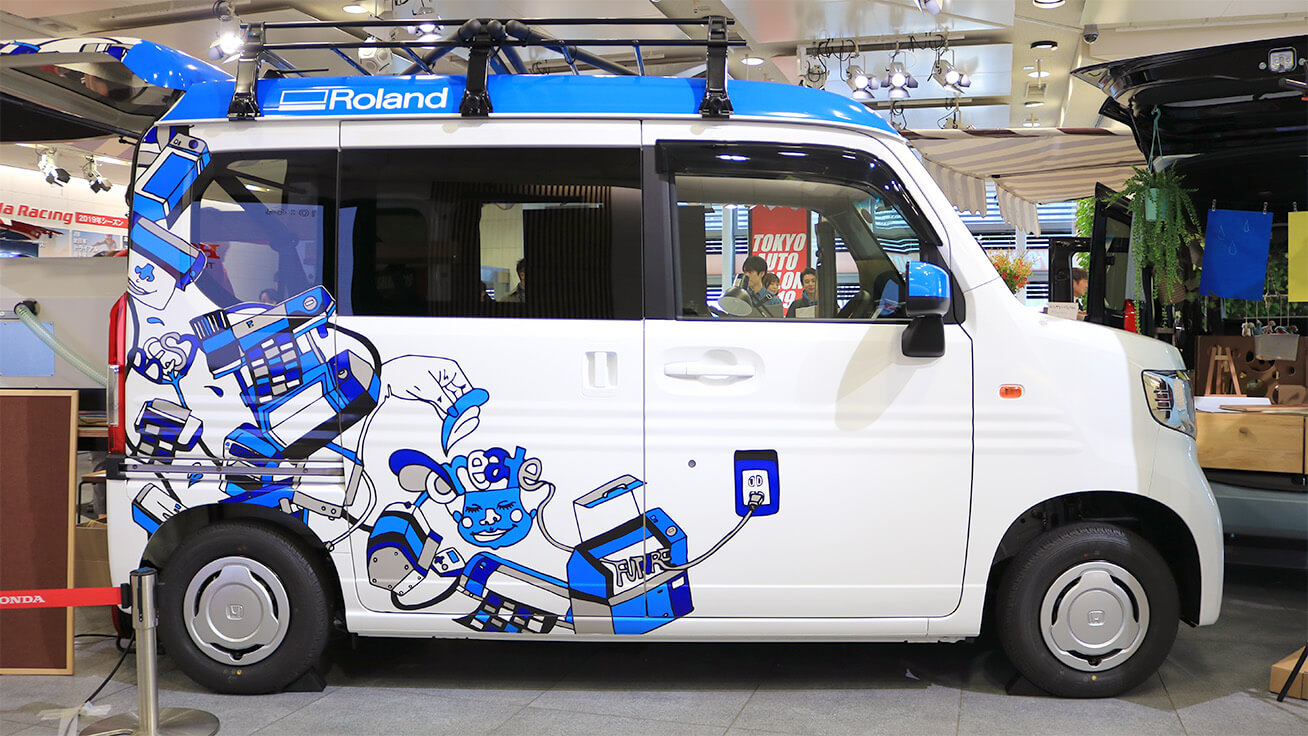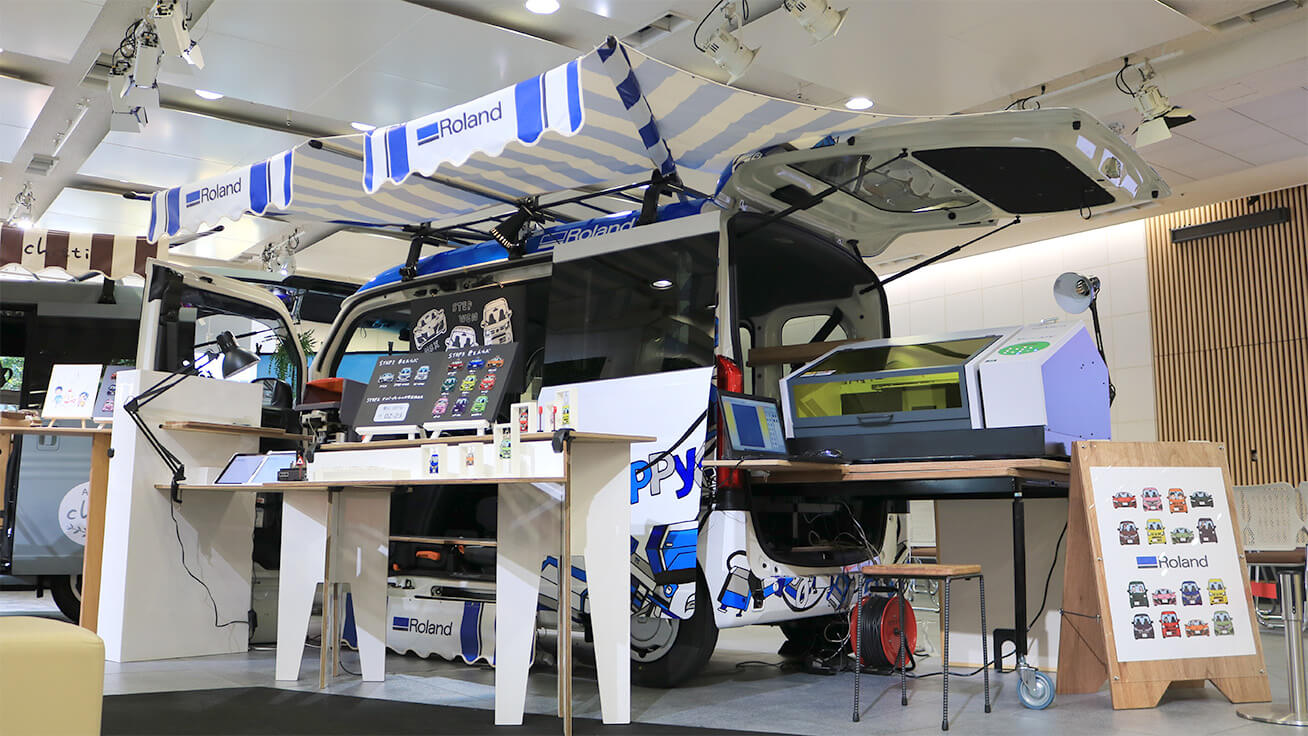 The custom van loaded with UV printers and other tools is displayed at various locations as a workshop or pop-up booth so visitors can create their very own accessories.
Making one-of-a-kind key chains to make visitors smile
Roland DG's custom vehicle was unveiled at the Honda Welcome Plaza AOYAMA on February 23 and 24.
A number of vehicles were exhibited at Tokyo Auto Salon 2019, Japan's largest custom car show. One of the vehicles was a customized N-VAN featured in Honda's #NVAN_Dream campaign, which called for people to send in the designs of their dreams. The winning design was this mobile N-VAN ART STAND concept submitted by illustrator Chihiro.
Click here for details on the #NVAN_Dream (Japanese only)
This joint event featured the vehicle designed by Roland DG and Chihiro's N-VAN ART STAND concept. Visitors to the plaza could print out portraits drawn by Chihiro, or a photo of their face taken in the photo booth, onto a key chain to take home as a souvenir.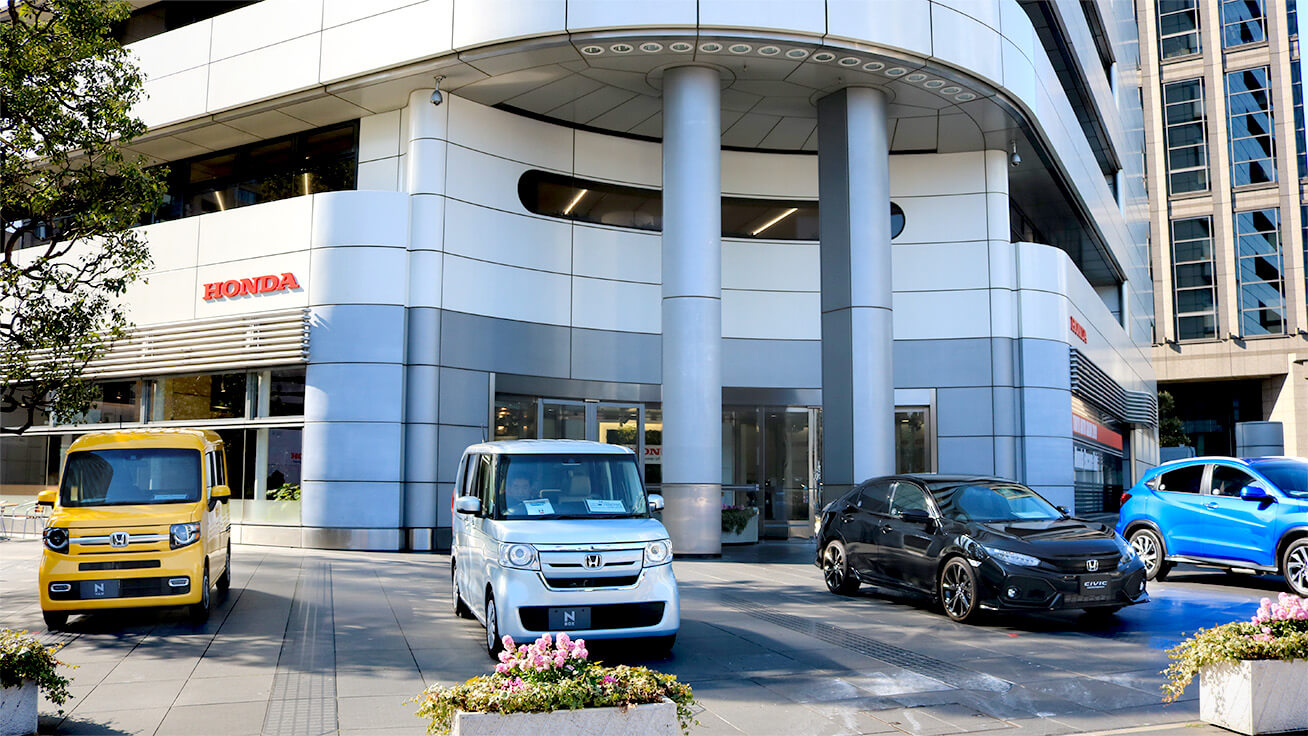 Honda Welcome Plaza AOYAMA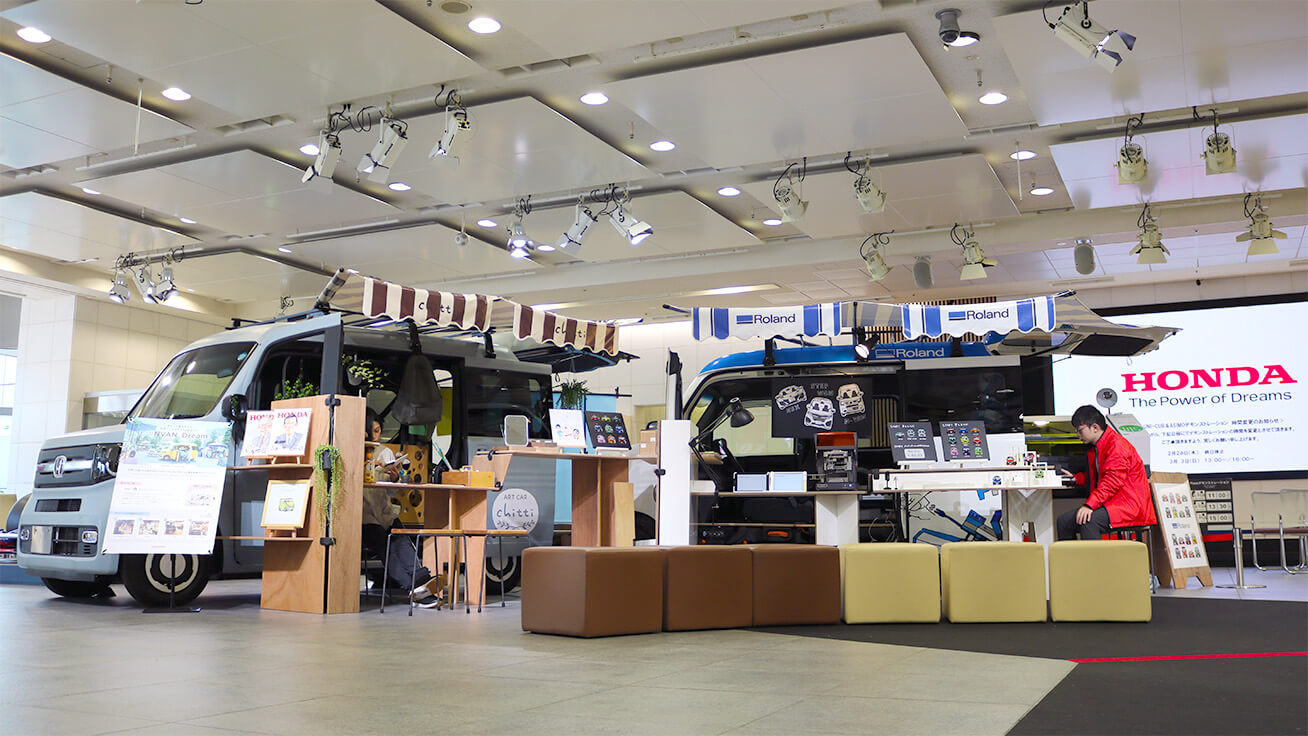 Chihiro continues her passion with the arts while working and raising her children. Her mobile N-VAN ART STAND concept vehicle (left) and the N-VAN designed by Roland DG (right) were on display at the plaza.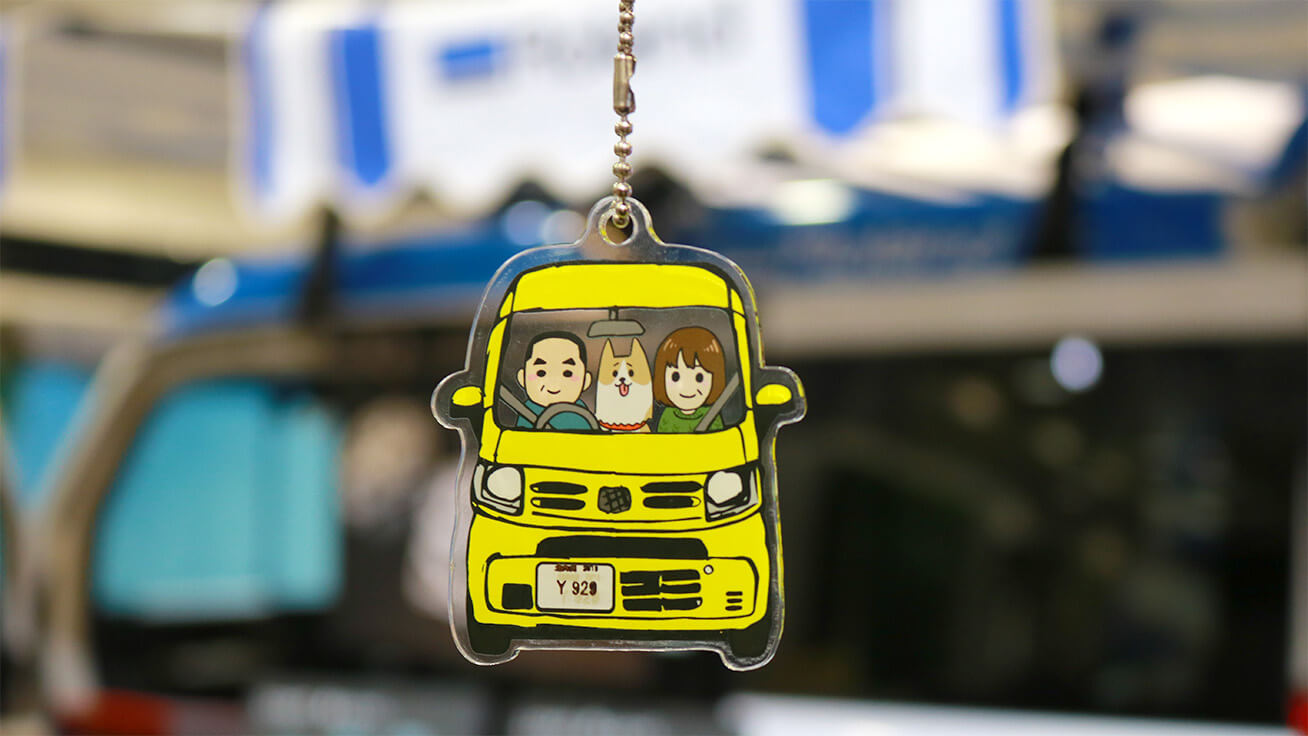 One-of-a-kind car-shaped key chains printed with illustrated portraits or facial photos.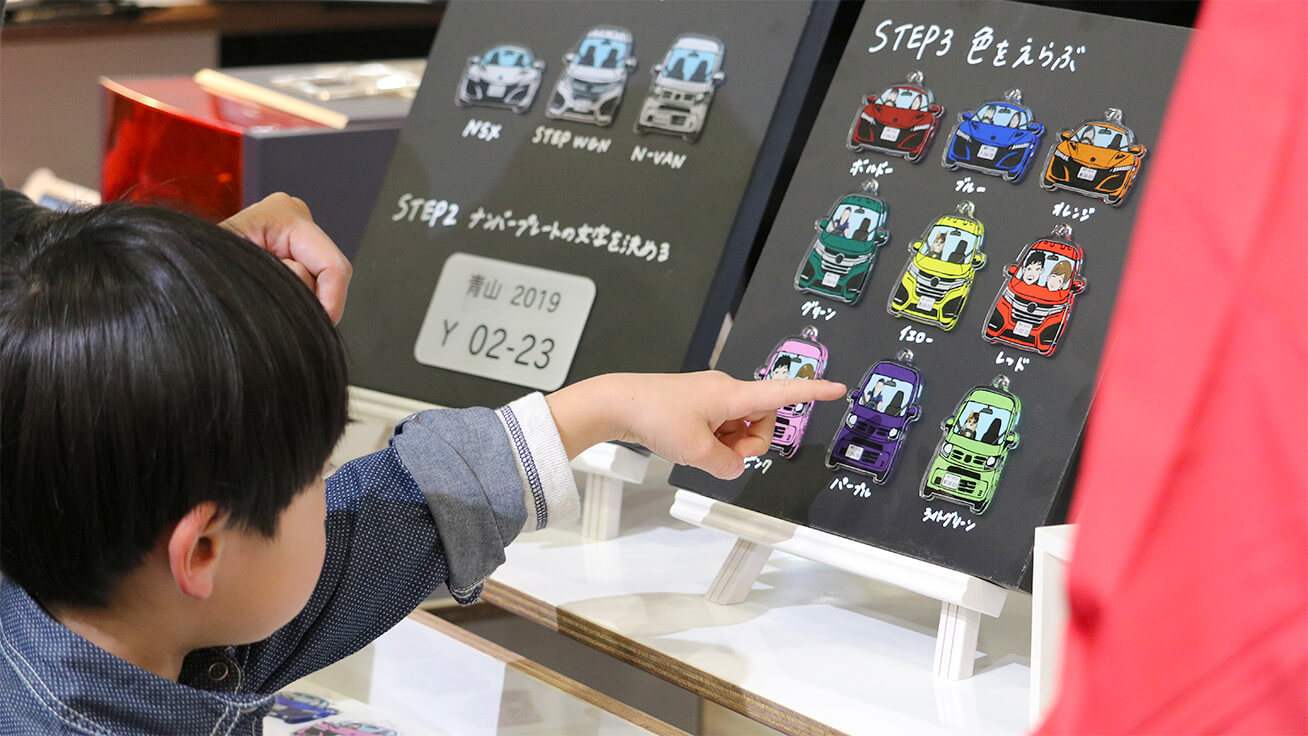 Visitors selected their favorite from three available models and colors and entered text for the license plate to customize their key chain.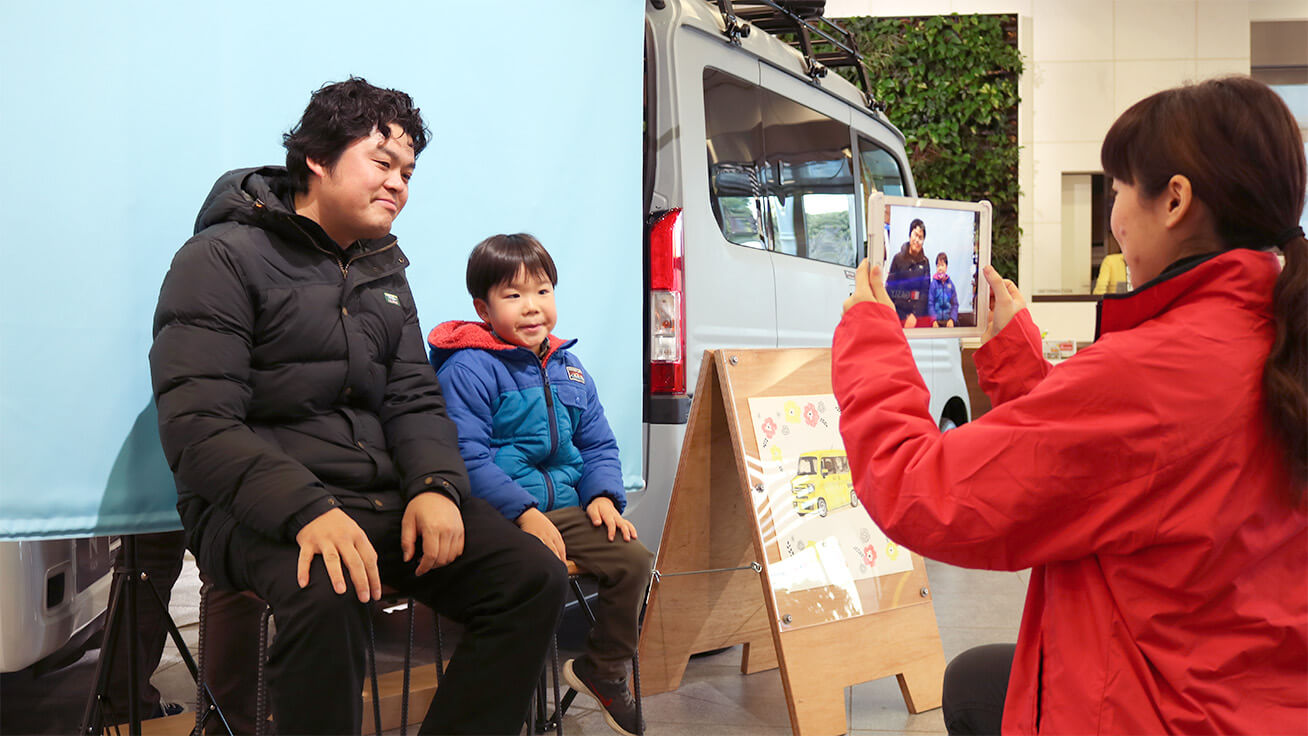 Taking facial photos in the photo booth.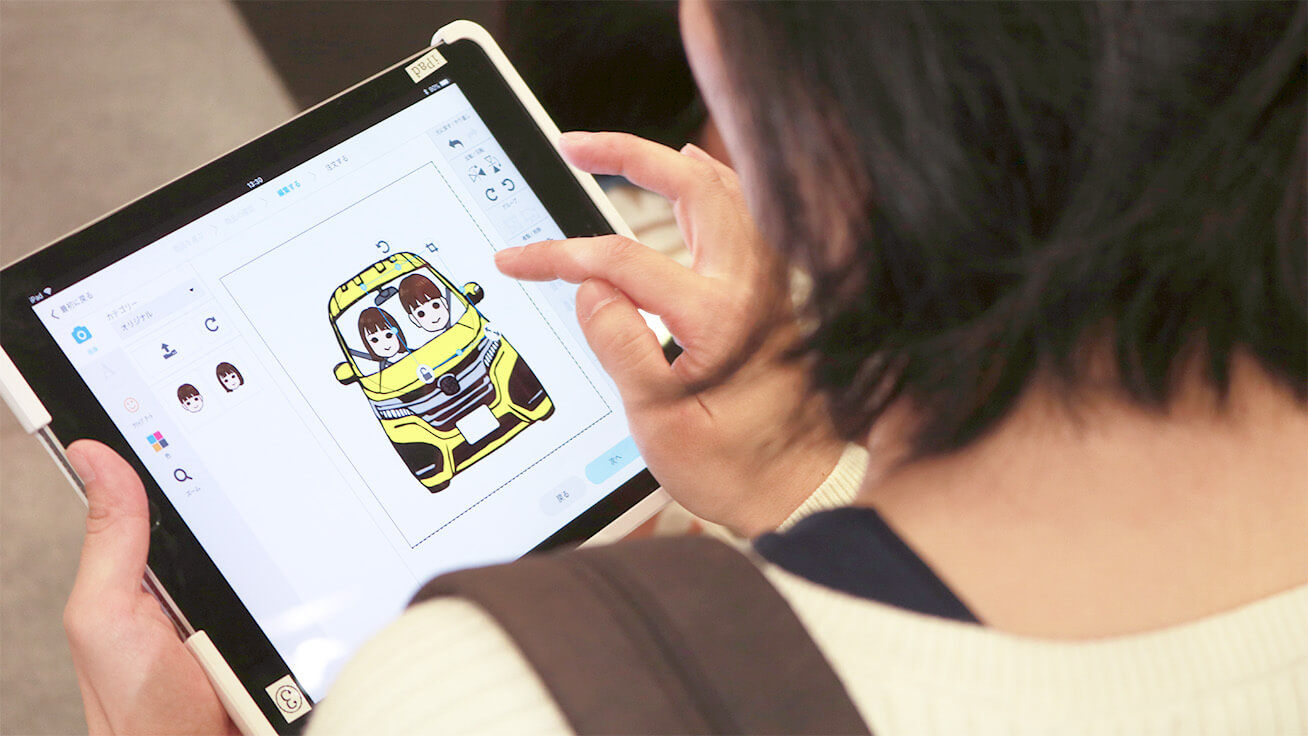 Visitors designed their key chain using a tablet to position their portraits or photos over an illustration of their selected model.
In charge of drawing the portraits was Chihiro (photo below), a popular illustrator on Instagram where she uploads her cartoons and portrait illustrations.
Click here for Chihiro's Instagram page
"I am so excited to be able to work with Roland DG on this event. I never really had the opportunity to print out digital versions of my own illustrations previously, so I was amazed at how quick and clear they were printed. Roland DG's printers are ideal for this type of event," explained Chihiro.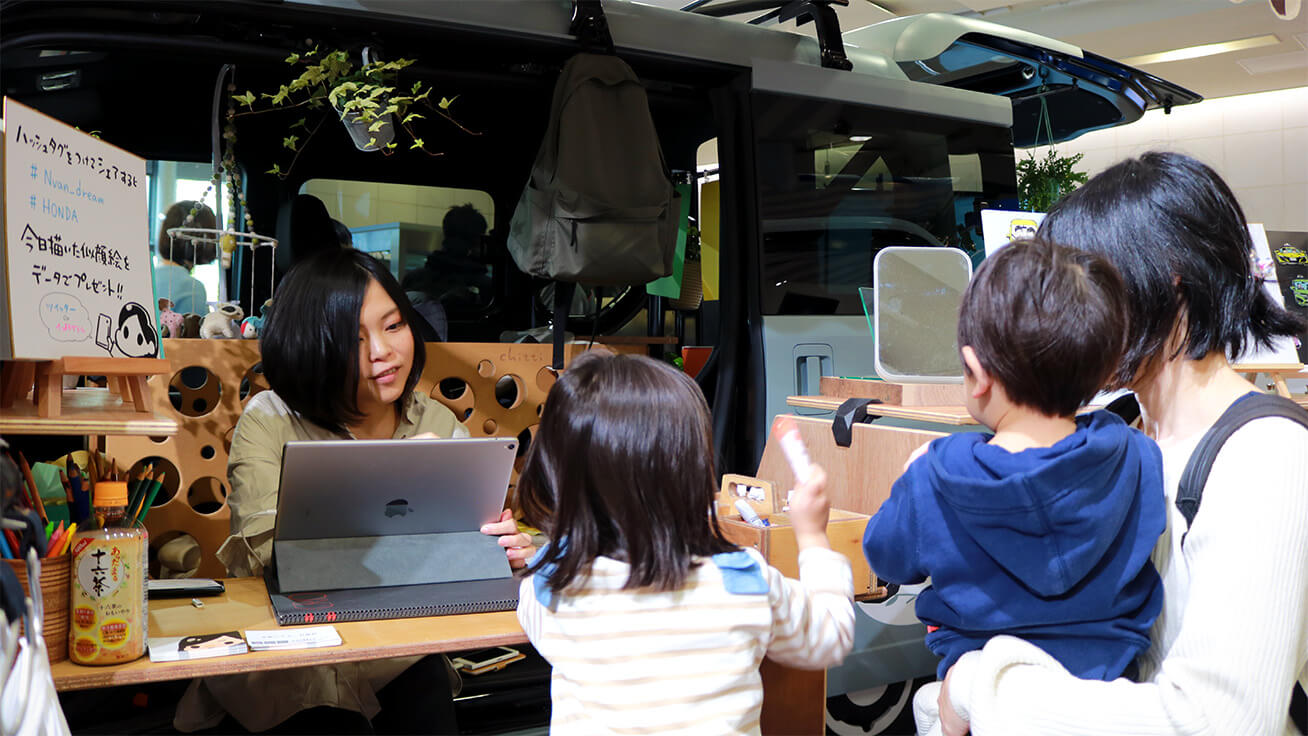 Illustrator Chihiro (left) chats with visitors while drawing their portraits.
See more in the video digest of the event.
COO of Makers' Base Junpei Matsuda (click here for past interview blogs featuring Makers' Base), who helped customize the N-VAN, explained, "We focused especially on the fixtures so that the vehicle can be rolled out anywhere quickly as a workshop or a pop-up booth. The outside of the vehicle displays images that illustrate how Roland DG's digital tools were used to transform ideas into the actual vehicle you see here."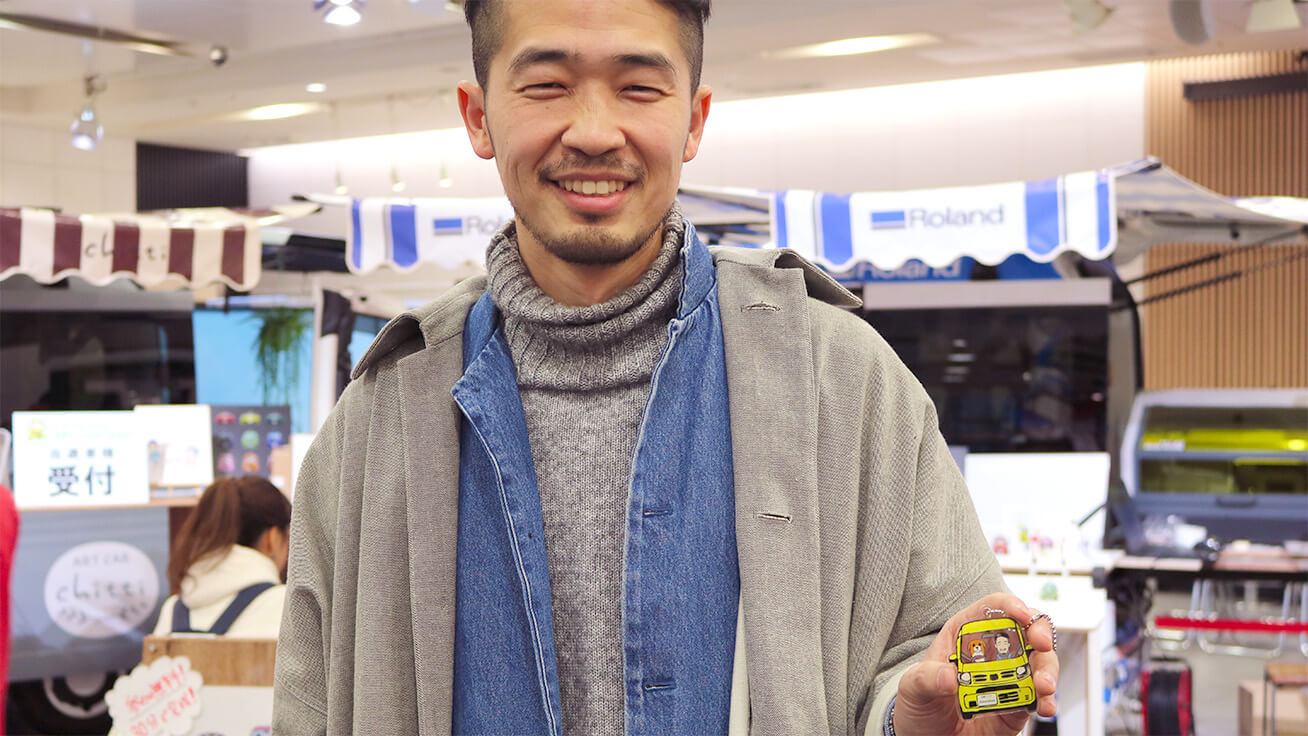 Makers' Base COO Junpei Matsuda
The event plaza was busy with families including children as well as couples attending. More than 200 visitors were able to make their own key chains over the two days. The key chains are sure to be memorable souvenirs, with designs including illustrations of children sitting in the parents' favorite sports car, as well as drawings with the whole family riding in a minivan. Visitors were heard commenting, "This was the first time I printed something like this out myself. It was great fun!" and "I want to show my friends the key chain."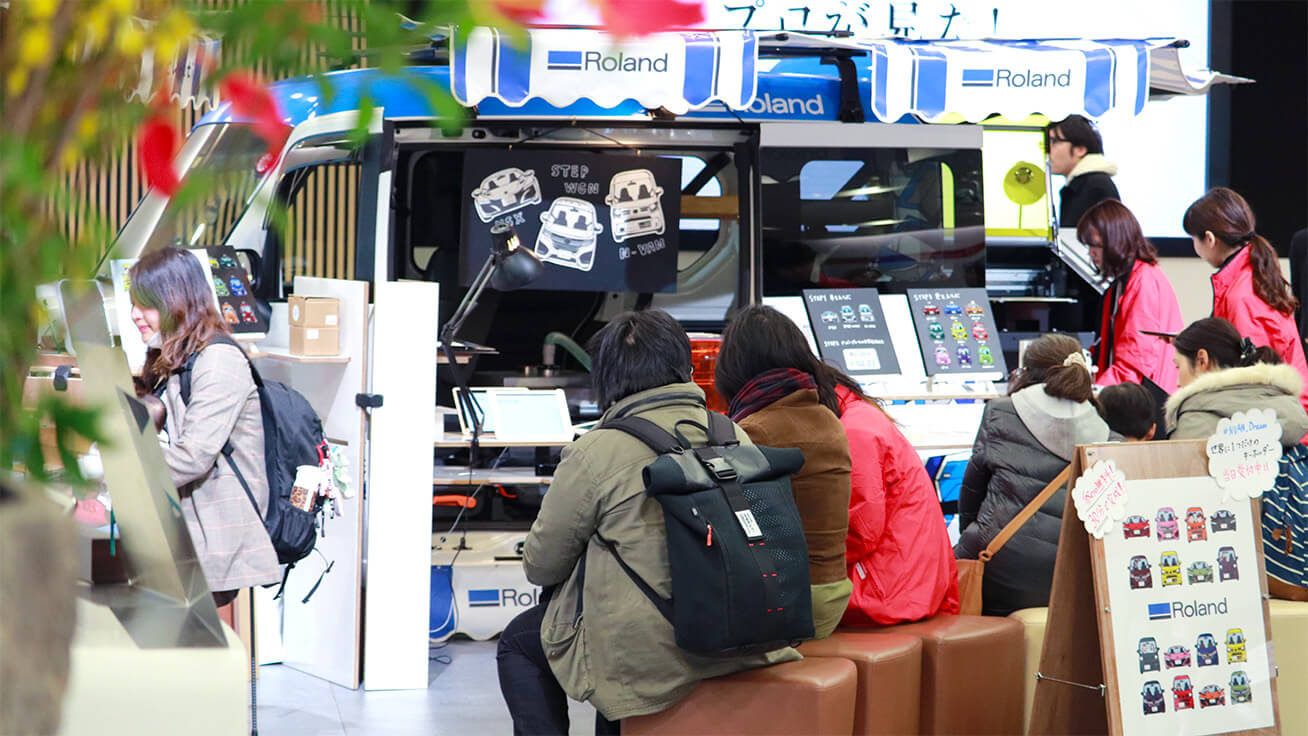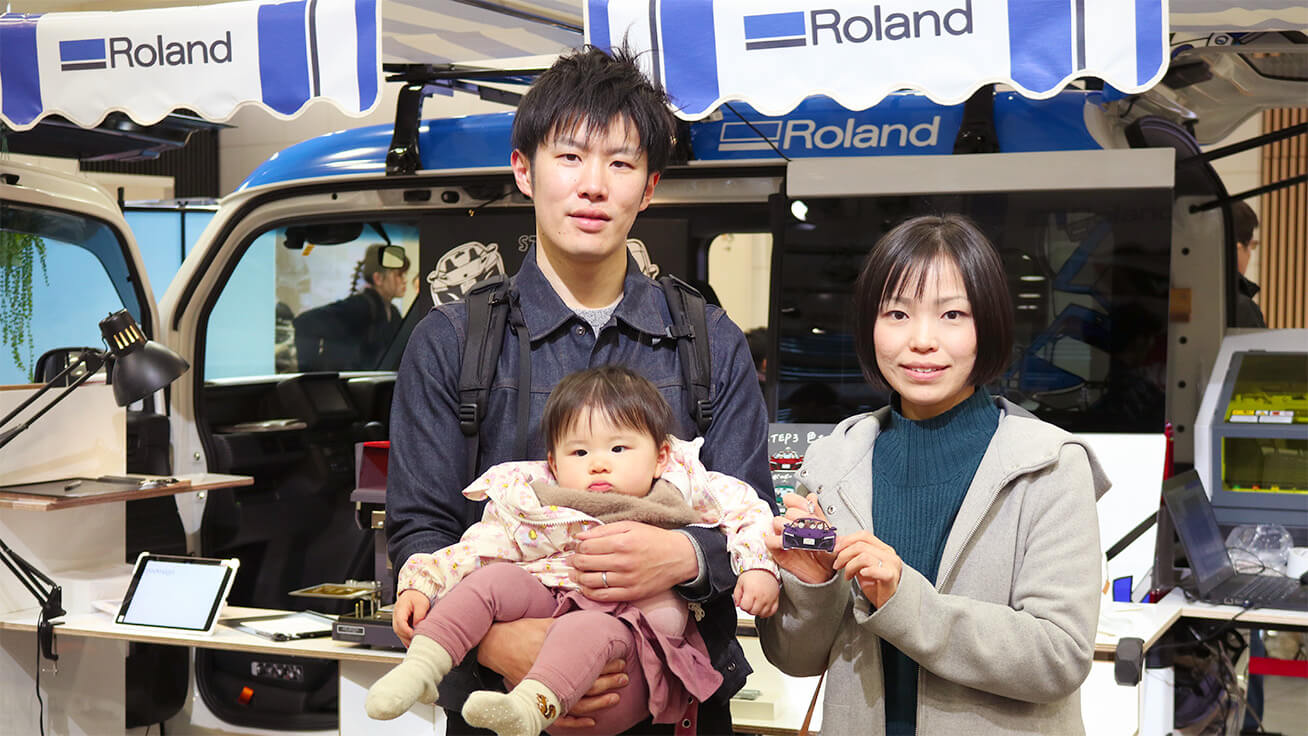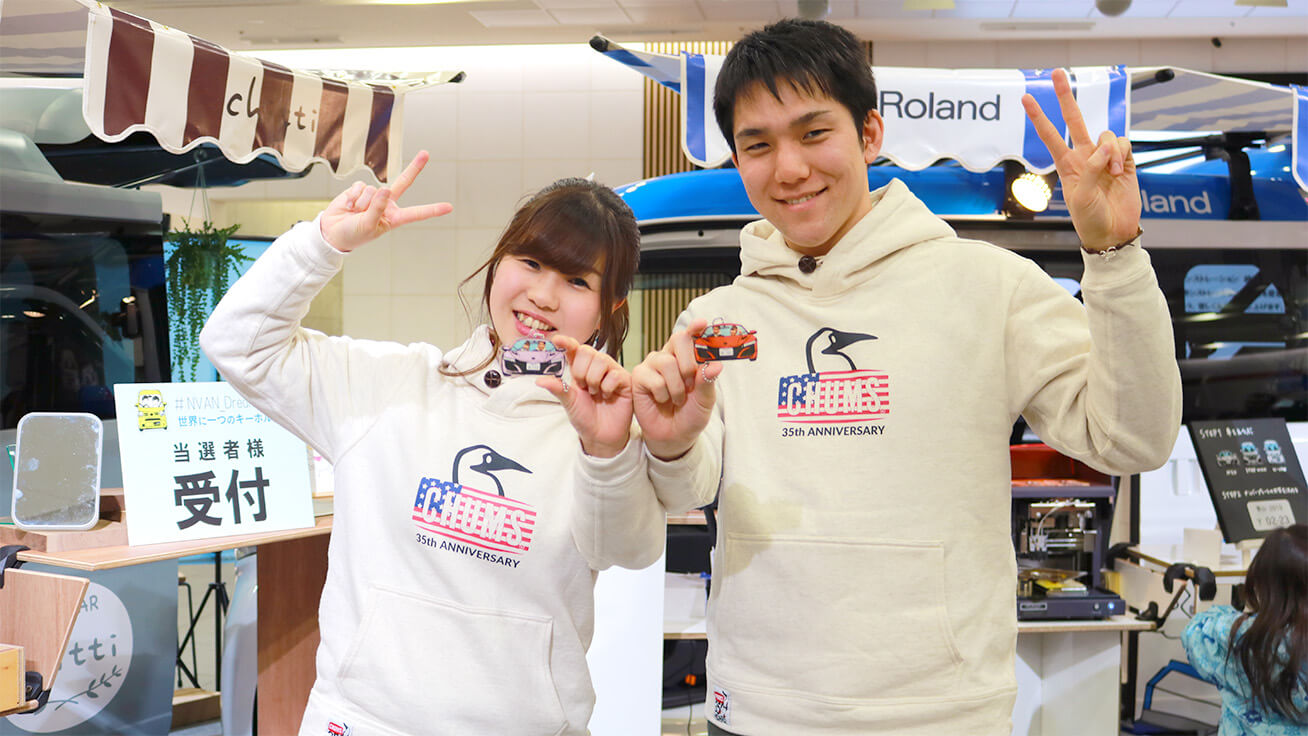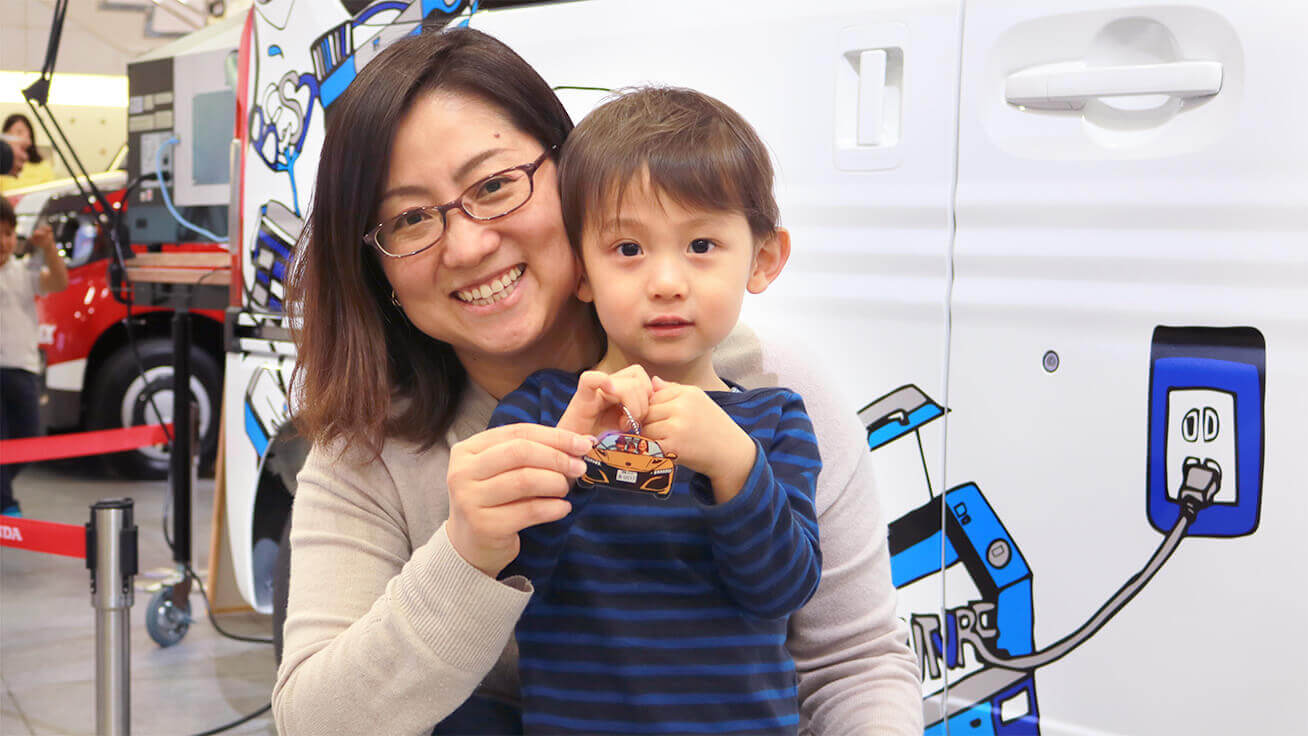 Making the key chains at the event possible was the use of a UV printer capable of printing directly onto materials in full-color, and a laser foil decorator that makes adding metallic foils easy.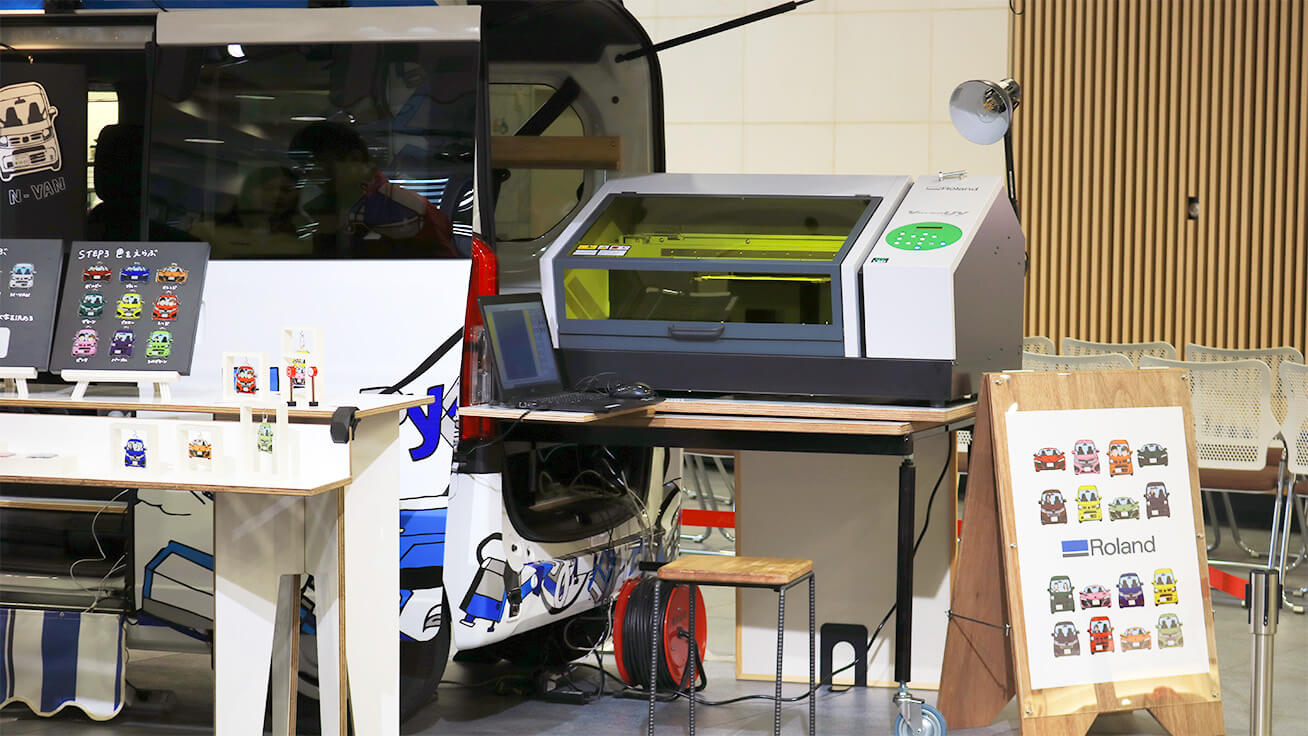 Designs created by visitors were printed directly onto key chains using the LEF-12i UV printer.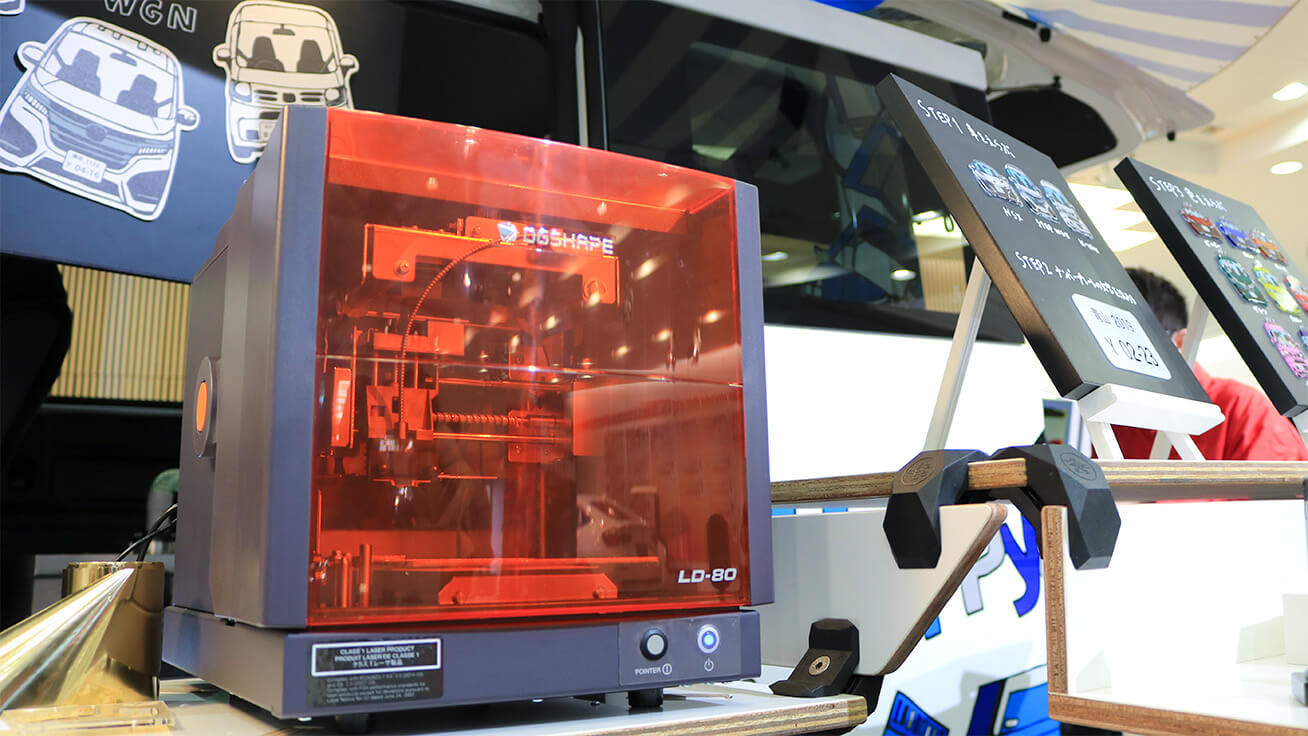 Selected text was transferred onto the key chain license plate using the LD-80 laser foil decorator.
The result was that many visitors left the event smiling. We would like to thank everyone who attended!
The custom vehicle exhibited during the event is scheduled to participate in a number of other events held at various locations around Japan and will provide a great opportunity for visitors to enjoy a truly unique creative experience.