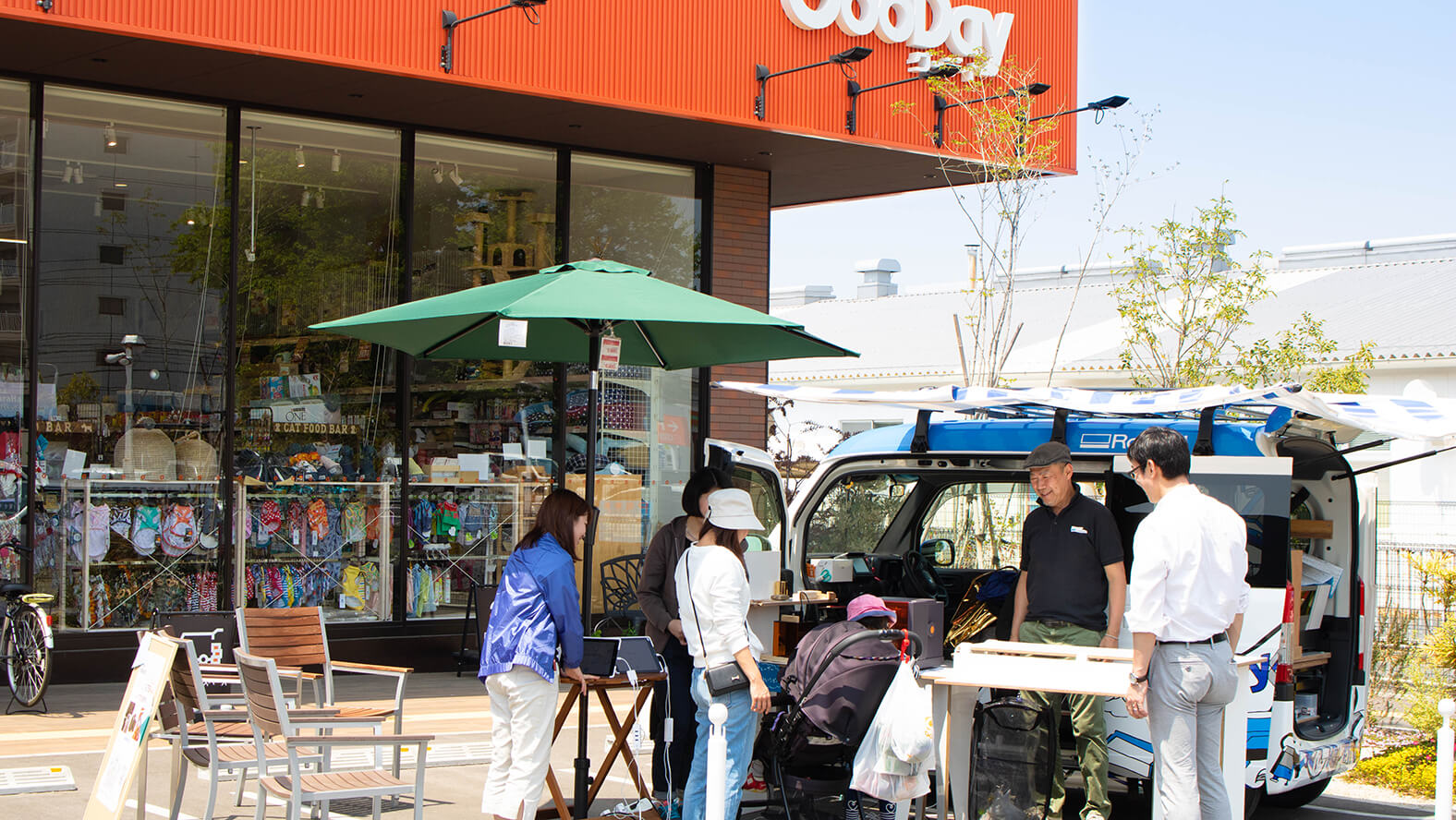 COTOVAN Delivers Unique Experiences on First Road Trip Around Kyushu!
Roland DG's custom vehicle – first unveiled in February 2019 and equipped with our digital tools to give visitors unique, fun experiences like creating their very own accessories – has been given an official name: COTOVAN! It recently made its first mobile workshop tour to several GooDay home improvement stores located around northern Kyushu in Japan.
GooDay + MAMORIO + Roland DG team up for mobile workshops
COTOVAN made the rounds at GooDay stores over a two-week trip between April 19 and May 3 to offer workshop events and help visitors discover new decorating themes by creating their very own lifestyle items. Roland DG teamed up with GooDay Co., Ltd. and MAMORIO, Inc. which developed smart tracking tags to help people keep track of their belongings, to create one-of-a-kind, personalized designs for stick-on MAMORIO FUDAs and custom dog tags for umbrellas.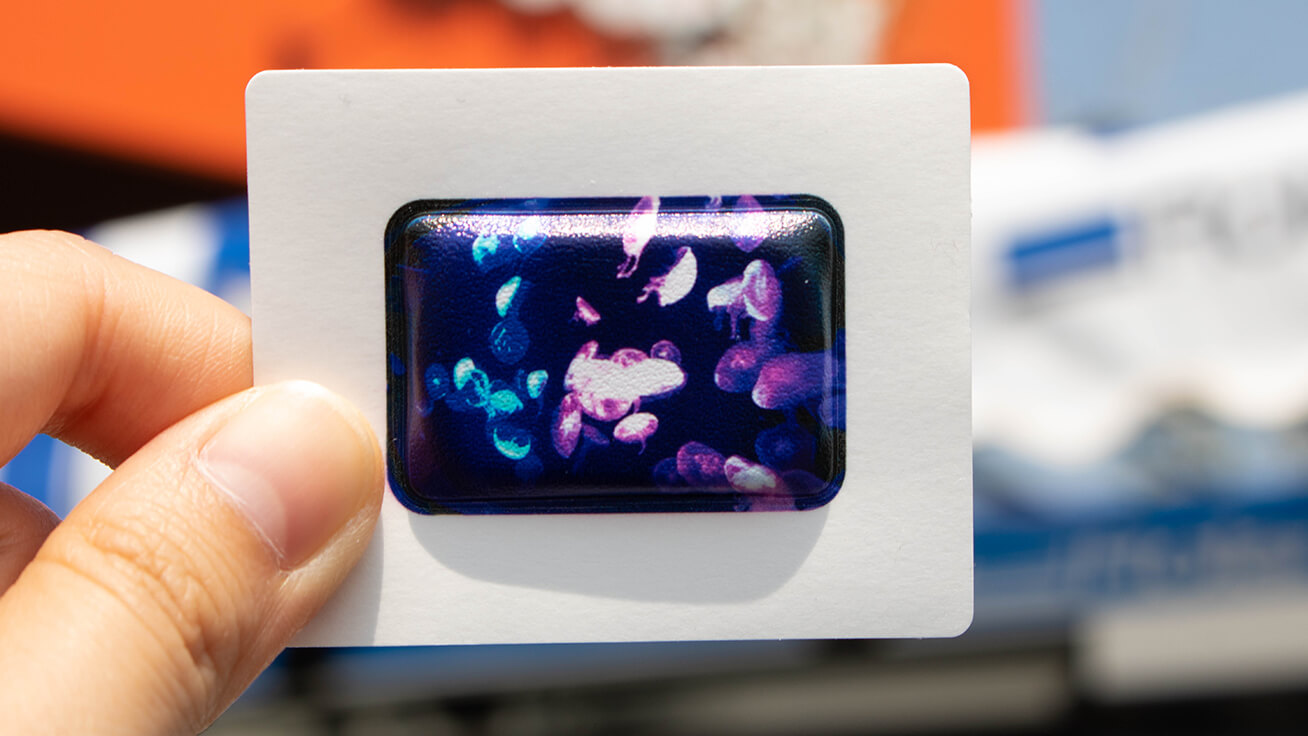 A customized MAMORIO FUDA that can be stuck to the surface of belongings for tracking purposes.
A couple of MAMORIO FUDAs (left) and instantly-recognizable custom dog tags for umbrellas (right).
About COTOVAN
COTOVAN is a customized minivan equipped with Roland DG's digital tools to deliver fun, personal experiences by giving visitors the opportunity to create their very own accessories. Loaded with state-of-the-art digital tools including a UV printer, the van can drive to various locations to conduct workshops or pop-up booths.
Click here to see how the van was unveiled at the Honda showroom
Equipped with a Roland DG UV printer and laser foil decorator, COTOVAN set up at various GooDay stores around the Kyushu area in southwest Japan.
About GooDay
GooDay is a community-oriented home improvement store located mainly in Kyushu and Yamaguchi prefectures. More than just a hardware retailer, GooDay also focuses on ways to enhance peoples' lifestyles. The four stores where COTOVAN held events also feature a GooDay Fab makerspace providing access to digital tools to assist visitors in fabricating their own creations in a relaxed atmosphere.
Click here for more details about GooDay (Japanese text only)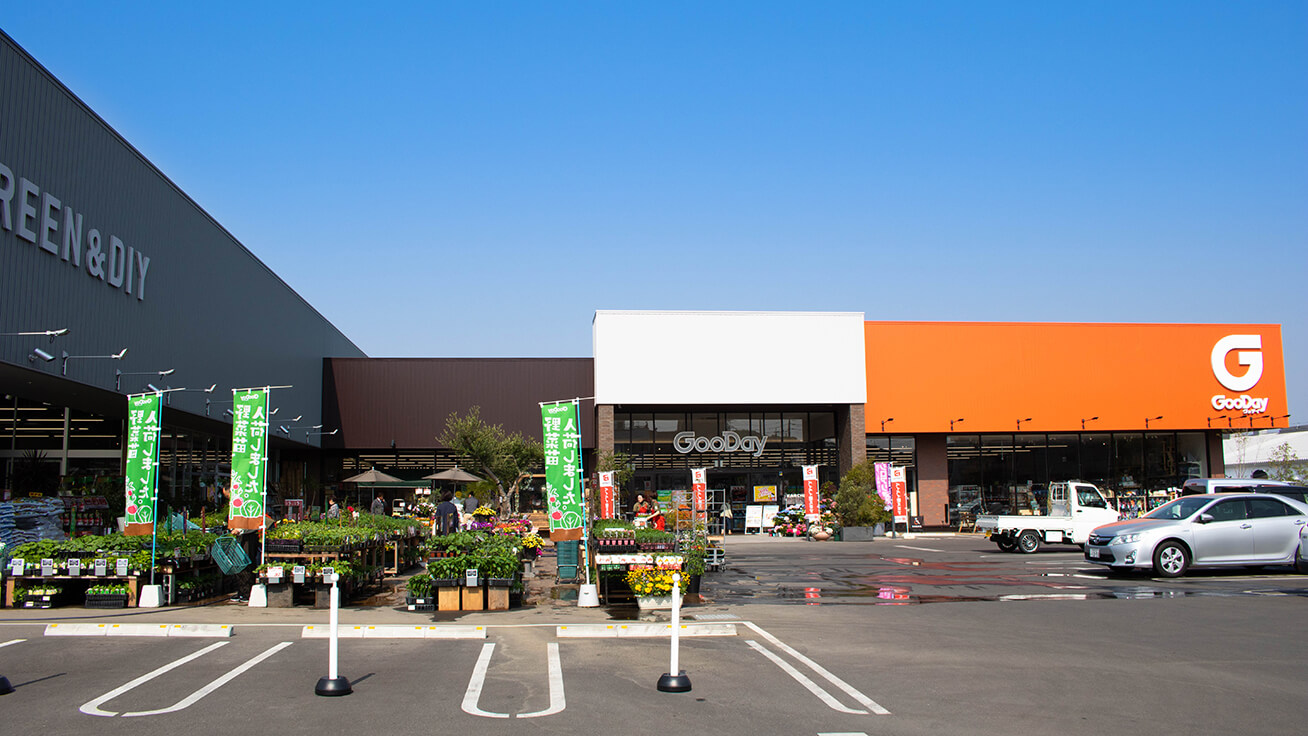 GooDay Kurume Nonaka (Kurume, Fukuoka Prefecture)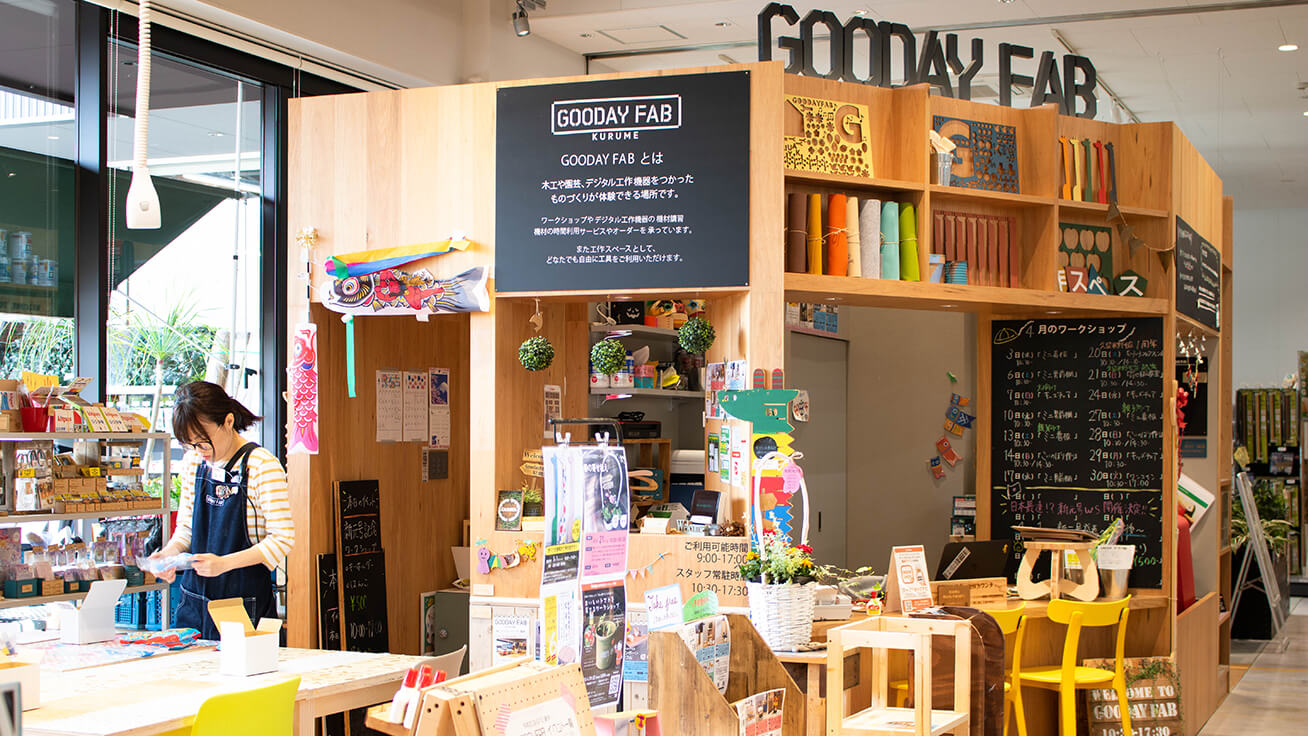 GooDay Fab Kurume (inside Kurume Nonaka store)
About MAMORIO
MAMORIO manufactures the world's smallest tracking tags, which can be attached to valuable items and linked to smartphones. Notifications are pushed to the user's smartphone if an item is misplaced and includes a crowdsourced-search function that works in concert with other MAMORIO users around the country.
Click for more details about MAMORIO (Japanese text only)
The event focused on customizing stick-on MAMORIO FUDA that can be attached to personal items, portable electronic devices or other valuables.
See a video of the MAMORIO FUDA in action
The road trip kicked off at the GooDay Kurume Nonaka store!
COTOVAN stopped at five locations during this road trip event: four GooDay stores in Fukuoka and Saga prefectures, and the community-based workshop Fab Lab DAZAIFU run by GooDay.
- GooDay Kurume Nonaka (Kurume, Fukuoka Prefecture)
- Fab Lab DAZAIFU (Dazaifu, Fukuoka Prefecture)
- GooDay Nagao (Jonan-ku, Fukuoka)
- GooDay Kiyama Yayoigaoka (Kiyama, Miyaki District, Saga Prefecture)
- GooDay Hibikino (Kitakyushu, Fukuoka Prefecture)
Here are some highlights from GooDay Kurume Nonaka (Kurume, Fukuoka Prefecture) where the first event was held.
The workshop was held on a fine, summer-like weekend with attendees including many families and children who had come to do their shopping.
Customers who had purchased MAMORIO FUDAs at the store were invited to print their photos and illustrations on them using the UV printer. Those who had purchases of 2,500 yen or more at the store were presented with custom dog tags for umbrellas featuring printed dog or cat illustrations with the person's name added by a laser foil decorator. We loved seeing siblings and friends making their very own matching dog tags, as well as others personalizing dog tags with their children's or pet's names.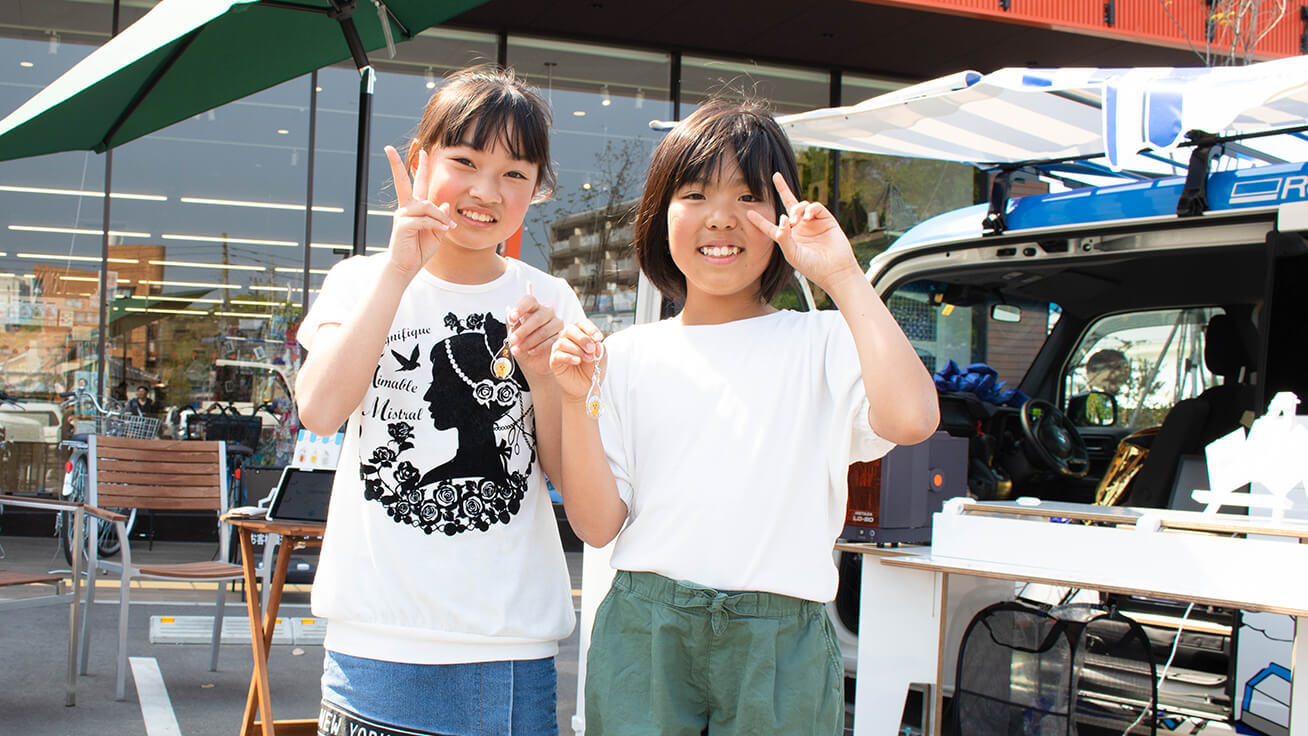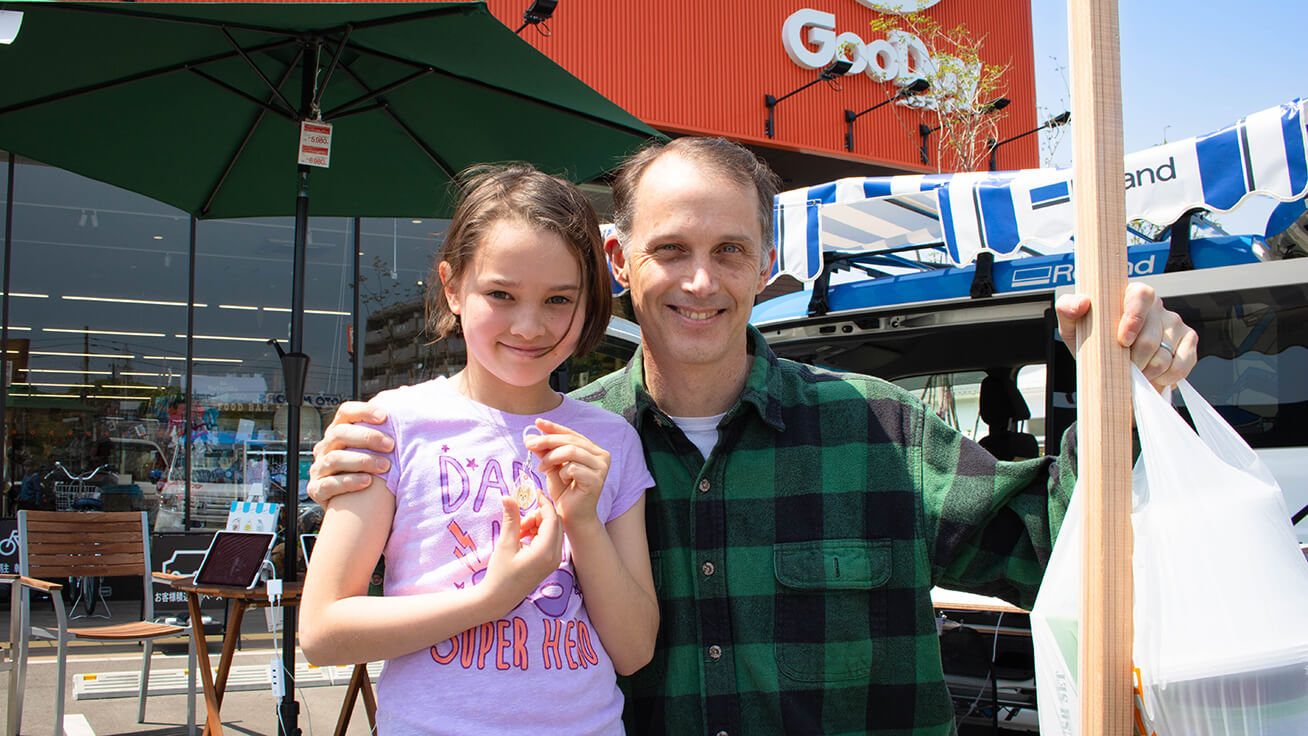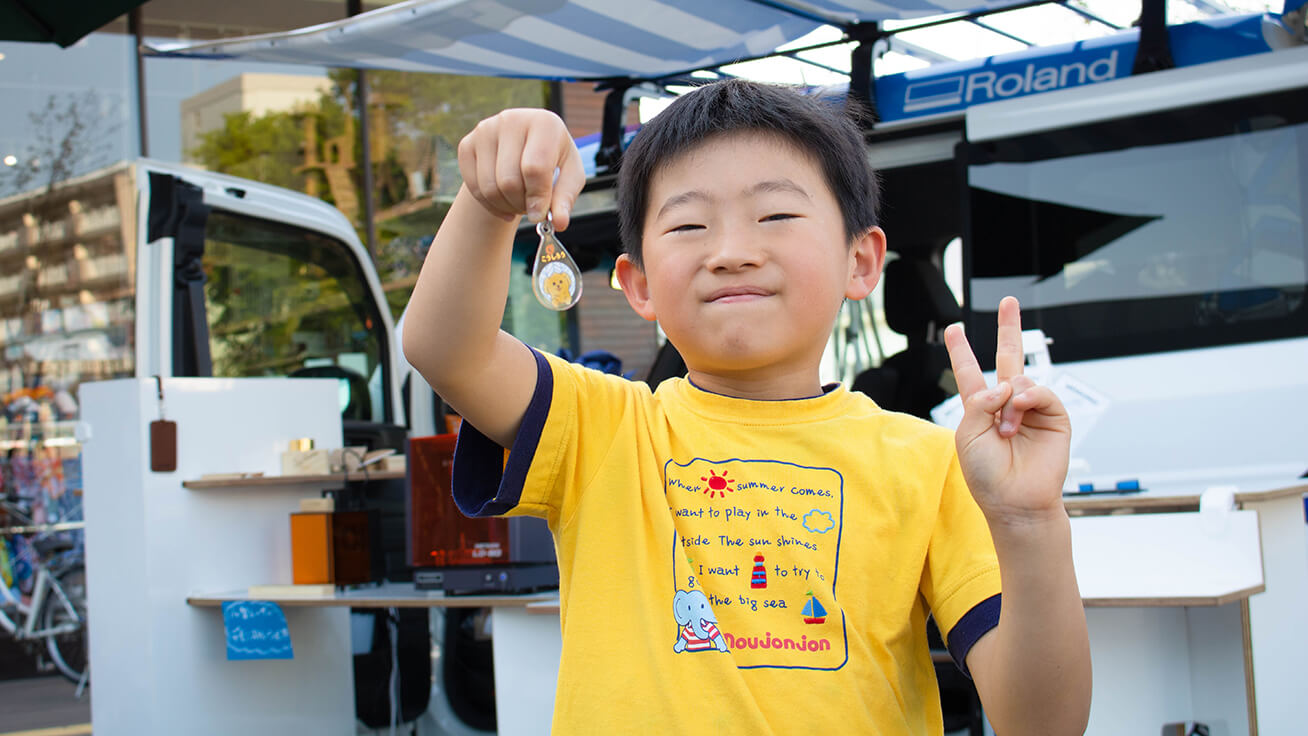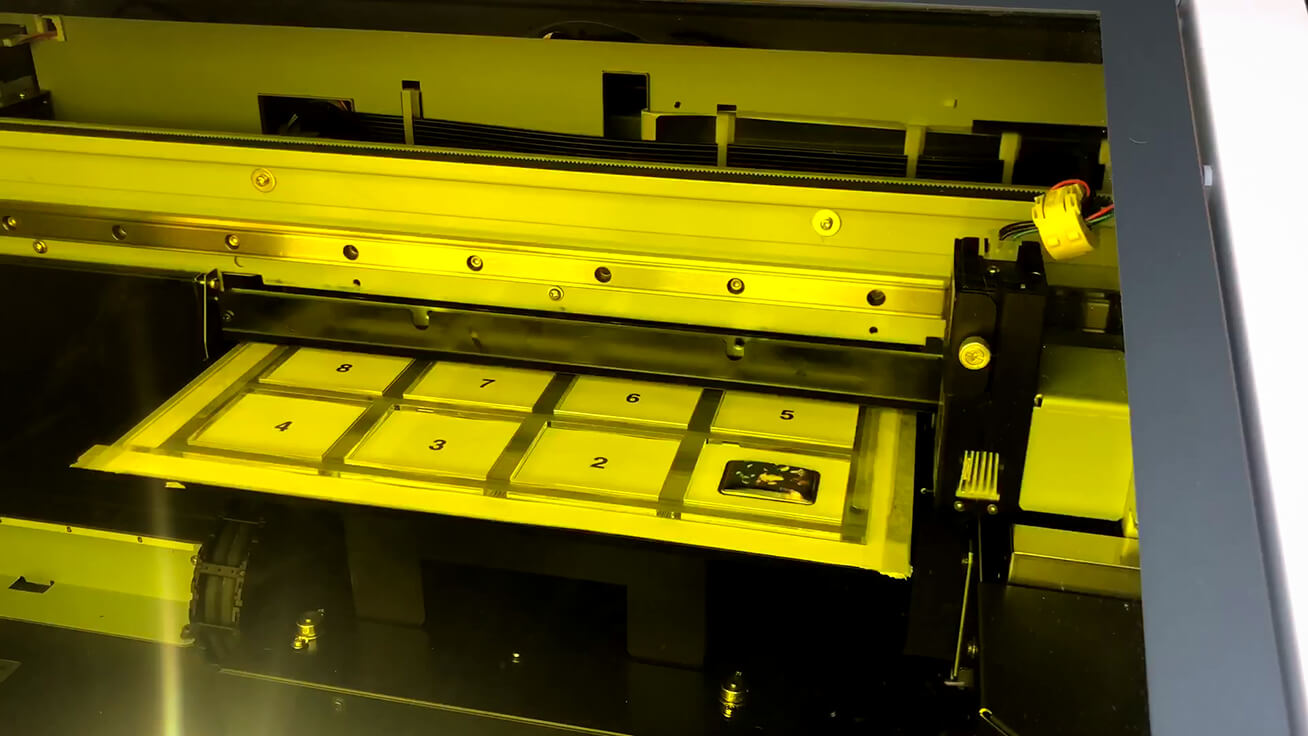 The LEF-12i UV printer customizing a MAMORIO FUDA with photos.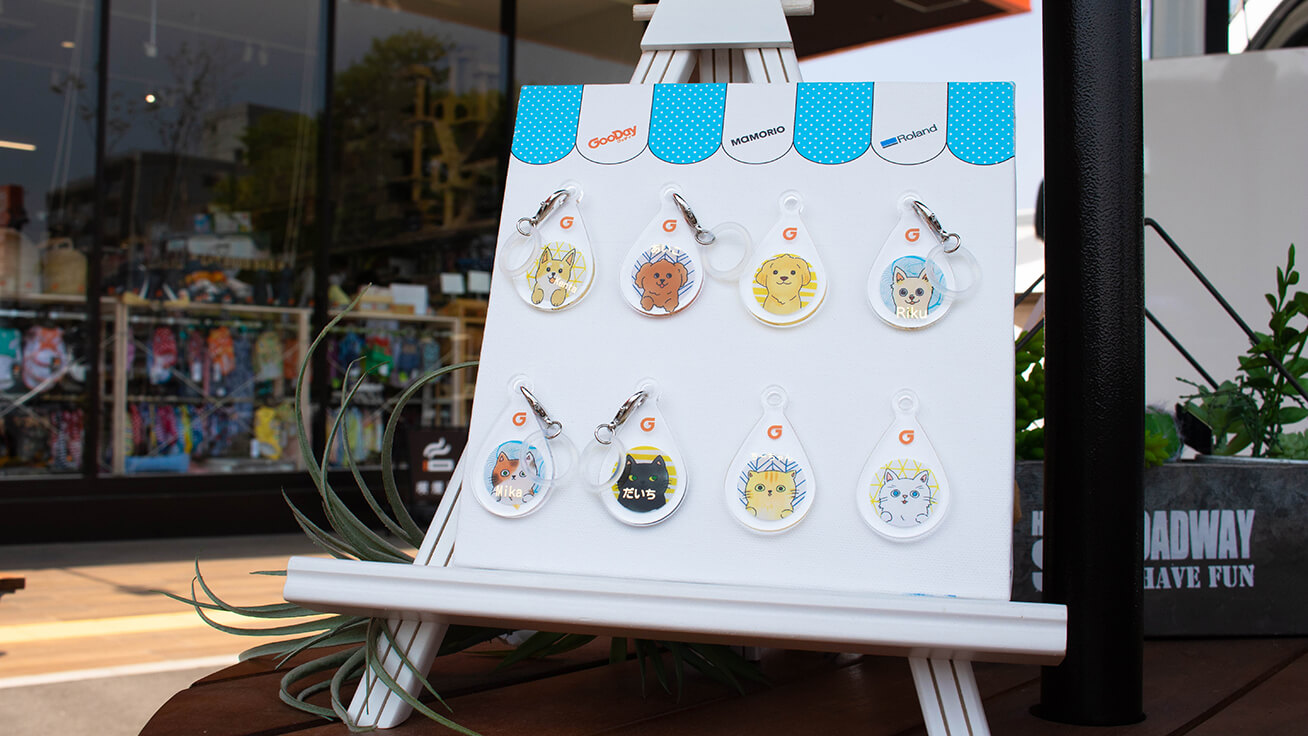 Visitors loved the selection of eight types of dog and cat illustrations for custom dog tags for umbrellas made available especially for the event.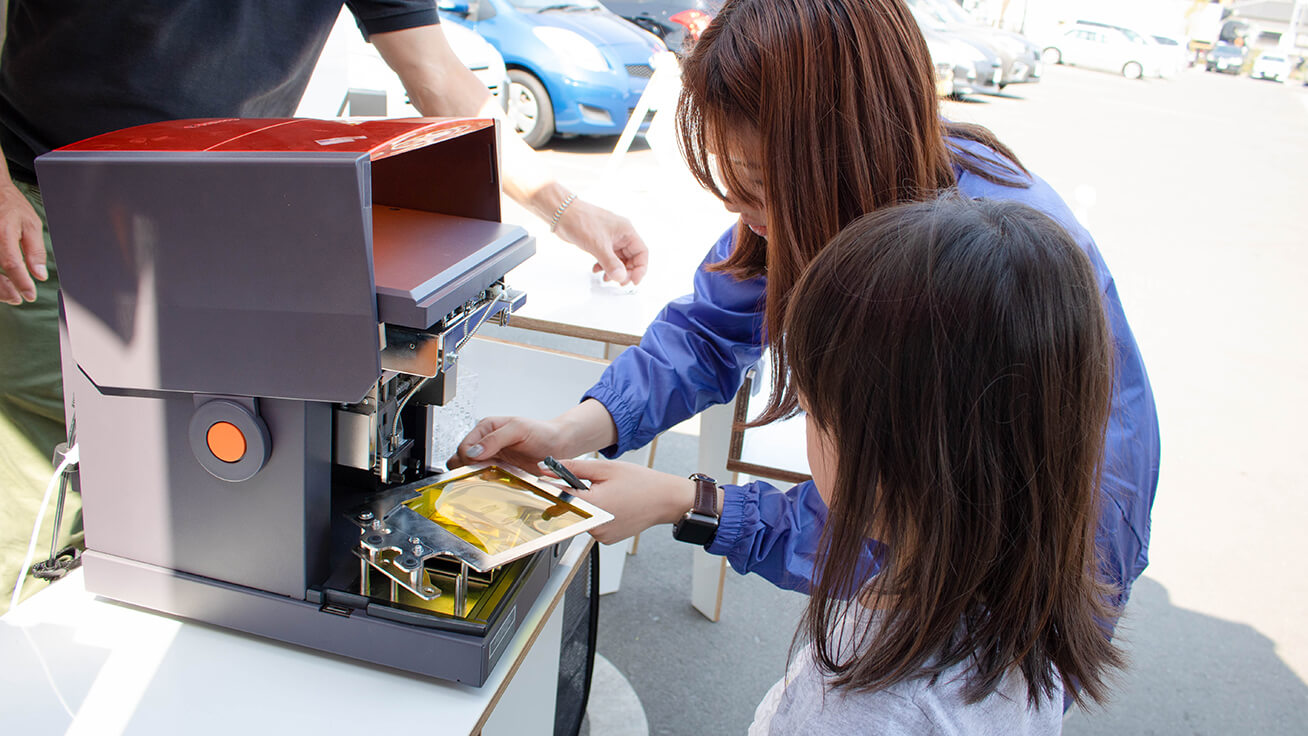 The LD-80 laser foil decorator was used to transfer names to dog tags selected by visitors.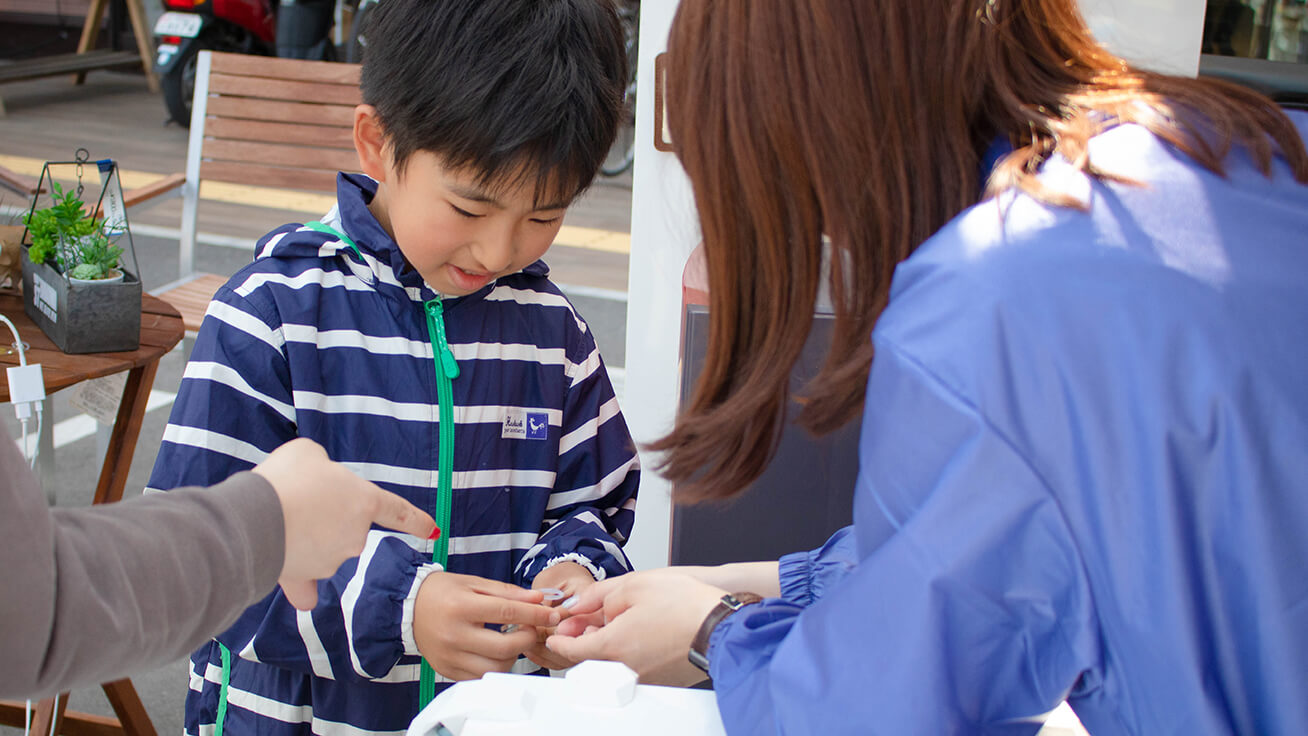 Everyone had a lot of fun at the workshops.

Shiori Motani, in charge of publicity at MAMORIO, Inc., said, "I think it was great that we could demonstrate the features of MAMORIO to a broad range of people. MAMORIO is being used as part of fresh initiatives at companies and schools, and we are providing custom-made designs to suit each specific need. Roland DG's UV printer is perfect for small-lot orders like this, and our staff have been using the printer for quite a while now."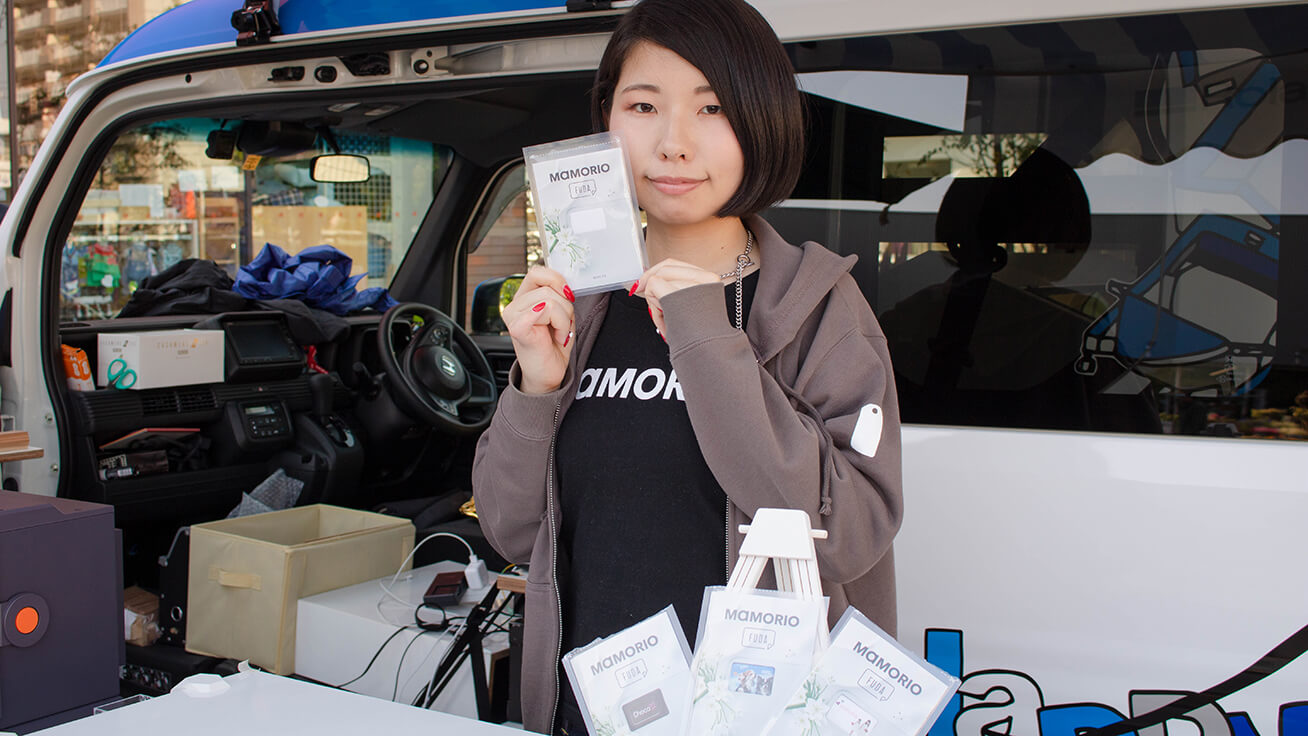 Shiori Motani from MAMORIO, Inc.
More than 600 visitors attended our workshop events over the two-week period. A big thanks to everyone who participated! We will continue driving COTOVAN to various locations to give as many people as possible the chance to bring their own ideas to life using our digital tools.