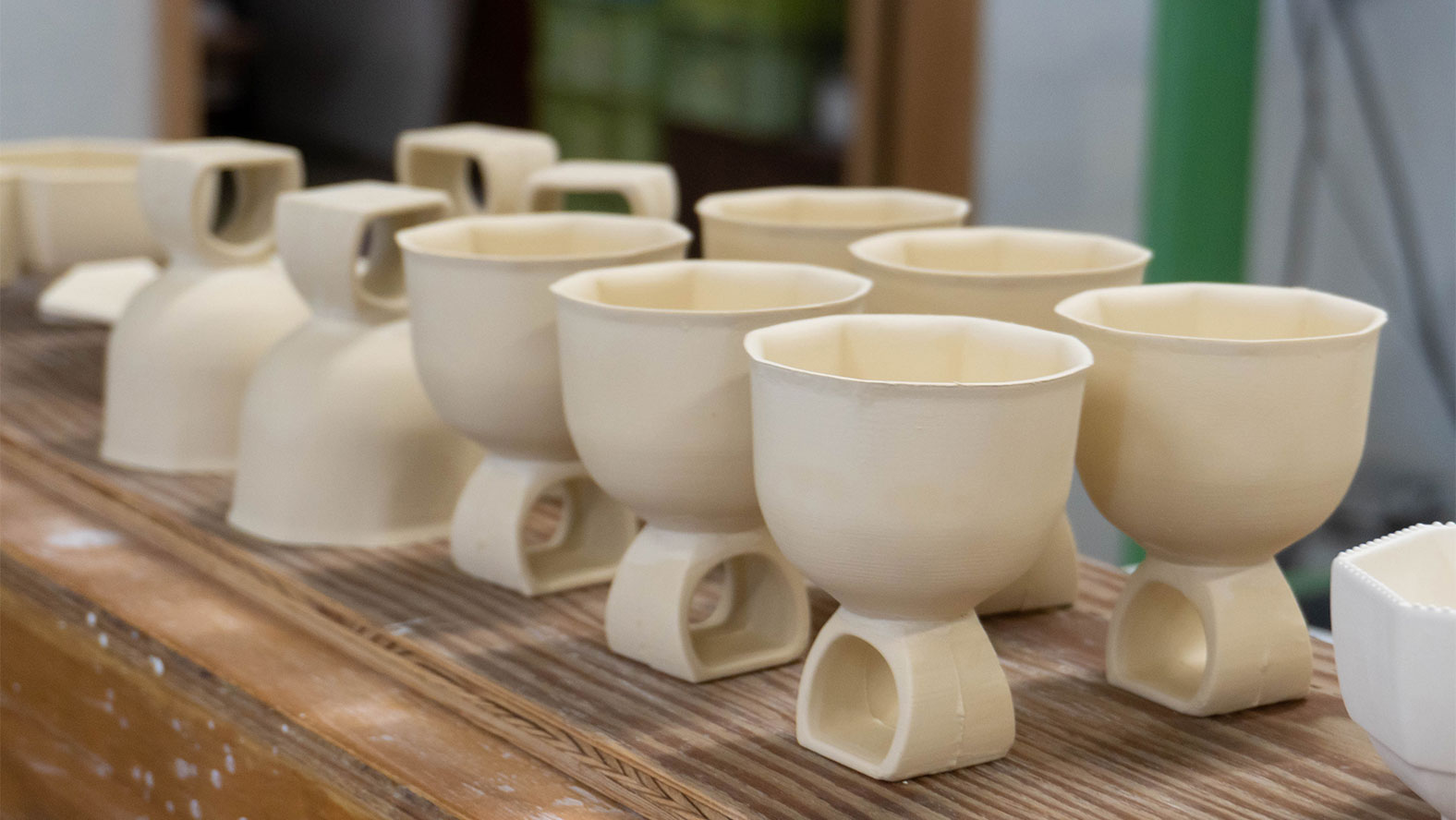 Digital Tools Inspire New Forms of Pottery
11/29/2022 3D Digital Fabrication
Hizen Yoshida pottery is a type of porcelain made in Ureshino City in Saga Prefecture, Japan, home to the famous Ureshino hot springs spa area. 224porcelain, one of the leading brands of Hizen Yoshida pottery, has been using Roland DG's MDX-50 milling machine to bring traditional arts and crafts into the digital age.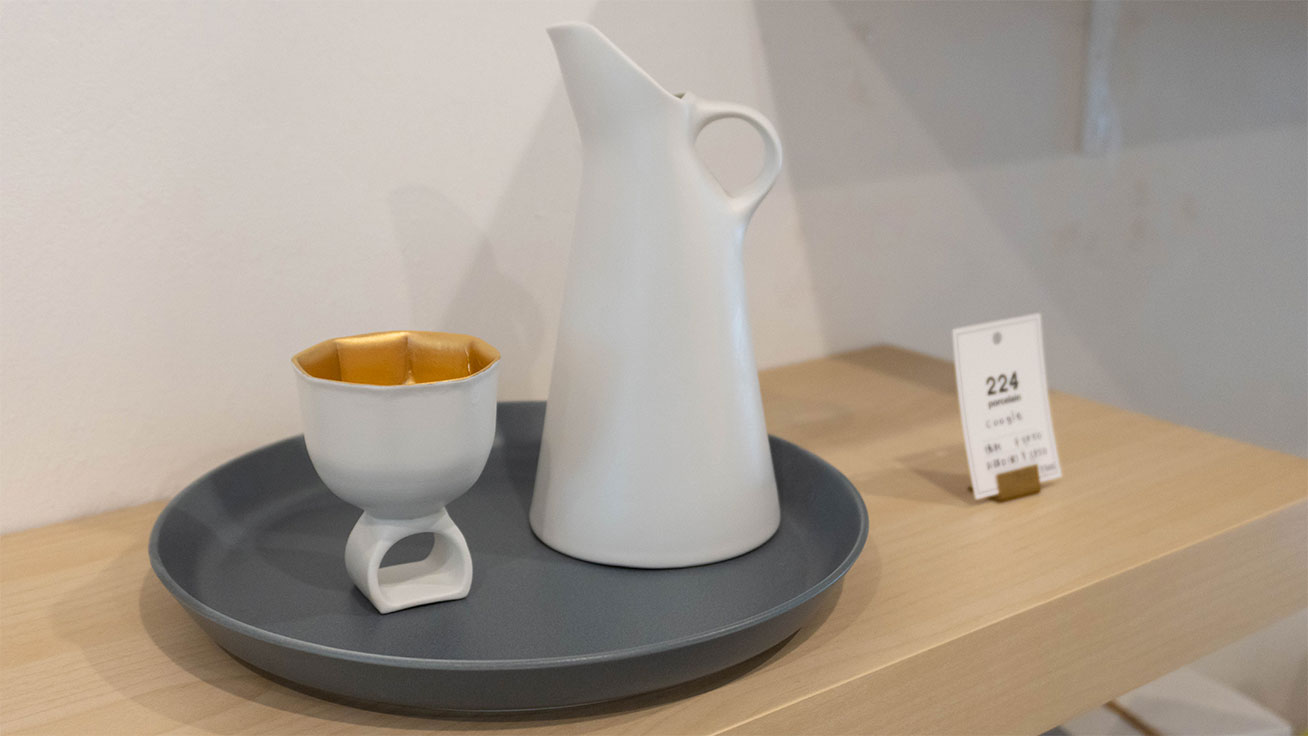 Unique sake serving set designed to slide over your finger like a ring. The material has a clay color before it is fired (top photo).
The 224porcelain brand produces a new style of Hizen Yoshida pottery
The 224porcelain brand of Hizen Yoshida style pottery was launched after branching off from the owner's family business of Tsujiyo Ceramics Factory, which dates back to the Edo Period. We spoke with owner Satoshi Tsuji (photo below) to find out more.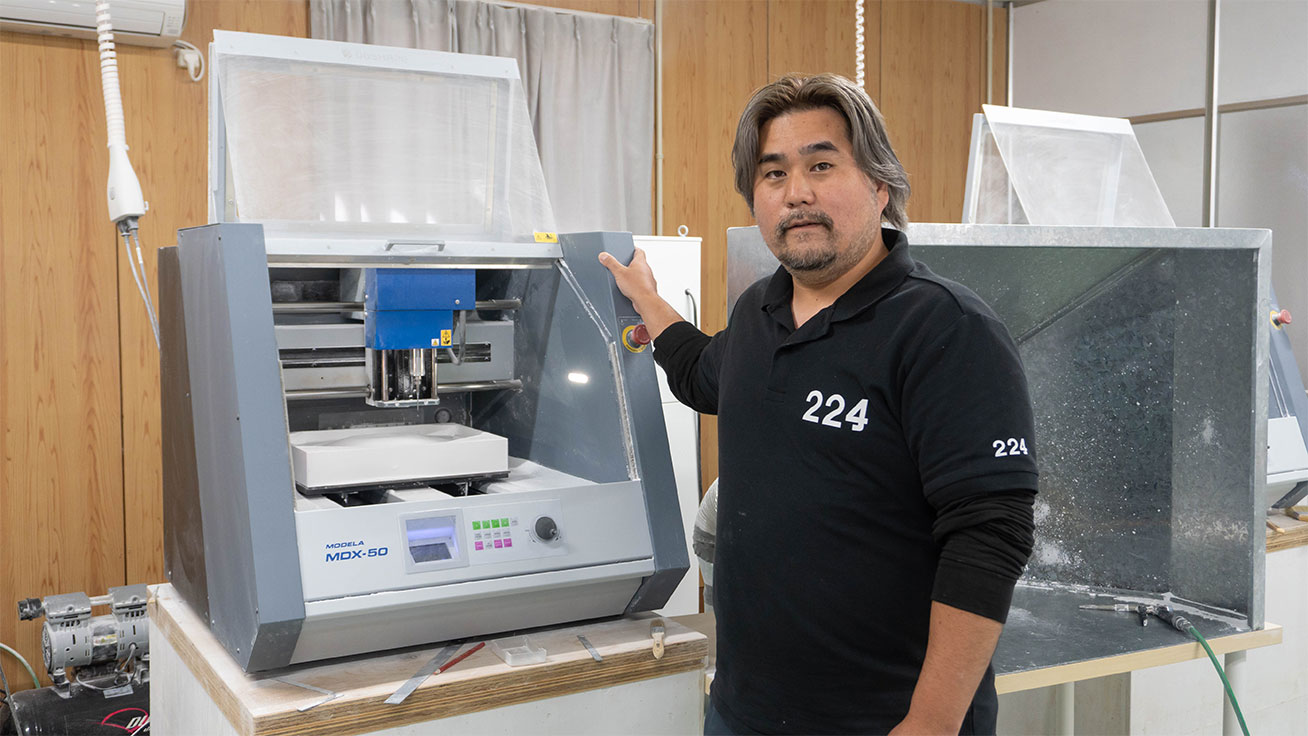 Roland DG: What does the brand name 224porcelain stand for?
Tsuji: I spent many years training at my family's business, but I wanted to branch out and try something new, so I launched 224porcelain a decade ago. The "224" is a spin on my family's "Tsujiyo" business name.
Hizen Yoshida style pottery arose from a long history of producing items for famous production districts nearby like the Arita style in Saga Prefecture and Hasami style in Nagasaki Prefecture. An example of the Hizen Yoshida style is the polka dot tea set that was a popular item on dining tables back in the Showa Era. Yet Hizen Yoshida only had a low level of brand recognition because items like these lacked distinct brand names on them, and there is no trademark style that defines Hizen Yoshida pottery. I looked at this in a positive way because it meant it was an easy style to try out.
224porcelain produces durable, long-lasting tableware and accessories featuring simple yet unique designs. In addition to my own work, I team up with independent product designers as a way of focusing on creating great designs. We also produce unique items like tableware for restaurants, distribute wholesale products to interior design stores, and produce OEM lines for other brands.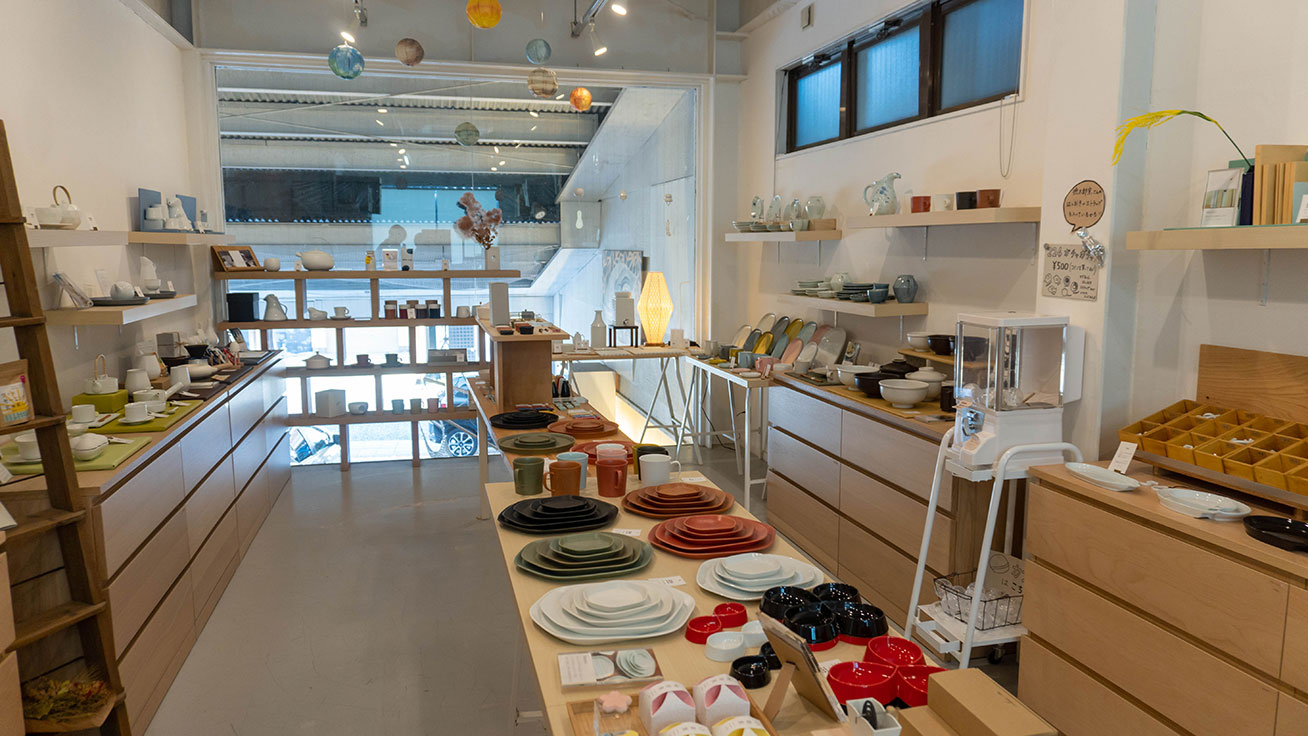 224porcelain's factory direct store in the Ureshino hot springs area has become a popular tourist spot.
Traditional porcelain produced using digital technology
How are 224porcelain products made?

Ceramic and porcelain may appear similar, but ceramics are made from an earth base material, while porcelain uses a stone-based composition. One of the processes for manufacturing porcelain involves casting, where a liquid mix called a slurry is poured into a plaster mold—the mold is shaped based on the way the plaster absorbs the water content. Here at 224, we use digital data for milling molds from dried plaster blocks to create the forms used for mass production.
In the past, these forms were made by hand and outsourced to producers of plaster molds, a process that took around a month. If we could bring the milling process back in-house, simple molds could be completed in four to five days, reducing lead-time significantly. Intricate details that were difficult to make by hand could also be produced.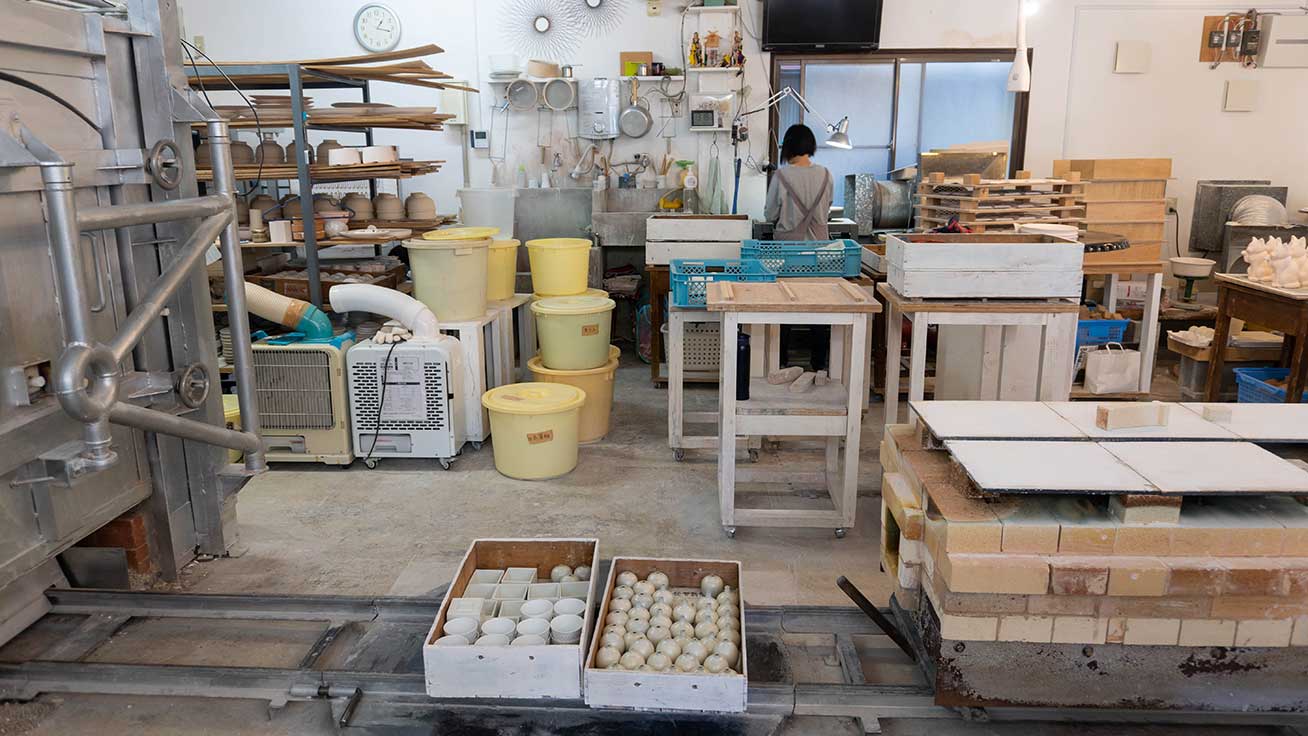 Items produced in the studio are taken to the firing kilns located nearby. The gas kiln at the front is the largest available.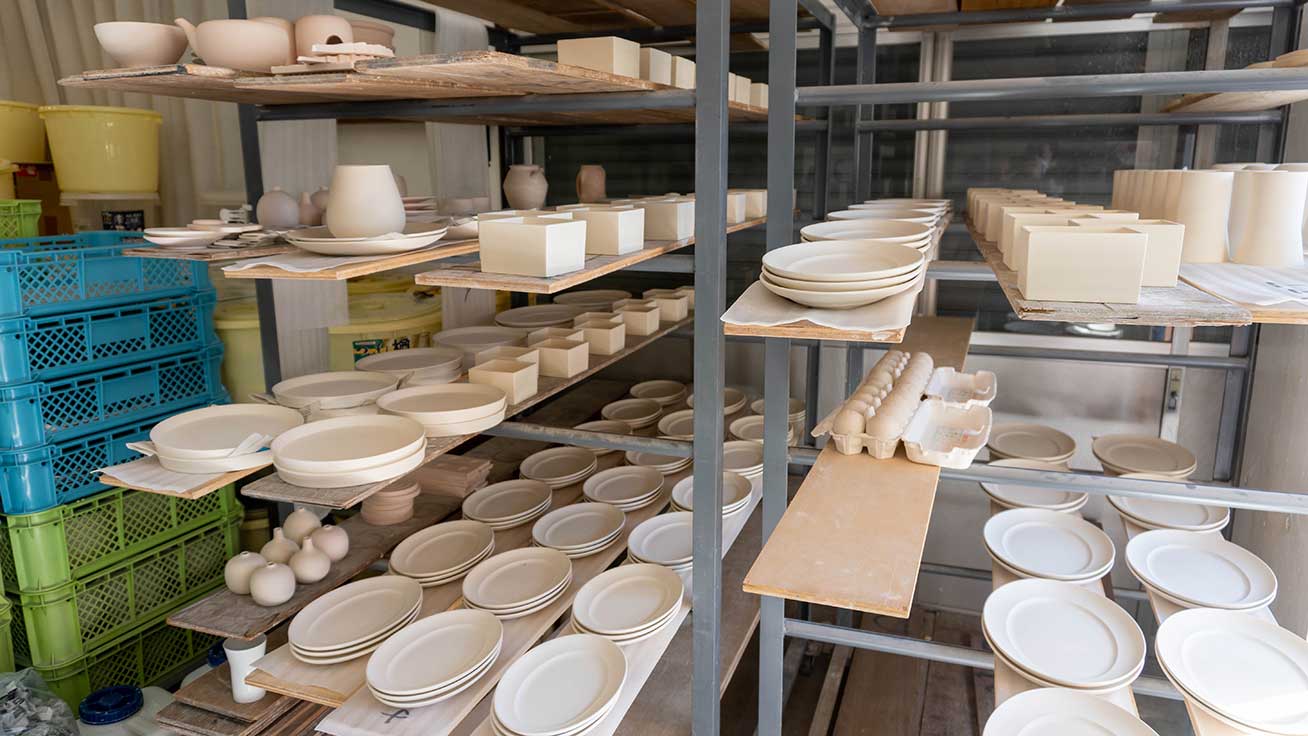 A variety of items waiting to be fired.

How did you begin using digital methods?

I first saw plaster molds being milled directly based on digital data at the Saga Ceramics Research Laboratory (a ceramics research institute in Saga Prefecture). Before I launched 224porcelain, I felt that without a doubt, this would become the industry standard. It was around that time that the automatic kiln at my family's business broke down, which meant we had to adjust the temperature of the kiln every 30 minutes to an hour, all through the night. During that time, I taught myself how to use 3D CAD and then requested the laboratory to mill my molds; this was my first foray into the use of digital methods.

I wanted to take things a step further and do the milling myself, so I decided to start using the compact and affordable SRM-20 desktop milling machine. I quickly upgraded to the MDX-50 model that we are now using as our main machine. I then purchased another one to increase production capacity, and then added the MDX-540 benchtop model capable of working with larger sizes. Today, all four machines are working at full capacity day and night, milling the molds for almost all of our products.
The MDX-50 is so easy to use, and I am very happy with its milling speed, precision and running costs. The bundled SRP Player CAM software for setting milling requirements is also a breeze to use.

One of your unique examples is how you are using digital methods to make a shochu decanter featuring a Fist of the North Star design.

We produced a sweet potato shochu decanter and glass set featuring "Kokuoh," the titanic black horse of popular character Raoh, as part of a mash-up between Mitsutake Sake Brewery in Kashima City, Saga Prefecture and Fist of the North Star publisher Coamix Inc. We received a request for production from Mitsutake Sake Brewery, which was looking for a potter capable of producing bottles just as they had designed. Amazing JIRO, a face and body paint artist, produced the form for the decanter based on design sketches drawn by the manga's animation director Takuya Wada. To ensure the porcelain was produced exactly as it is in the 3D data, I edited the data myself and milled the mold, and went through much trial and error selecting the right material and firing temperature. Conventional methods of applying black glazing to white material end up crushing the intricate lines of the base mold, so we applied transparent glazing to black material instead. This was one of the most challenging projects I took on since launching 224, but I was able to complete this decanter set successfully by combing my years of experience as an artist with digital technology. I personally feel that I have created a true work of art here.

Seeking to produce long-lasting items cherished by users
Tell us about your future aspirations.
Rather than focusing on a business model of mass-production, mass-consumption, I am seeking to produce items that even more customers can continue using for as long as possible. Hizen Yoshida pottery comes from a small production district with just ten potters. Right now, I am focusing on bringing all the potters here together to try raise awareness of Hizen Yoshida pottery amongst customers so they can develop a sense of attachment to the style—like running tours of the production studio so customers can get a closer look at the actual production process, and opening an outlet store for selling out-of-spec items that would ordinarily be discarded. Today the potters here make their own lines of products, but I would like to create a common brand that is produced by all the Hizen Yoshida potters.
A new station at Ureshino-Onsen opened on the Nishi Kyushu Shinkansen in September this year, and while the impact of this new route will become clear in the future, I hope that it will give more customers the opportunity to come and visit. The National Sports Festival (Kokutai) will also be held in Saga in 2024, and as someone involved in the local traditional arts industry, I hope I can play a role in boosting the popularity of Saga.
Thanks for your time today. We are looking forward to seeing more exciting items designed for customers.

Click here for more details about 224porcelain