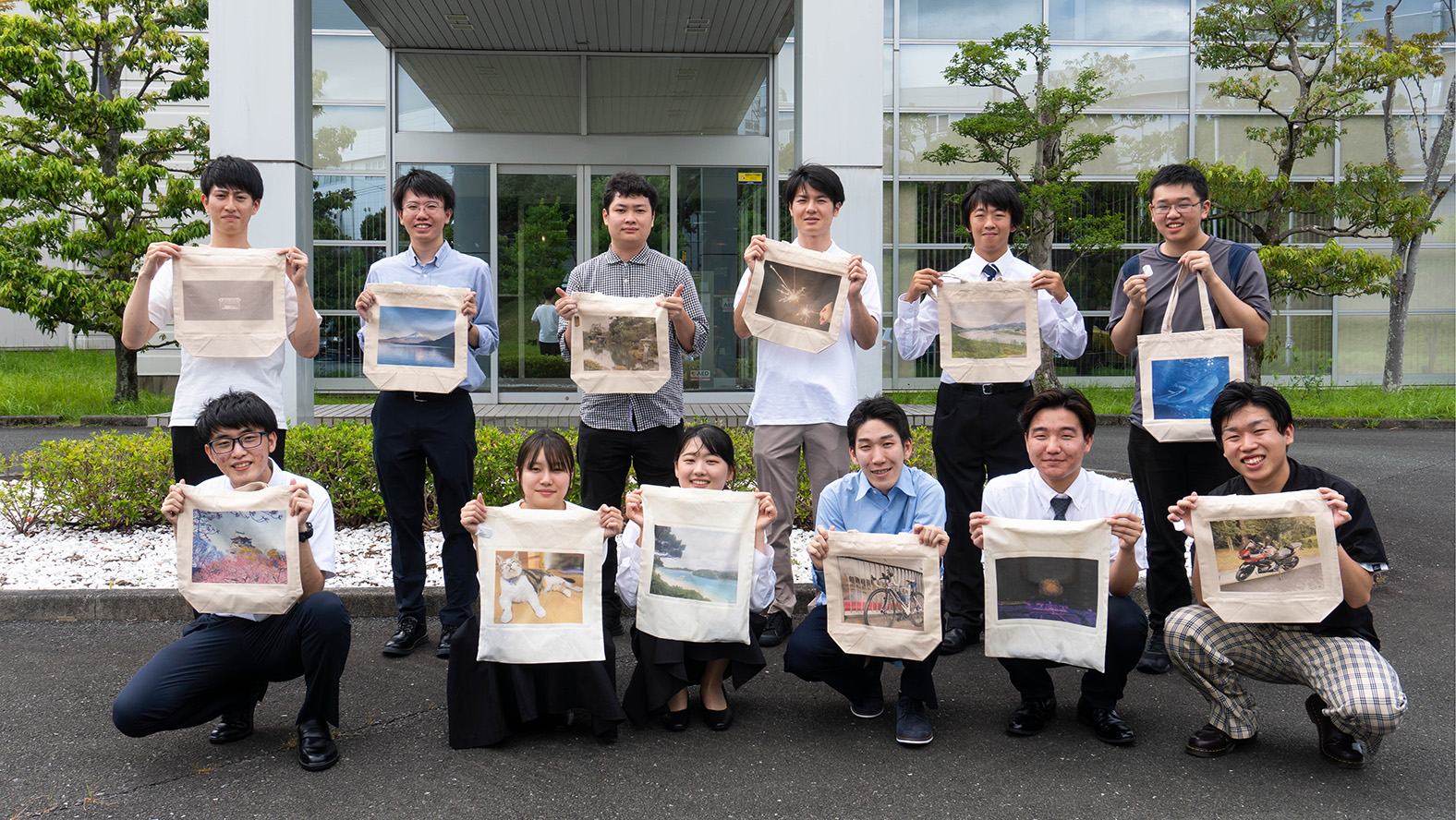 2023 Internship Program Now Underway
09/08/2023 Corporate Activities, Digital Printing
Roland DG is currently hosting an internship program targeting students before they begin applying for jobs from July to September of 2023. We have organized both a 3-day on-site internship program for engineering aspirants and a 1-day online internship program open to students from diverse academic backgrounds.
Engineering students take on the challenge of new product planning
In this article, we'll introduce the highlights of the 3-day internship program that took place from August 23 to 25, 2023 at our Hamamatsu Headquarters and Miyakoda Plant. A total of 12 engineering-minded students from various regions gathered to participate in hands-on experiences such as assembling products, engaging in creative product usage, and collaborating on new product ideas.
The first day kicked off with an introduction to Roland DG and our product lineup. Participants embarked on a journey of factory tours and product assembly experiences to gain insights into the manufacturing process. The product assembly experience involved simulating our proprietary production system called D-PICS (Digital Production Indicate & Control System), as teams strived to complete the assembly of a small cutter within a restricted timeframe.
During the product experience session, participants used the BT-12 direct-to-garment printer to print tote bags with personal photos, and the MPX series photo impact printer to imprint custom designs on keychains. This allowed them to truly experience the joy of bringing their ideas to life.
From day two onward, students formed three teams to conceptualize new products. Targeting the eyewear or bicycle helmet markets, they were tasked with innovating existing products. Lectures on business frameworks and industry analysis methods equipped them with how to integrate these concepts into their ideas.
On the third day, each team refined their concepts with guidance from senior engineers and HR staff. During the presentations, participants showcased their ability to analyze markets and industries from unique student perspectives, incorporating the features they had learned and experienced throughout the program. Their creativity and preparation within a short time frame left our supporting staff deeply impressed.
Following the presentations, a roundtable discussion with senior staff members was held, providing an opportunity to learn about the actual work environment and the appealing aspects of the job.
Participating students shared their thoughts, such as: "I enhanced our teamwork skills through mutual discussions" and "I experienced the complexity and enjoyment of developing ideas from various perspectives." We believe that the experience of collaborating with peers they had just met to tackle challenges over the course of three days will prove valuable in their future career paths. To all those who joined us, we extend our heartfelt gratitude.