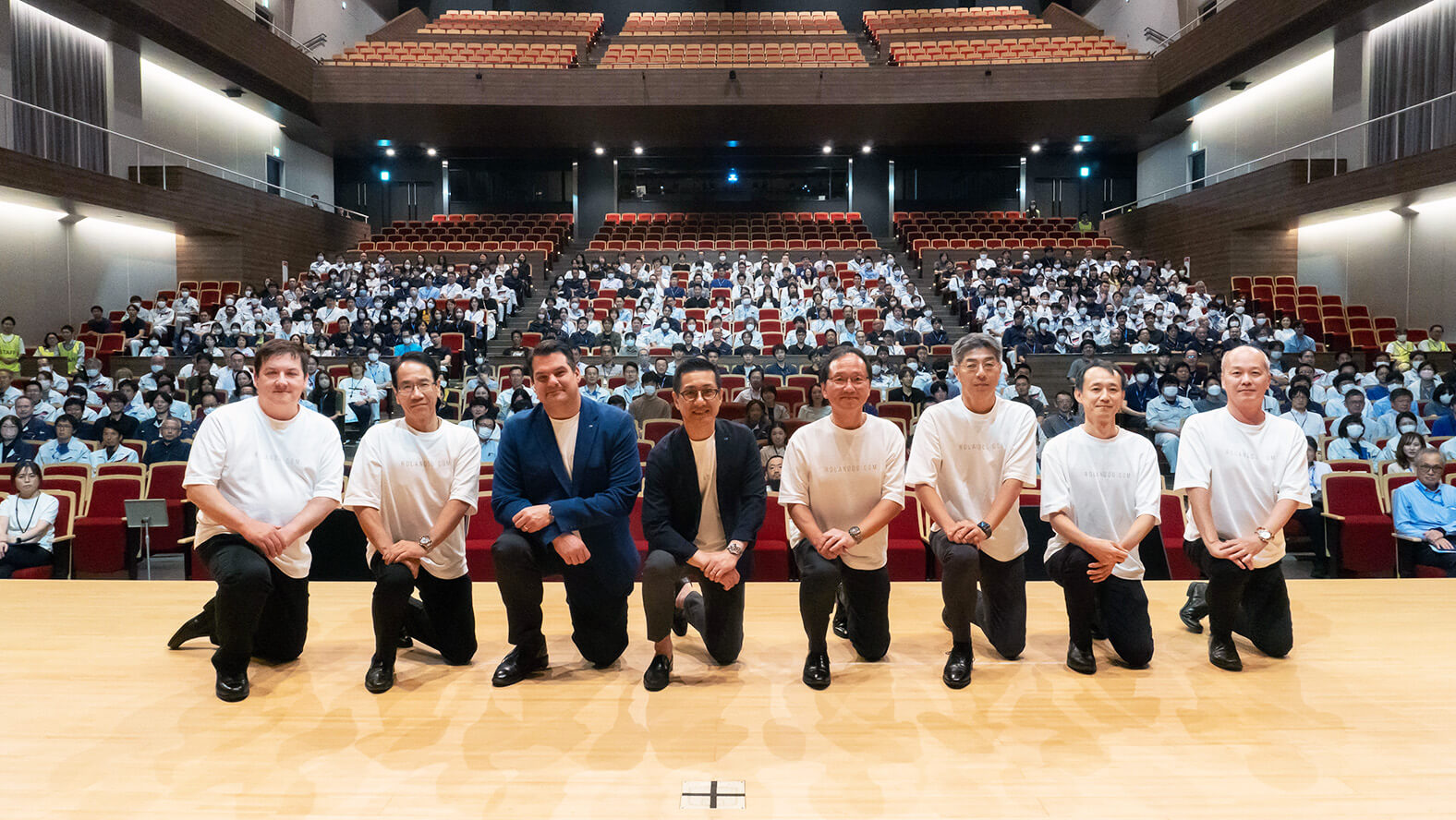 Roland DG Hosts "The Day 2024"
10/20/2023 Corporate Activities
Roland DG once again hosted its annual internal event called "The Day." Started in 2020, this marked the event's fourth year. This event brings together all employees to reflect on the current fiscal year and share their enthusiasm for the upcoming one.
Reflecting on oneself and the company and taking a fresh step forward
"The Day" draws its inspiration from the world of surfing, signifying the annual arrival of the largest wave. From this moment, our company has designated "The Day" as a special occasion for reflecting on both oneself and the company while also exploring new possibilities.
This year's "The Day 2024" took place on October 2, 2023, at Sala Music Hall near our headquarters in Hamamatsu. The event was also broadcast via satellite to our group of subsidiary companies, including the Thailand factory and various sales offices. Enthusiastic participation was observed not only from our headquarters' employees but also from members at other locations.
During the event, President Tanabe took the stage, providing an overview of the activities and achievements of various departments in the current fiscal year. He also presented the company's vision and plans for the future. Additionally, Aleksey, the CEO of the new subsidiary DG DIMENSE, shared his thoughts and aspirations for joining the Roland DG Group through a video message.
To encourage interaction among attendees, a quiz competition related to the company's history and products was conducted using a smartphone app. Through this quiz, participants deepened their connections and knowledge. Top performers were rewarded with custom-designed notebooks from Moleskine, our collaboration partner announced in September, with The Day's original design printed using a UV printer. The event concluded with the recognition of employees celebrating 20 years of service.
Events in overseas group companies
"The Day" extended beyond Japan and was also held in our group companies in the Asia Pacific and Europe.
For the Asia Pacific region, the event took place at Roland DG Korea, our sales subsidiary in Korea, on October 6. Director Andrew presented the policies for the upcoming fiscal year. For the European region, the event took place on October 10 at Roland DG EMEA, our sales subsidiary in Belgium. President Tanabe delivered a presentation remotely. The event for the Americas is scheduled to be held in late October at sales and marketing subsidiary Roland DGA in the United States.
This edition of The Day provided employees in each location with an opportunity to reflect on their personal growth, challenges, and development. Each participant renewed their determination to make progress toward shared goals.