Product News
05/24/2011
Roland DG Corporation
Roland Introduces ECO-UV S Ink for UV-LED Inkjet VersaUV Series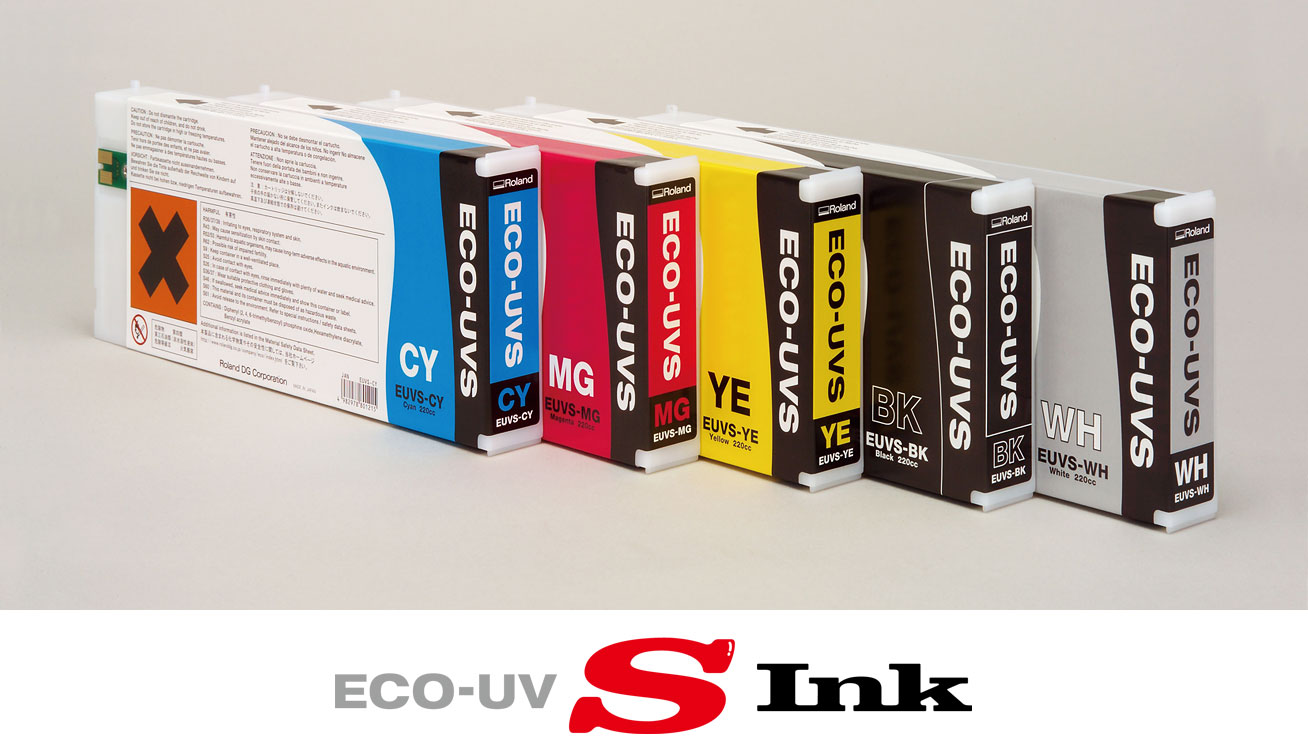 New Flexible UV Ink Stretches Up to 220 Percent for Outstanding Results on PET Bottles and Other Curved Packaging Materials
Hamamatsu, Japan, May 24, 2011 – Roland DG Corporation, a worldwide leader in wide-format UV-LED inkjet technologies, today introduced ECO-UV S, a next generation of the company's ECO-UV ink that is formulated to deliver exceptional elasticity and flexibility for graphics produced using Roland's VersaUV line of inkjet printers. Offered in Cyan, Magenta, Black, Yellow and White, ECO-UV S is developed specifically for use with four of Roland's VersaUV UV-LED inkjet printers, including the 64-inch LEJ-640 printer, 54-inch LEC-540 printer/cutter, and both the 30-inch LEC-330 and LEC-300A printer/cutters.
"With ECO-UV S ink, users can create realistic packaging prototypes using shrink films or other packaging materials, enabling them to explore a wide range of design options," said Tetsurnori Niyama, Roland DG color product manager. "ECO-UV S prints can be extended up to 220 percent, allowing users to stretch graphics to fit even the most difficult uneven shapes, indentations, corners and curved surfaces."
Greater elasticity allows ECO-UV S prints to mold perfectly to the contours of PET bottles and plastic cups, and ensures flawless results on vacuum-formed plastic that is commonly used for items ranging from food service trays to auto parts packaging and consumer electronics cases. Users can also create three-dimensional wide-format graphics, including POP displays, signage and interior décor items.
ECO-UV S Ink Applications:
(From left to right: Realistic package labels for PET bottles; colorful serving tray prototypes made from vacuum-formed plastic)
ECO-UV S Ink Features:
- Next generation UV curable ink for Roland VersaUV UV-LED inkjets
- Greater elasticity allows printed images to be extended up to 220 percent
- Retains flawless image quality across uneven shapes, indentations, corners and curved surfaces
- Available for use with the LEJ-640, LEC-540, LEC-330, LEC-300A and LEC-300 VersaUV models
- Prints on a wide variety of shrink films and plastics made from PET, OPS, ABS, PMMA, polycarbonate and more *1
- Ideal for prototyping shrink labels for PET bottles
- Prints on vacuum-formed plastic
- Offered in five colors: CMYK and high-density White *2
- Available only in the CMYK+White+White ink configuration *2
VersaUV Wide-Format Inkjet Line
The VersaUV was introduced in 2008 as the world's first UV-LED inkjet printer/cutter line and has since been recognized with prestigious DPI, EDP and Label Industry Global awards for outstanding innovation. Low-heat UV-LED lamps cure UV ink instantly across a wide range of materials with exceptional results. VersaUV LEC series printer/cutters print, crease, perf-cut and simulate embossing on flexible and semi-rigid media up to 1 mm (0.04") thick*1 for custom graphics, packaging prototypes, control panels and short-run labels. The 64-inch LEJ-640 hybrid printer prints and simulates embossing on both flexible roll media and rigid substrates up to 13 mm (.51") *1 for high-impact wide-format signage, displays and window graphics as well as packaging prototypes, POP and interior décor items.
*1 For best results, test print graphics on each substrate before production.
*2 VersaUV users currently using the standard "ECO-UV ink" can upgrade to new "ECO-UV S ink."
Roland DG Corporation (TSE symbol 6789) - First Section, Tokyo Stock Exchange
Phone: +81 (0)53-484-1201 / Fax: +81 (0)53-484-1216