Product News
03/05/2019
Roland DG Corporation
New VersaUV LEF2-200 Features Exceptional Print Capabilities and Ease of Use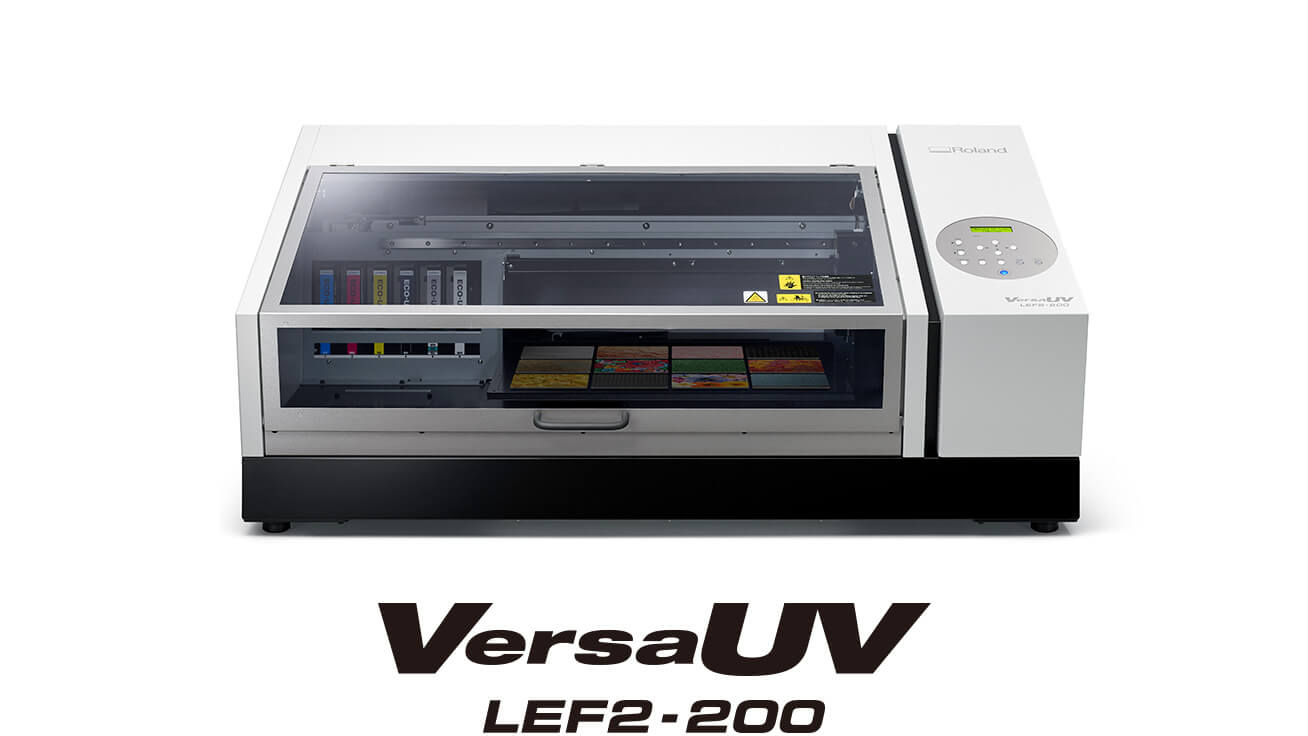 Hamamatsu, Japan, March 5, 2019 – Roland DG Corporation, a leading manufacturer of wide-format inkjet printers and printer/cutters worldwide, today announced the launch of the VersaUV LEF2-200 20" benchtop UV flatbed printer.
The LEF series includes the popular desktop and benchtop versions of Roland DG's UV flatbed inkjet printers. The latest model LEF2-200 inherits the series' renowned ability to print amazing graphics and lifelike textures, including premium finishes such as simulated embossing, onto a vast array of materials up to 100 mm (3.94 in.) thick. New functions make the LEF2-200 even easier and more efficient to use.
"The VersaUV LEF2-200 makes it very simple to print premium-quality photographs, graphics and text on almost anything," said Kohei Tanabe, President of Roland DG's Digital Printing Business Division. ECO-UV ink cures instantly on the surface of the material, allowing you to print directly onto PVC and plastics, canvas, wood, leather, fabric, etc. In addition to full color printing, you can produce premium gloss and matte finishes as well as simulated 3D embossing for amazingly lifelike textures with multiple layers of Clear ink. Capable of printing on corners and curves as well as soft materials such as leather and fabric, advanced Roland ECO-UV ink formulations are designed for both flexibility and beautiful imaging.
According to Tanabe, the new LEF2-200 incorporates a host of advanced functions to simplify high quality printing. A Start Timer Function completes the setup procedures of printhead cleaning and white ink circulation automatically by your designated start time. A positioning jig makes it easy to align items on the print table. The VersaUV LEF2-200 includes the latest VersaWorks 6 RIP software, featuring an intuitive interface for easy operation and job management. The LEF2-200 also adopts a new cleaning system to increase reliability. A Head Refresh Feature removes any ink remaining on the printheads and cleans the printhead surface to maintain the health of the printer. The airtight cover protects operators from UV light and prevents dust from settling onto the surface of materials while printing.
"With the LEF2-200, now anyone can print stunningly realistic and colorful images onto many different materials that you might not think possible," Tanabe said. "To be able to offer this print capability even to people who lack training, we focused on ease of operation and bullet-proof reliability so that everyone can enjoy printing graphics and textures with confidence. This LEF2-200 adds incredible value and opportunity for business growth."
For more information, contact:

Roland DG Corporation
PR/IR Unit
+81 (0)53-484-1400
E-Mail:rdg-ir@rolanddg.co.jp