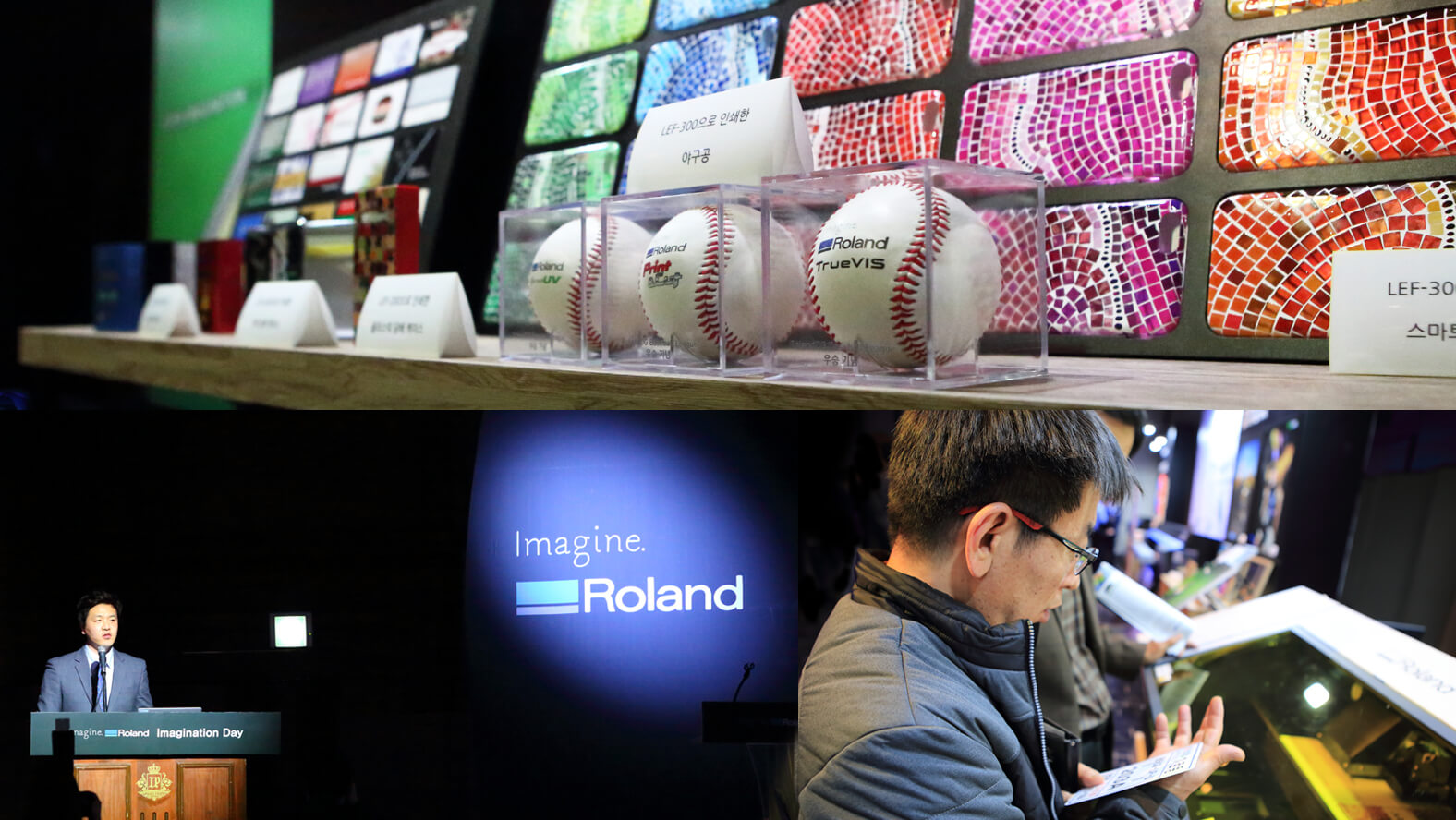 Roland Imagination Days Attract Korean Printers Seeking to Overcome Business Challenges
Roland DG hosted its Roland Imagination Day in Korea on April 4, 2017 in Seoul and April 13 in Busan. These user events were held with the aim of supplying new solutions using Roland DG products to address current market challenges faced by Korean printing businesses.
For many years, the sign market in Korea consisted primarily of indoor and outdoor advertising banners called "hyunsoomak." Roland DG's aqueous inkjet printer FJ-740K, released in the Korean market in 2003, is still widely used today by many print shops and sign makers for printing hyunsoomak. Increasing restrictions on where hyunsoomak can be installed, however, have resulted in a decline in that market resulting in severe price competition and leading many in the print industry to begin looking for new alternatives.
The Seoul event drew 100 users and partners while 180 attended the Busan event to view print samples and discuss business success stories. The venues were filled with an air of enthusiasm from event goers, with one lady involved in advertising for many years commenting, "I am thinking about what type of business to start out with while looking over all these success stories. It's so exciting."
Roland DG Korea CEO Chihun Seo touched on the goal of the events. "One business strategy is to come out on top with price competition, but there will always be a limit to the success of this practice. We are holding these events to show that new, more profitable business can be created by applying their imagination."
Roland DG Korea Sales & Marketing Leader Eddy Nam, who acted as Master of Ceremonies for the event, spoke enthusiastically. "Roland DG's strengths lie not only with its products, but also with an extensive range of fresh new applications from successful customers around the world. Imagination Day resulted in many new ideas that come about from users and partners discussing topics and interacting with our staff. The next step is how to implement those ideas. We plan to work with users and our partners to make those ideas a reality."
Korea has entered a new era of printing opportunities, and we will continue to focus our attention there!