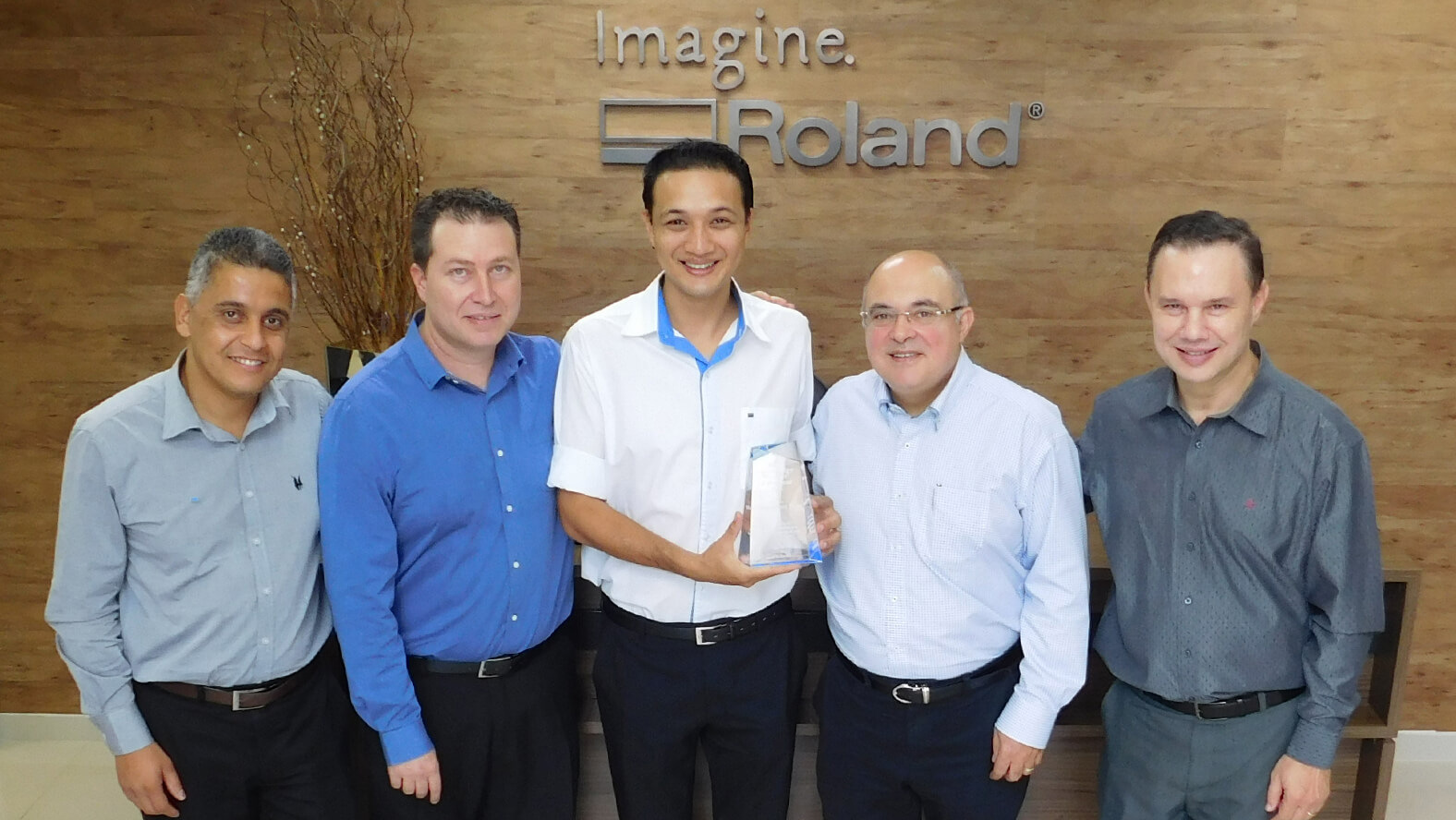 Botao of Brazil Named Best Knowledge Worker Among Service Engineers Worldwide
05/16/2017 Corporate Activities
Roland DG's Service Engineers (also called "SEs") strive to improve their ability to provide high-quality, standardized maintenance and repair services in order to ensure that customers from all over the world can use Roland DG products with peace of mind. "Knowledge Workers" are tasked with sharing their service knowledge to assist other SEs in improving their skills and knowledge.
SEs require technical experience like replacing product parts, but also need to arm themselves with the expertise and knowledge to be able to identify the causes of various problems and develop appropriate solutions quickly. However, it is no simple task to resolve problems that they may face for the first time with their own experience only. In 2015, Roland DG launched an online platform for sharing the service and support knowledge that SEs had built up at their service sites around the world. To facilitate the sharing of these troubleshooting skills, in January 2016 Roland DG appointed 11 SEs and service staff from five countries as "Knowledge Workers," who were given the task of sharing articles and tips from their personal experience and know-how. During 2016, these Knowledge Workers posted 226 articles in five languages.
Marcelo Gomes Botao (photo, center), an SE at Roland DG Brasil, was awarded the first Best Knowledge Worker for being the most active throughout 2016. His articles mainly covered inkjet printer maintenance, and his efforts were recognized for providing an ongoing source of valuable information contributing to the problem solving efforts of SEs. Botao presented his knowledge in easy-to-understand articles that were viewed in his native Brazil as well as many other countries around the world.
Botao explains how he felt when posting his articles: "I enjoyed the feeling of helping my co-workers, making sure that the information was as correct as possible before posting it. I also liked listening to the field because each SE you talk to has a different point of view regarding the same issue. The idea is to capture, filter, test and make a conclusion. Once we have an issue, we brainstorm a faster and better solution for our customers."
To ensure that customers are fully satisfied with our service, Roland DG is hoping to see more SEs share knowledge and knowhow among themselves. We are planning to appoint more Knowledge Workers and develop a system where information can be posted in even more languages.