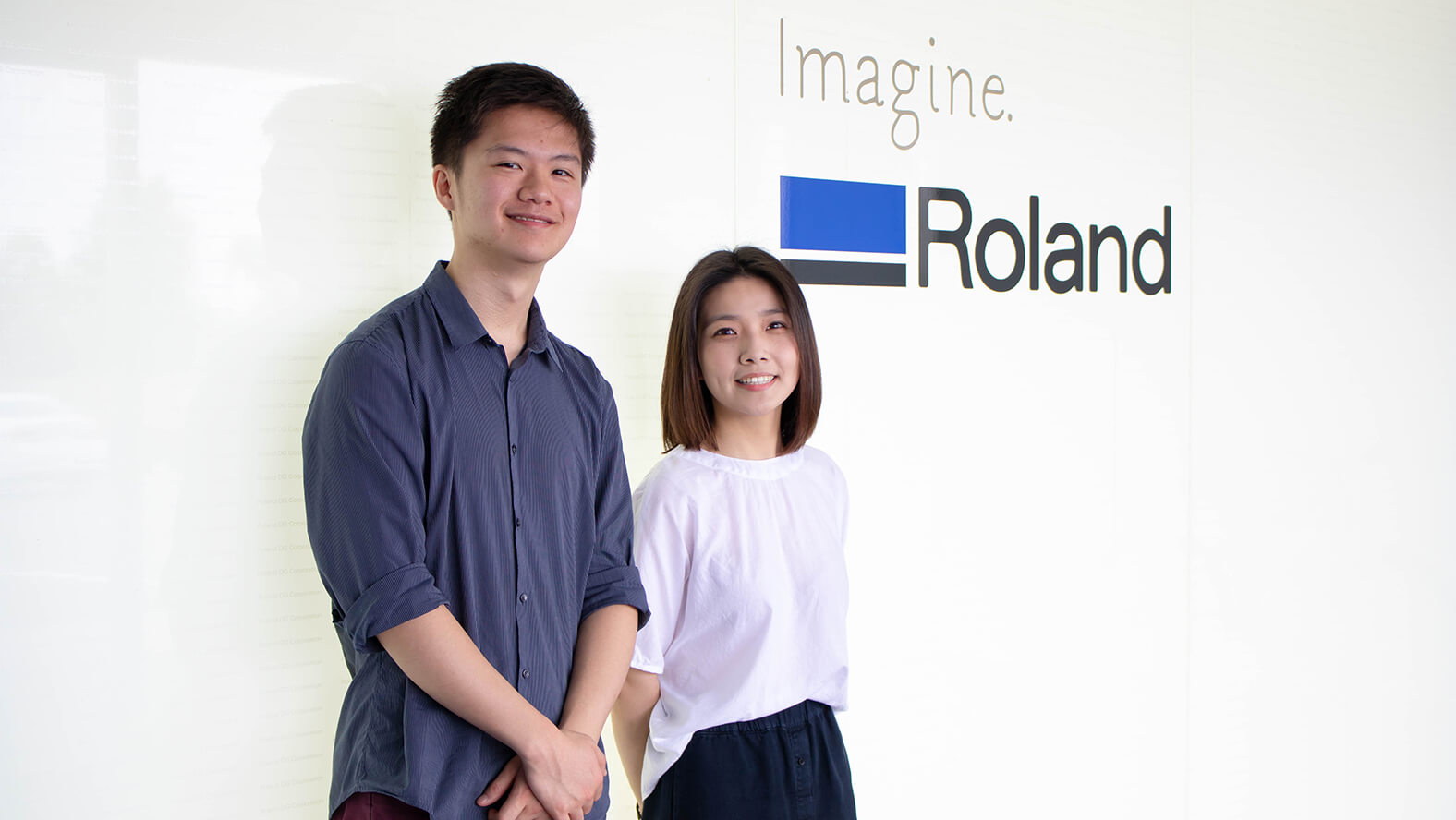 Welcoming Our 2019 Service Department Interns
Roland DG has been running an internship program for international students since 2017. This year, students from the University of Michigan in the US joined us for the 6-week program. For this edition of the blog we had a chance to speak to the interns assigned to the Service Department.
Click here for 2017 activities
Click here for 2018 activities
We interviewed two interns assigned to the Service Department for the 6-week program. Jie Chen has been part of the program since the beginning of June, and Darren Young joined at the end of June. They were part of a project tasked with devising solutions for a range of predetermined challenges. Both interns were also studying Japanese and shared their internship experiences while speaking Japanese.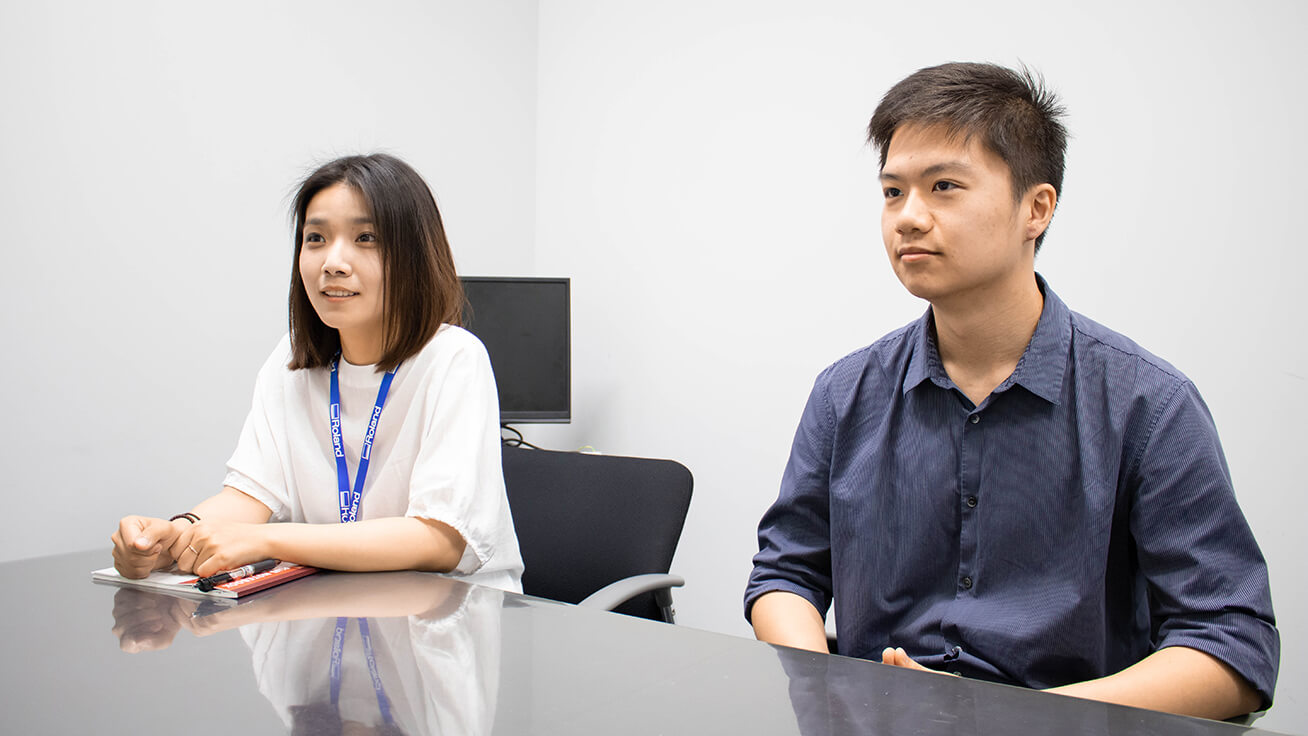 Jie Chen, left, graduated from the University of Michigan in the spring of this year while Darren Young is a third-year student at the University of Michigan.
Jie Chen
From China. Graduated the University of Michigan in the spring of this year and is planning to go to graduate school in the fall.
Majored in data science and statistics with a minor in Japanese language and culture, and acquired Level 3 of the Japanese Language Proficiency Test. She has a keen interest in Japanese culture.
Darren Young
From America. Third year student at the University of Michigan.
Majored in computer science. Currently studying Japanese and has acquired Level 3 of the Japanese Language Proficiency Test. Aiming to work in Japan in the future and is interested in Japanese pop culture and cuisine.
From an interest in Japan to joining the internship program
Your Japanese is excellent. How did you study the language?
Chen: I began formally studying the language when I took Japanese classes for my university minor. Being originally from China, I was already quite familiar with kanji (Chinese characters).
Young: I have always loved anime and Japanese pop culture and started studying Japanese by myself. I took a more structured approach to learning the language after entering university. I am quite comfortable with speaking and listening, but unlike Jie, I find learning kanji (Chinese characters) difficult.
What made you think about joining Roland DG's internship program?
Chen: Japan has always been one of my interests and, in my second year, I had the opportunity to spend six weeks in Tokyo as part of the university summer program. I heard about Roland DG's internship program at university and thought that it would be a great chance to see how I could apply the skills I had learned in an actual business setting. I decided to submit an application because I wanted to live and work for an extended period of time in Hamamatsu.
Young: I want to work in Japan in the future. A large number of university students in America go on an internship while they are studying, and I applied for this internship because it offered me a chance to experience working at a Japanese company.
Applying skills from university to take on inkjet printer data analysis
Both interns applied the machine learning and analytical knowledge that they acquired during their university studies as part of a project aimed at resolving problems in the Service Department, which covers maintenance of Roland DG equipment like inkjet printers.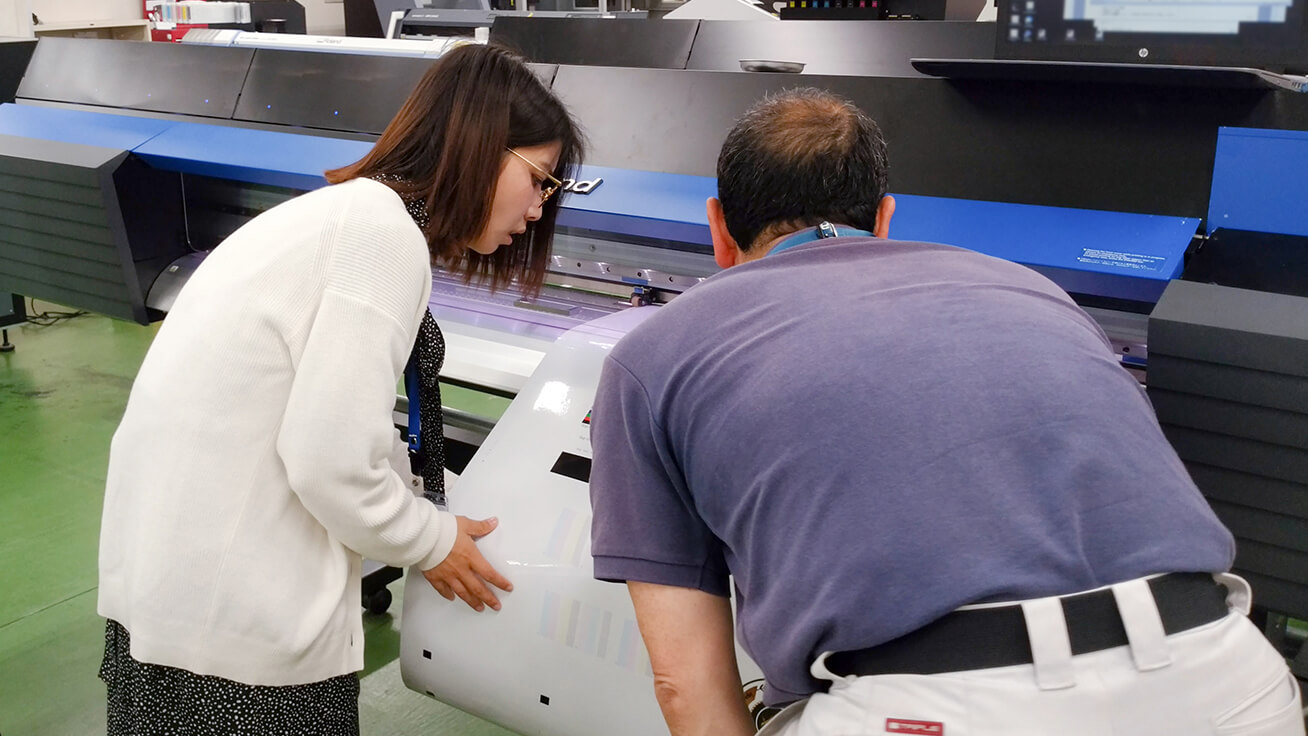 The program gave interns the opportunity to gain hands-on experience with Roland DG's inkjet printers.
What types of tasks have you been given during your internship?
Chen: I have been part of a project for resolving problems that customers face by utilizing the data obtained from inkjet printers and other devices.
Young: My role involves converting data used during the project into a format that is easier to use for service engineers and end users.
* The interns were interviewed at the start of July while they were still in the program.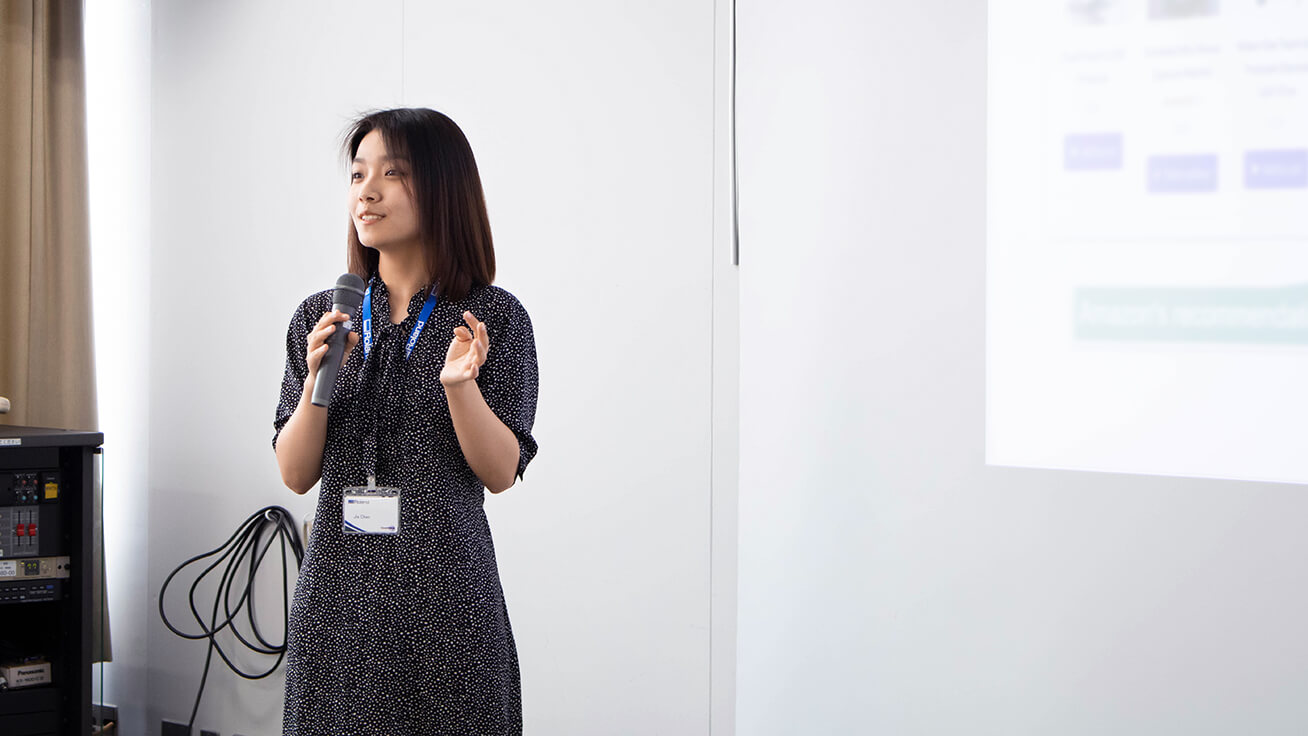 The interns gave a presentation on the results of work after the interview.
What did you enjoy most or find most memorable about your internship?
Chen: If I ever had any issues or was unsure of something, my colleagues were all so eager to assist me. I had often heard that Japanese people were very conservative when it came to business, however everyone at Roland DG was so friendly and welcoming.
Young: Everyone on our team was so kind and helped us in every way possible. Thanks to them, I had a great time working here and even accomplished things that I was not able to before. Outside of work, we were also shown around many places, and on the weekends I loved going shopping and attending barbecues with everyone.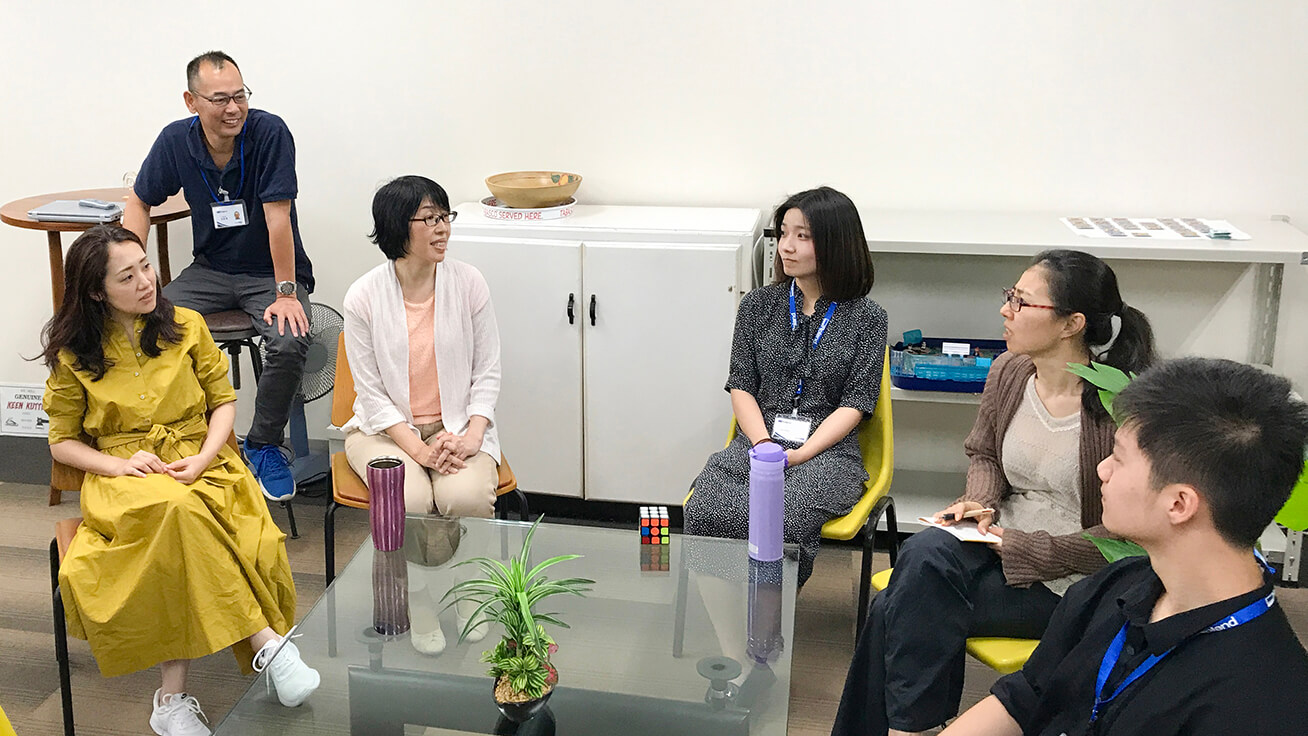 Getting along with all the team members.
What challenges did you face, and what did you find most rewarding?
Chen: The data that I used while studying statistics at university was much easier to analyze and there was a lot more data available. There was much less data that I had to analyze during the internship and, although we faced difficulties when some of the data was not available immediately, we did the best we could with what was available at the time.
Young: I had some trouble using data in unfamiliar formats and there was a lot of missing data, but this presented a very challenging and rewarding experience.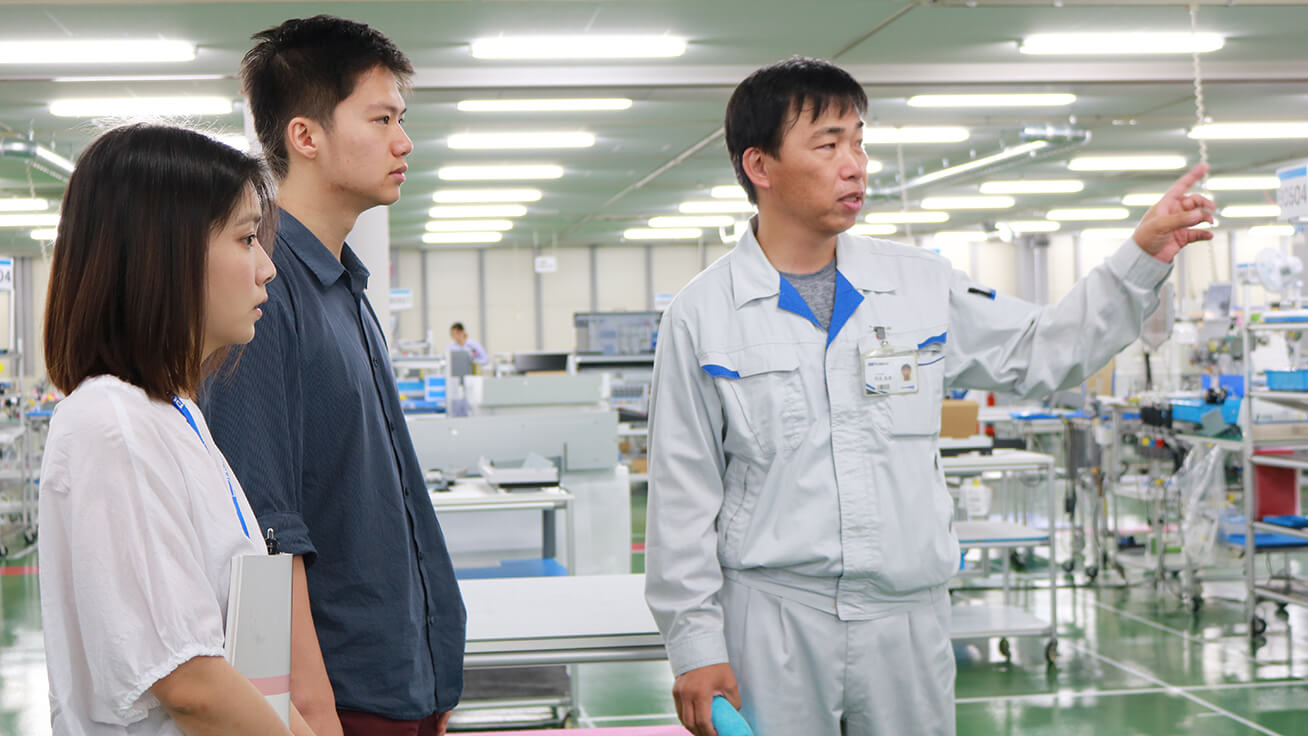 The program included a tour of our plant to learn how our products are manufactured.
Opportunities to acquire skills during the Roland DG internship
What did you learn during the internship that you feel will be beneficial in the future?
Chen: I learned so many things through actual work experience that cannot be acquired in an educational environment. These included data analysis during practical tasks, as well as thinking and researching solutions by myself when there was something I was unsure of.
Young: Working with my team members in order to resolve problems. During university classes we can ask someone or look for information on the internet to find a solution, but such answers are not as easy to come by when working in the real world. Discussing issues with colleagues and working with them to develop solutions is an essential skill that will definitely be useful for future work.
Thank you for your time today, and good luck with the rest of your internships!
During the interview we could easily see how interns were making the most of their time in the program while also having a great time.