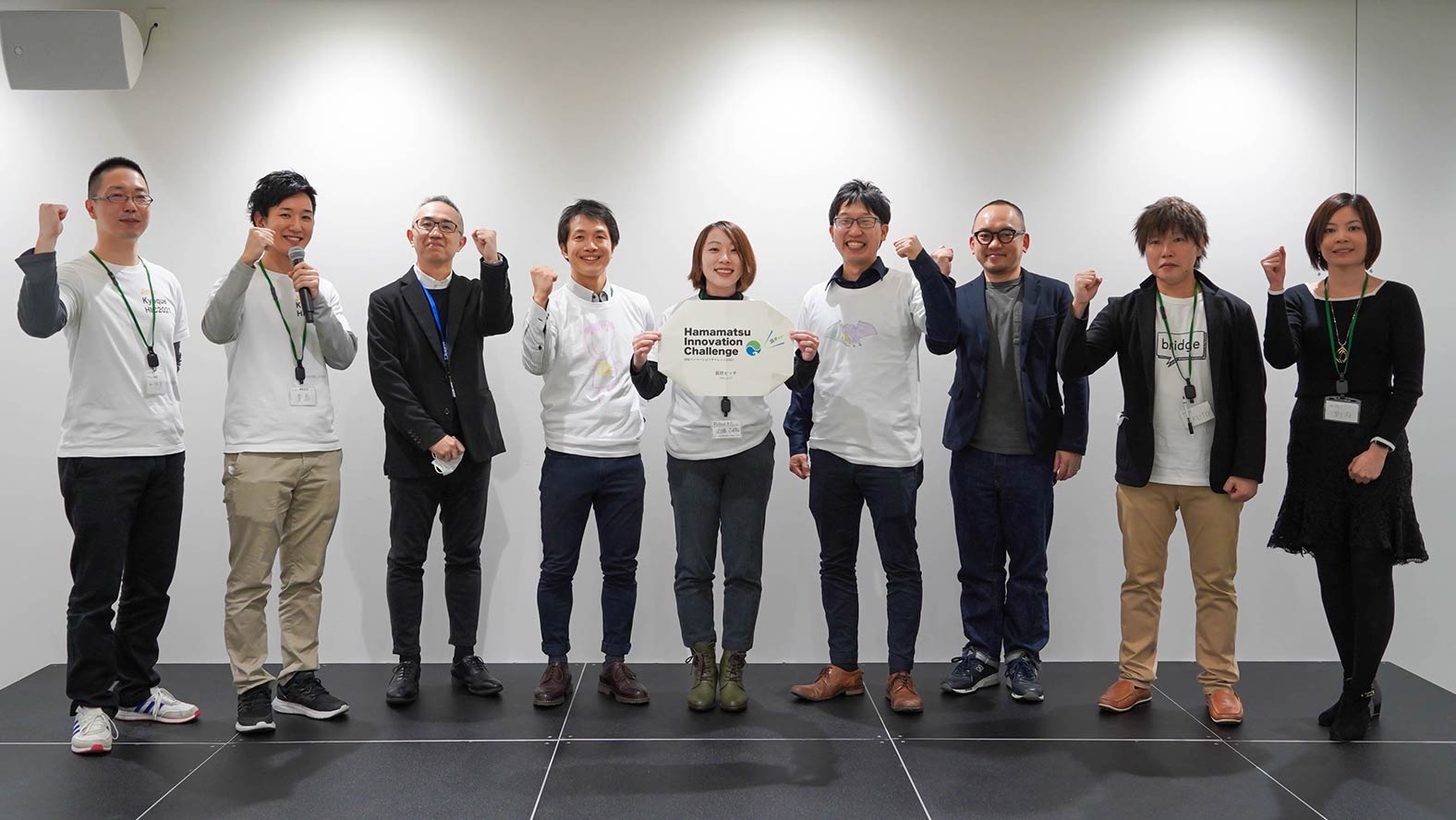 Roland DG Joins the Hamamatsu Innovation Challenge for Creating New Business Ideas
02/09/2022 Corporate Activities, Events & Tradeshows
Roland DG employees recently took part in a program organized by local Hamamatsu companies aimed at developing new business ideas by interacting with like-minded people within each individual company.
Four-month program focused on creating new business ideas
The Hamamatsu Innovation Challenge was held for the first time from September to December 2021 to give local companies a way to focus their areas of expertise on creating new business ideas that match recent changes throughout society. The program was organized by clutch manufacturer F.C.C Co., Ltd., and consulting firm bridge, Inc., and was sponsored by Hamamatsu City.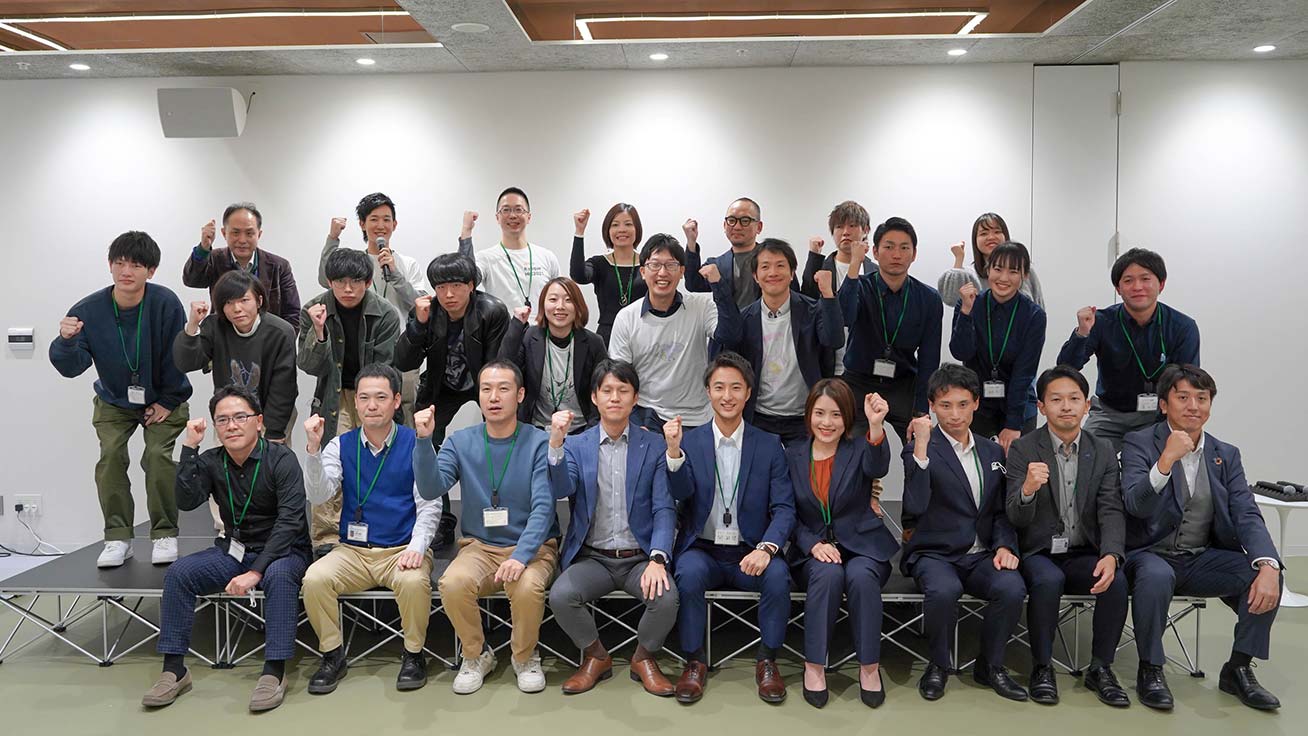 Six teams participated in the program: F.C.C., Yutaka Giken Co., Ltd., Hamamatsu Iwata Shinkin Bank, Shizuoka University, and Roland DG.
In online sessions and face-to-face workshops held from September to November, participants learned about a variety of methods used to create new business ideas and worked with lecturers and staff from other companies to come up with a wide range of ideas. The pitch competition was held at Co-startup Space & Community FUSE in December, where participating teams had ten minutes to pitch their business idea to their own company's management team to secure approval.
Click here for our interview with FUSE about how they use Roland DG's UV printers at their fabrication studio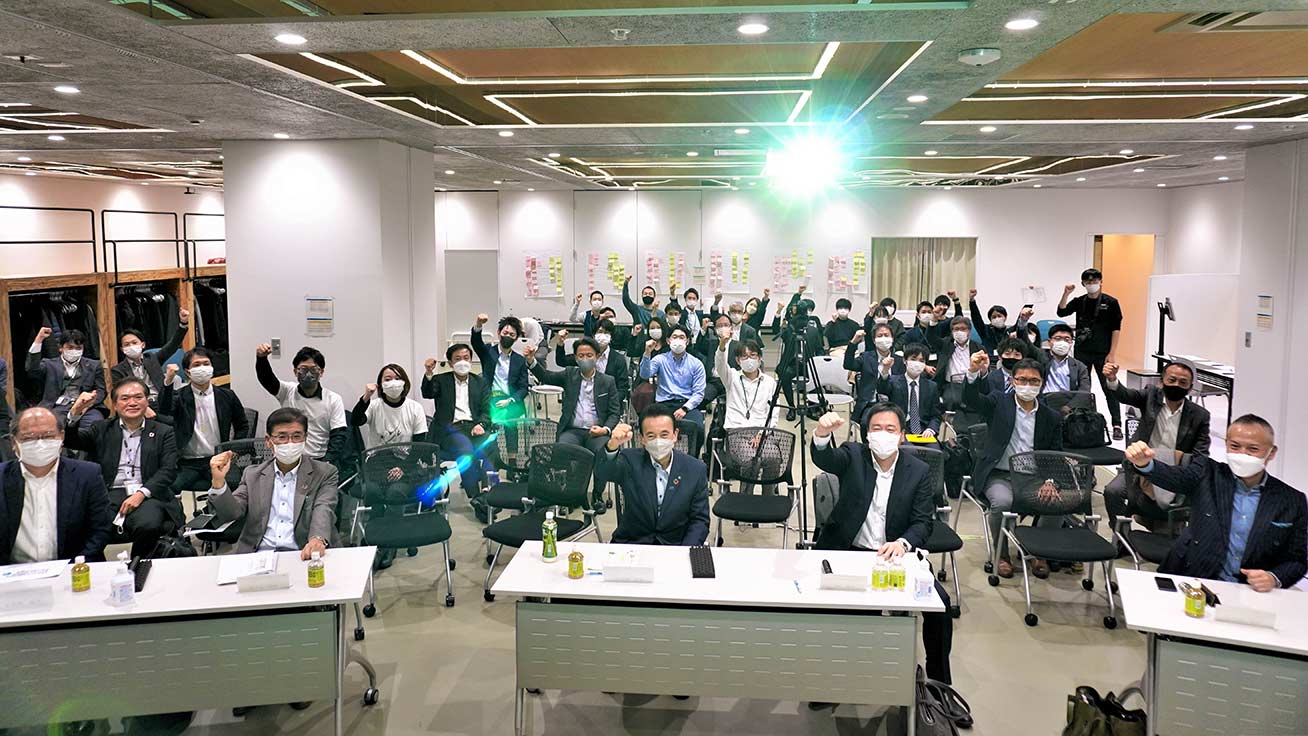 Pitch competition held on December 17 with infection control measures in place.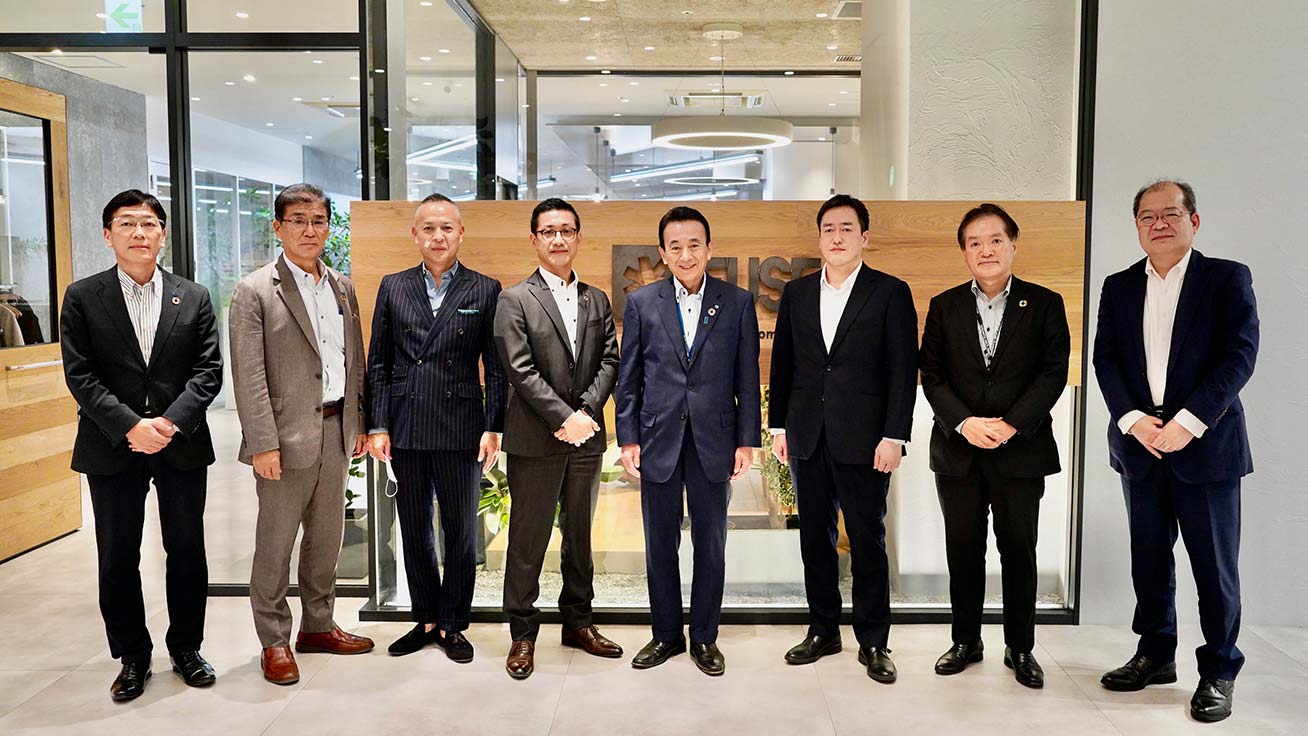 Hamamatsu City Mayor Yasutomo Suzuki (center), Roland DG President Tanabe (4th from left) and executives from other participating companies served as screening judges.
Hamamatsu City Mayor Yasutomo Suzuki expressed his encouragement to the participants: "Having members from leading Hamamatsu manufacturing companies, a financial institution and a university working on creating new types of innovation is so important for the future of Hamamatsu, and I want you to continue taking on similar challenges into the future."
Roland DG team's "Creative DAY ART" idea for after-school childcare
Presentation by the Roland DG team.
The idea raised by the Roland DG team was providing an after-school childcare program called "DAY ART," which gave children the opportunity to explore their creative abilities through art and fabrication. 3D fabrication and woodworking processes are difficult to incorporate into learning programs at homes or traditional school settings, but making Roland DG's digital tools available means such processes can be utilized to nurture inquisitive minds and creative thinking. Another benefit of running a facility with these services is that it can also help to ease the pressures on waiting lists for childcare services. To demonstrate how the idea would work, a hands-on fabrication workshop was organized where staff worked with children to help them make various items.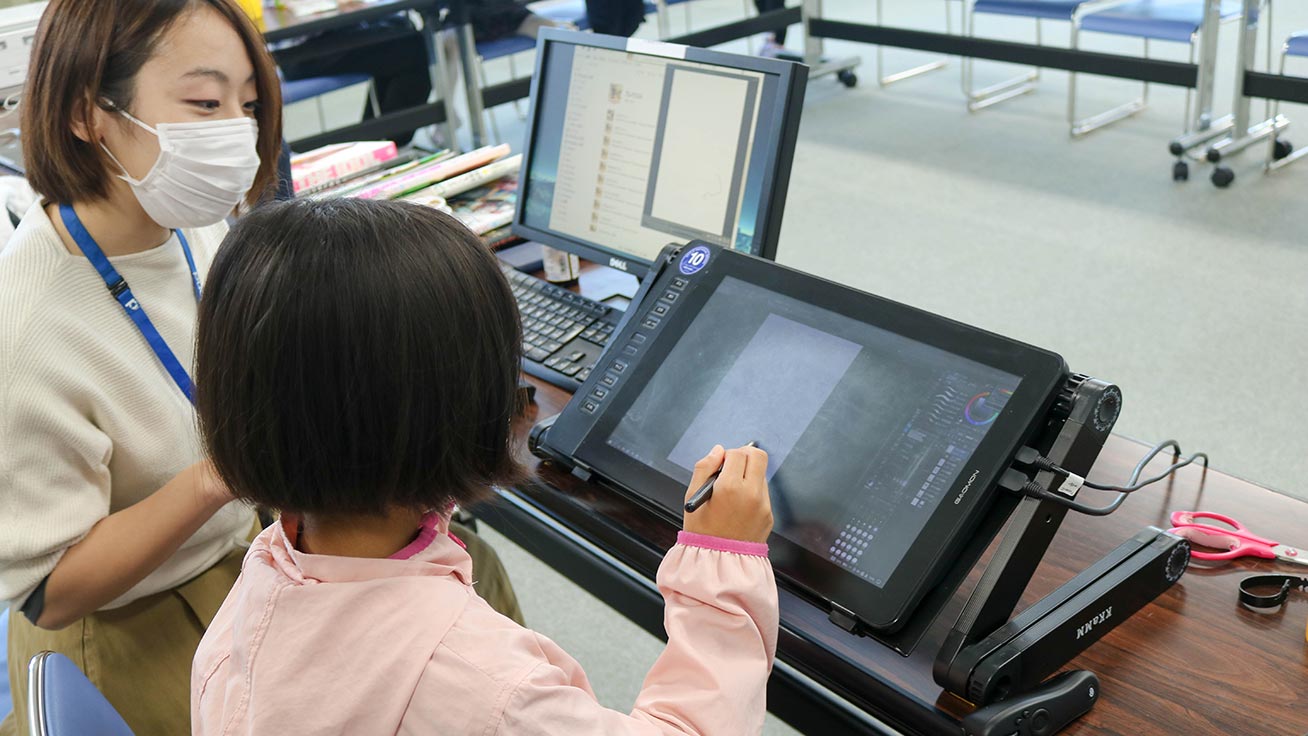 To fine-tune the business idea, children were given free rein at the hands-on fabrication workshop to let their imagination run wild.
While the idea unfortunately did not receive approval from President Tanabe due to a number of issues that needed to be addressed, he agreed with the underlying premise of the concept and called for the idea be examined in more detail at the company.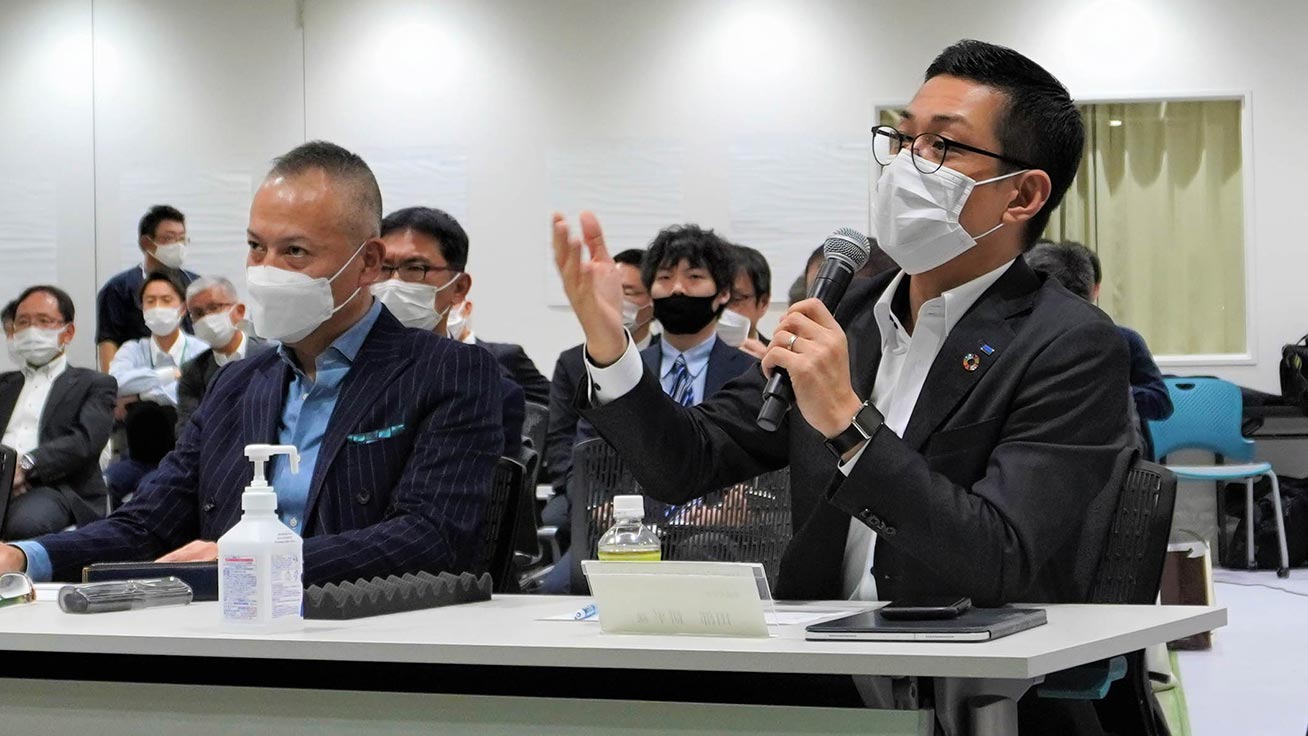 The results of the pitch competition led to the team from Yutaka being awarded the top prize for their idea of applying active exhaust noise cancellation technology used in the automotive industry to absorb the sound of crying babies. Their idea was built into a baby carrier. The second prize went to the F.C.C. team for their idea of a new type of convex traffic mirror with built-in sensors and LEDs to help reduce traffic accidents.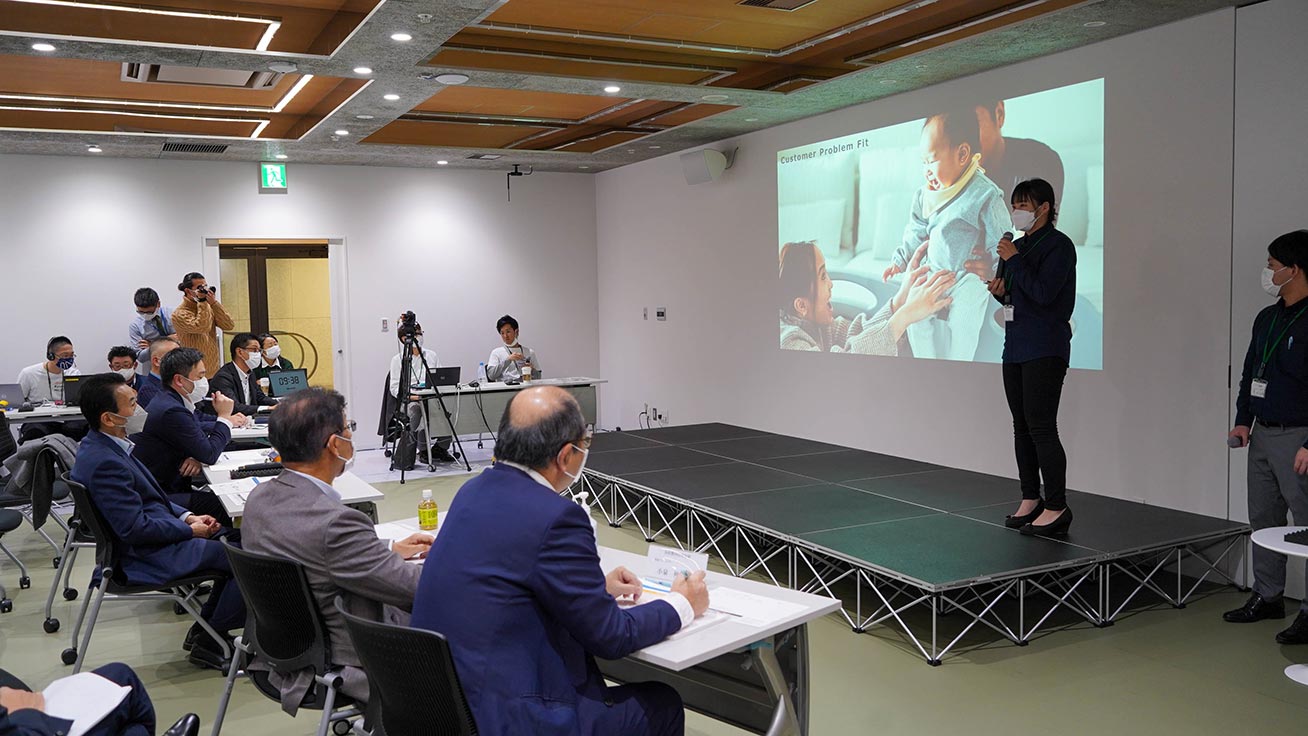 Presentation by the Yutaka team whose idea was selected for the top prize.
Results from the program
At the end of the program, we asked the Roland DG team about their overall impressions of the program.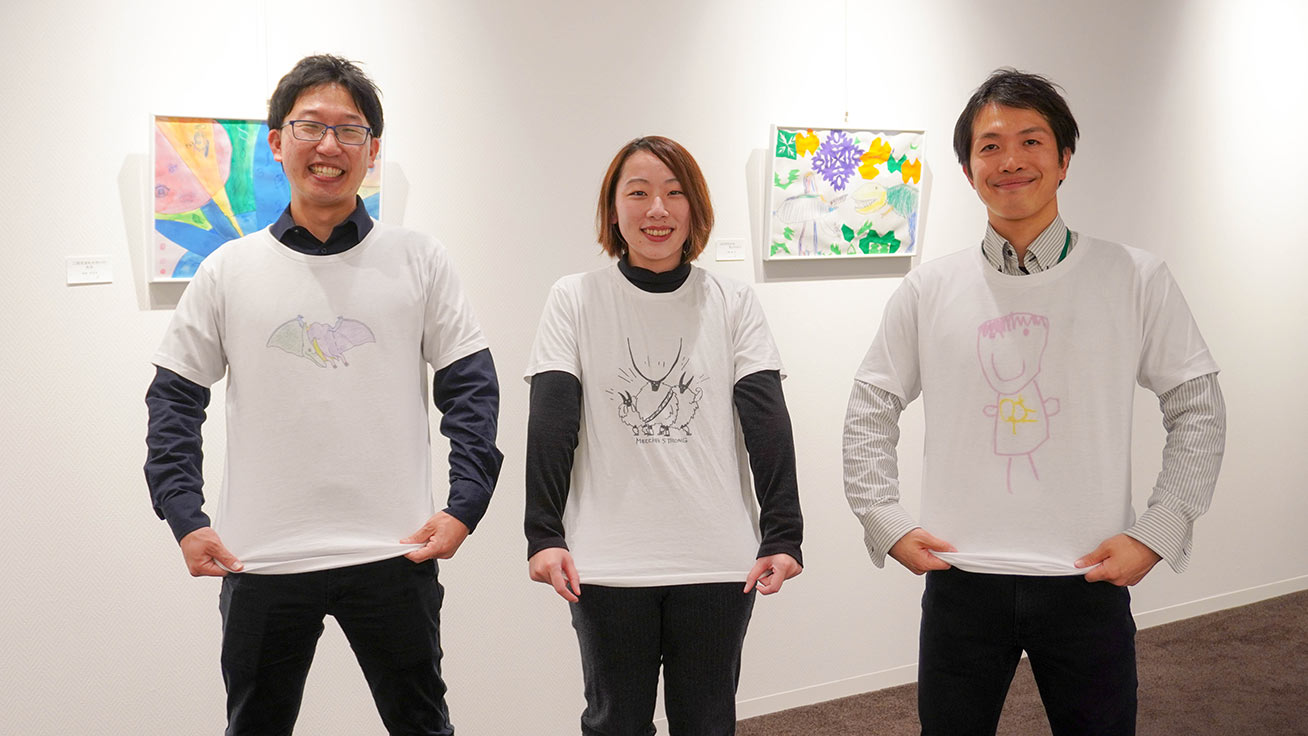 Pitch competitors wearing T-shirts made with children at the fabrication workshop.
Shiro Yoshioka (left)
In charge of development at DGSHAPE Corporation, Roland DG's subsidiary for designing and marketing products for the dental industry and 3D fabrication industry
"I have always wanted to be involved in creating new business ideas as a way of expanding my skills beyond product development. Unfortunately, our idea failed to gain approval, but it was an amazing experience watching the other winning teams going out and testing their own ideas."
Shiori Kondo (center)
Provides technical support at the Service Department
"I first thought, "This looks fun!" when I read about details of the program, but it was actually much more challenging than I expected. Yet this level of difficulty made our achievements so much more rewarding. I hope to apply what I learned during the program to my own work and listen carefully to user opinions."
Naoki Ueda (right)
In charge of digital printing market development
"I am involved in developing products for new markets with our partners overseas. With this program, I was able to apply the methods for coming up with new business ideas that I had learned in books to actually developing a new concept. It was tricky juggling the program and my normal day-to-day tasks, and it wouldn't have been possible without the support of my team members!"
Moving forward, we hope to continue giving you a closer look at some of the challenges our employees are involved in!