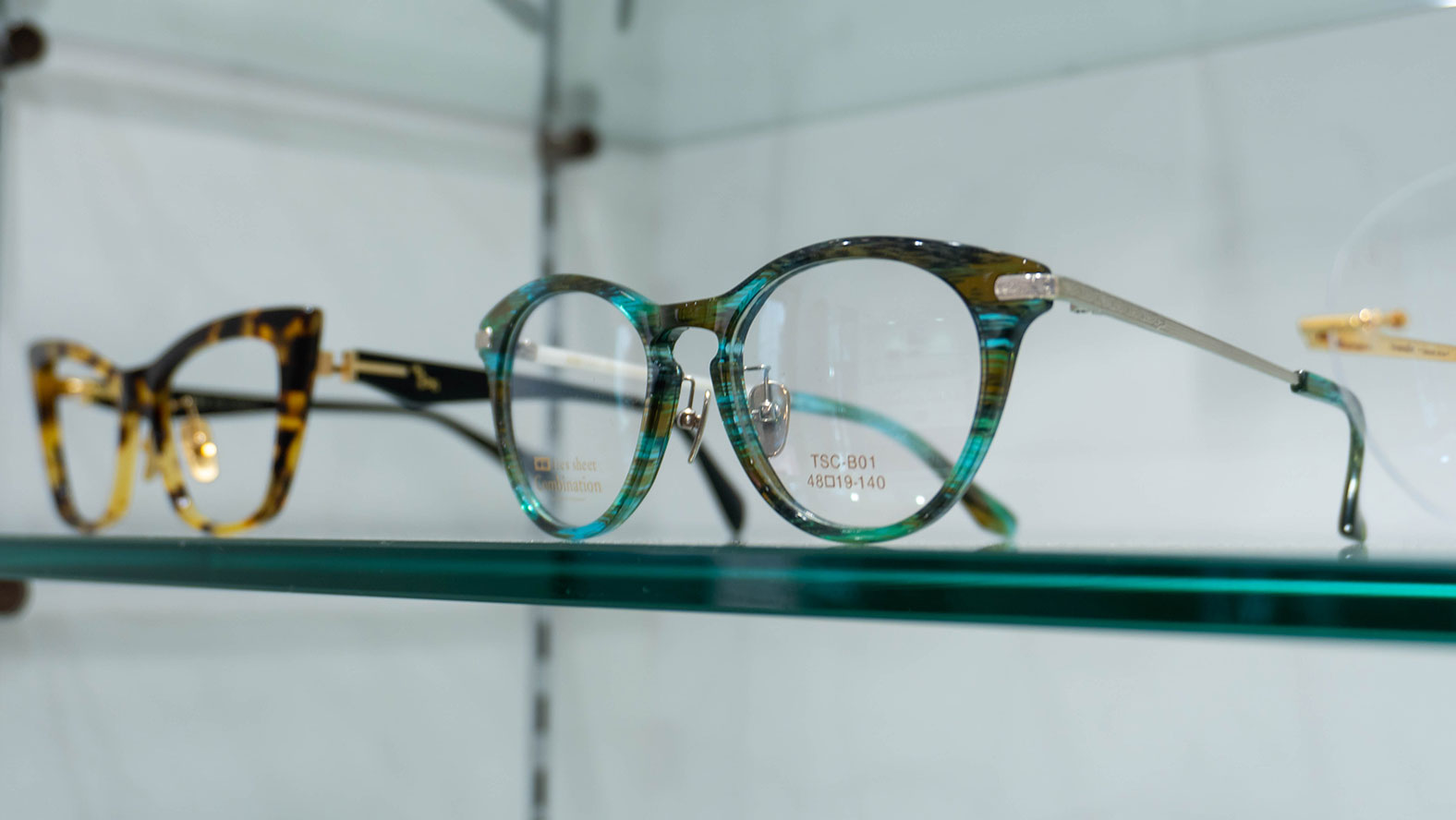 Custom-milled Eyeglasses by JUN GINZA
06/29/2022 3D Digital Fabrication
We visited JUN GINZA, a store located in Ginza, Tokyo that uses Roland DG's MDX-540 milling machine to produce custom-made eyeglasses.
JUN GINZA is an eyewear manufacturer known for producing sunglasses worn by Tsuyoshi Shinjo, nicknamed BIGBOSS, who is the current manager of the Hokkaido Nippon-Ham Fighters of the Japanese professional baseball league.
Roland DG President Tanabe also had the opportunity to visit JUN GINZA and talk with CEO Ken Yonemori (photo below) while getting a pair of bespoke eyeglasses made.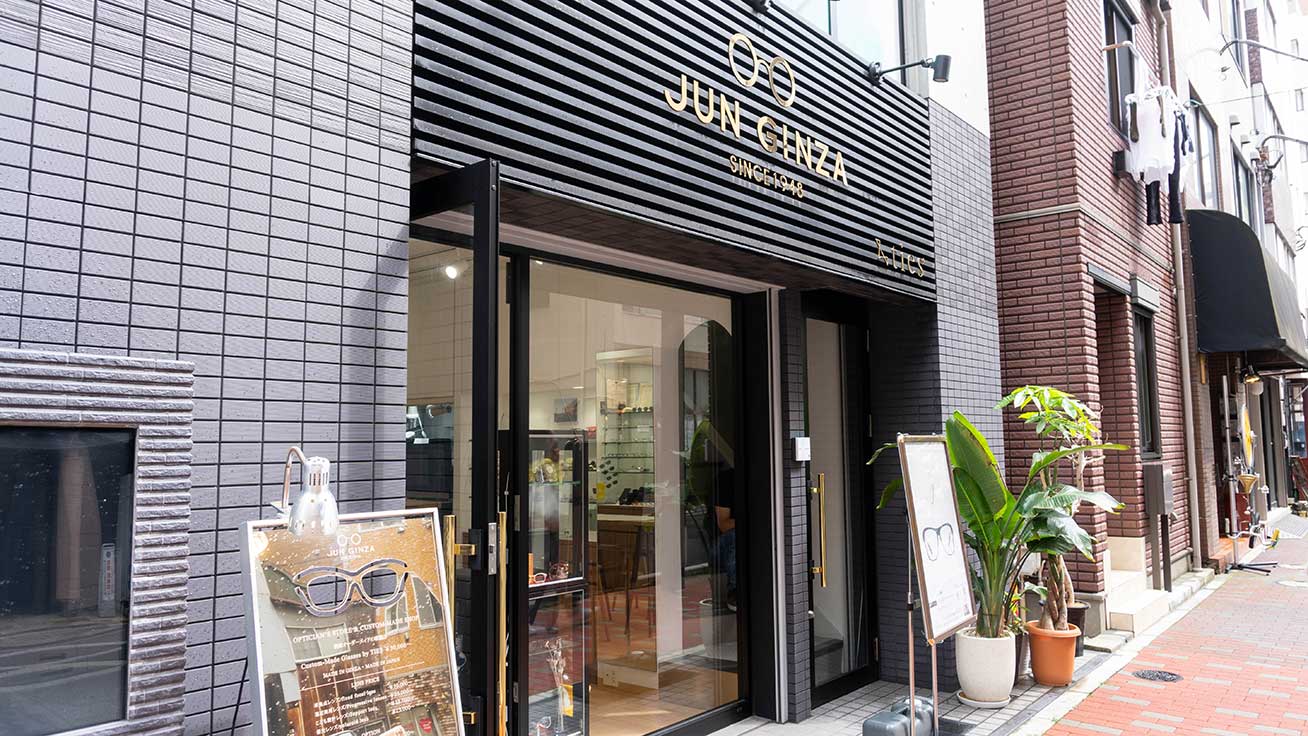 The JUN GINZA located in Ginza 1-chome.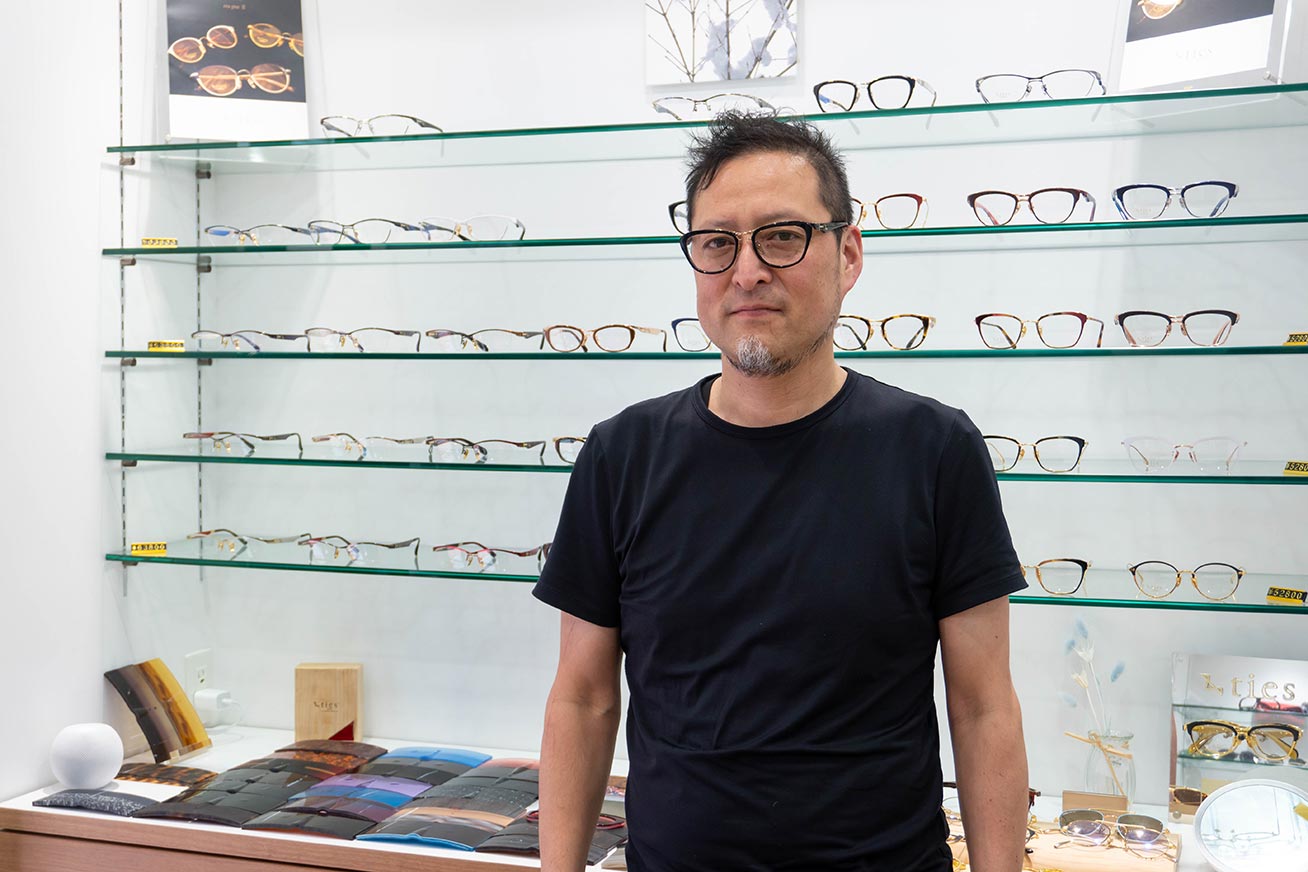 JUN GINZA CEO Yonemori. The store features an extensive range of frame designs and materials.
Bespoke eyewear is produced at the studio in the Ginza store (photo) and the company's plant located in Sabae in Fukui, Japan's renowned eyeglass-manufacturing district.
Bespoke Eyeglasses Made to Order
JUN GINZA has a huge range of frame designs, colors and patterns available for customers to choose from to create a truly one-of-a-kind pair of eyeglasses. The actual ordering process takes about one hour, starting with going through individual requirements and then selecting designs that suit each person's facial features, trying out test frames, and having an eye test. The final design is then produced at the Ginza store or the plant in Sabae before customers can pick up their very own bespoke glasses.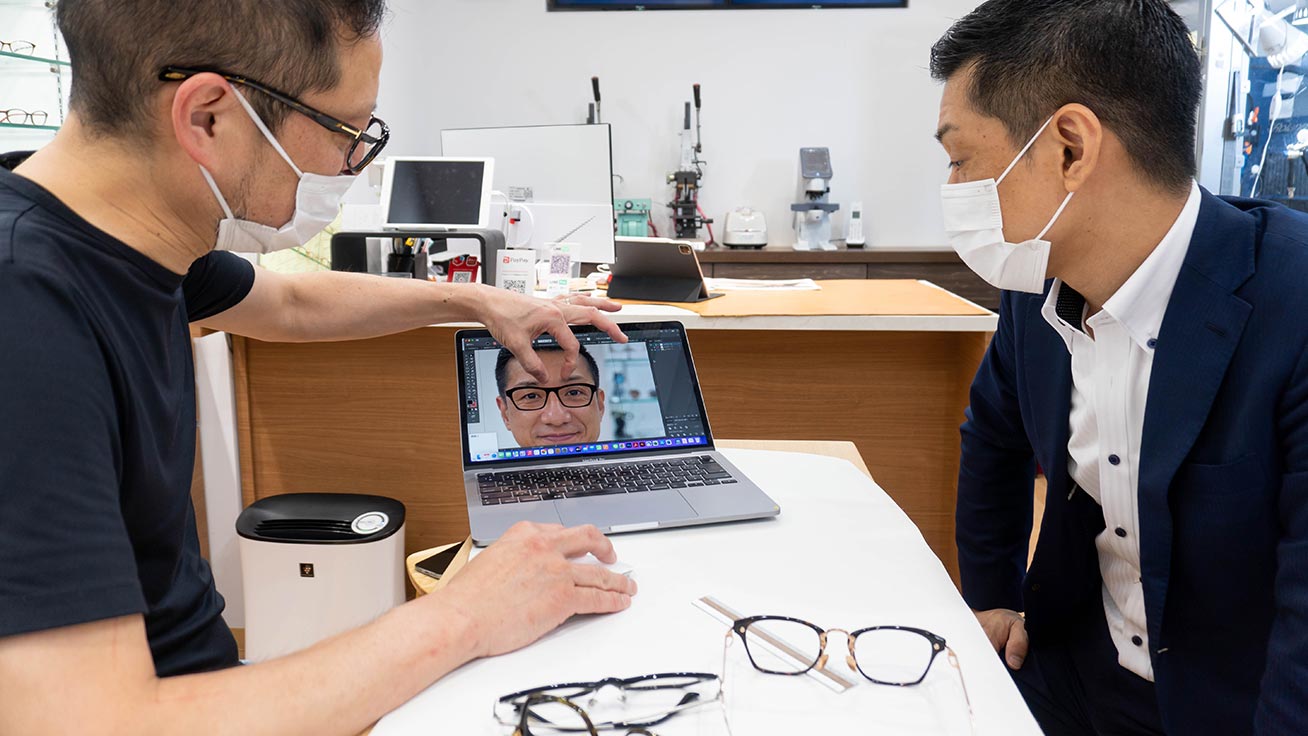 Adjustments are made to the design to suit each customer's requirements. "Most customers come in for work glasses, so I make sure to ask what type of business they are in or the specific image they want to convey," explains Yonemori.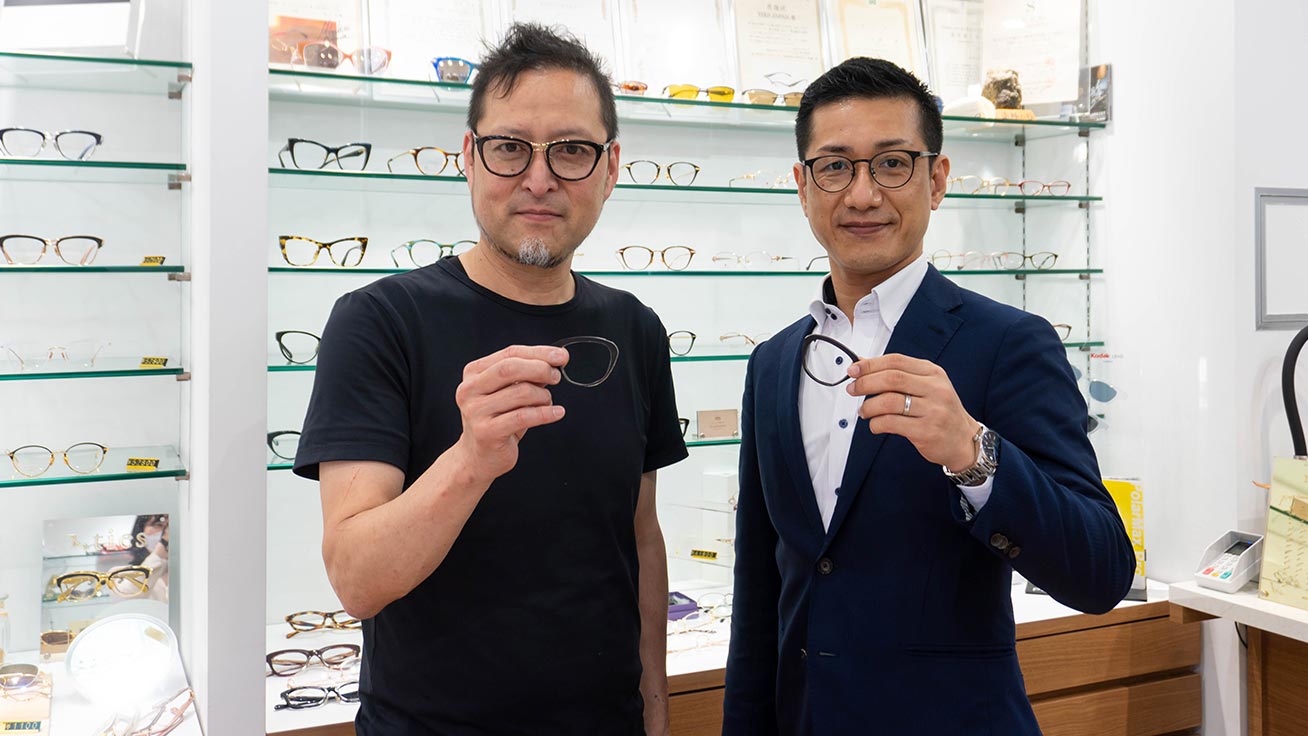 JUN GINZA's Yonemori (left) and Roland DG President Tanabe (right). We are looking forward to seeing the finished design!
Sabae Craftsmanship in Ginza
Roland DG: What type of store is JUN GINZA?
Yonemori: The store had its origins as a pharmacy and optician's store run by my grandfather. My father established Jun, Inc. as an out-of-store eyewear seller, and JUN GINZA builds on those roots as a bespoke eyeglass producer based in Ginza and Sabae, aimed at bringing our designs to an international market.
The best feature of JUN GINZA is that customers can have eyeglasses made to order with the craftsmanship of Sabae right here in Ginza. In addition to custom eyeglasses and sunglasses, we also provide lenses used for smartglasses.
In 2015, we relocated the store from Azabu to Ginza, and as a result many of our customers are business people, managers, and doctors—the type of people you would expect to find in Ginza. These days we also have a growing number of customers who find us on the internet.
Distinctive sunglasses like those worn by "BIGBOSS" Tsuyoshi Shinjo made a huge impression in the media.
I was so taken away during the press conference where it was announced that Shinjo would be manager of the Hokkaido Nippon-Ham Fighters that I sent him a direct message on Instagram asking if JUN GINZA could make some sunglasses for him. Shinjo is known to be very particular about his own sense of fashion and style, so I thought that he might be interested in some truly custom-made sunglasses. He must have picked up on my own sense of enthusiasm, because he actually placed an order for sunglasses. Since then he has even ordered more sunglasses and eyeglasses.
Sunglasses made for a Spiderman event, with frames featuring a distinctive spiderweb pattern milled with the MDX-540.
What types of glasses do you make at the store?
We do the milling of resin frames right here at the Ginza store. The frames are then sent to Sabae for polishing. The Sabae plant also produces titanium frames and other materials. We use the MDX-540 at the Ginza store for milling a resin frame material called acetate. The MDX-540 is just the right size for using it at the store and it machines materials so quickly that I cannot think of any other model that is equally as capable.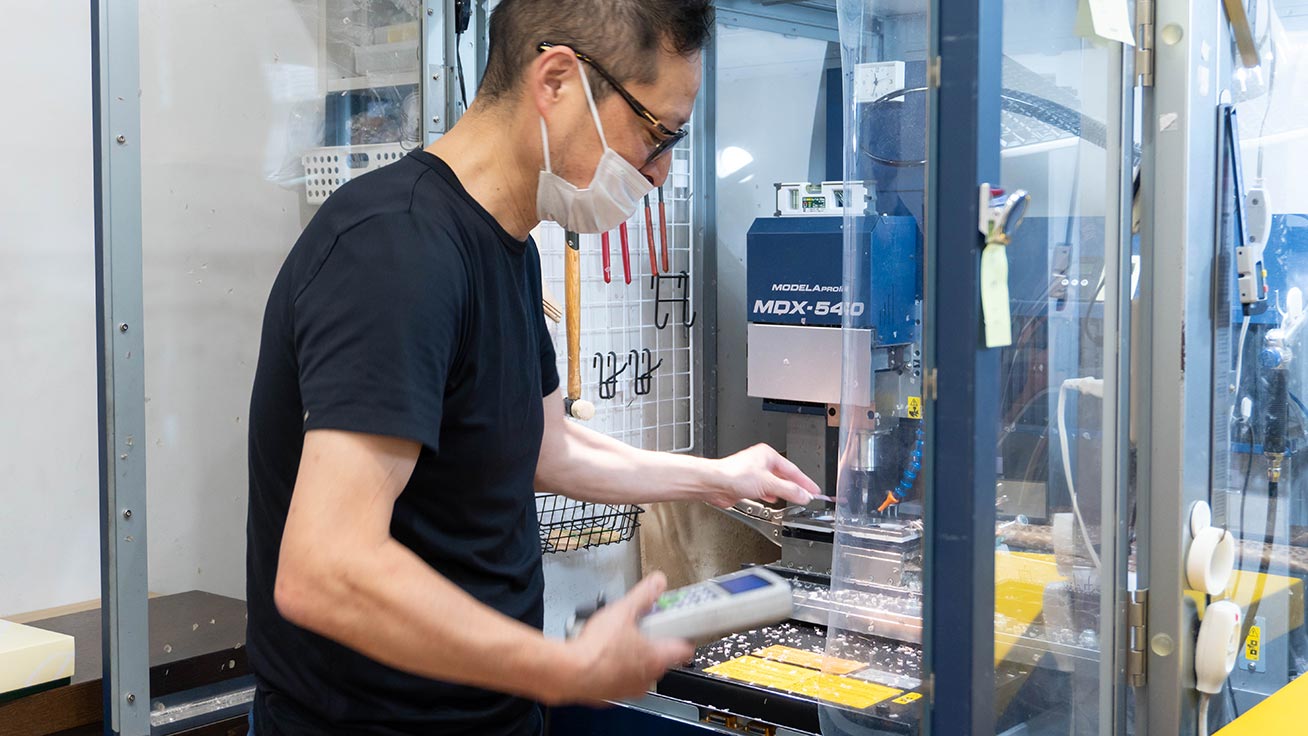 Yonemori demonstrates how the MDX-540 is used for machining frames.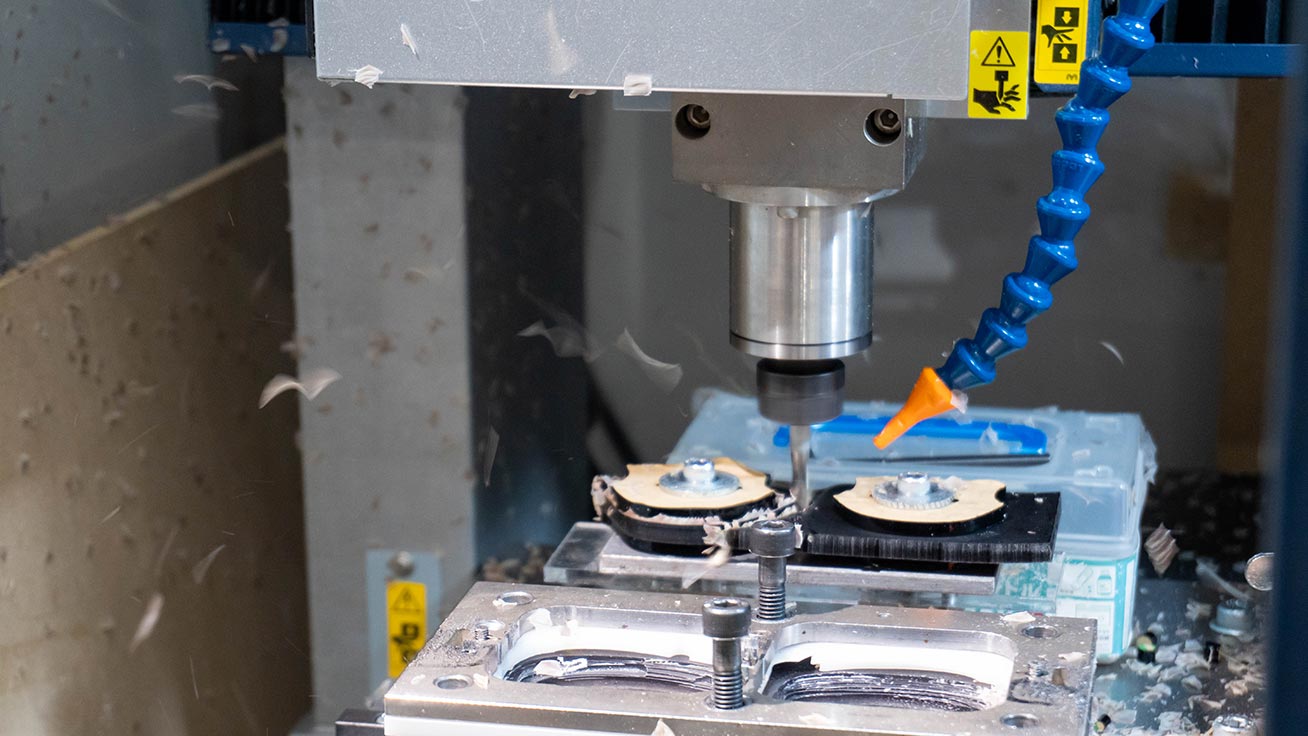 Custom jigs are made by craftspeople in Sabae to suit the shape of milled frames. "This jig is built with our extraordinary expertise," explained Yonemori.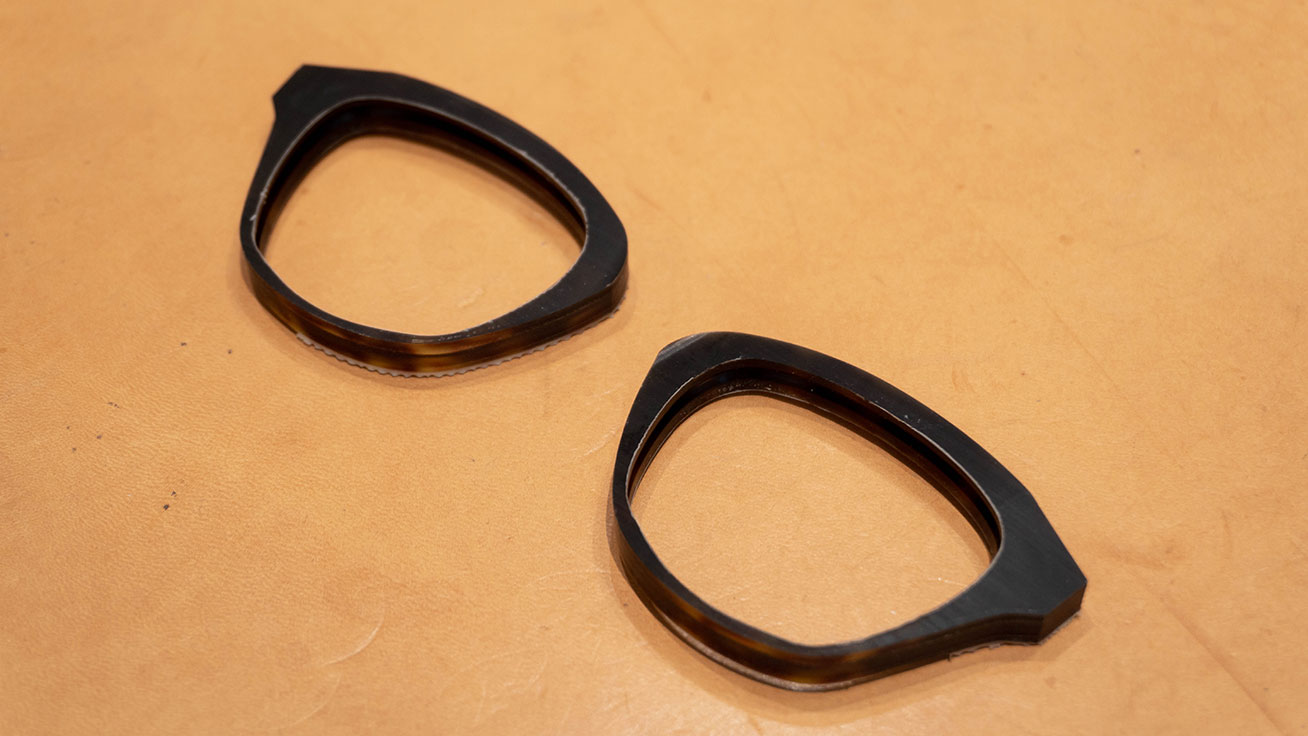 Milling is completed in a few minutes, and after machining grooves for fitting hinges, the frame is sent to Sabae to be polished.
Demonstrating the craftsmanship behind glasses to future generations
Can you talk about some of your future projects?
Our brand of glasses called "ties" evokes a sense of connection, or a feeling of linking up because I wanted to create a brand that cherishes the history and tradition of eyeglass manufacturing in Sabae. At the same time, I wanted those traditions to evolve into new forms and styles, so the brand serves as a way to connect past traditions with future trends. Just like you choose a particular necktie for a certain situation, my goal is to have people realize that glasses can also be selected to suit each different occasion.
Another aspiration I have is for the profession of opticians to be added to the list of occupations that children want to be in the future and for younger people to have a greater interest in the world of eyewear. In the future, I would like to teach the various ways of making glasses at artistic colleges or technical schools, and even open a production plant in Tokyo so more people become interested in this industry as a way of keeping the tradition alive.
Thanks for showing us around. We hope many more customers get to enjoy their custom-made glasses!
Click here for more details about JUN GINZA (Japanese text only)