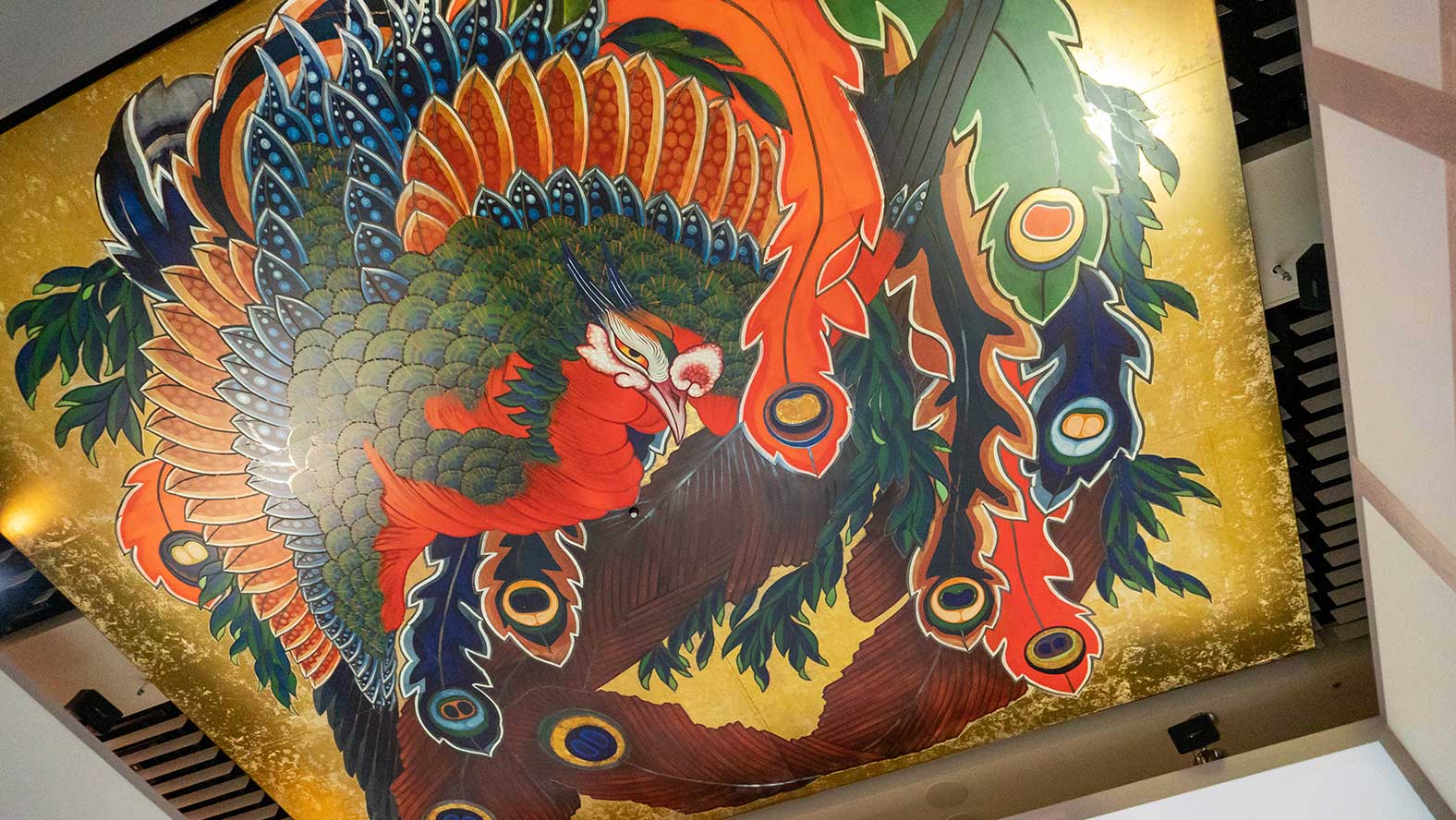 Roland DG's UV Printer Recreates Katsushika Hokusai's Renowned Ceiling Painting
07/08/2022 Digital Printing, Events & Tradeshows
A ceiling painting by legendary Ukiyo-e artist Katsushika Hokusai has been digitally reproduced (as shown in the photo) in its original size using Roland DG's UV printer. It was on display in the "Digital x Hokusai" Special Exhibition that ran until July 3, 2022 at NTT's InterCommunication Center [ICC] Gallery A in Shinjuku, Tokyo.
Digitalization of Phoenix Glaring in All Directions Took Three Years
This digital artwork is a reproduction of a ceiling painting—the acclaimed Phoenix Glaring in All Directions painted by Hokusai in his final years—located in the main hall of Gansho-in Temple in Obuse, Nagano Prefecture. Measuring 5.5 m × 6.3 m, it was Hokusai's largest painting.
The reproduction project was organized by NTT East, NTT ArtTechnology and Ars Techne Corporation as a part of "Distributed Digital Museum," an initiative aimed at regional revitalization by digitalizing local cultural assets around Japan so they can be enjoyed by anyone, anywhere, anytime.
Click here for more details about the initiative (Japanese text only)
High-definition digital data produced over a span of three years through a combination of on-site surveys and Ars Techne's technology revealed that the ceiling painting was actually incomplete and that its outlines were painted with oil and smoke ink to reflect light.
Learn more about the reproduction project in this video.
The main feature of this special exhibit is the original-size restoration of the Phoenix Glaring in All Directions ceiling painting that can only be viewed at the Gansho-in Temple in Obuse and includes incomplete areas that were carefully evaluated and restored just as Hokusai would have painted them. Roland DG's LEC2-640 UV printer/cutter was used to print the complete work, including the incomplete areas, and the reproduction was installed on the ceiling in the same way it is at the Gansho-in Temple. It can be viewed together with projection mapping effects that help convey the world view to which the ceiling painting alludes.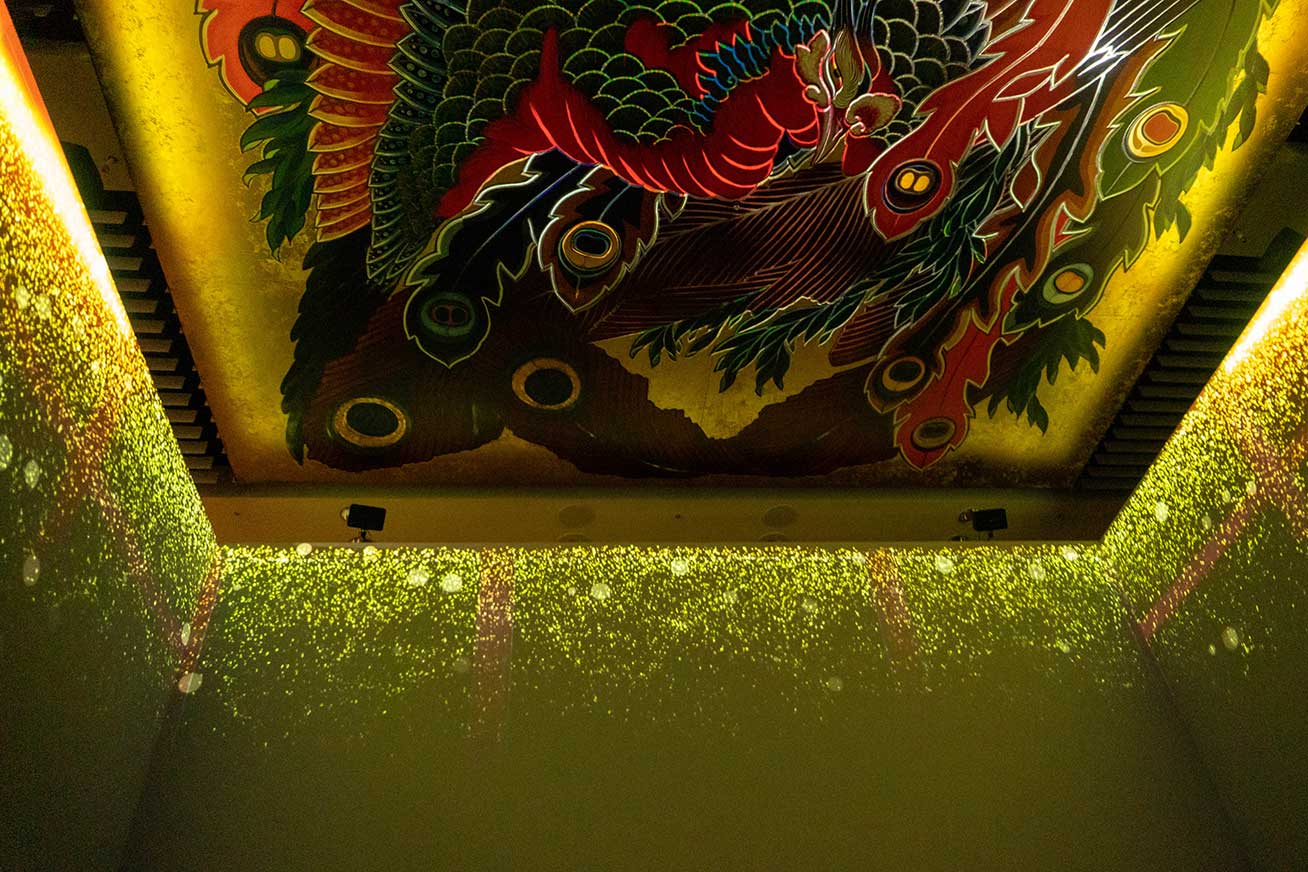 Reproduction of the original painting was made by using a UV printer.
UV printer brings Hokusai's brushwork to life
A project team with members skilled in digital printing was created at Roland DG in order to restore the original painting. The LEC2-640 UV printer/cutter was selected due to the large size of the finished painting and the printer's ability to faithfully reproduce the reflections of oil and smoke ink as well as the red tones of the phoenix and detailed brushwork employed by Hokusai. Selecting the right material to print on and making fine adjustments to the print data meant the ceiling painting took more than a year to reproduce.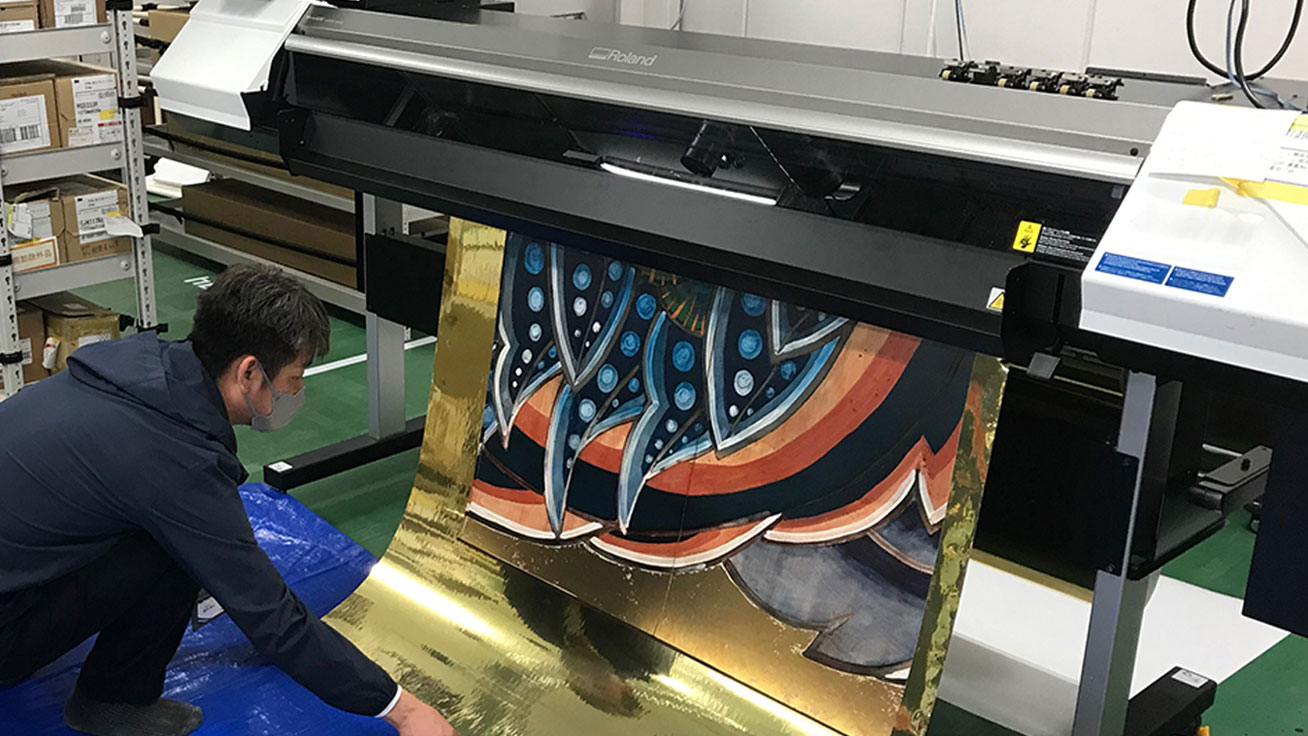 The painting was reproduced in 24 separate parts using the LEC2-640 UV printer/cutter.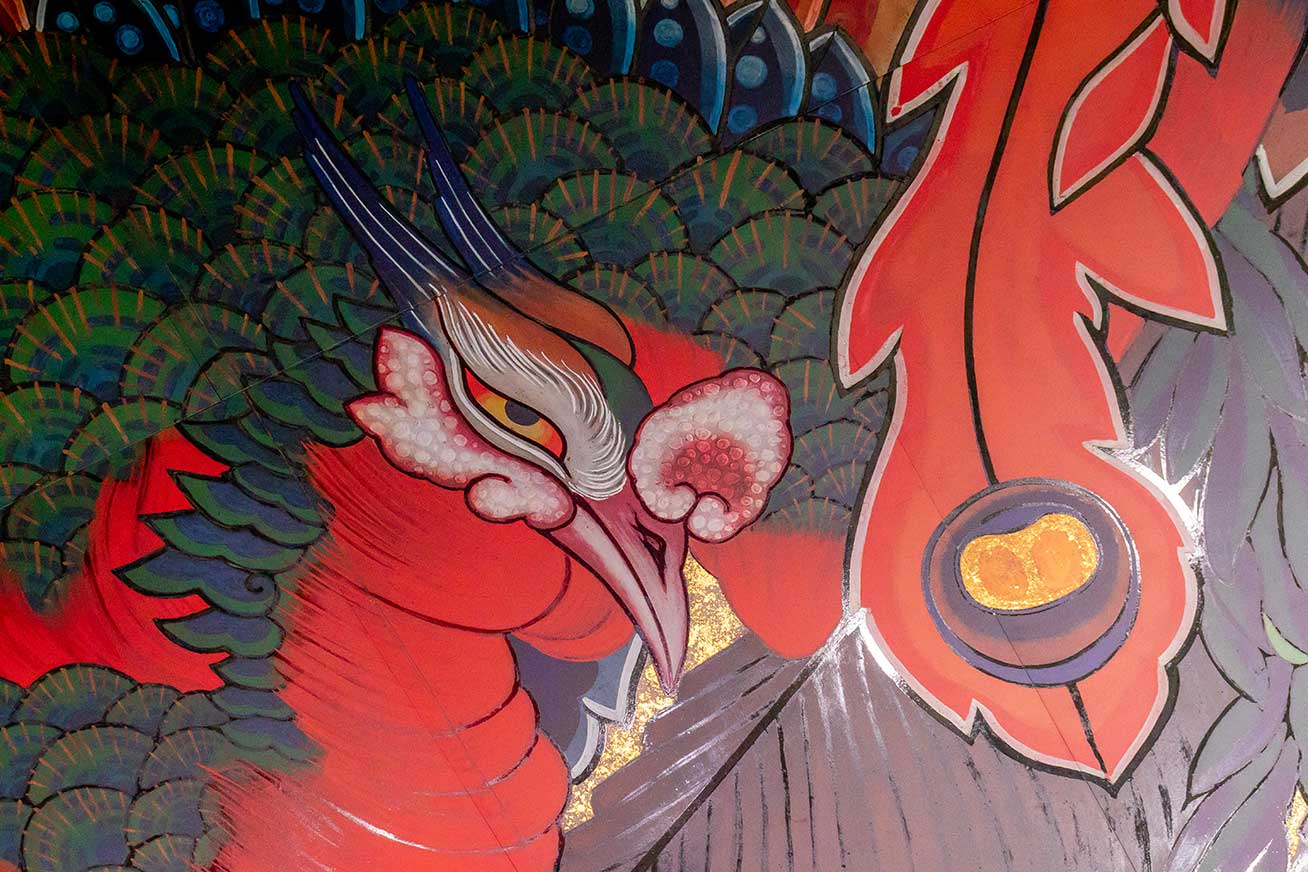 The characteristics of UV ink brought to life the red tones of the phoenix, the paint texture and even the brushwork.
Click here for more details about the special exhibition (Japanese text only)
Art Exhibition of a High-resolution Digital Reproduction Work
Name: "Digital x Hokusai" Special Exhibition
Hosted by: NTT East
Planning and Management: NTT ArtTechnology
Period: Thursday, June 2, 2022 ~ Sunday, July 3, 2022
Venue: NTT InterCommunication Center [ICC] Gallery A
(Tokyo Opera City Tower 4F, 3-20-2 Nishi-Shinjuku, Shinjuku-ku, Tokyo)
Admission: Adults and university students 1,500 yen