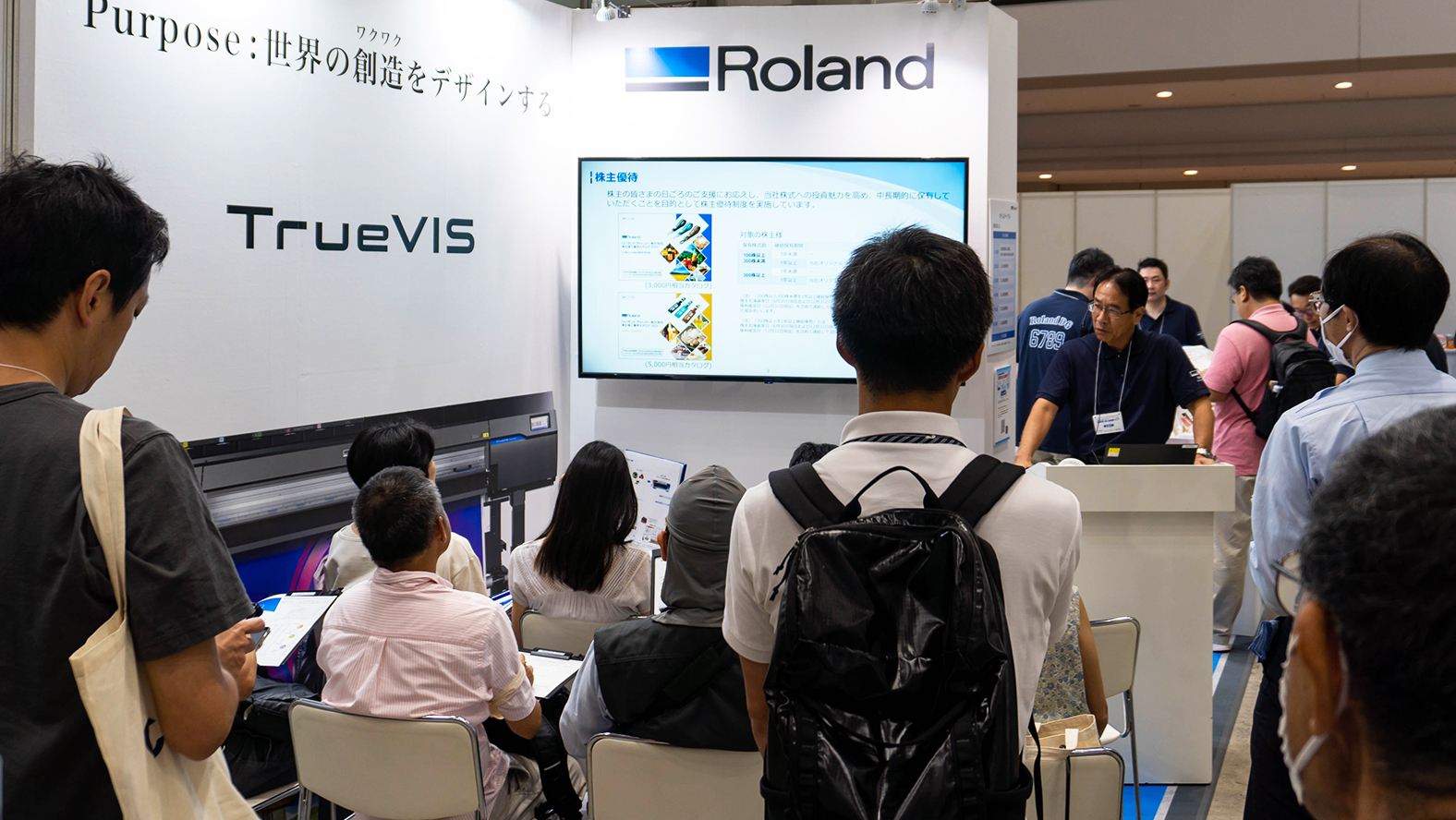 Nikkei IR Fair 2023 Exhibition
09/25/2023 Corporate Activities, Events & Tradeshows, Digital Printing
Roland DG exhibited at the Nikkei IR Fair 2023, hosted by Nikkei Inc. at Tokyo Big Sight on September 1 and 2.
IR event fosters interaction between listed companies and individual investors
The Nikkei IR stands as Japan's largest IR (Investor Relations) event, allowing direct dialogue between individual investors and listed companies. Our business caters mainly to B2B markets and our name is sometimes confused with electronic musical instruments manufacturer Roland Corporation, so we decided to participate after an 11-year hiatus. Our goal was to enhance awareness in the stock market before the introduction of the new NISA, Nippon Individual Savings Account, a new type of tax exemption program for small investments in Japan.
Booth highlighted company profile and applications
To introduce Roland DG to individual investors and encourage them to consider us as an investment, we focused on the theme of "Seeing, Touching, and Experiencing." At our booth, we displayed graphics outlining our company's profile and business activities. We also showcased application samples from our key businesses, such as one-of-a-kind items produced using UV printers and samples of dental prostheses produced with milling machines.
During the event, we conducted mini-company presentations and interactive sessions to deepen attendees' understanding of our performance and business activities.
In addition, we exhibited the BN-20D Direct-To-Film (DTF transfer) desktop inkjet printer, which can decorate apparel items. To provide a tangible experience of how our users utilize this technology, we organized a coaster-printing session using the BN-20D. We received comments like the following: "It's impressive how cleanly it prints," and "Creating things myself adds a sense of engagement."
Company briefing sessions increased understanding
On September 2, President Tanabe gave a company briefing session at the lecture space within the venue. He shared insights about Roland DG's history and current initiatives. The session attracted enthusiastic individual investors who were keen to learn more about our company.
Tanabe also mentioned our recent stock acquisition announcement of UAB Dimense print in July, which generated interest among attendees. This prompted many individual investors to visit our booth to hear more and see samples.


Over the course of two days, we welcomed numerous individual investors, including our shareholders, and conducted surveys. Approximately half of the respondents mentioned they were previously unaware of our company or had confused us with the electronic musical instruments manufacturer Roland Corporation. However, through direct interaction, we were able to garner awareness and appreciation for our company. We remain committed to strengthening our IR efforts aimed at individual investors and increasing our visibility in the stock market. We extend our heartfelt gratitude to all those who visited our booth.