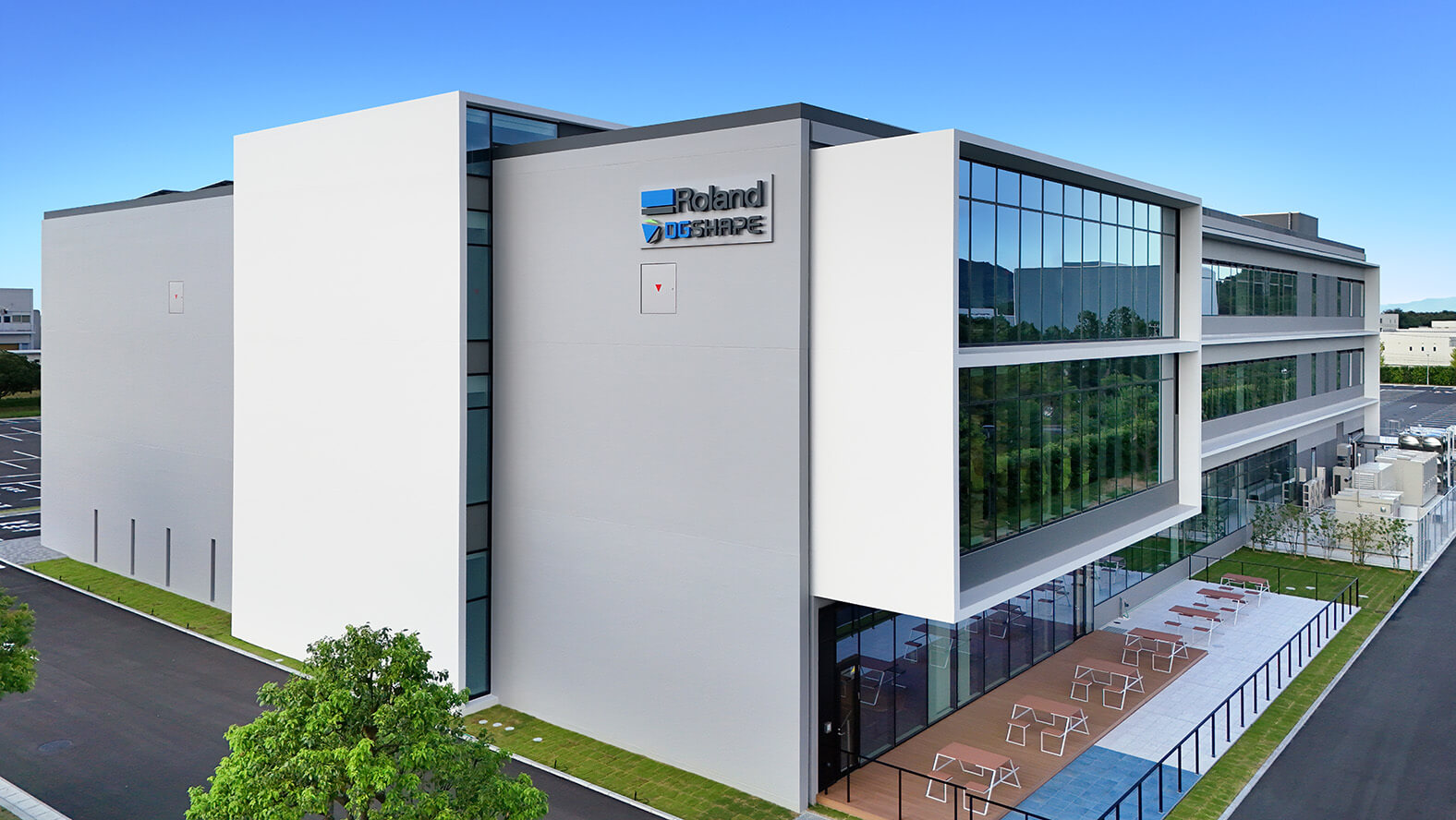 Roland DG's New Head Office Commences Operations
11/06/2023 Corporate Activities
Roland DG officially commenced operations at its new head office on November 1, 2023. The company integrated its previous head office located in Shizuoka Prefecture, Hamamatsu City, Kita-ku, Shinmiyakoda, with its Miyakoda office to consolidate R&D, management, and sales functions.
A versatile workspace encouraging diverse workstyles
The new headquarters embraces Activity Based Working (ABW) to enhance productivity and value in operations. It allows employees to choose optimal workspaces tailored to their tasks and moods within four areas: "Concentration," "Share," "Communication," and "Creation." Each space is equipped and designed to cater to specific needs. The "Concentration" area provides a calm environment for individual tasks, while the "Share" area, strategically located near staircases, encourages group discussions and information sharing. The "Communication" area features large tables and screens, promoting cross-organizational communication in a casual atmosphere. The "Creation" area offers a relaxing ambiance with natural views, fostering creativity.


The new office building is equipped with remote-friendly booths and diverse-sized meeting rooms. It also boasts a deck terrace and cafeteria lounge where employees can enjoy the scenic beauty of Miyakoda Park and surrounding nature. Additional facilities include a training room and shower room, supporting employees' well-being.
An office building balancing sustainability and comfort
The new head office building has achieved Nearly ZEB (Net Zero Energy Building) certification by reducing the primary energy consumption by over 75%. Utilizing shading devices combining sunlight blockage and natural light utilization, adopting thermally efficient pair glass windows with high-insulation exterior walls and LED lighting with automatic dimming, the new building is designed to minimize its environmental impact. Solar power generation facilities on the rooftop further reduce energy consumption. Additionally, to prepare for risks such as the Nankai Trough earthquake, the building's seismic resilience exceeds the national standard by 1.5 times, ensuring a safe working environment for employees.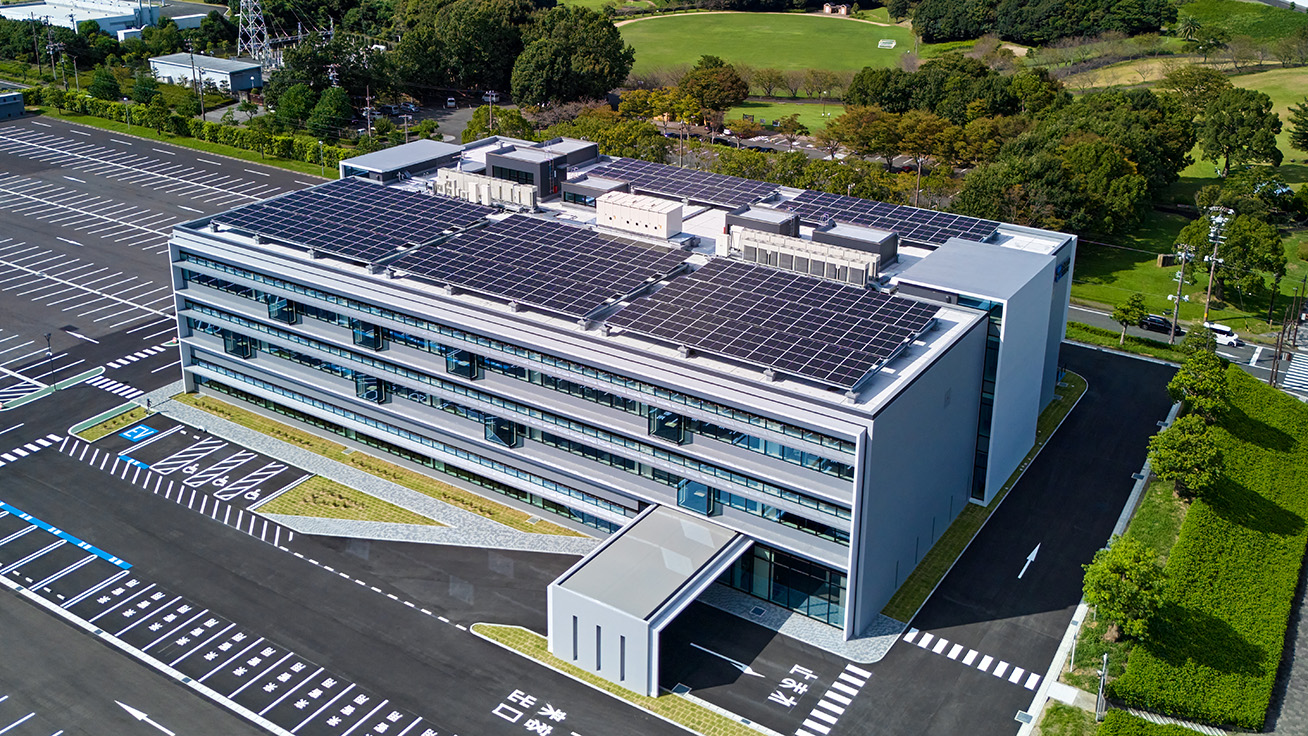 A hub for inspiring the enjoyment of creativity worldwide
The move to the new office took place from mid-September to October. Employees are flexibly experimenting with various work locations, finding their favorite spots to focus. Team meetings are held in open areas with large screens fostering lively idea exchanges. Occasional remote work is integrated to embrace new working styles. The new head office embodies the aspiration to be a hub for empowering creativity and excitement worldwide. All employees are committed to continuing their efforts to deliver products that will astonish the world from this point forward.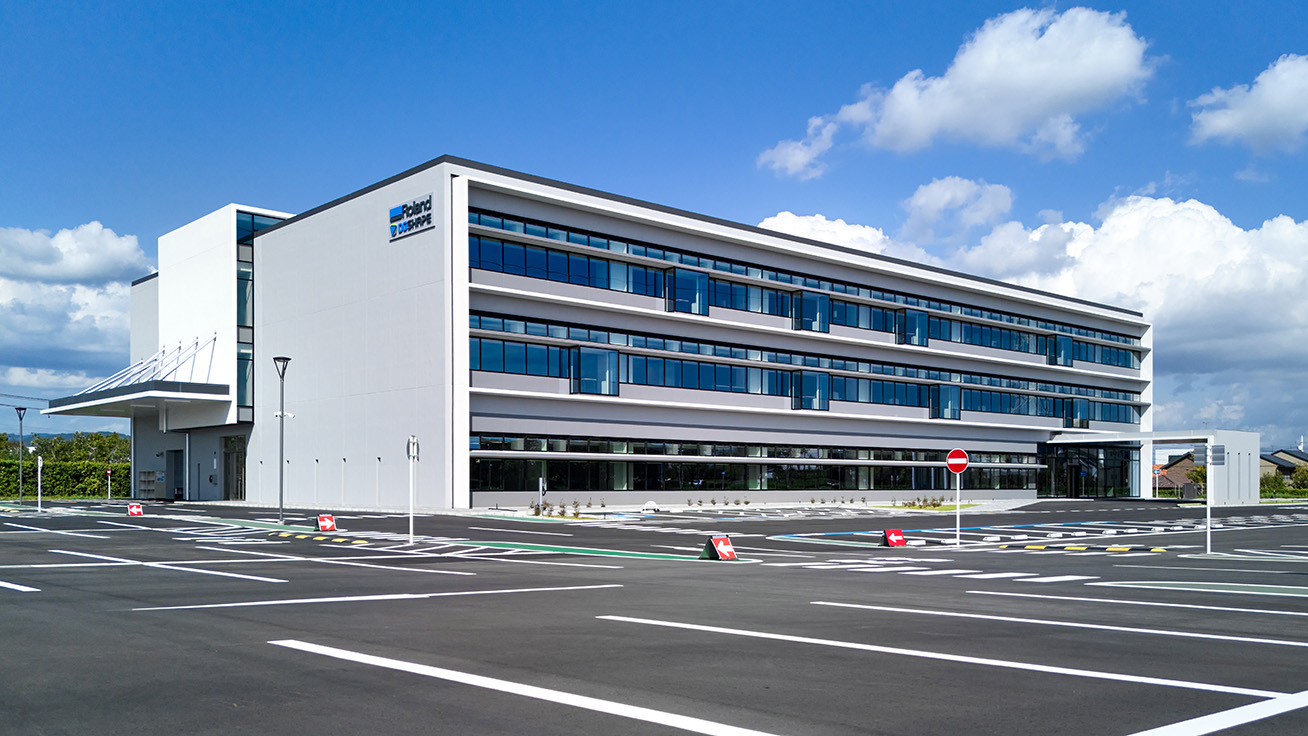 For related articles, please see the following:
News Releases
Roland DG Completes Relocation and Commences Operations at New Head Office
Roland DG Corporation Relocation of Headquarters—Construction of a new "Nearly ZEB" certified building—
Blogs
Construction Begins on Roland DG's New Headquarters
Roland DG is Building a New Headquarters
Construction Completed for Roland DG's New Headquarters