Grand Opening of Roland DG's New Head Office Exhibition Space
11/14/2023 Corporate Activities, Digital Printing
On November 1, 2023, Roland DG officially commenced operations at its new head office. In an exhibition space located at the entrance, we showcase works created by users and designers from around the world using our products.
Inspiring imagination in an exhibition space
With the concept of "a space that embodies the enjoyment of creation and moves people's hearts," the exhibition space introduces the top solutions from Roland DG worldwide. We have been planning the exhibition since 2022 to stimulate the imagination of visitors.
As you enter, the digitally restored reproduction of Katsushika Hokusai's Phoenix Glaring in All Directions at Gansho-in Temple, printed with our UV printer, particularly catches the eye. Roland DG collaborated in creating the original-size digital reproduction, a key exhibit from the "Digital x Hokusai" Special Exhibition in 2022 (related article here). With the assistance of Ars Techne and NTT ArtTechnology, we faithfully reproduced the colors and delicate brushwork pursued by Hokusai in a reduced-size version (3,540×2,950 mm) for our lobby space.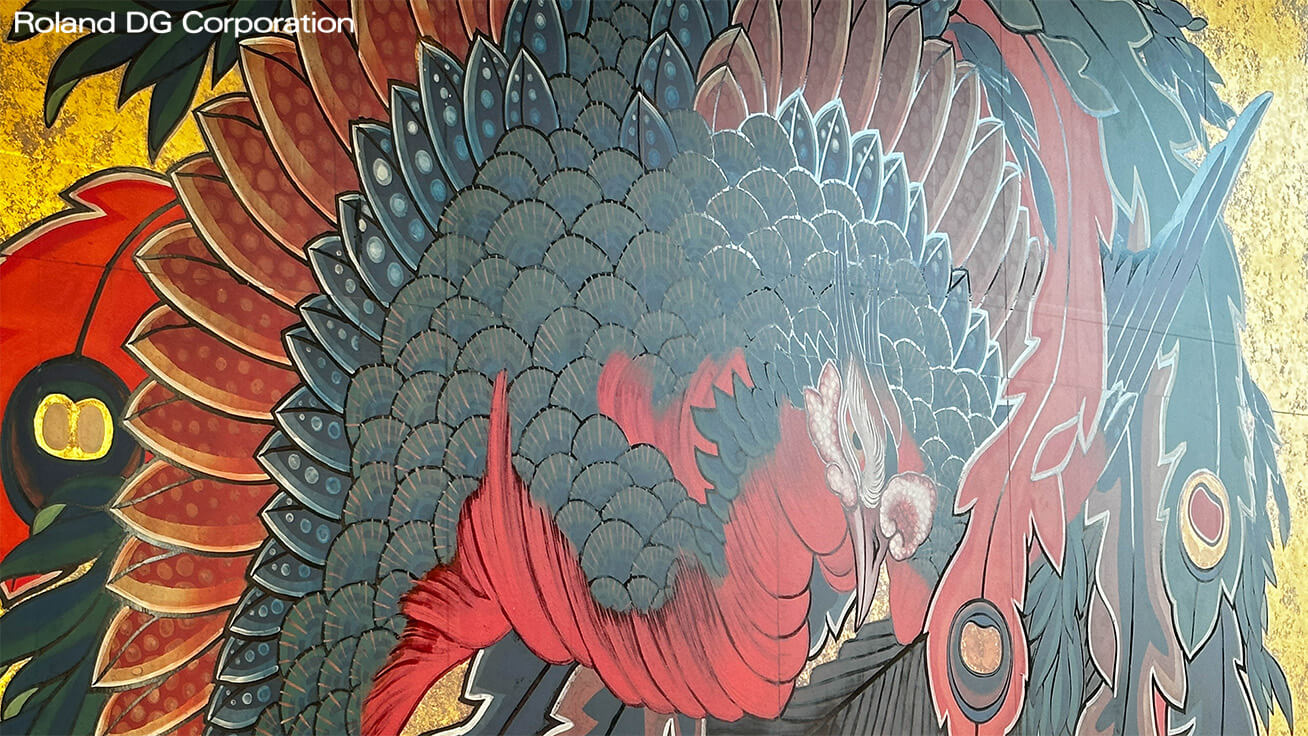 Reproducing the oil smoke ink to reflect light
Drawing upon inspiration from graphic decoration in the world of motorsports, we have included a strikingly decorated go-kart. We encourage visitors to take a close look. Also on display is a Fender electric guitar customized by ArtGuitar (USA) using a UV printer.
A large LED screen showcases Roland DG brand messages and interviews from the Hokusai project. Visitors can explore product videos on touch panel displays. We developed the visual app in-house using a low-code development platform.
Near the entrance, we also have on display sofas and chairs printed with UV printers on eco-friendly ethical leather from Kyowa Leather Cloth Co., Ltd., which we featured in interviews last year. These items were crafted with the collaboration of Public Co., Ltd., a manufacturer and seller of commercial furniture. We hope visitors can experience sitting on them and feel the smooth texture of the ethical leather and see the vibrant prints firsthand.
Experience the diverse potential of UV printing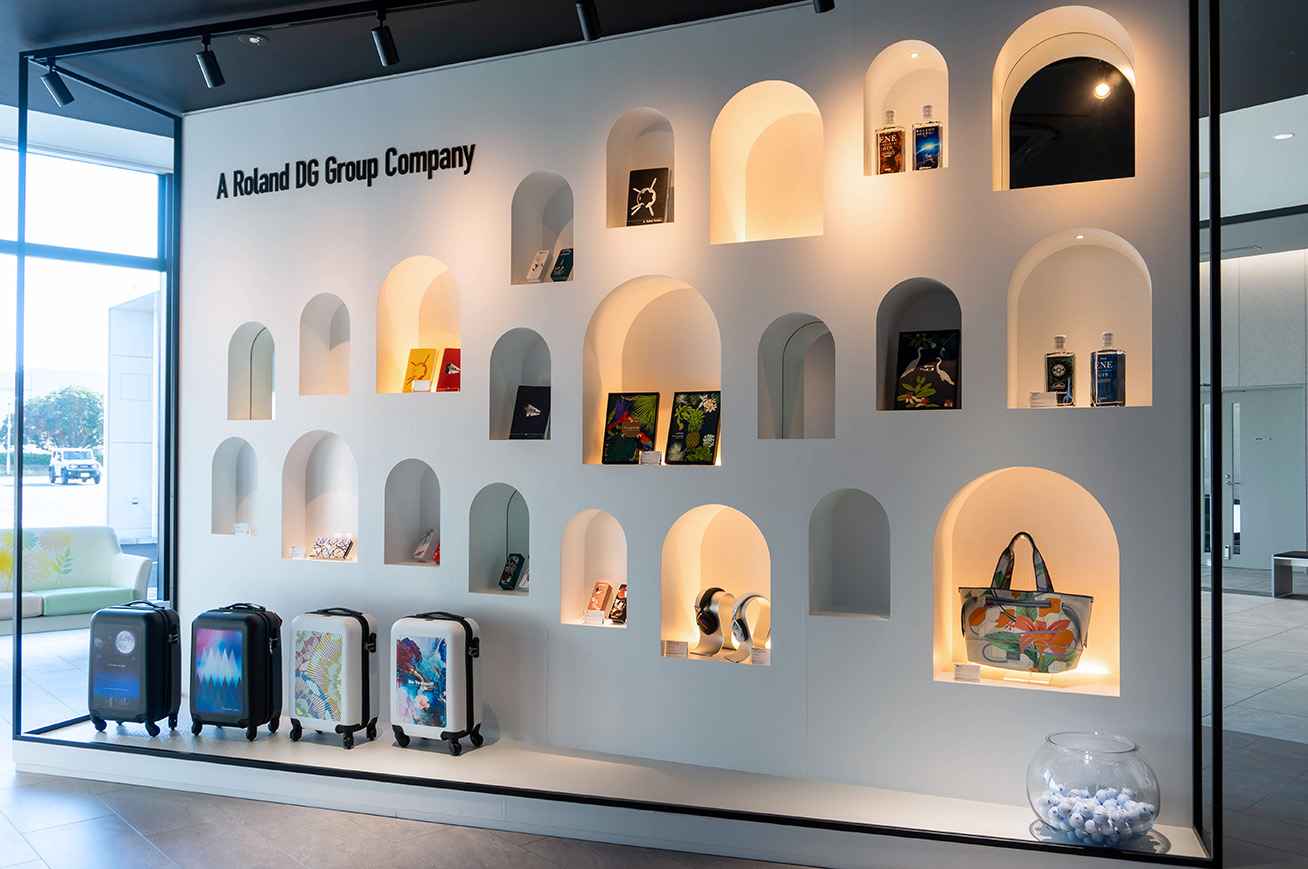 In a corner resembling a storefront, a variety of items customized with UV printers are exhibited. From brands worldwide offering services to customize products to your preference, we showcase items such as headphones from V-MODA (USA) and gin bottles from Wild Distillery (Denmark).
As part of our exhibition plan, we conducted an in-house design competition, and the winning design was printed on suitcases using UV printers by Multicopy Diemen (Netherlands), a company that specializes in original suitcases. The suitcases were not only displayed but also presented to the winners.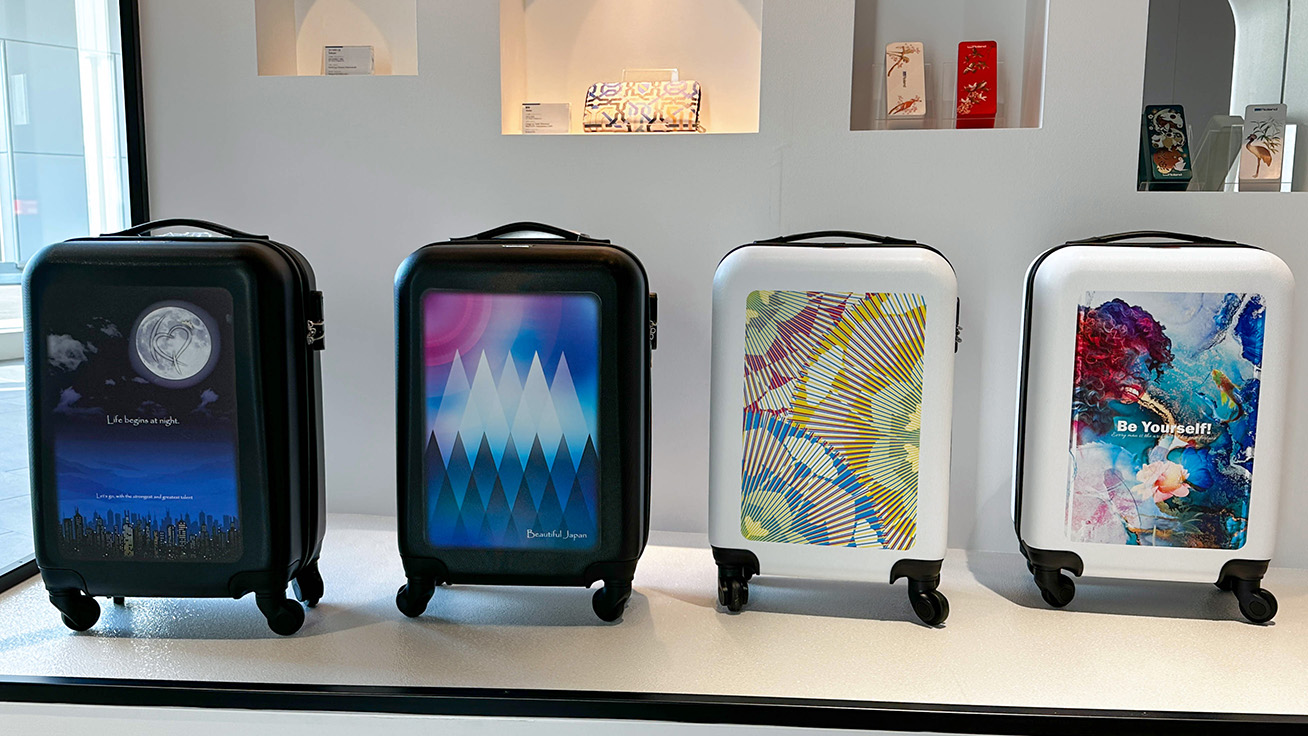 Multicopy Diemen suitcases with the winning design from the design competition
We also display items such as tea boxes featuring delicate designs provided by Roland DG China. Leather bags, wallets, and golf balls, all adorned with original designs, are showcased. Visitors can take home golf balls with our company's logos upon request.
Customize your sports gear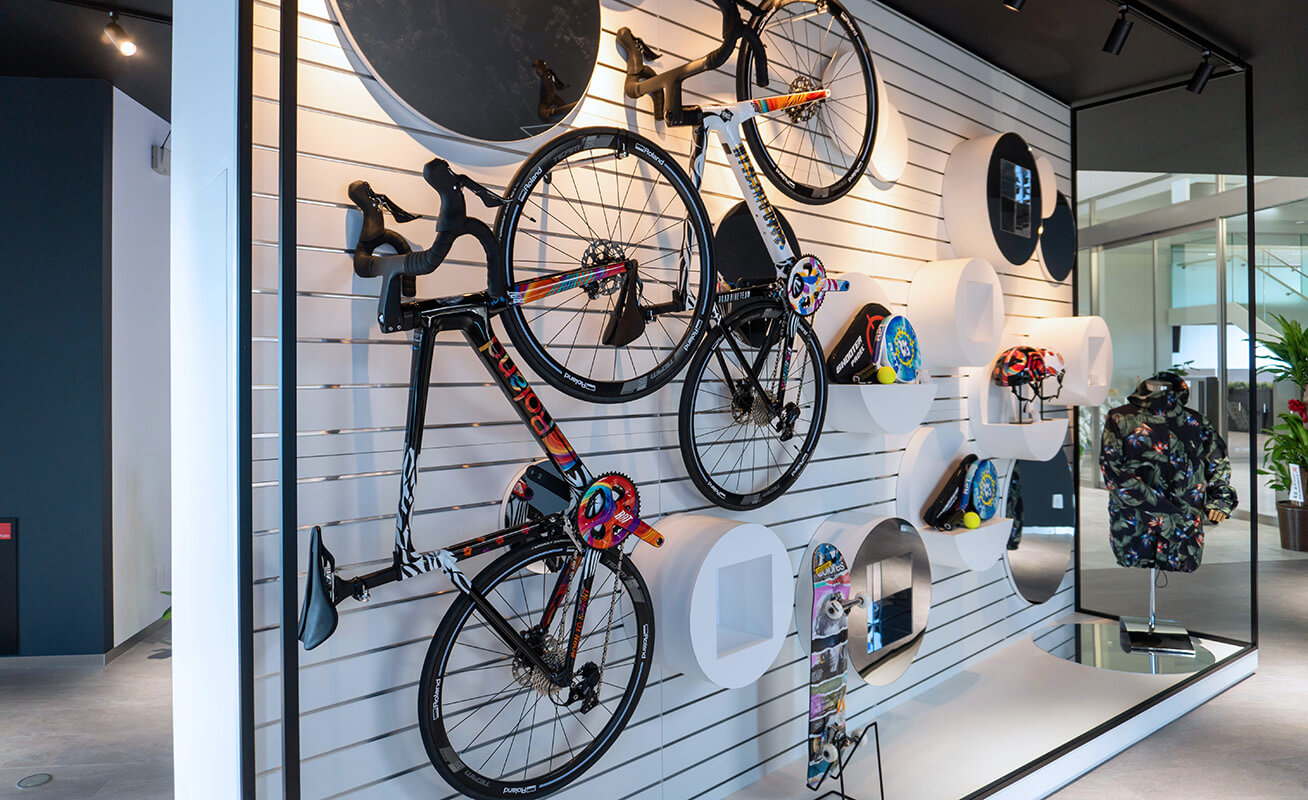 Customization of sports items with original designs and personalization has gained popularity in the sports industry. We present various customized items using our digital technology.
SColors (Spain), featured earlier this year, customizes bicycles using our desktop-sized digital tools. They provided us with a special bicycle and matching helmet showcasing their comprehensive customization techniques. Additionally, we are displaying original skateboards designed by a professional female skateboarder which were presented at the TrueVIS Range Premiere (Barcelona) in January.
Furthermore, Shooter Padel (Spain) provided us with original rackets for padel, a sport popular in Europe that combines elements of tennis and squash. Stylish snowboard wear from Burton Snowboards (USA) is also exhibited.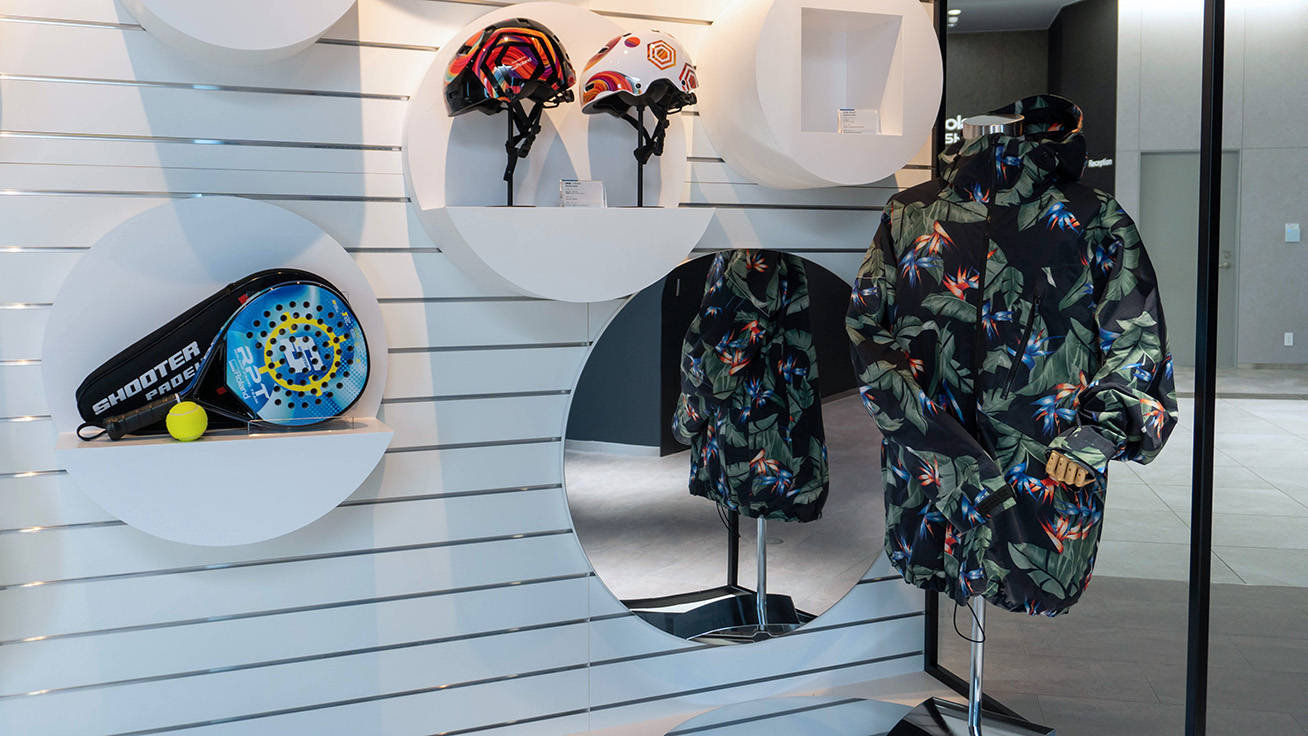 Padel racket by Shooter Padel (left), helmet by SColors (center), snowboard wear by Burton Snowboards (right)
Introducing DGSHAPE's latest solutions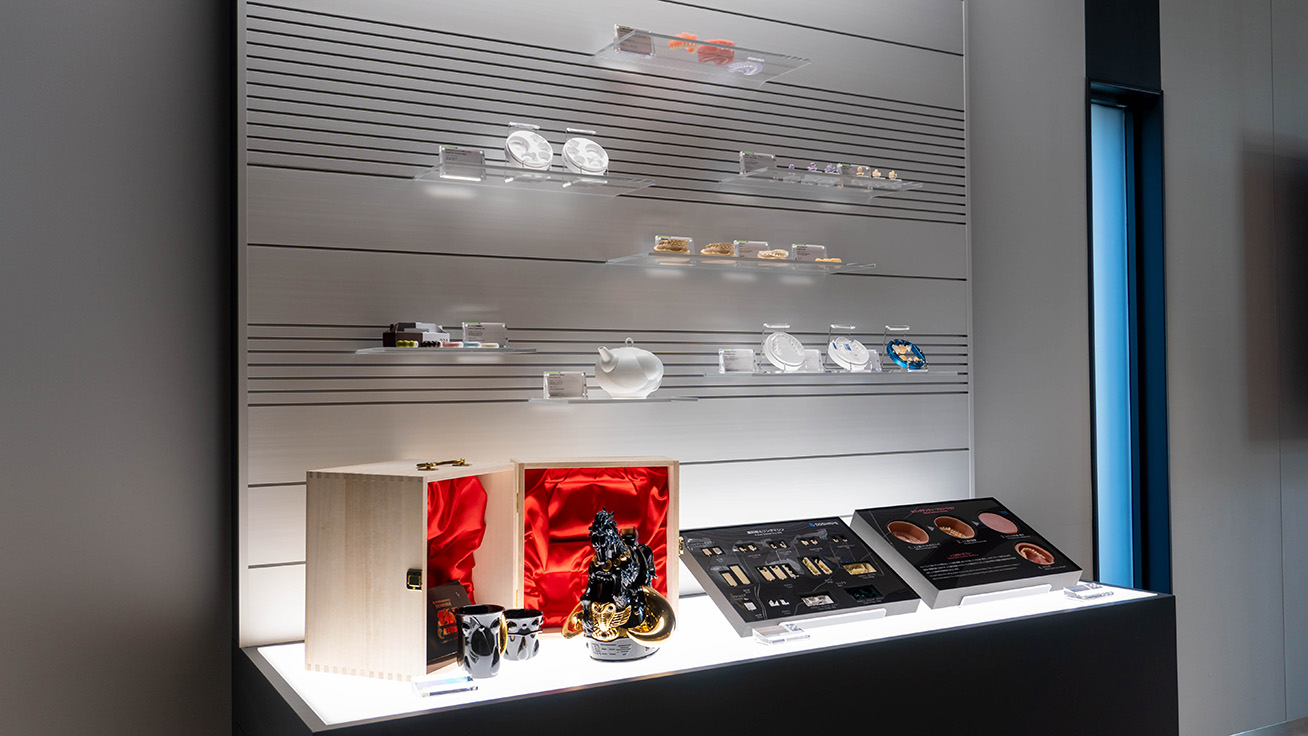 Works created using milling machines for the dental and 3D fabrication industries from our subsidiary DGSHAPE are displayed as well. We are showcasing works from 224porcelain, an innovative brand of Hizen Yoshida pottery that was featured last year. Additionally, we are presenting samples of materials that can be milled using dental milling machines and the latest solutions for milling dentures.
We plan to add even more captivating artwork from around the world in the future. We invite you to visit our new head office and enjoy the fusion of artistry and digital technology.