Product News
08/29/2007
Roland DG Corporation
New Roland Sublimation Ink Increases Productivity and Profitability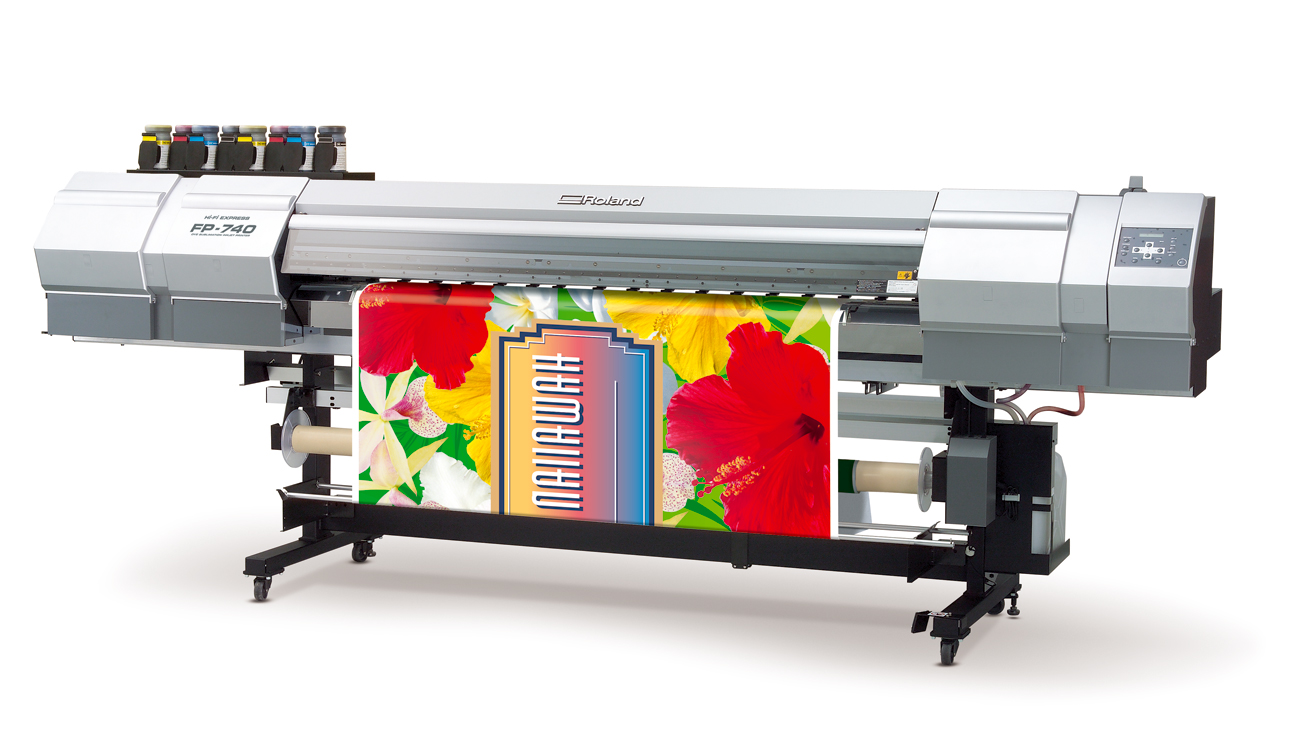 Hamamatsu, Japan, August 29, 2007 – Roland DG Corporation, a leading worldwide provider of wide-format inkjet printers and integrated print/cutters, today introduced SBL2, a new sublimation ink packaged in 1-liter bottles for heat transfer printing with its Hi-Fi Express FP-740 sublimation inkjet printer.
"Soft signage is a new visual communication medium that showcases the unique look and texture of fabric," said Yohei Shinomura, Roland DG color product manager. "In addition to its visual appeal, fabric is an excellent choice for environmentally-conscious customers. To maximize this medium, the FP-740 featuring SBL2 ink delivers vibrant color and exceptional color fastness on lightweight, flexible fabrics for beautiful flags and banners. The SBL2's large 1-liter bottles also support unattended, high-volume printing for greater productivity."
The FP-740 and SBL2 ink produce rich, dense colors for high-impact graphics that dry quickly. When equipped with SBL2, the FP-740 produces a very fine dot pattern for maximum ink transfer to the final fabric. As a result, sublimated graphics reflect flawless, even ink coverage and deep, vivid colors with absolutely no banding. Once printed, FP-740 soft signage is easy to handle, safe to install, and lightweight for reduced shipping costs.
New SBL2 Ink for the FP-740 Features:
- New lower-cost sublimation ink makes soft signage production highly profitable
- Generates dense, vivid colors for stunning flags and banners
- Dries quickly on the transfer paper's surface for maximum ink transfer to the final fabric
- Large 1-liter bottles support high-volume, unattended production*1
Roland Hi-Fi Express FP-740 Sublimation Inkjet Printer
The Hi-Fi Express FP-740 74" high-performance sublimation inkjet printer creates brilliant sublimated graphics for a range of applications including soft signage. Featuring eight advanced piezo print heads, a high-capacity ink system and built-in media feed and take-up system, the FP-740 produces precision quality graphics at print speeds of up to 51m2/h (548 sqft/hr). The FP-740 maintains image quality even through long production runs for consistent, reliable prints every time. The FP-740 prints on a wide variety of commercially available transfer papers.*2 Sublimated prints are easily transferred to polyester fabric, preserving the fabric's natural drape and texture.
*1 To use SBL-2 ink, the optional BU-1 bottle unit must be installed on the FP-740.
*2 We recommend test printing first to confirm print quality.
Roland DG Corporation (TSE symbol 6789) - First Section, Tokyo Stock Exchange
Phone: +81 (0)53-484-1201 / Fax: +81 (0)53-484-1216