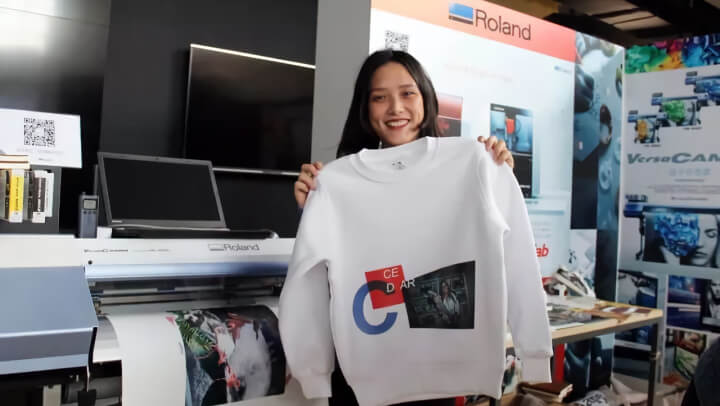 STEAM Education on the Rise in China
A new approach to learning called STEAM education is growing in popularity throughout China and Roland DG's sales and marketing subsidiary in China, Roland DG China (DGC), is playing a key role in its implementation. To find out more about this initiative, we talked with Cheng Qi, marketing manager at DGC.
What exactly is STEAM education?
First developed in America and now increasing in popularity worldwide, STEAM is an educational approach that focuses on five topics of teaching: Science, Technology, Engineering, the Arts and Mathematics. In recent years, initiatives involving STEAM education have also begun gaining traction in China.
Why is STEAM education drawing attention in China?
China's traditional school education placed a priority on knowledge required for passing university entrance exams, and there was no real focus on fabrication or creative arts. Given the declining work force resulting from a decreasing birthrate and aging population, there is growing recognition in China of the need for human resources capable of bringing about innovation through scientific and technical know-how as well as coming up with creative ways to boost the country's competitive edge on the world stage. To cultivate students capable of thinking and coming up with ideas by themselves, the Chinese government has been making moves to incorporate STEAM into the education system from elementary school through high school, to give school children exposure to scientific and technical know-how and creative ideas. There are not many trained STEAM professionals yet, so there are a lot of educational staff who are unsure of the best approach to take for teaching students.
What initiatives has DGC been developing for the education system?
We have been working with Fab Labs* in China that have strong ties with the education system to devise teaching curriculums based on products like inkjet printers, vinyl cutters and 3D milling machines. We are also developing a unique curriculum with the cooperation of Tongji University in Shanghai, which has taken a leading role in increasing the utilization of STEAM education. In fact, we participated in the first STEAM education Ecosystem International Symposium organized by Tongji University in October last year.
* Open workshops offering digital fabrication as well as analog tools.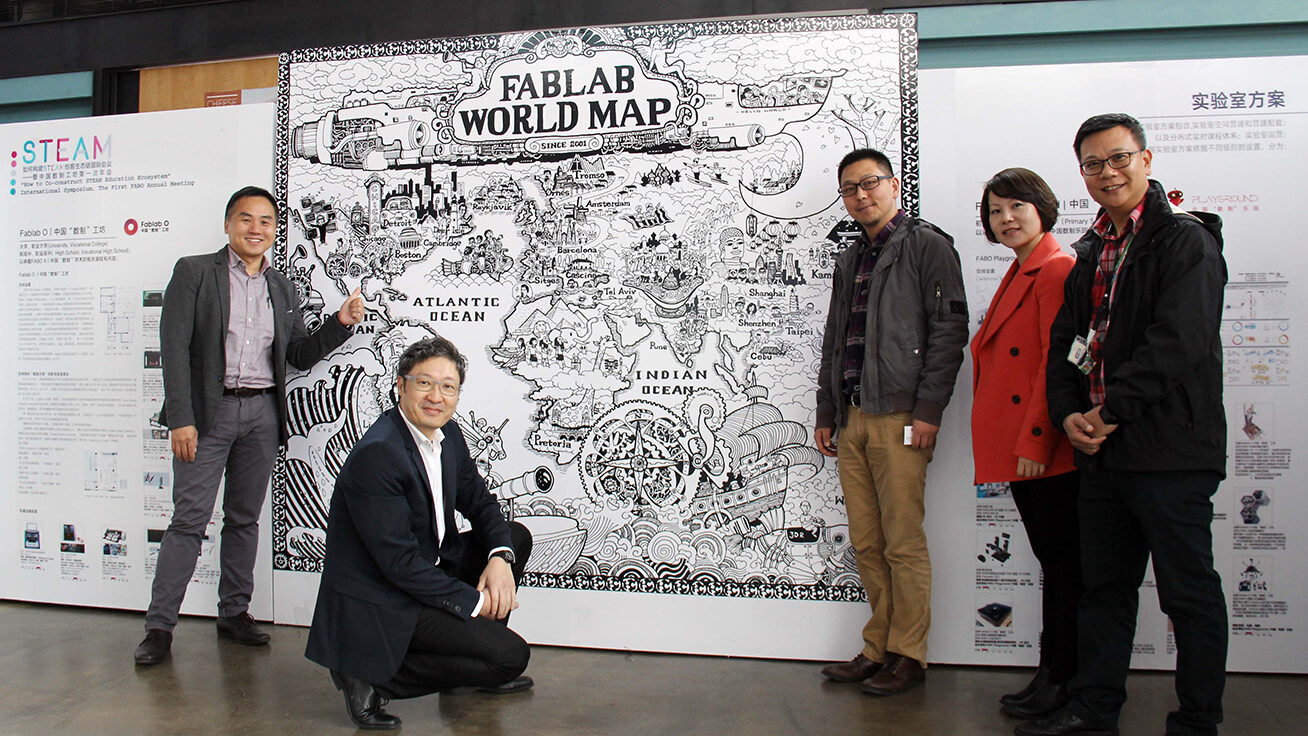 Associate Professor Ding Junfeng of Tongji University (third from right) and DGC Marketing Manager Cheng Qi (second from right) attended the STEAM Education Ecosystem International Symposium.
What type of event was the STEAM Education Ecosystem International Symposium?
It was a three-day symposium held for teaching staff with the aim of increasing the implementation of STEAM education. The first half of the symposium involved lectures and discussions regarding early success stories implemented by Tongji University and other educational institutions in China and overseas, and also included sessions demonstrating actual teaching programs that are being utilized. The second half consisted of workshops that included content covered during the first half of the symposium.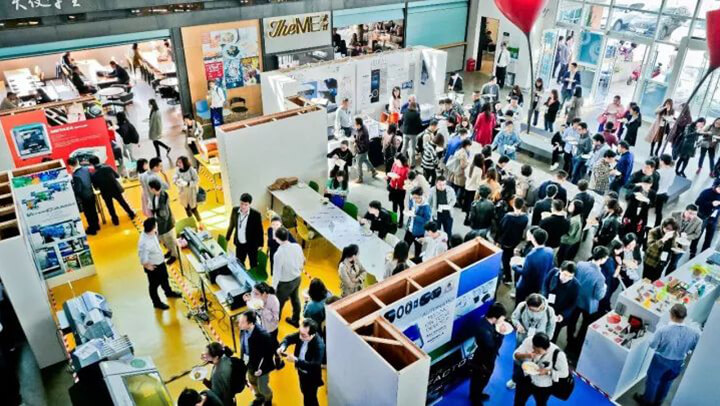 Many educational staff attended the symposium.
What is Tongji University doing to increase STEAM education?
Tongji University established Fablab O, a Fab Lab specializing in teaching programs aimed at elementary through high school levels, and efforts are being made to further implement STEAM education through Fablab O activities. The greatest benefit of Fablab O is that it can develop packaged curriculums that include our digital tools. In addition to knowledge related to this equipment, Fablab O staff can train schools with the best way to implement STEAM education for their students.
What activities did DGC provide at the STEAM Education Ecosystem International Symposium?
We ran a booth exhibit and a 2-day workshop while the symposium was being held. The first day of the workshop involved a sample teaching program for elementary, junior high and high school levels selected from the STEAM education curriculum that we developed together with Tongji University.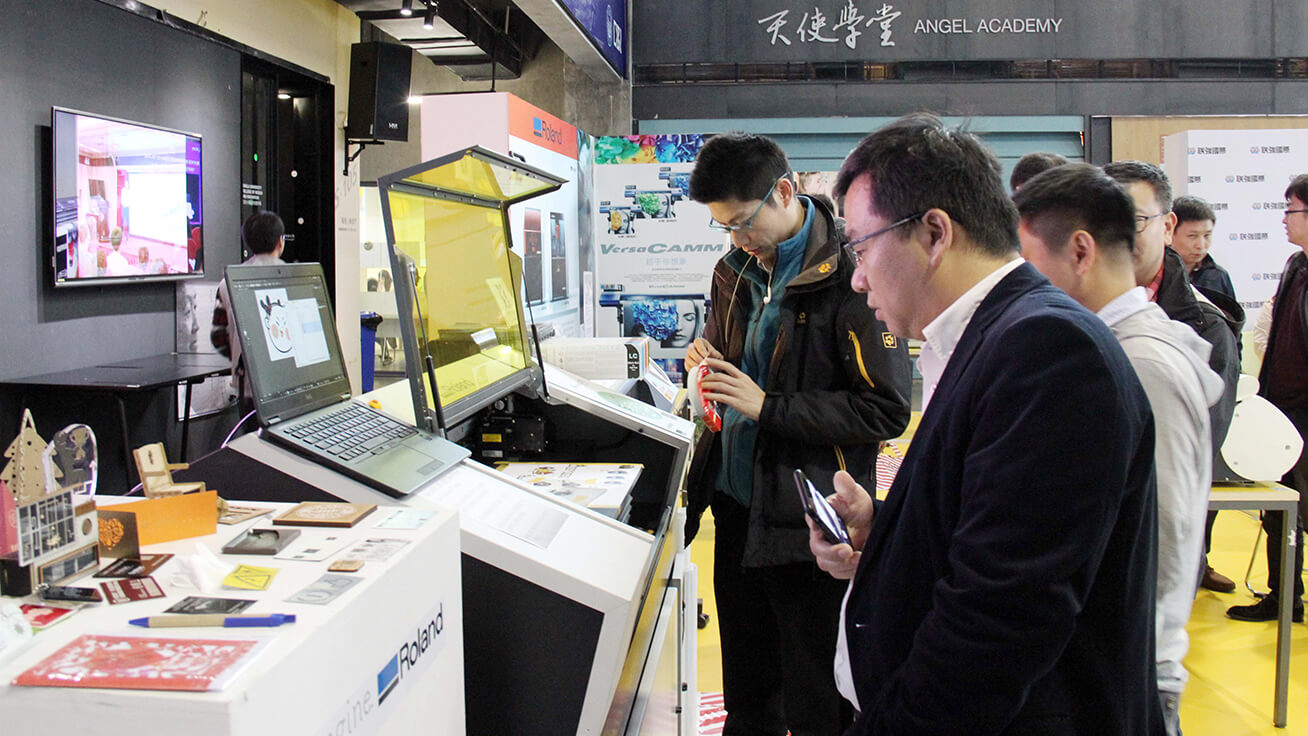 Visitors at the DGC booth.
On the second day, we held the Roland Imagination Workshop, which involved guest staff from Fablab O and other Fab Labs helping participants make customized items using Roland DG products, smartphone apps and a range of other tools. The aim of the workshop was to provide a specific example of STEAM education in action, as well as to allow attendees to experience first-hand Roland DG's corporate vision, "Transforming your imagination into reality." A large number of workshop participants were interested in implementing STEAM education, and a high proportion of them were teaching staff at elementary schools.
What ideas were implemented at the workshop?
We showcased activities that allowed people without any experience or know-how regarding the equipment or fabrication to gain first-hand experience of various aspects of teaching by actually using the products. An example of this was in the workshop where participants made their own personalized bags: first they came up with designs using the smartphone app to edit images, then arranged the layout they wanted on their bag, and finally used Roland DG's inkjet printer to print out their design. The participants could then add more text and images to the printed design by hand, or use AR (augmented reality) technology to move and interact with their printed designs using a dedicated app. In this way, workshop participants had the opportunity to utilize and experience a broad range of technology and discover new skills.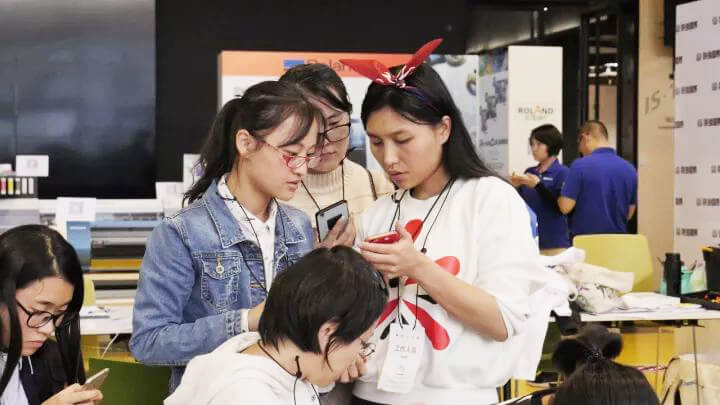 Fablab O staff Gao Xiaojing (on right) showing participants how to use the app.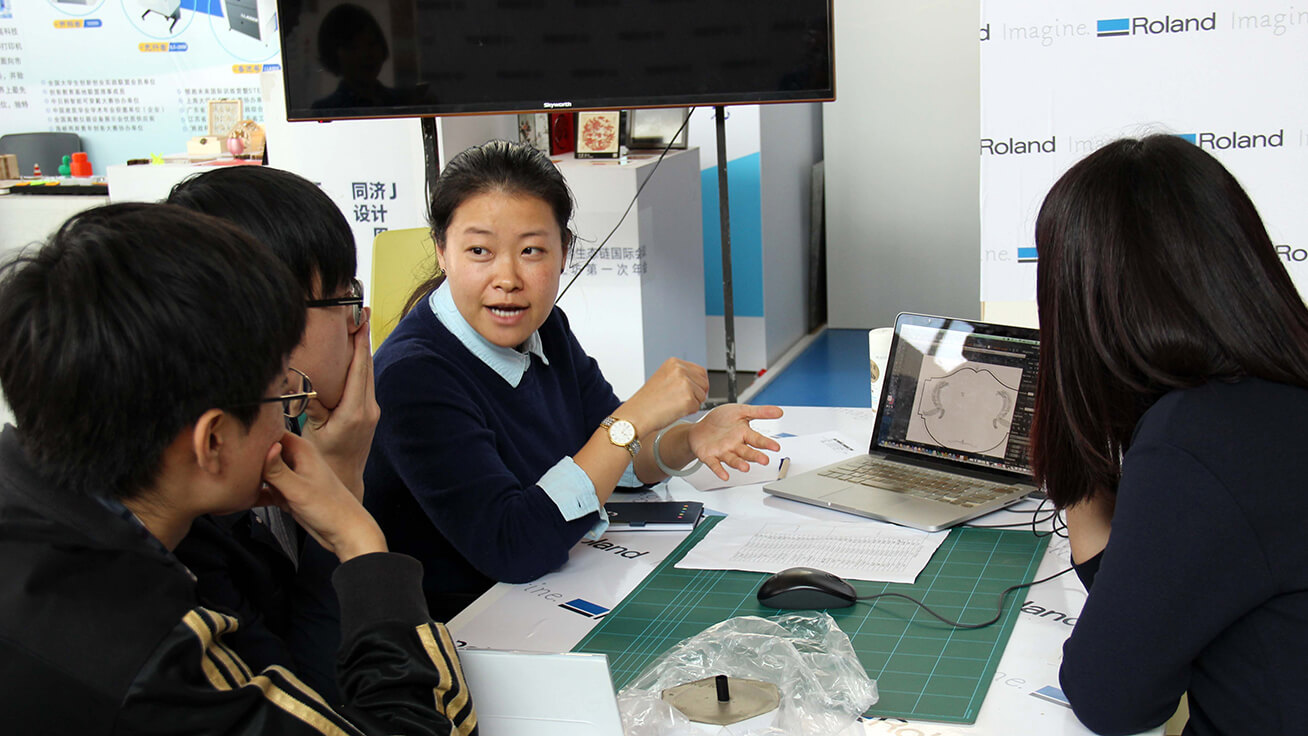 Shanghai Fab Lab Xinchejian staff Feng Jia (third from left) was in charge of the 3D milling machine program.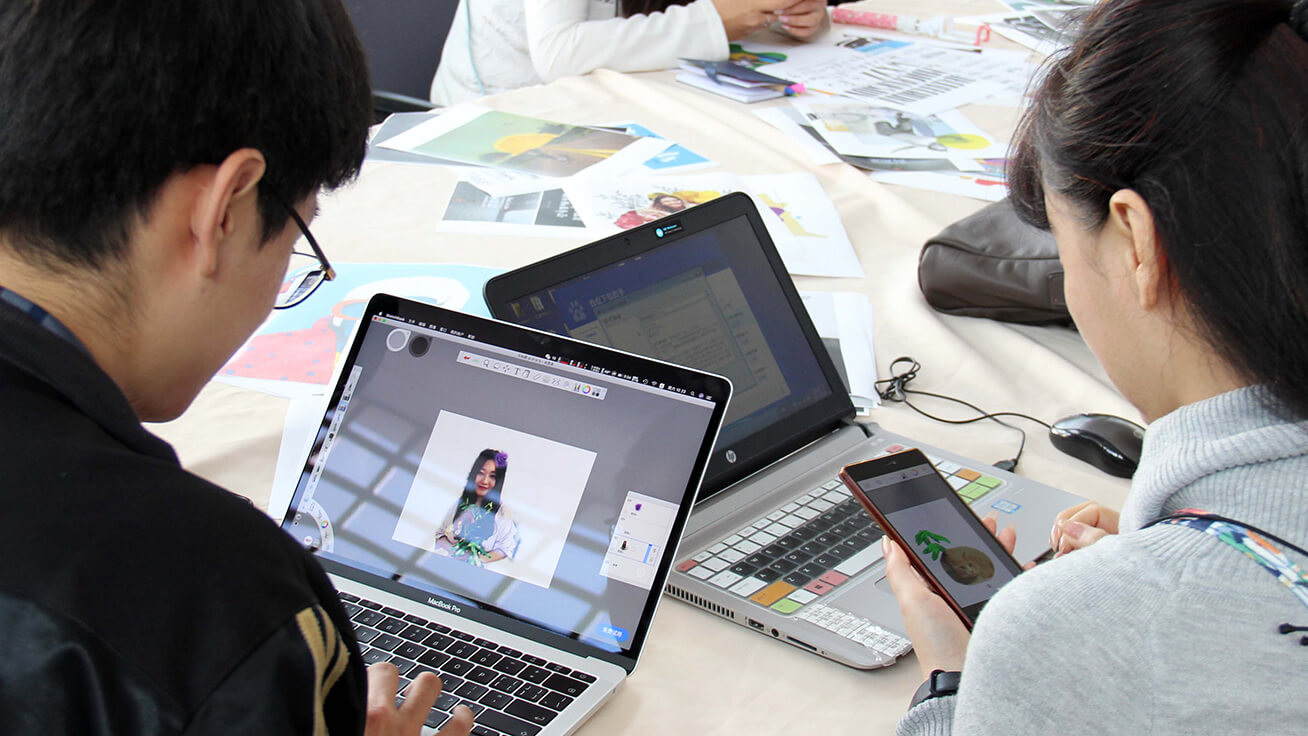 Workshop participants edited their own photos using the smartphone app and software.
What was the feedback regarding the workshop?
We received great feedback regarding the creative and practical workshop content, with participants commenting that creating designs so easily and then producing their own personalized sweaters, t-shirts and bags made them feel like they had become full-fledged designers, even though they lacked any specialist knowledge.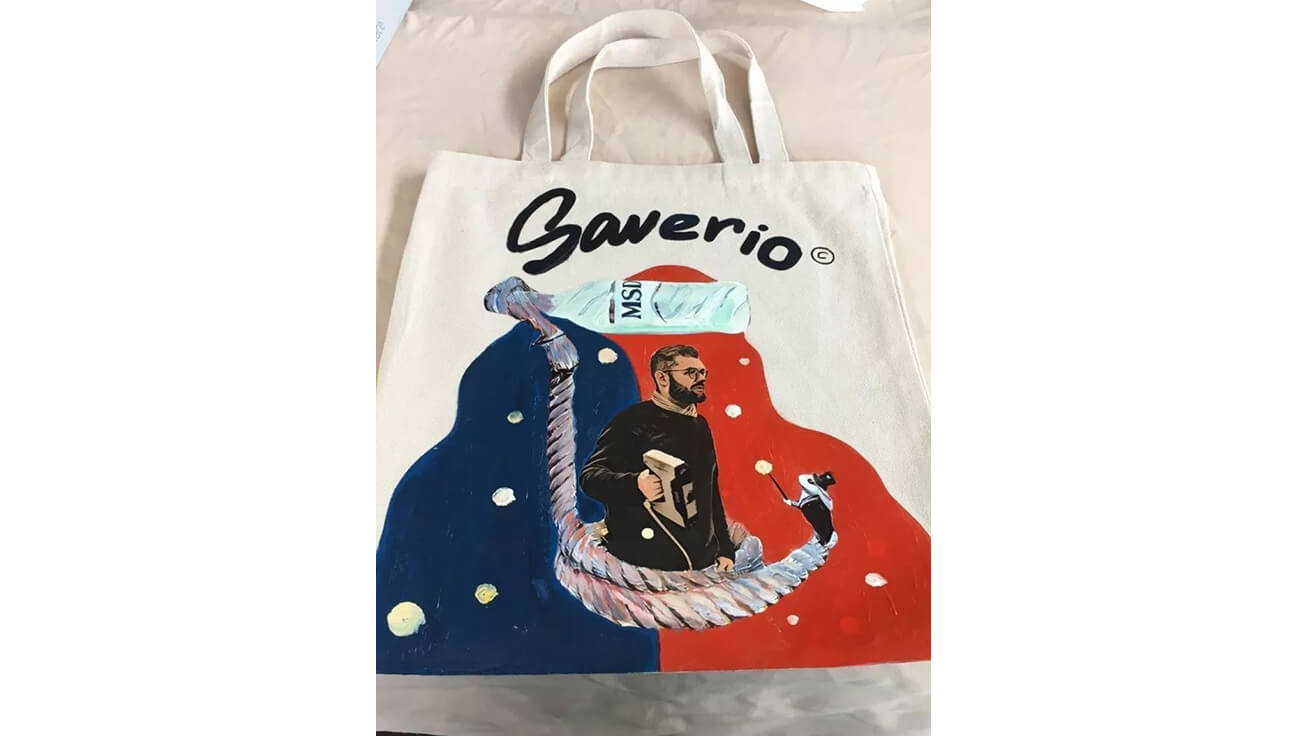 A personalized bag created by a participant.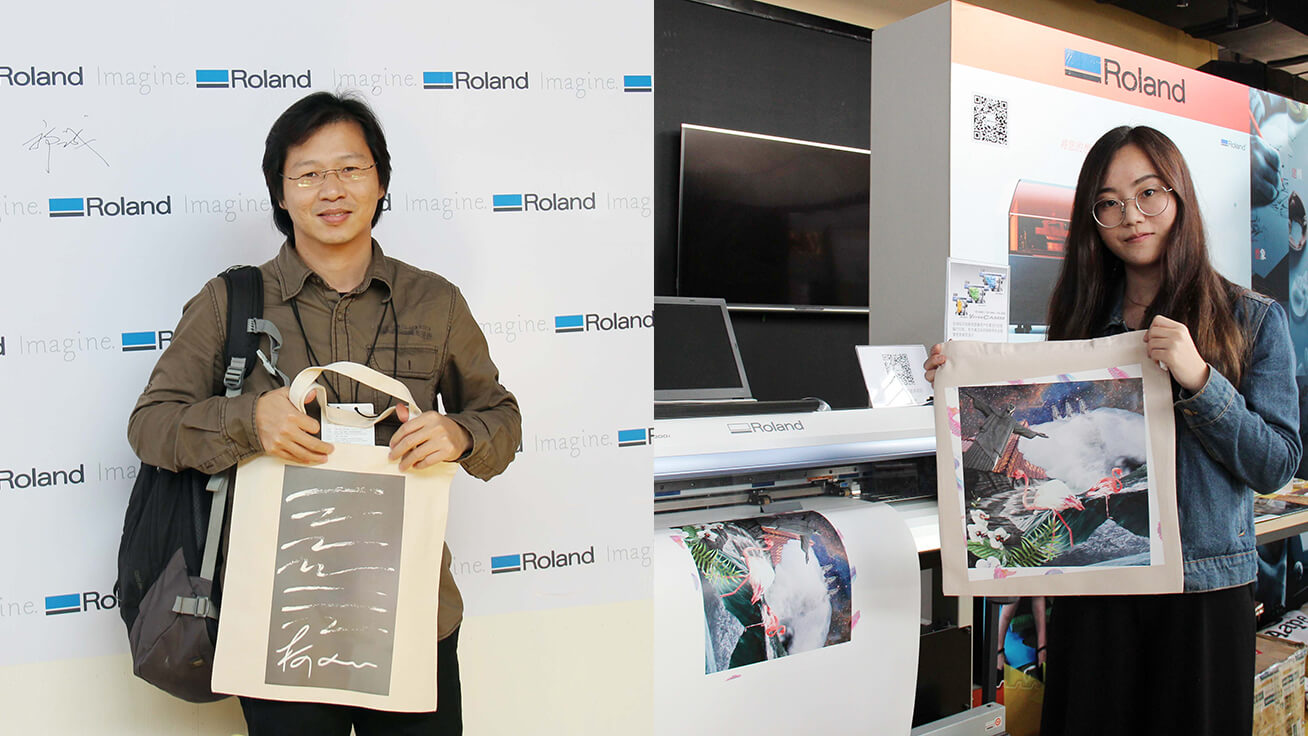 Workshop participants with the bags they made.
What initiatives do you want to develop for the Chinese education market in the future?
I hope to be able to organize similar workshops in more cities around China, and I am also working on plans to have educational institutions submit their creative work made using our products, and reward them with prizes. Our biggest advantage is our extensive product lineup, including 3D milling machines and other 3D digital fabrication tools catering to electronics manufacturing and programming, and inkjet printers and digital printing tools for the field of creative arts. I hope to see the products and initiatives that we offer serve as momentum for educational and teaching staff to implement STEAM education into their curriculums.