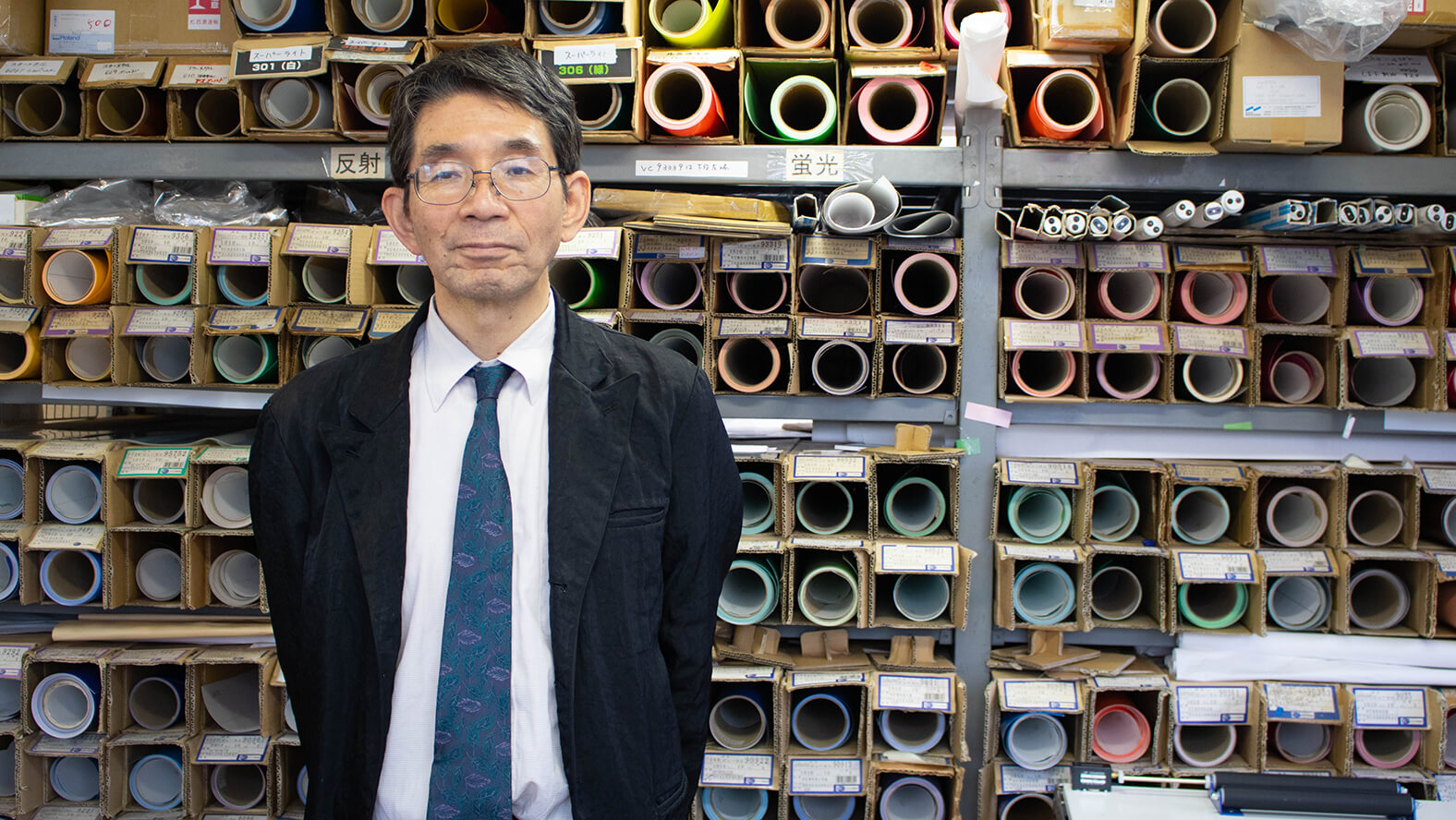 Giken – Promoting High-quality Signboards as a Sales Distributor and Manufacturer
Located in Suruga-ku in Shizuoka, Giken Co., Ltd. is a distributor of wide-format inkjet printers and media used for signboards, and is also a professional sign maker with its own printing business. It was one of the first companies to begin using Roland DG's new TrueVIS VG2-540 wide-format eco-solvent printer/cutter that was released in March 2019. We interviewed Masahiko Matsumoto, the president of Giken, about the printers being used at Giken.
Photo: President Masahiko Matsumoto of Giken, which deals with a wide range of media.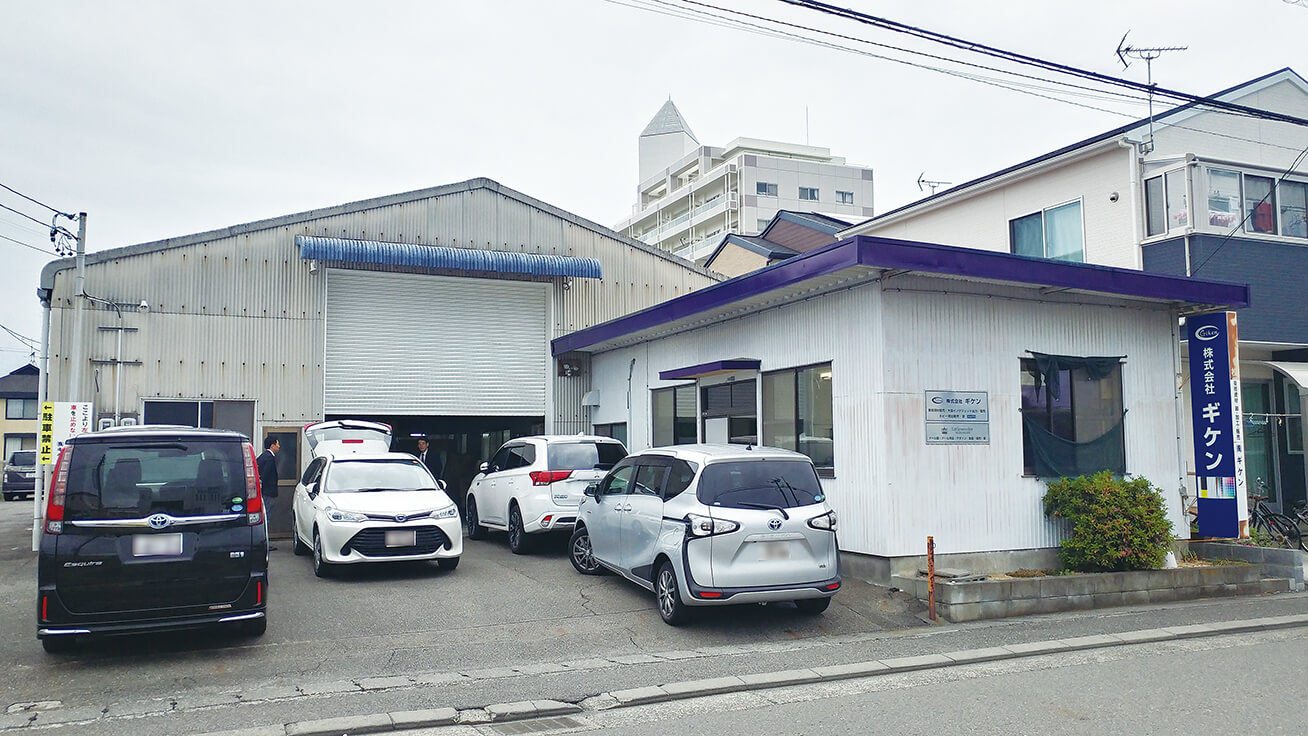 The Giken office in Suruga-ku, Shizuoka.
Giken business operations
First, can you tell us about Giken's business?
We run our own printing business while also selling media for signboards and products like wide-format inkjet printers. The company started out in 1982 as the signboard division of a construction company, and became independent in 2006. When we first began operations, vinyl cutters were very expensive, costing hundreds of thousands of dollars, so we sold items that had been made with a vinyl cutter while also selling equipment together backed with our expertise on how to use them.
We started marketing wide-format inkjet printers when they first became available. When Roland DG released the CAMMJET CJ-70, the world's first wide-format inkjet printer/cutter capable of printing water-based pigment ink in 1997, we were so impressed that a single printer was capable of both cutting and inkjet printing that we decided to start using one. Since then we have continued using Roland DG printers, and we also sell them.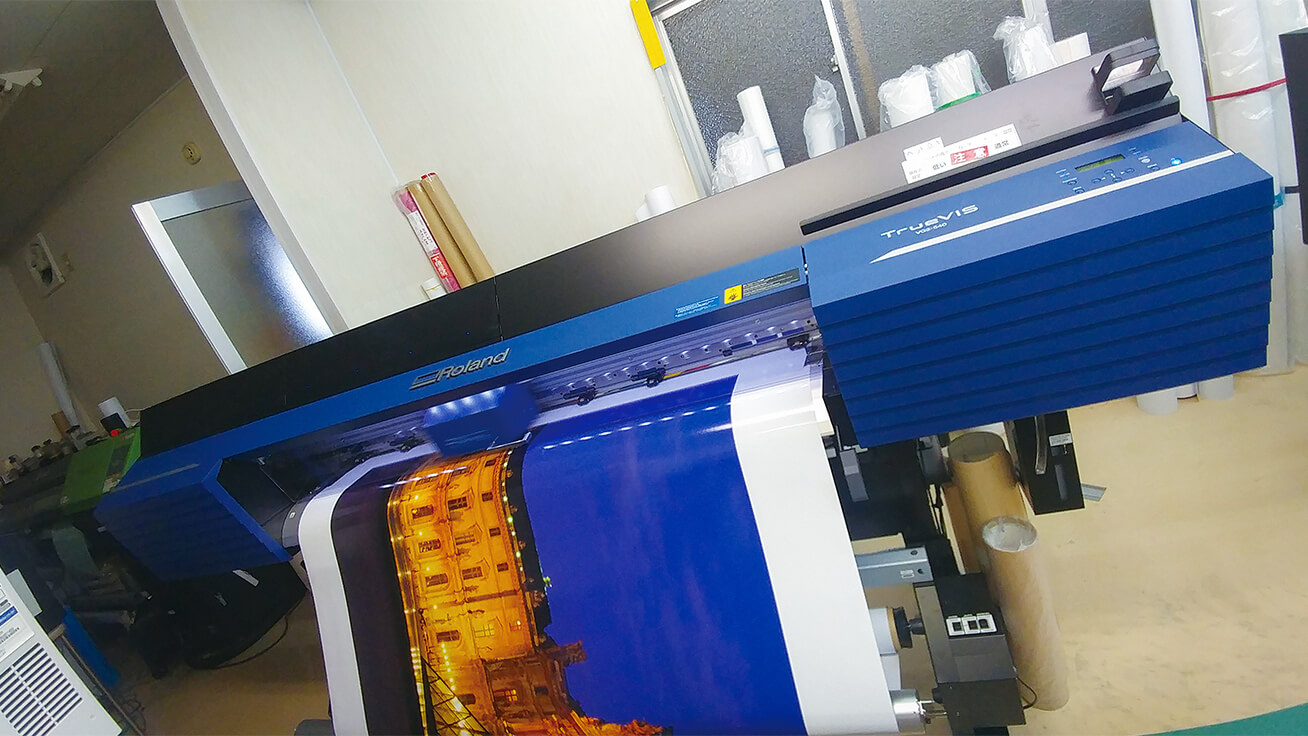 Giken is using our new TrueVIS VG2-540 wide-format eco-solvent printer/cutter.
What are the main applications that you normally print?
We receive orders from our clients who are sign makers, and our main printing work is for billboards that are usually 20 to 30 m in length. Other products include signboards used in public areas like guideboards at tourist sites, as well as smaller items like machinery operating panels. We also provide support to sign makers who do not have their own inkjet printers or need help when they have sudden rush jobs.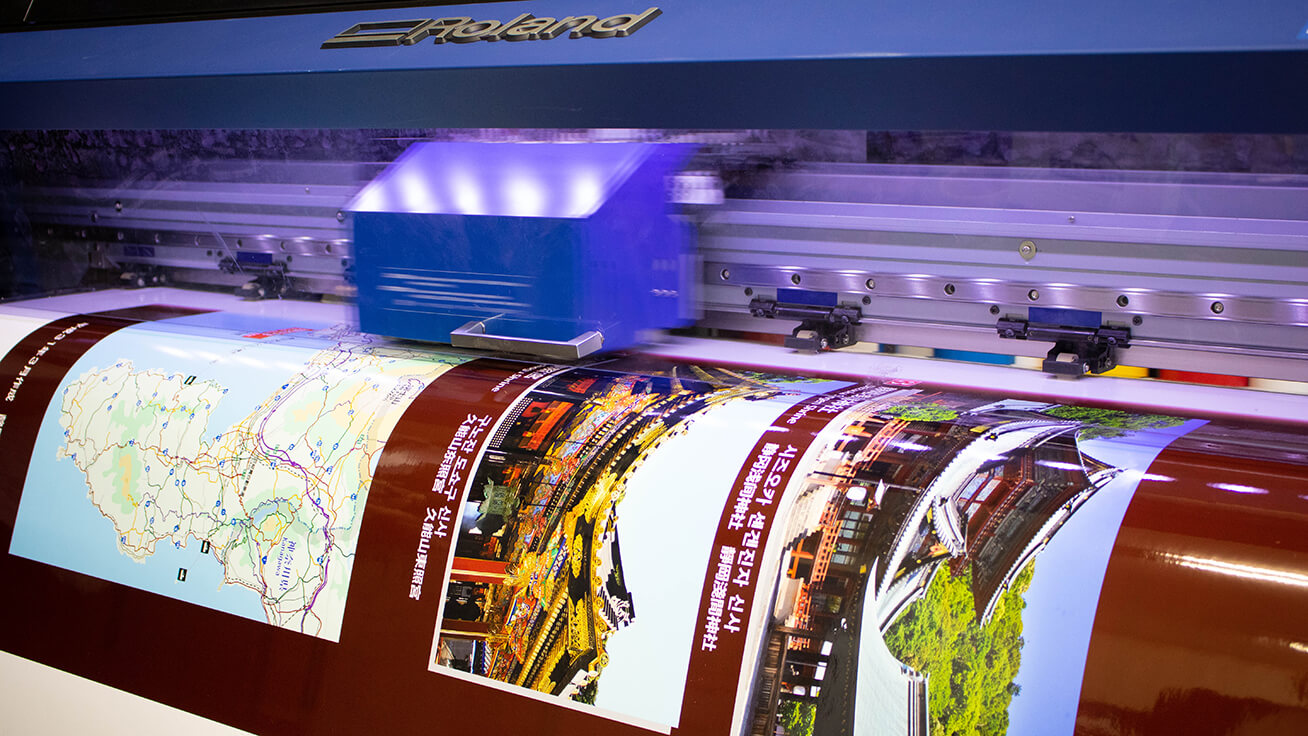 Tourist guideboards require excellent print quality because people look at them from up close.
What areas of production do you pay particular attention to?
Printing vibrant images is simply not good enough for signboards. The required color and image quality differ depending on what is being featured on the sign, like scenery, food dishes, precision equipment, or people. Our expertise lies with being able to fine-tune print settings, ink quantities and other adjustments so that the printer can produce the best results to suit each specific application.
VG2-540 ideal for reproducing realistic looking textures with a printer
What are your impressions after using the VG2-540?
I have found that the VG2-540 has an image quality that delivers a real impact on the person viewing the prints. It has excellent color reproduction and now covers a much broader color gamut. The new orange ink has definitely made a positive impact.
In what applications can you see the advantages of the VG2-540?
The oranges of sunsets, the green tones of grass and the blue hues of skies look vibrant and realistic. Until now, printing out blue skies with inkjet printers always included a small quantity of black ink, but with the VG2-540 orange ink is used in place of the black to produce skies that look vivid and natural.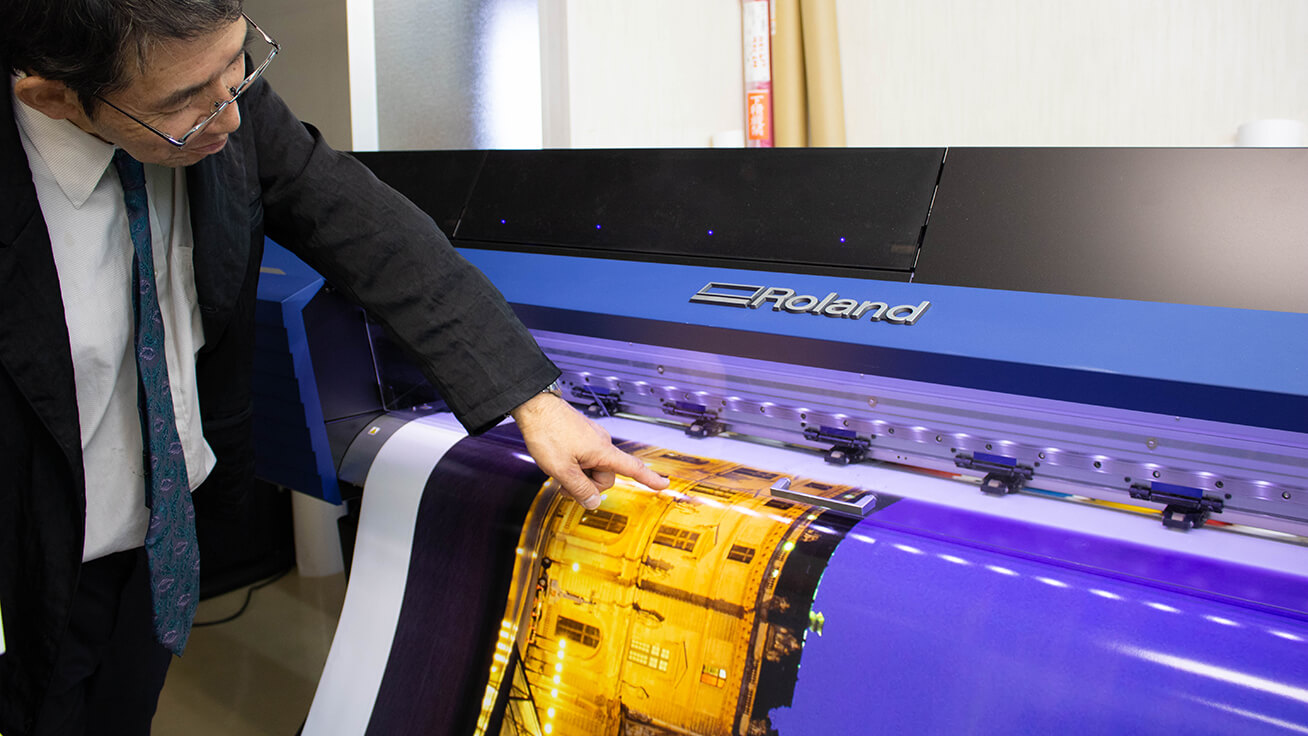 Matsumoto demonstrating the print quality: "Look how vivid the colors in the sky look."
Who would you recommend the VG2 series to?
Print quality that appeals to all the senses is so important in advertising. It would be great to have designers experience for themselves the truly stunning image quality that the VG2 series is capable of reproducing, where even the texture and feel of materials in the images seem to jump out. I cannot think of any other printer that can recreate both the delicate strands of silk as well as the dense look of linen.
Most existing printers are unable to print out all of the colors you see on monitors, and there were many people who felt they were being limited when creating image data. I want them to see that with the VG2 series they can now print those colors that they previously had to avoid.
And more than the image quality, the printer's cutting function is also on par with the most advanced vinyl cutters. I feel that people still using older vinyl cutters or inkjet printers will benefit by replacing those devices with a single VG2 series printer/cutter.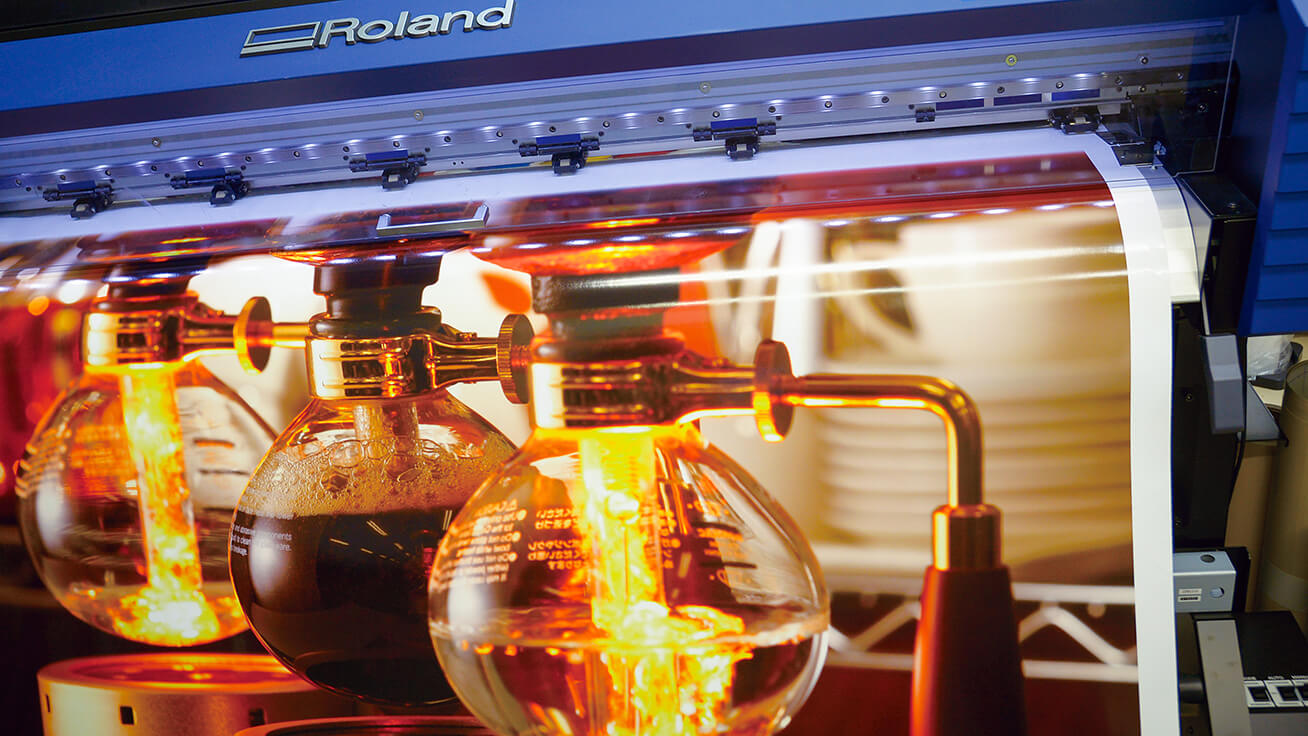 "I was amazed at just how well the print quality conveyed the textures and warmth of metals and glass objects in images."
A sales distributor providing know-how as well as a printing company
What plans does Giken have for the future?
As a sales distributor that is also running our own printing business, our forte is being able to provide customers with information on specific printer characteristics and expertise, as well as aftersales service and support. After we have used the VG2-540 thoroughly and become expert in all its functions, we will start recommending it to our customers.
This year and next, a number of locations around Shizuoka will be hosting major upcoming events like the Rugby World Cup and the Tokyo Olympics, and while we have not yet seen any flow-on business in the sign industry, we are expecting an increase in demand in advertising signboards. I want to make sure that Giken can adapt and respond to any sudden growth in demand.
As a sales distributor and a printing company, we will be ready to assist in supplying high-quality signboards.
Thank you for your time today.
In this interview, we were impressed by Giken's passion toward colors and image quality as a professional signboard and printing company.