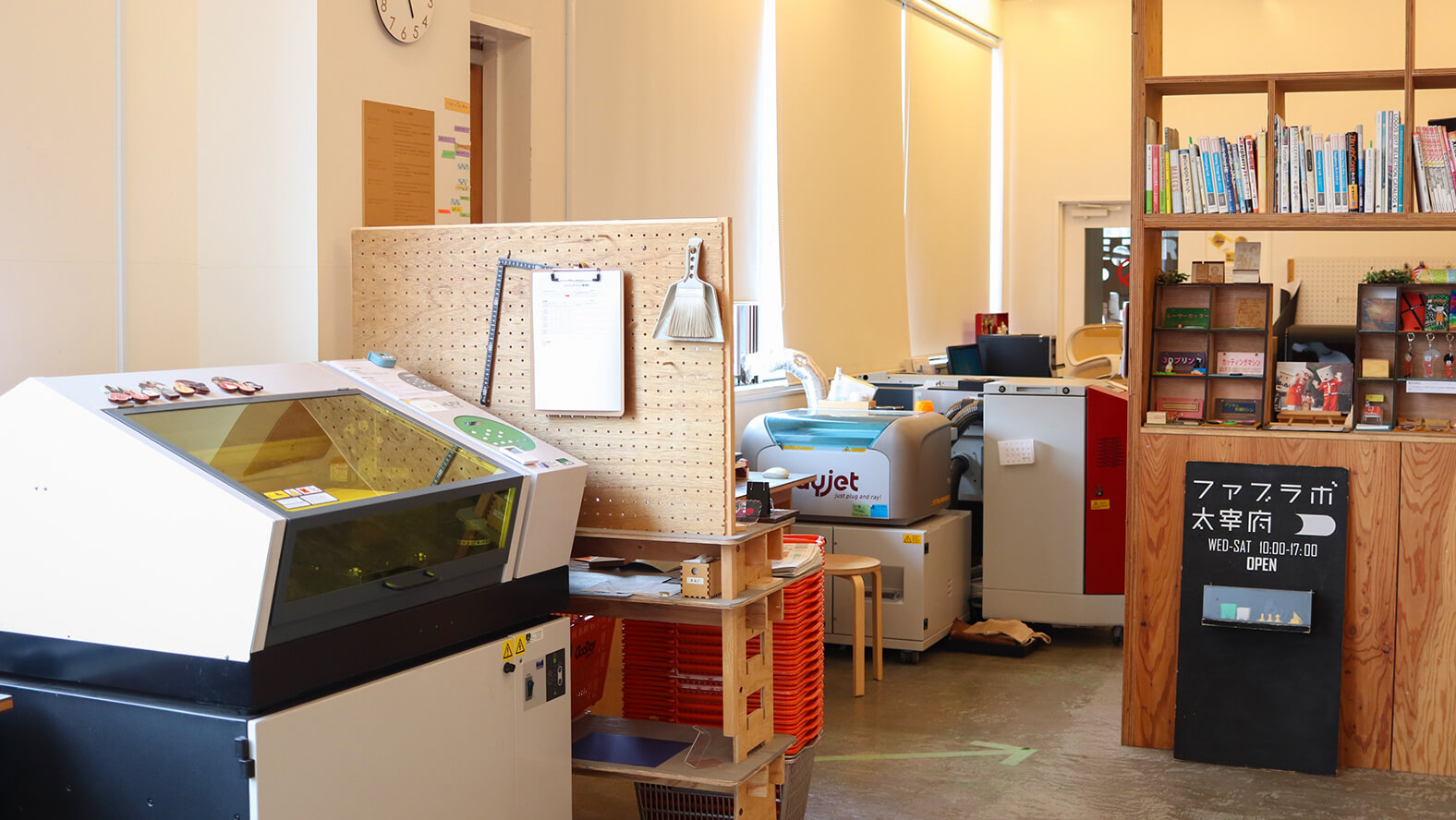 Fab Lab DAZAIFU – Helping More People Become DIY Makers
Japan's 11th community-based workshop Fab Lab DAZAIFU is located in Dazaifu, Fukuoka. This fab lab is unique in that it is operated by a private organization – GooDay, a chain of home improvement stores around northern Kyushu. Among the various digital tools available is Roland DG's LEF-12 UV printer.
For two weeks at the end of April, Roland DG's custom COTOVAN vehicle equipped with a UV printer and other digital tools traveled to various GooDay stores in the region to hold workshop events, and Fab Lab DAZAIFU was one of the venues.
Click here for more details about GooDay events
About Fab Labs
A Fab Lab is an open workshop equipped with a variety of analog and digital fabrication tools. They help members explore and develop their creative ideas and share information and know-how with other fab labs around the world as part of a global fabrication community.
Click here for more details about recent international meetings of the Fab Lab Community that Roland DG has sponsored.
FAB12 (Shenzhen, China)
FAB13 (Santiago, Chile)
A unique community-based workshop run by a home improvement store chain
We spoke with Yuji Matsunaga who works at Fab Lab DAZAIFU about some of the initiatives they are taking.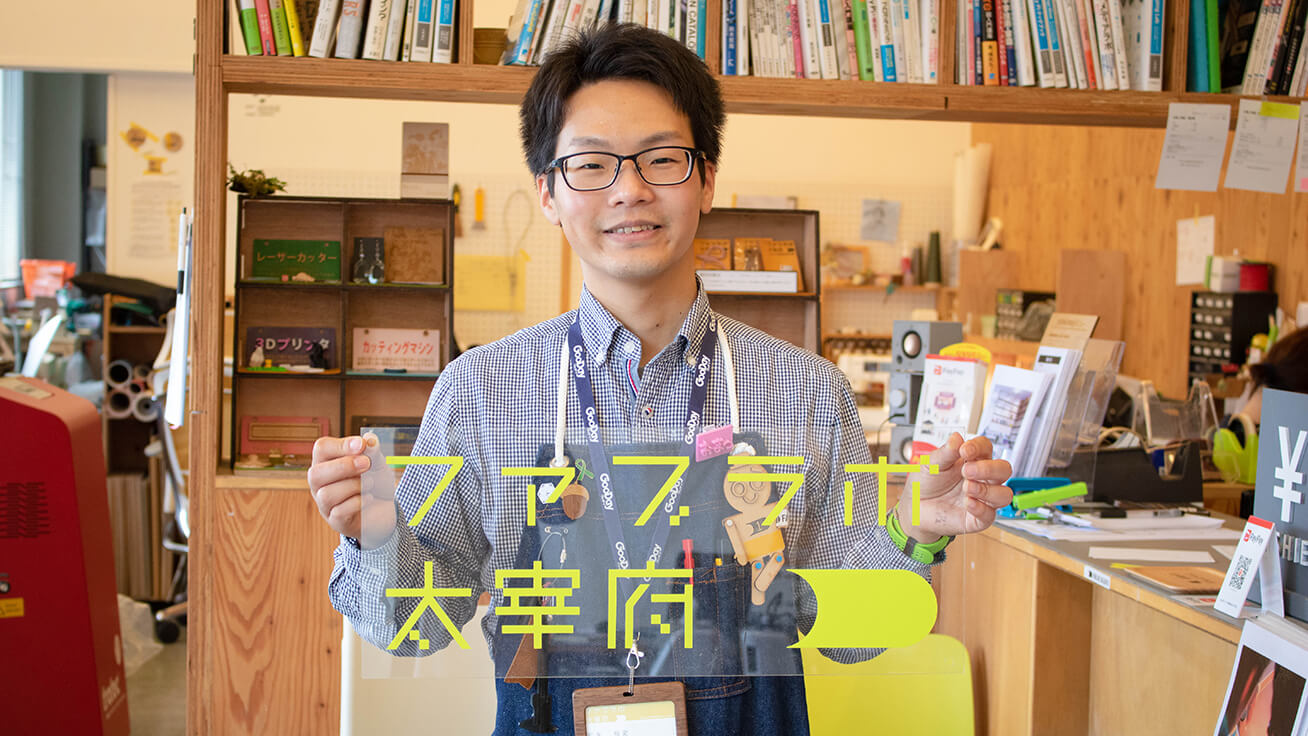 Yuji Matsunaga of Fab Lab DAZAIFU
First, can you explain what type of facility Fab Lab DAZAIFU is.
Fab Lab DAZAIFU is the 11th fab lab to operate in Japan, and was opened by GooDay in September 2014. The workshop is in a renovated section of the EK JAPAN office that markets educational electronic kits under the same group company, KAHO MUSEN HOLDINGS. We offer a broad range of fabrication methods with the various equipment we have available, including Roland DG's UV printer as well as laser cutters, 3D printers, an embroidery machine and a large CNC router.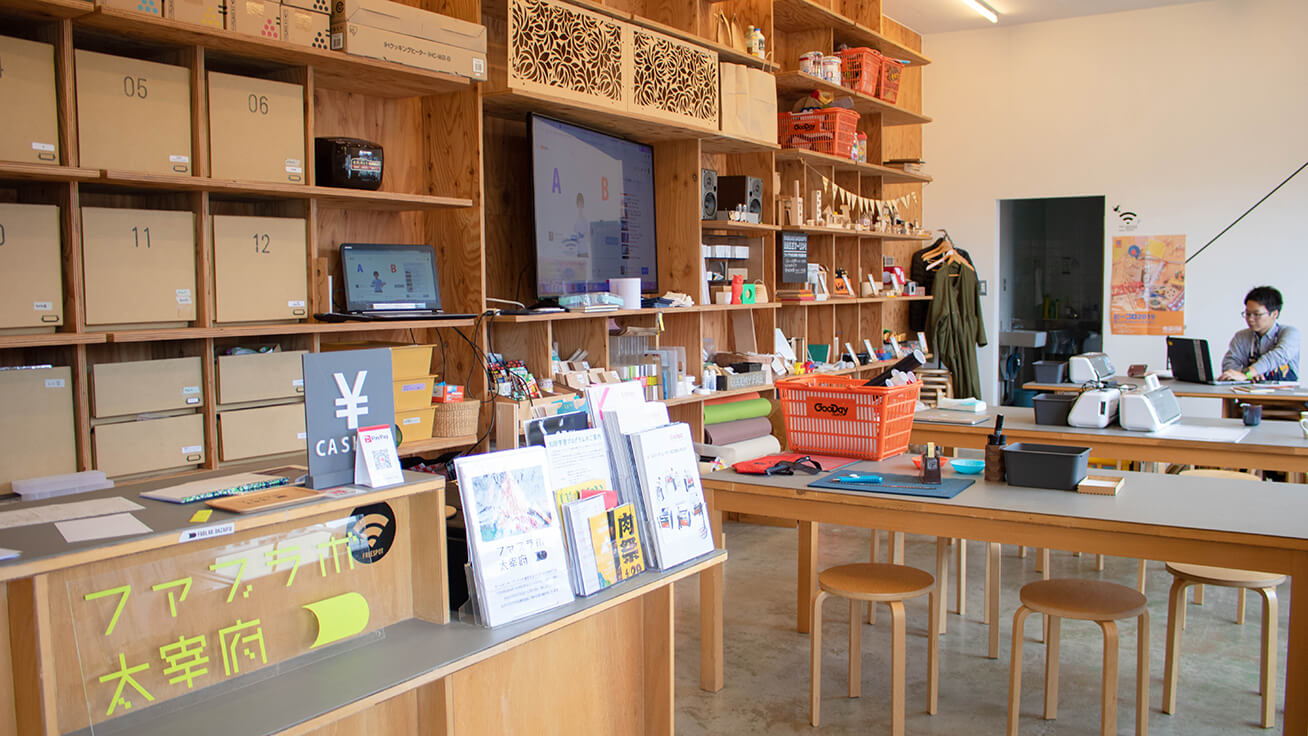 Fab Lab DAZAIFU
Fab Lab DAZAIFU is located in the head office of EK JAPAN.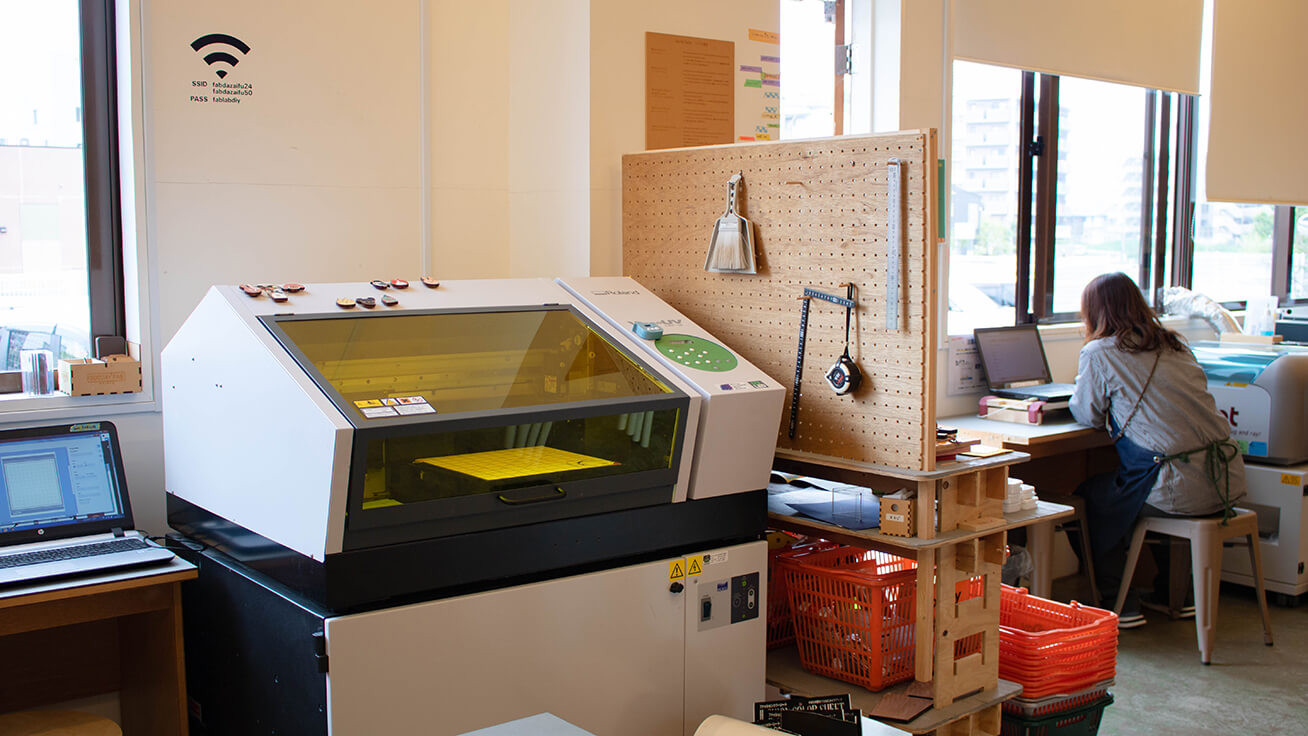 Roland DG's LEF-12 UV printer is available for use.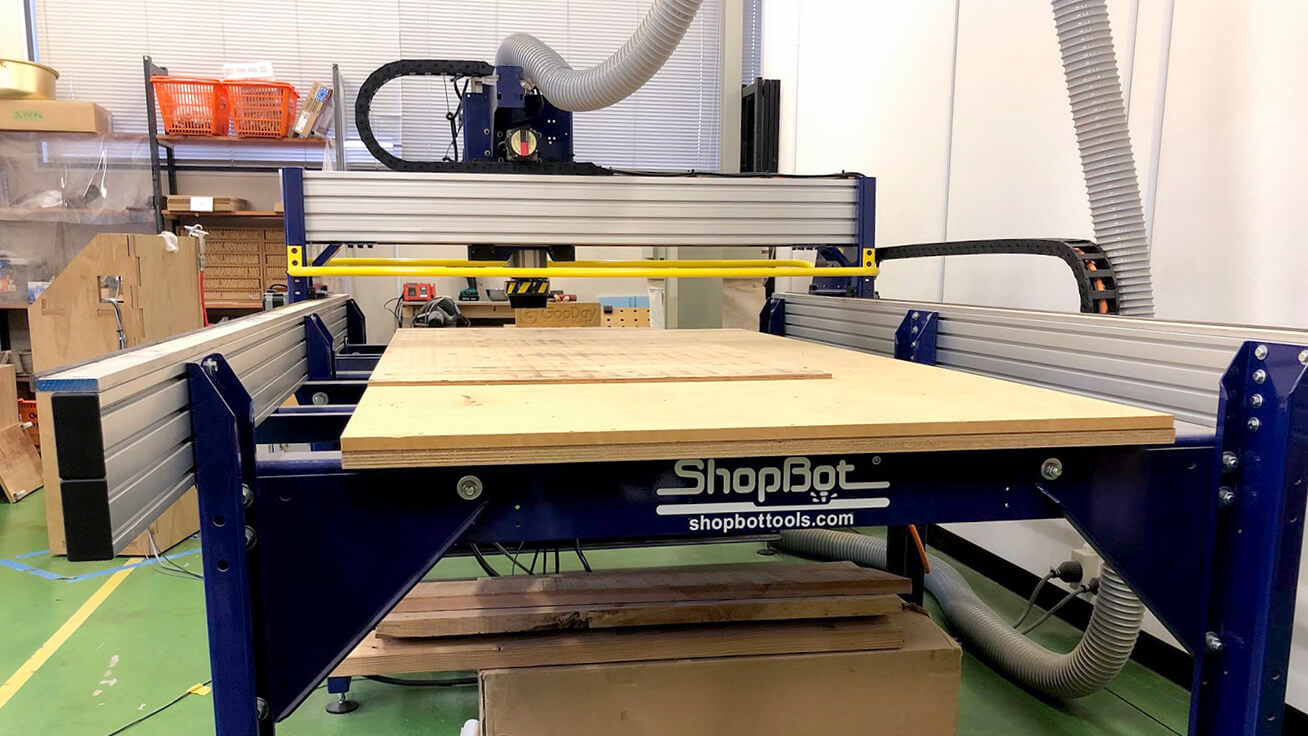 A large CNC router, rare in Kyushu, being used to machine wood sheets.
What was the background to GooDay opening Fab Lab DAZAIFU?
Our president has always had a keen interest in fabrication. After he first heard that fab labs were growing in popularity as a new way of production using digital tools, he began thinking about opening a fab lab at his own company. GooDay built up its knowhow while operating workshops through its fab lab operations, and has now opened its GooDay Fab makerspace at some of its stores. After I joined GooDay I was assigned to positions at Fab Lab DAZAIFU and GooDay Fab DAIMYO (a makerspace that operated for a limited time until January this year at a startup support facility in Fukuoka), before working here full-time.
It seems rare for private companies to operate fab labs.
In Japan most fab labs are run by the government, educational institutes or by private individuals. Other fab labs around Kyushu are run by municipal governments or individual designers, and the atmosphere and activities available at each fab lab varies depending on who is operating it. Fab Lab DAZAIFU runs many workshops that families can join in. We even sell some of the materials available at GooDay stores and educational electronic kits made by EK JAPAN.
How do members of the community use the fab lab?
We have a broad range of users that represent the Dazaifu community – from housewives and parents with children, to the elderly making the most of their active lifestyle. Some make items that they are interested in, and there are even elementary school kids who used 3D printers for their summer school research projects and won awards for their creations; everyone utilizes the digital tools to make whatever they want. One member of our staff even began working here after becoming fascinated with digital fabrication when they visited with their children.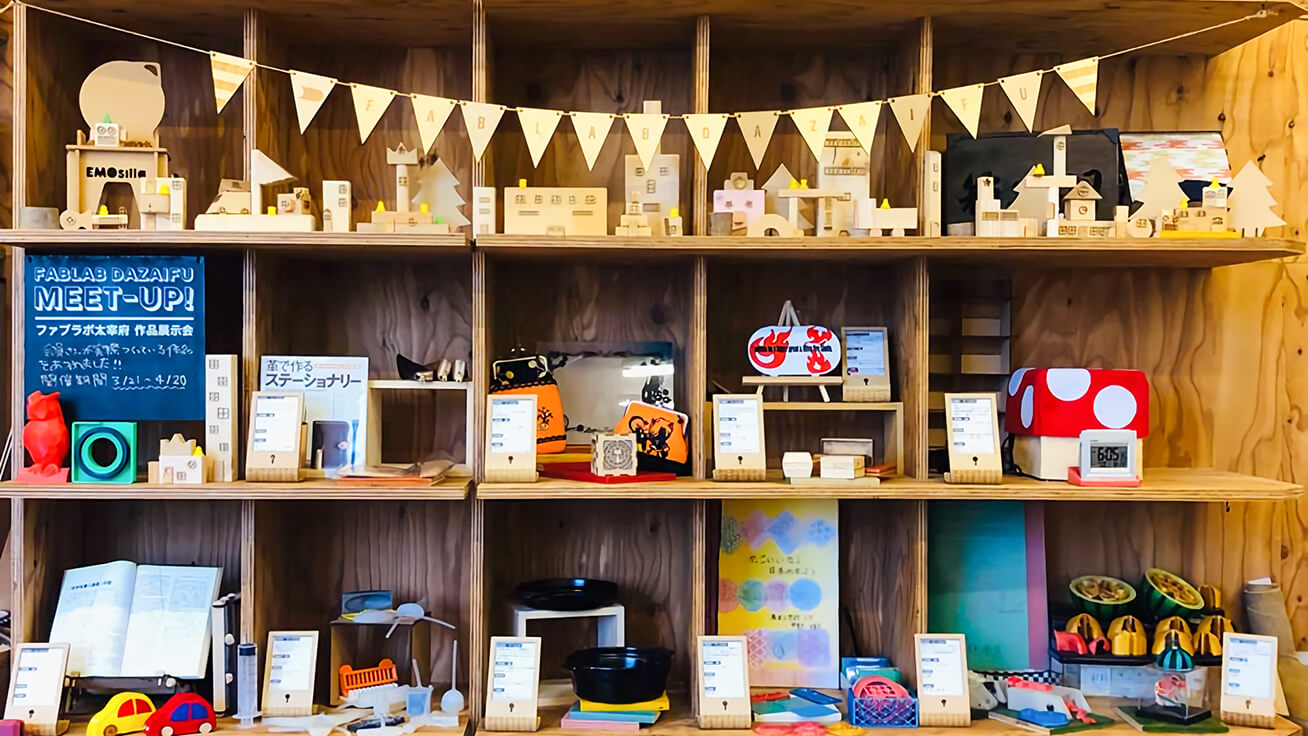 When we visited, we saw exhibits of creations made by members using digital tools.
What are the main activities available at Fab Lab DAZAIFU?
Our usual activities include running courses for our members and providing advice about fabrication. Recently we have been holding regular workshops so members can easily learn how to make things using digital tools or creating digital data. Our EZ-Fab workshop is specifically designed for beginners, where a common theme is chosen and they are given the opportunity to try using digital tools. The workshop we ran for laser cutters was really popular, and we want to plan a similar workshop for UV printers in the near future.
We are also focusing on working closely with educational institutions around Fukuoka as a way of contributing to the local community. Fab Lab DAZAIFU is used for courses run by schools like Kyushu University and Fukuoka Futaba Senior High School. This year, we helped Fukuoka Futaba Senior High School with a course involving a cultural exchange program aimed at digital fabrication with students from Taiwan.
How are UV printers used at the fab lab?
The UV printer we have here was originally used at GooDay Fab DAIMYO that I mentioned earlier, and it is mainly used by members who liked using it there. There was even a member who made his own board game called Extreme Shogi, offering a unique new way to play Shogi, which is also known as Japanese chess. He created the rules, designed and made all the board and pieces himself, and sells the kits online.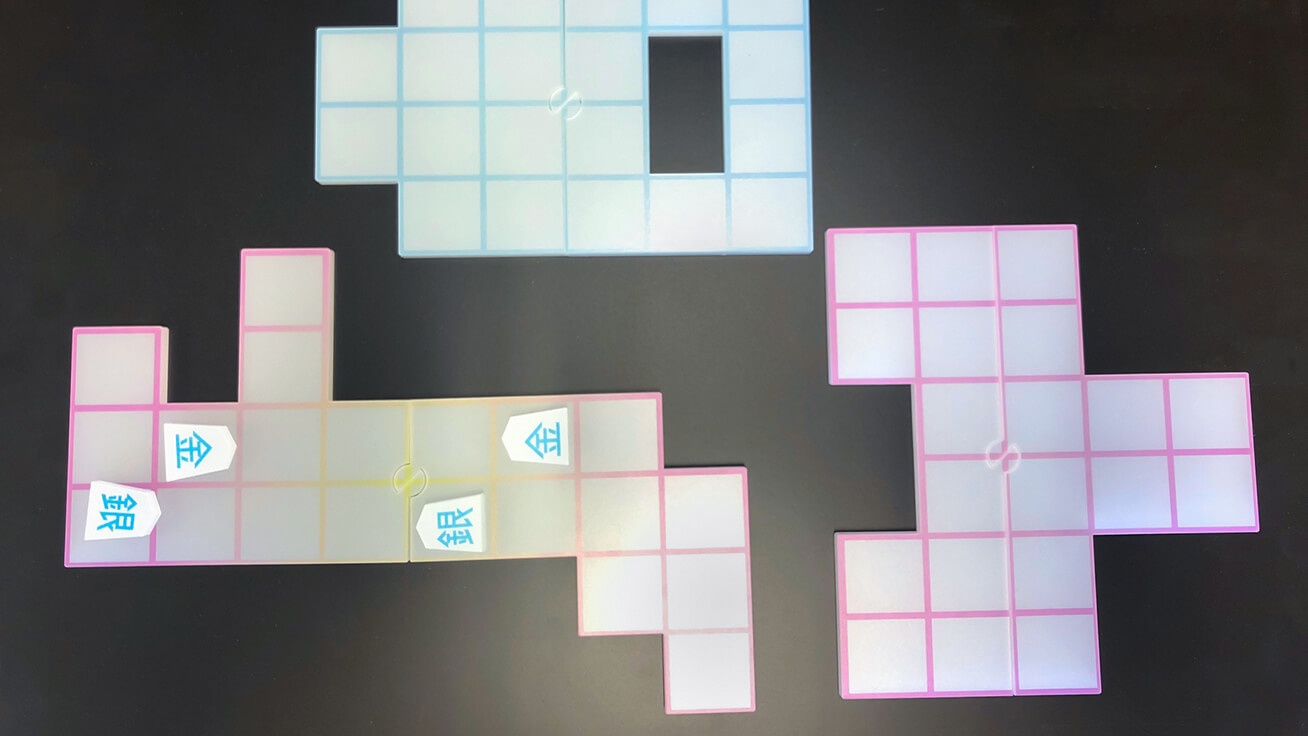 Extreme Shogi is played on a unique board layout determined by throwing a dice. The board surface and pieces were made using the UV printer.
Workshops run with Roland DG using UV printers
Can you provide some details about the joint workshop events held with Roland DG?
We have a workshop scheduled that will only be held here at Fab Lab DAZAIFU. The workshop will focus on making decorated wooden charms designed on the Manyoshu, Japan's oldest poetry anthology, to celebrate the links between the new Japanese era "Reiwa" with Dazaifu in Fukuoka. (Click here for more information about Dazaifu and the new era "Reiwa") After watching how to machine wood sheets with a laser cutter, participants will then be able to decorate their charms using the UV printer. The front will feature a Reiwa-themed design arranged by each participant, and they can add their name or wishes on the back.
* The Fab Lab DAZAIFU event was held after this interview, on April 23 and 24.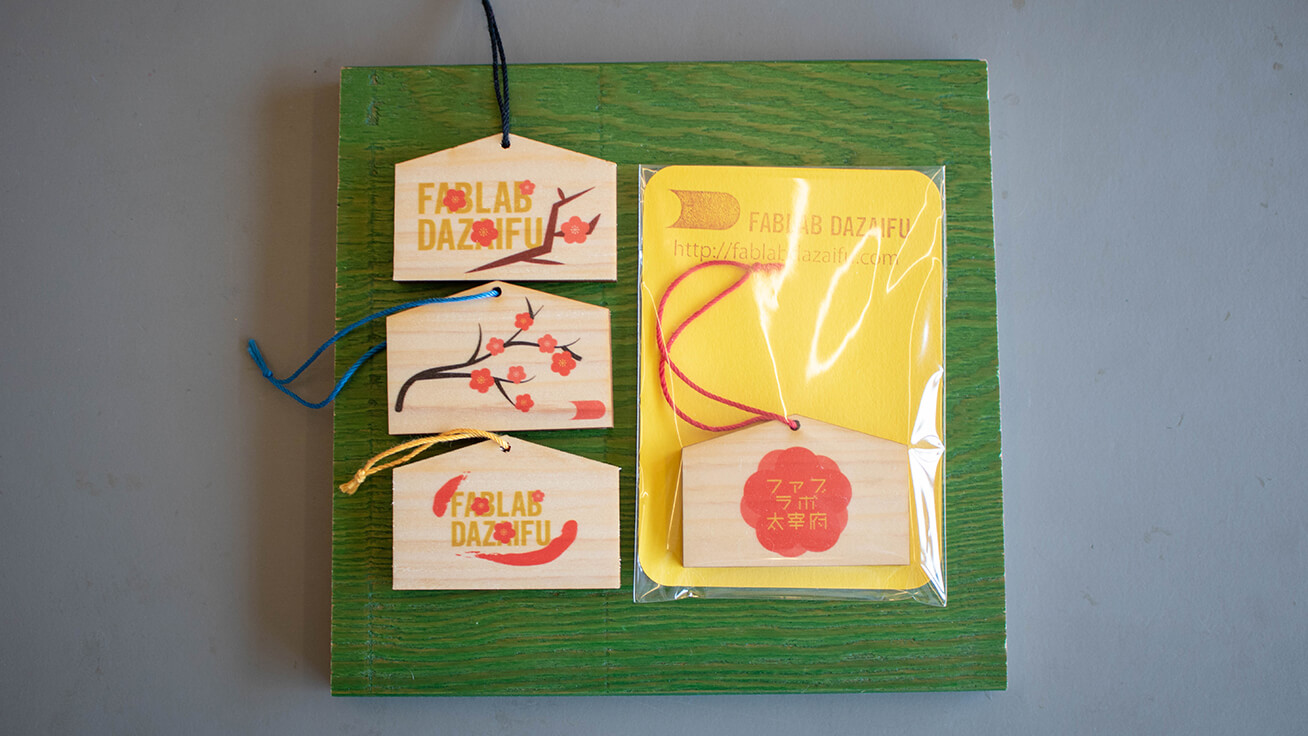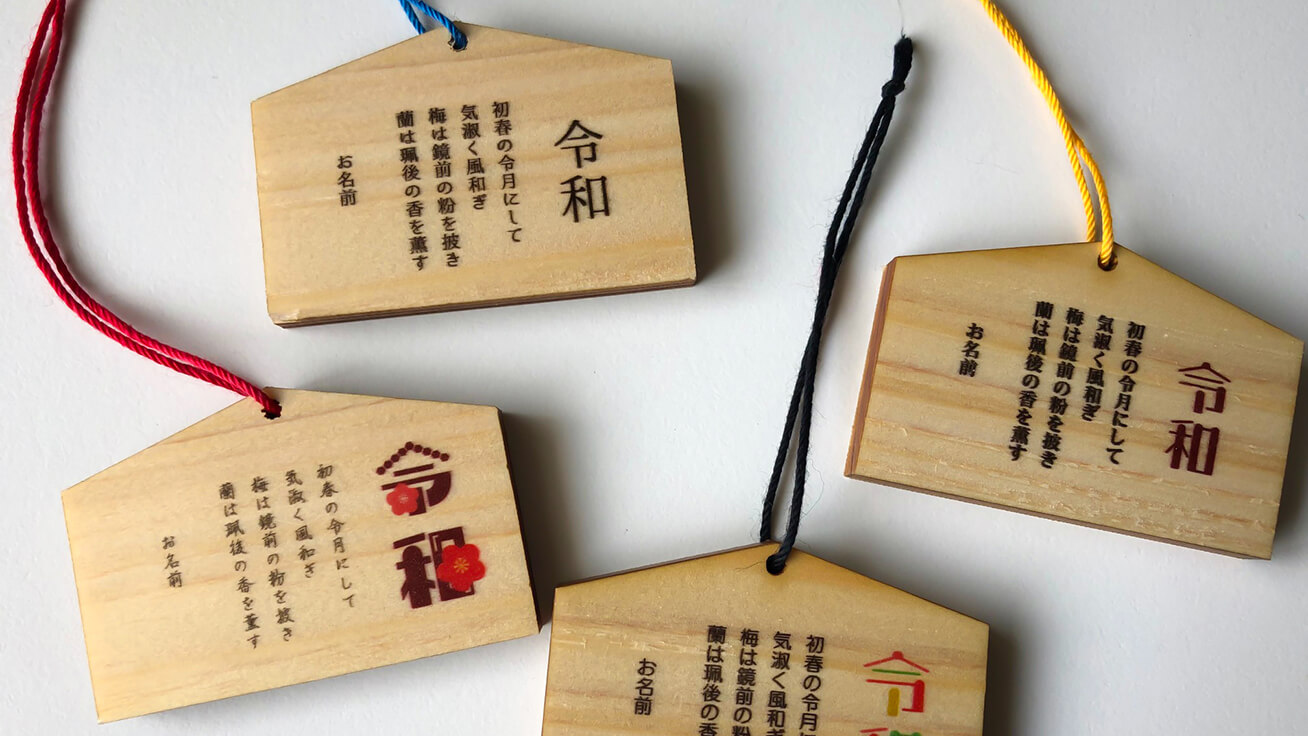 Decorated wooden charms featuring the new Reiwa-era designs added with the UV printer.
Where people can come to discover the fun of making things themselves
What are some key concepts you adhere to when operating Fab Lab DAZAIFU?
We make sure that we stick to the core concept of fab labs: MAKE, LEARN, SHARE. We upload the details of any events we host and post photos of any of our creations on our website to show people around the world, and we also share information about events that we participated in.
Lastly, what are the goals that Fab Lab DAZAIFU is aiming to achieve?
Rather than simply make digital tools available for use, as a fab lab our main purpose is to teach everyone how to use such tools and to share ideas about fabrication, so that people can produce the things they want by themselves. The name FAB symbolizes the concepts behind the words Fabrication and Fabulous. We hope that more people visit Fab Lab DAZAIFU to learn and have fun making things, and that more start wanting to make things themselves.
Thank you for your time today.
Fab Lab DAZAIFU currently operates mainly around northern Kyushu, and hopes to expand its areas of operation in the future. We can't wait to see more future developments!
Click here for more details about Fab Lab DAZAIFU (Japanese text only)