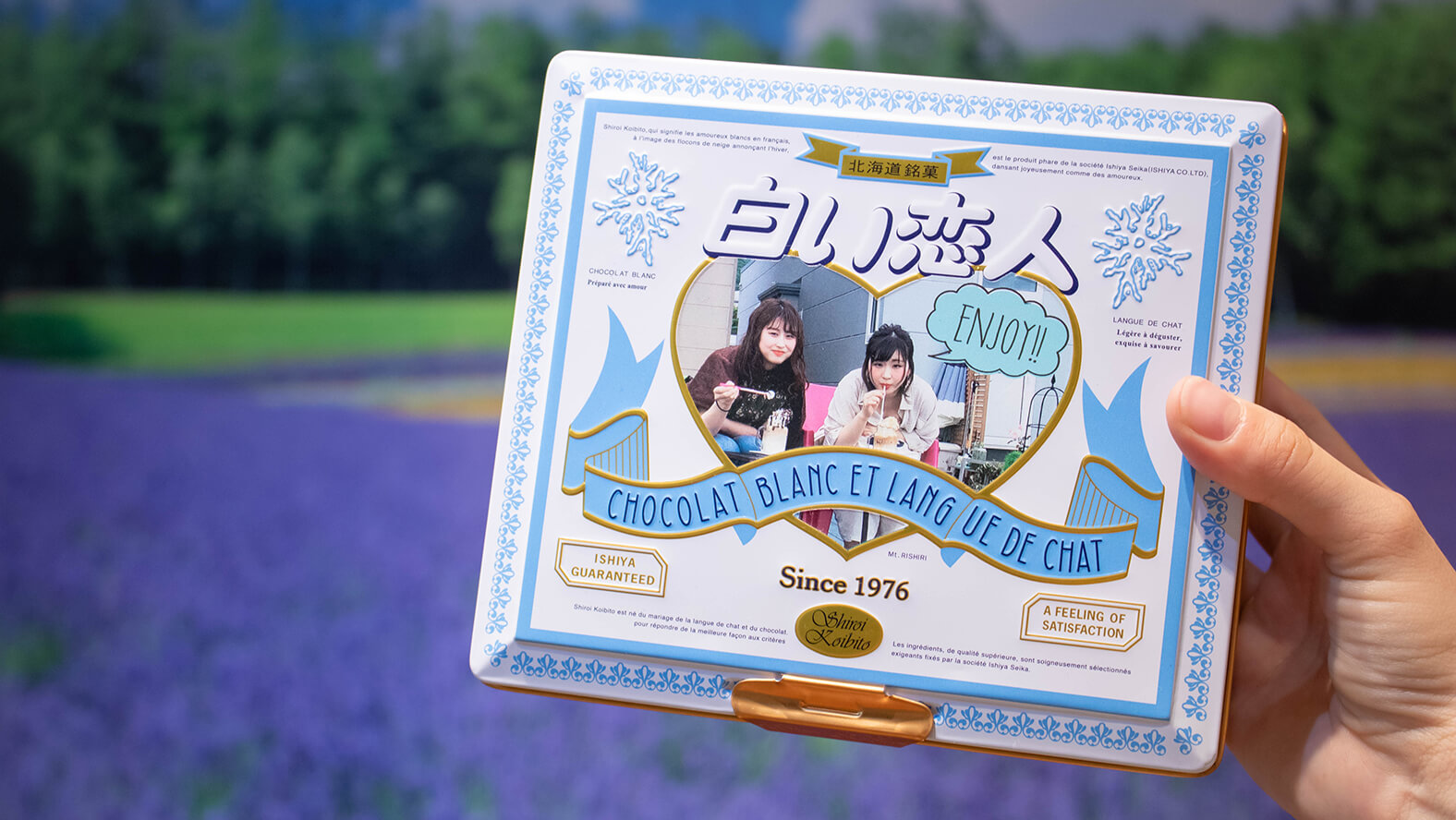 Making One-of-a-kind Souvenir Cookie Boxes Using UV Printers
Shiroi Koibito is a popular brand of cookies made in Hokkaido, Japan. Manufacturer and retailer ISHIYA Co., Ltd. provides a unique service where customers can make their very own cookie boxes by printing their favorite photo on the tin box using a Roland DG UV printer.
Featuring a langue de chat cookie with a white chocolate center, Shiroi Koibito was first launched in 1976 and has since become extremely popular. The central heart shape on the tin box features Mt. Rishiri, one of the most beautiful mountains in Hokkaido. Now customers can customize their cookie box with their favorite photo in the center instead.
The service is provided at two locations, ISHIYA Cafe at New Chitose Airport and Shiroi Koibito Park chocolate entertainment park and production plant in Sapporo City. We visited both locations to take a closer look.
ISHIYA Cafe New Chitose Airport provides a popular cookie box customization service.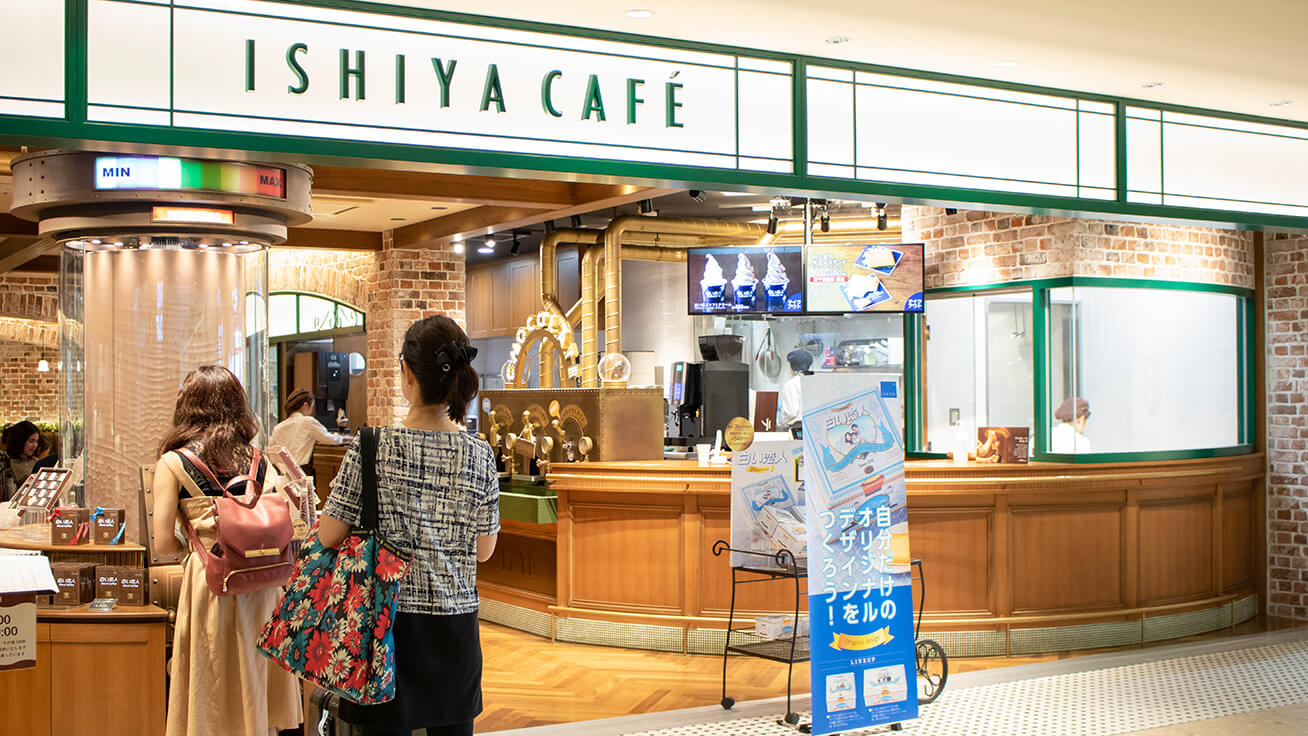 ISHIYA Cafe New Chitose Airport opened in July this year where visitors can taste a range of limited-edition sweets. The café is decorated like a chocolate factory, making it an enjoyable experience to look around and taste their chocolates. We checked out the cookie box customization service right away!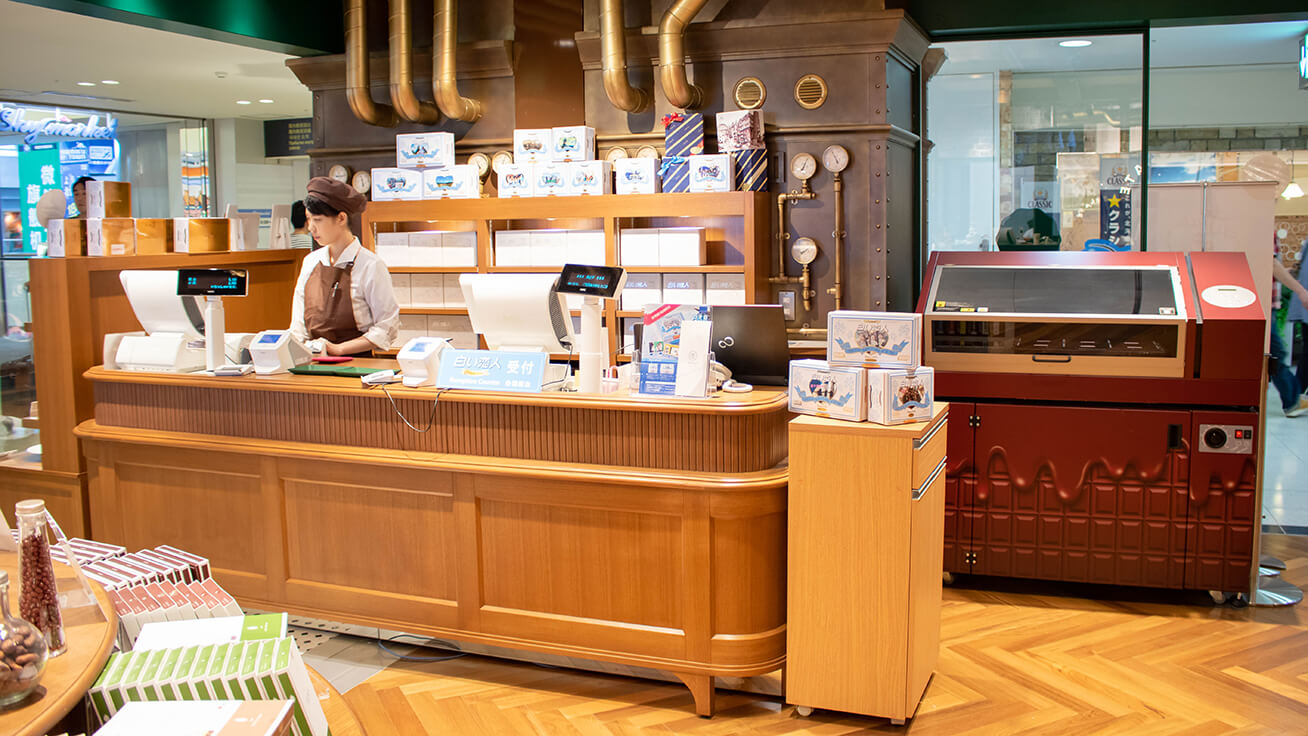 In keeping with the store's design, Roland DG's LEF2-200 had an adorable chocolate-style design.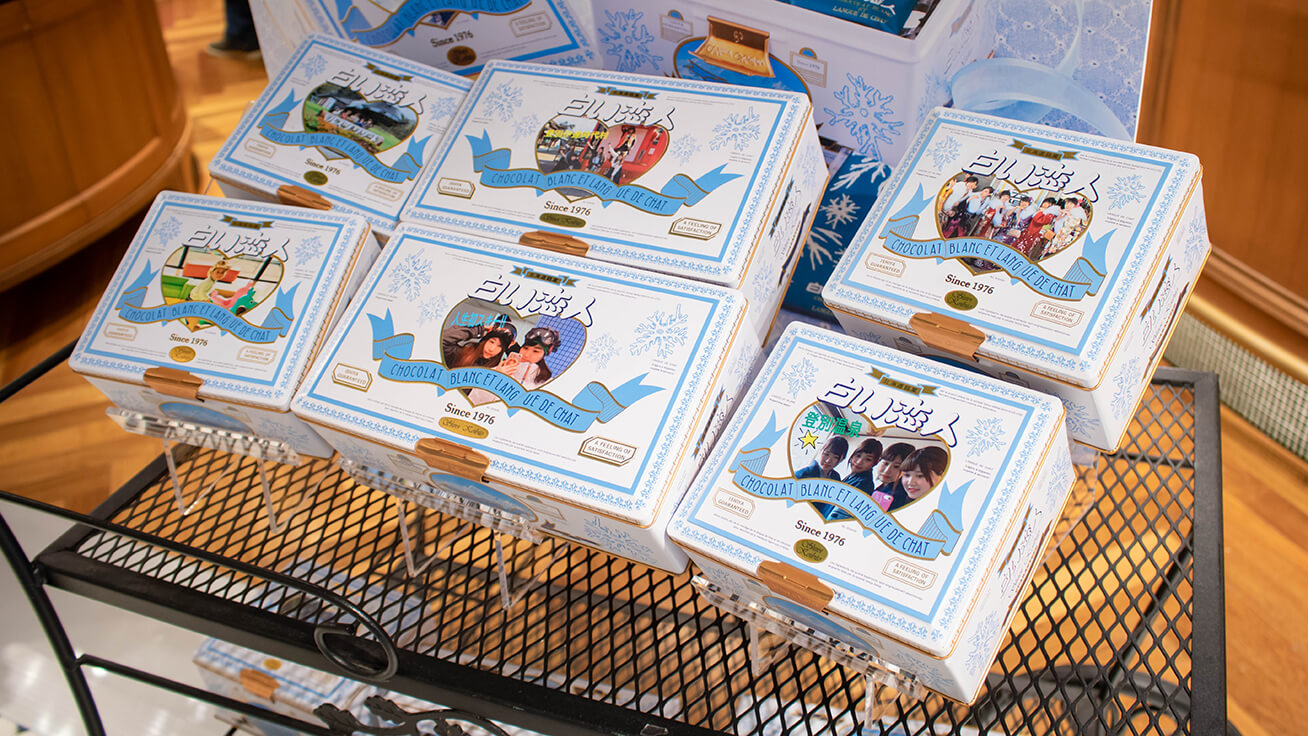 The most popular 36 pieces (right and left) and 54 pieces (middle) custom Shiroi Koibito cookie boxes.
The custom cookie boxes are available in 36 and 54-piece sets and can be printed with photos taken in the café with Mt. Rishiri or lavender field backdrops, or with customers' own favorite photos. Customers then use Roland DG's intuitive cotodesign design and print management software installed on tablets in the café to create their layout.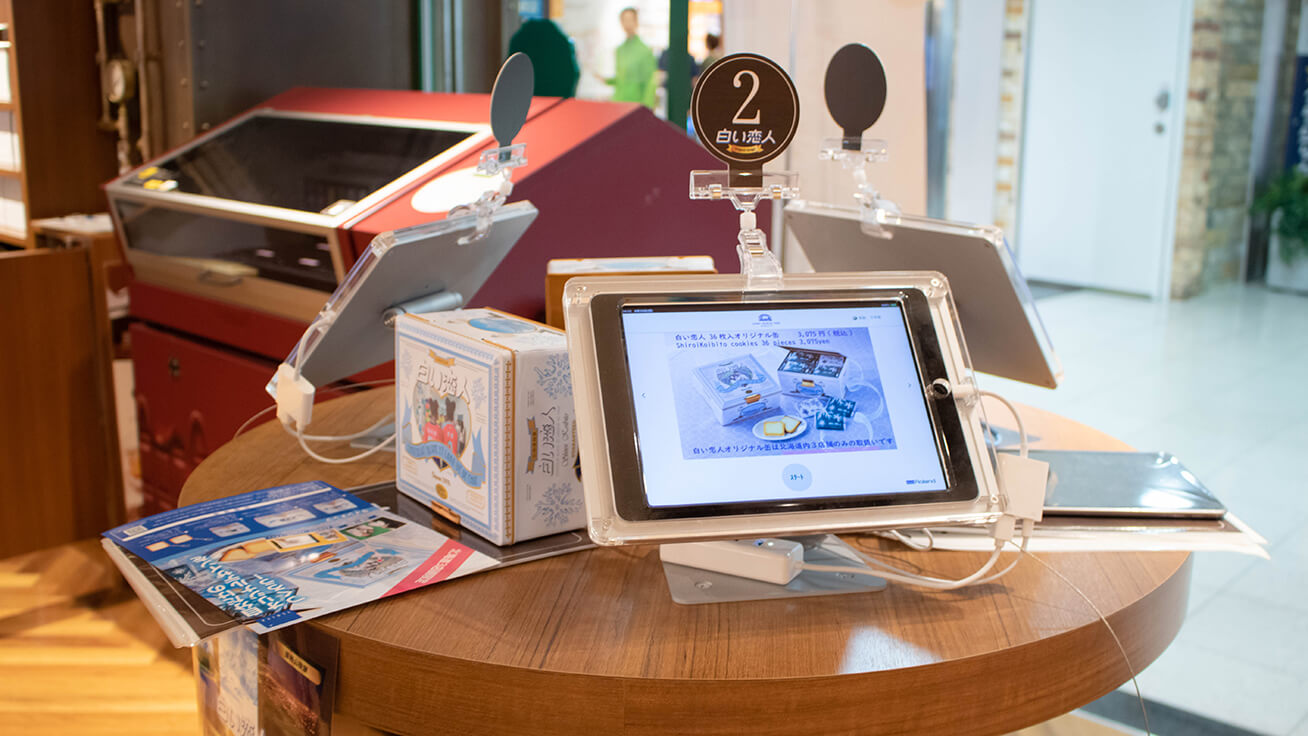 All editing, from designing to printing, can be done in the customization space in the café.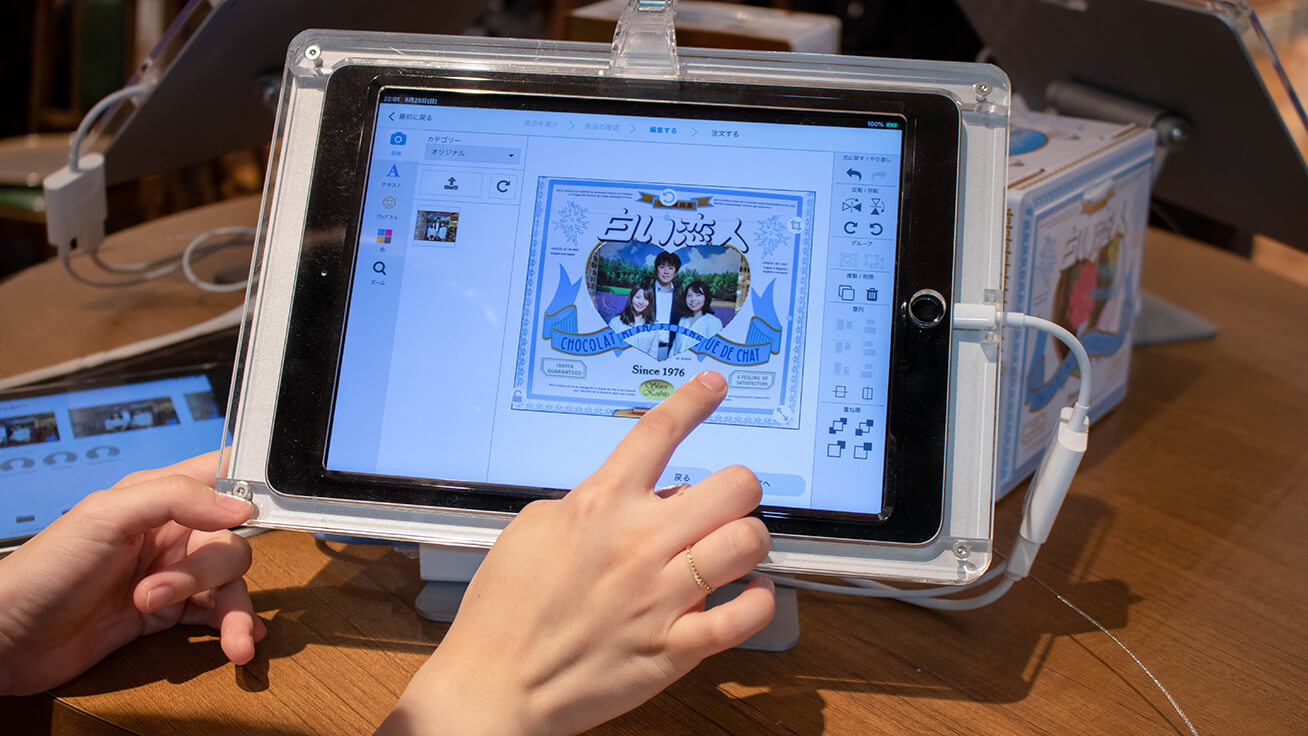 Editing the layout on the tablet screen using cotodesign. Text and stamp artwork can also be added.
Once the design has been completed, staff members place tin boxes into the UV printer to print on them. It takes only around 20 minutes for printing to complete, so even customers in a hurry can make a custom box in time to catch their flight.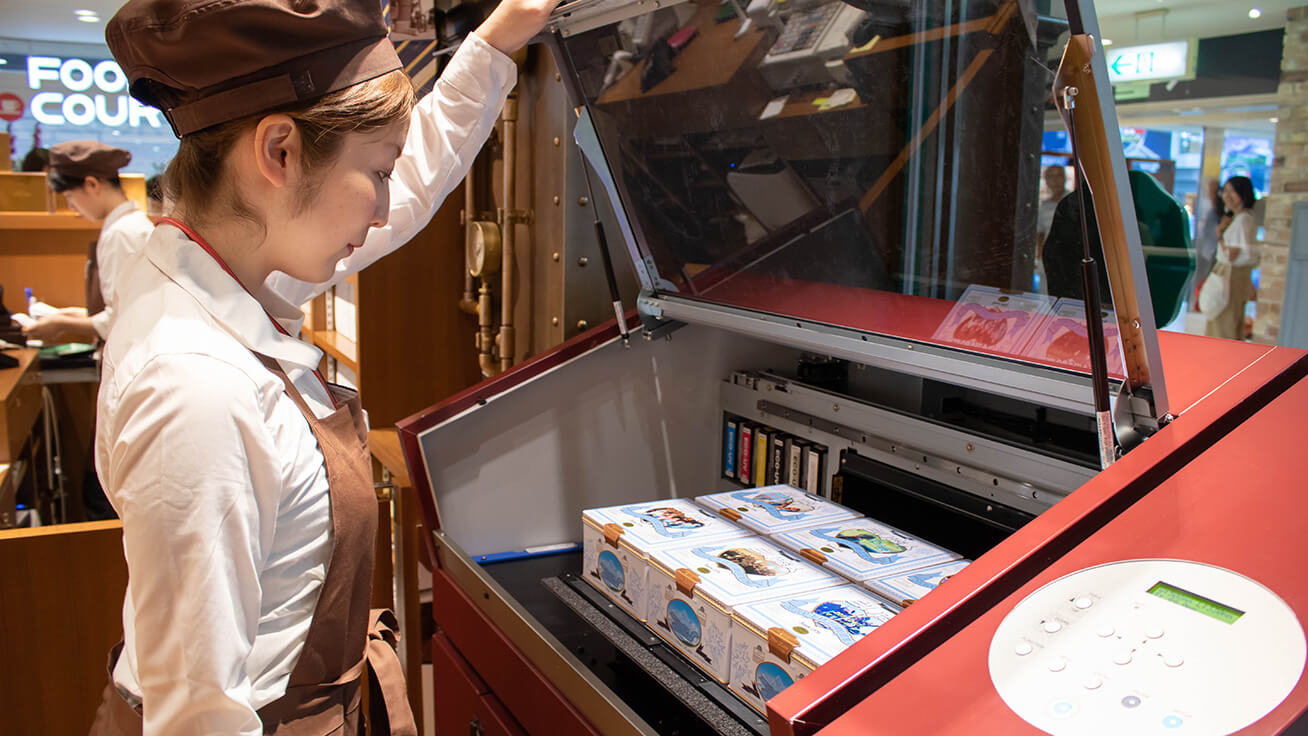 Adding prints to cookie boxes in the café with the LEF2-200 UV printer.
We asked what made the custom Shiroi Koibito cookie box idea such a hit.
We spoke with ISHIYA Cafe New Chitose Airport manager Maasa Sugimoto (photo below) to find out more.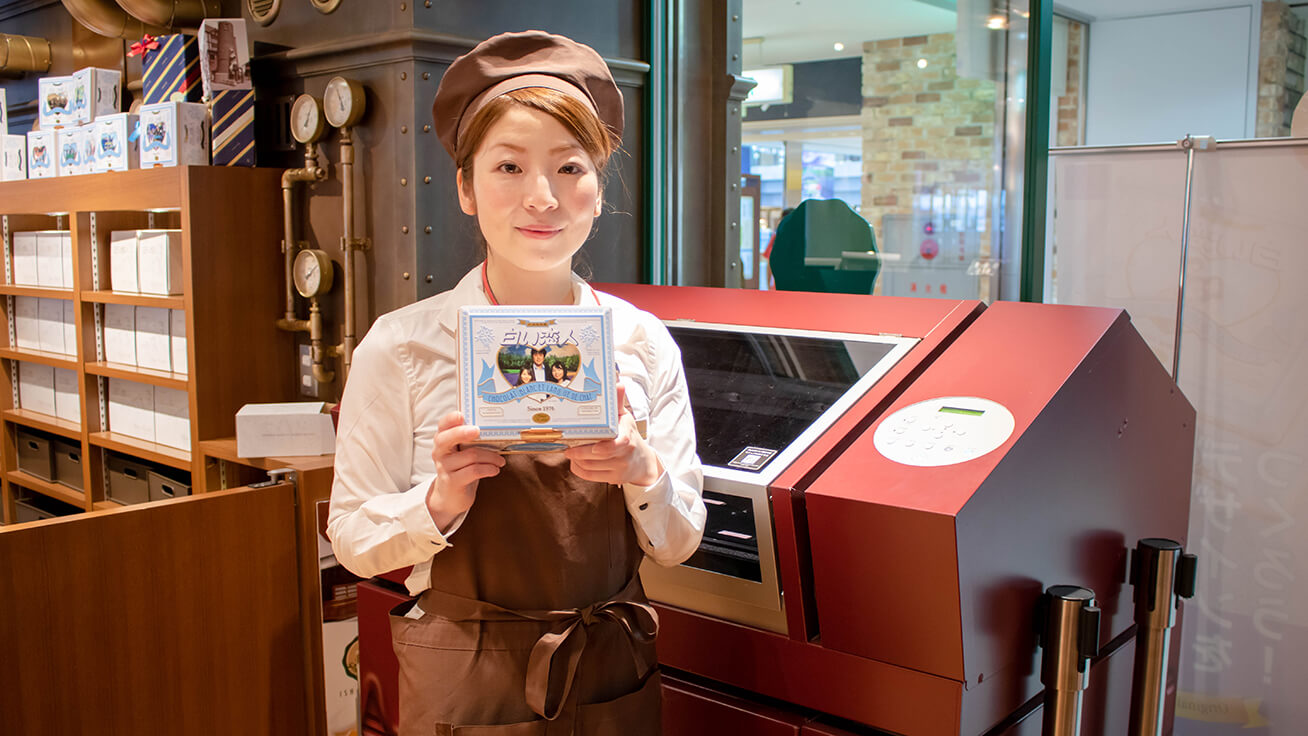 Making your very own cookie box in the cafe is so popular
Sugimoto: It was around 2000 when we started providing a service at our Shiroi Koibito Park location that allowed customers to make their own cookie boxes with commemorative photos. The service proved very popular, with more than 16,300 orders received in 2018.
Custom cookie boxes are popular souvenirs for people traveling to Hokkaido or those seeking a unique gift idea for family and friends. A lot of people also make designs with photos of their pets. Some customers even place orders for custom boxes regularly, perhaps with photos of their children growing up, or as novelty items and commemorative gifts featuring corporate logos.
A UV printer and cotodesign make the service even better
Sugimoto: In the past we used Roland DG's wide-format inkjet printers to print photos onto stickers, which we then applied to the cookie boxes.
In July this year we opened the New Chitose Airport café as well as reopened the Shiroi Koibito Park after renovations, so we took that opportunity to enhance our cookie box customization service. To do this, we set up the LEF2-200 UV printer for printing directly onto the boxes and the cotodesign software to edit designs easily right here in the café.
Customers are amazed that we can print directly onto the tin boxes and love the special feeling that comes with them. The UV printer we have set up in the café also draws a lot of attention.
Using a UV printer reduces the amount of time staff spent in the past applying stickers to boxes. cotodesign also helps to cut down on the time required for stitching and editing data when customers bring in their own photos, and makes it easy for customers to check the final layout of their design on the screen.
It is a great feeling and a rewarding experience when I see customers looking so pleased with their custom cookie boxes. I look forward to seeing even more customers using our service to create lasting memories of their travels to Hokkaido.
Service expanded to include the popular tourist attraction at Shiroi Koibito Park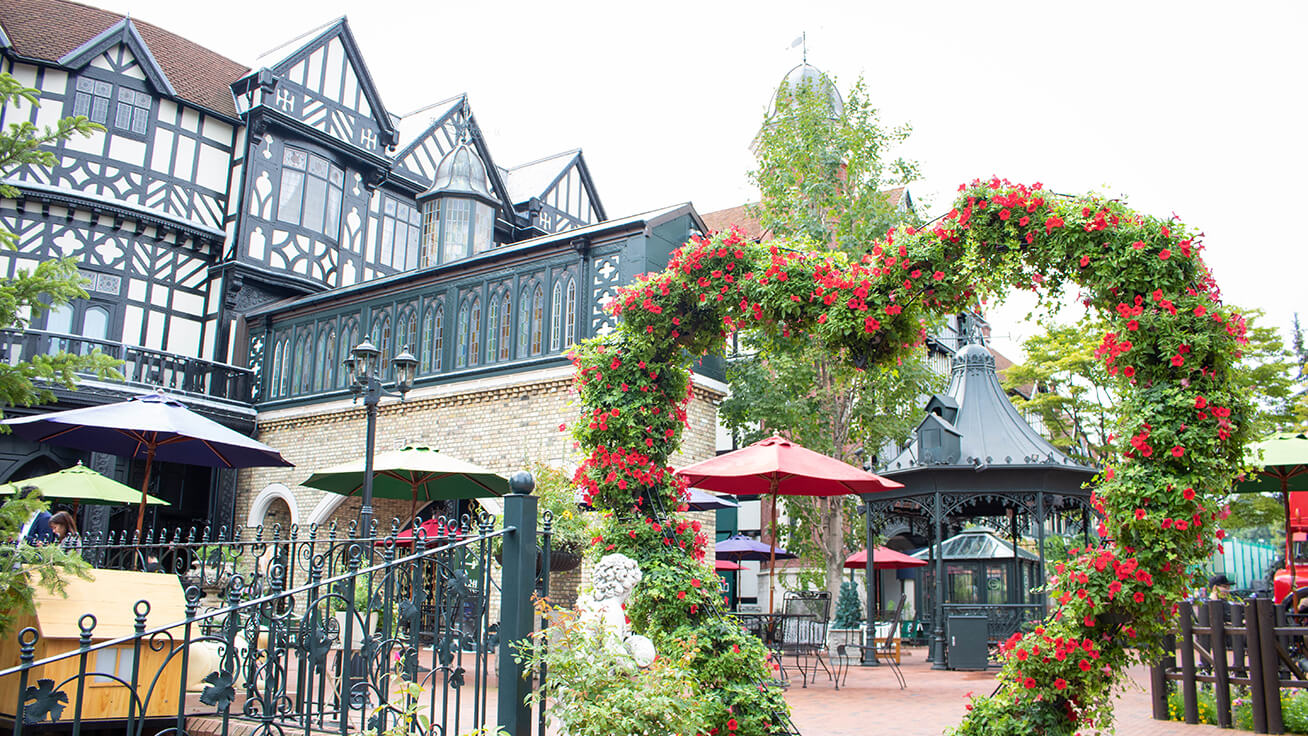 We also had the chance to visit the Shiroi Koibito Park located in Nishi Ward in Sapporo City, Hokkaido. With its beautiful gardens, factory tours and chocolate-making workshops, the park is a popular stop for tourists.
We asked Manami Ota (photo below), manager of Photo Shop MEMENTO where customers can place orders for custom cookie boxes, to show us around.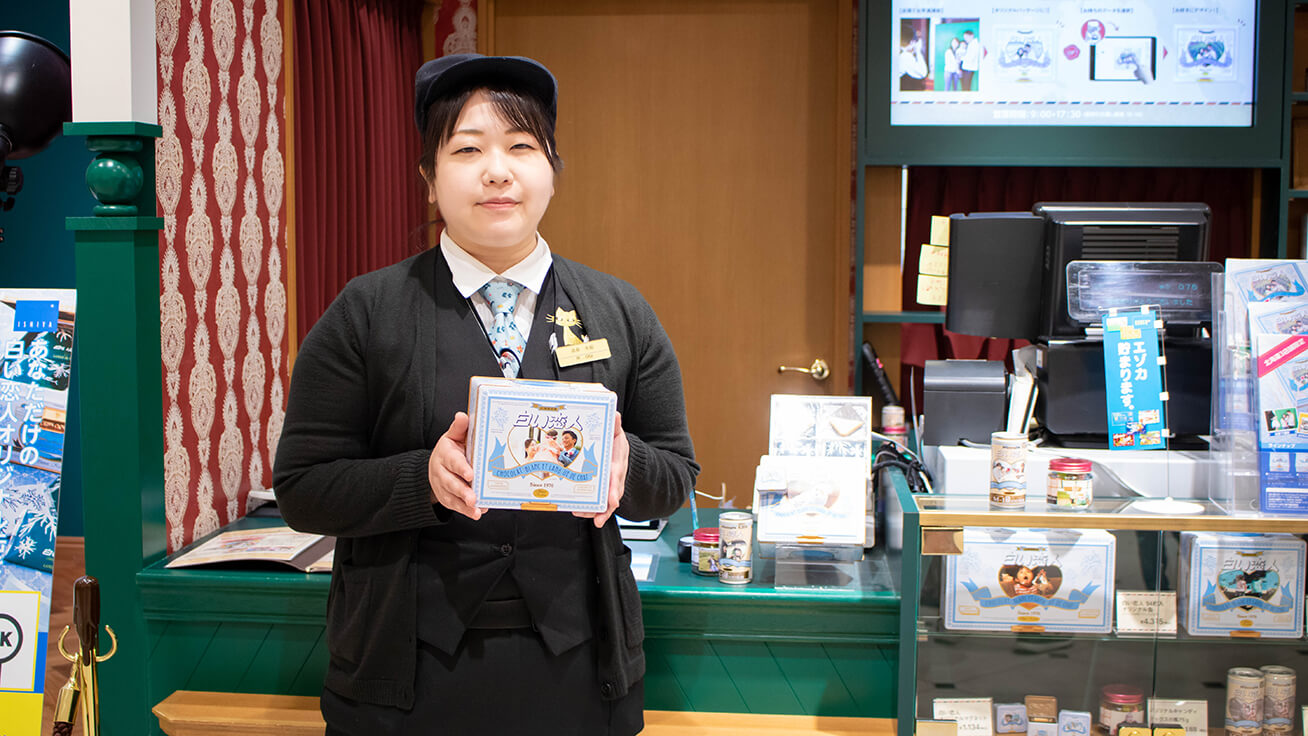 Ota: We used Roland DG's SP-300i inkjet printer for many years to make custom cookie boxes at Shiroi Koibito Park. In addition to custom cookie boxes, the LEF2-200 UV printer allows us to sell customized Shiroi Koibito refrigerator magnets, key chains and other accessories, too.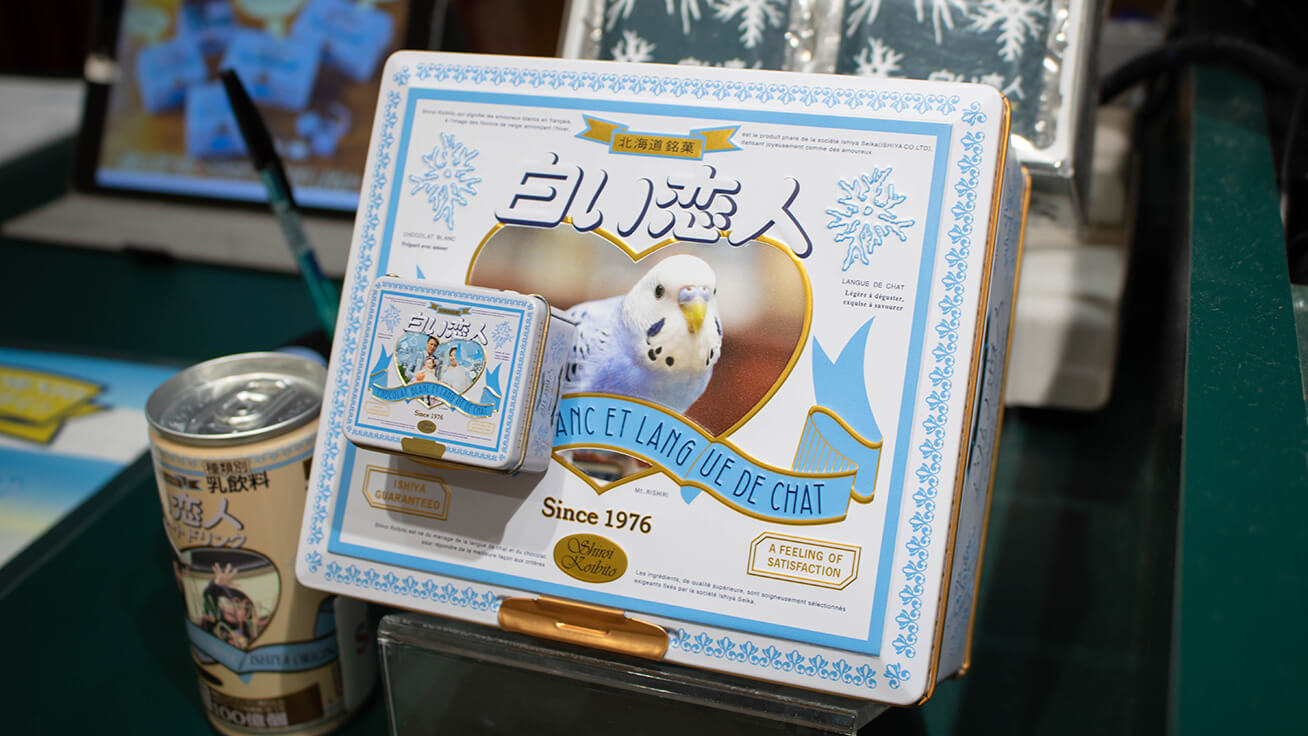 Custom Shiroi Koibito cookie tin boxes (rear), and other items like refrigerator magnets (front) are also popular.
Many customers have their photo taken here to make their own cookie box as a souvenir of their visit to the park. The service is also popular with visitors from all around Japan as well as overseas, like China and other southeast Asian countries. During the peak season, we often make more than 100 boxes a day.
We are thinking of how we can improve the services we currently provide, including expanding the range of products that can be printed and making limited edition designs that are only available here.
Thank you for talking to us about your services.
What a great service — making custom souvenirs filled with sweets that customers can take home as a memento of their visit.
This service was also covered in Sendenkaigi Co., Ltd.'s marketing magazine "HANSOKUKAIGI November 2019 edition" and online media "AdverTimes." (Japanese text only)