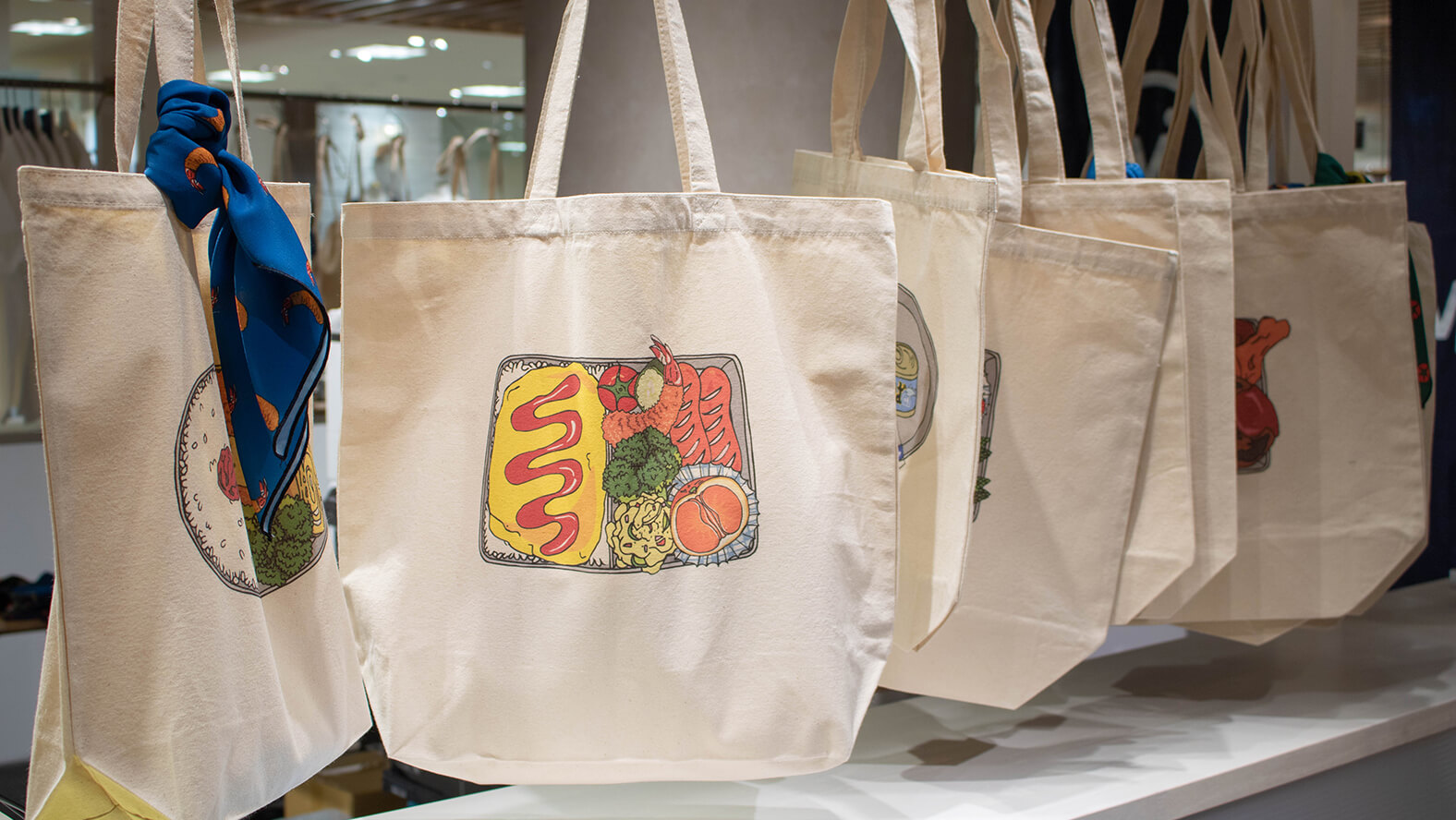 Creating One-of-a-kind Items with Unique Bento Lunchbox Designs
The membership-based, shared-factory Makers' Base provides a unique service that has become a trending topic on social media in Japan. The service utilizes Roland DG's BT-12 direct-to-garment printer that is designed specifically for printing on cotton-based fabrics to enable customers to print out Japanese bento lunchboxes they designed themselves onto tote bags and other items.
Shared factory Makers' Base is popular for its hands-on approach to workshops and began providing the customization service at the start of this summer where customers can place orders at event sites and stores as well as by email. Around 100 different types of food artwork are available for customers to arrange into their own one-of-a-kind lunchbox design, which can then be printed out onto tote bags, T-shirts or compact sacoche shoulder bags.
Taking a closer look at the bento customization event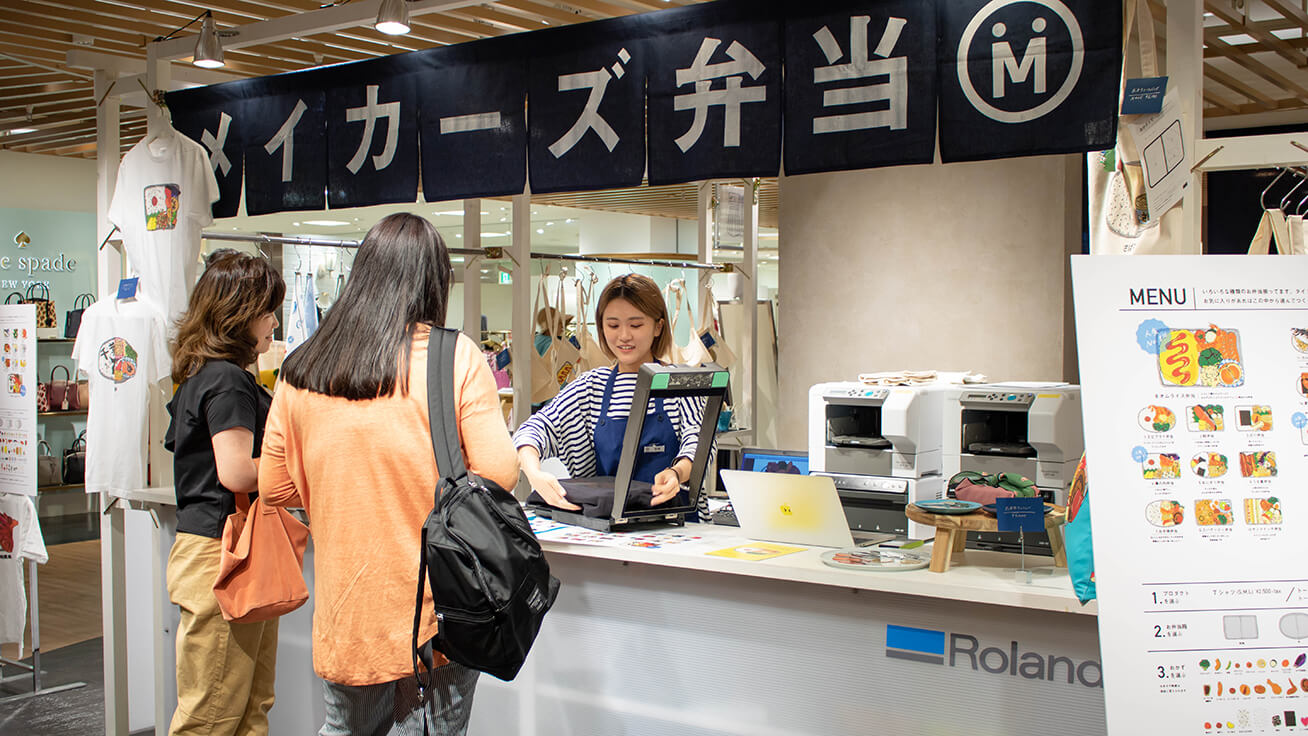 We heard that this bento-themed customization event was being run for a limited time, so we decided to drop by Sogo Chiba, a department store located in Chiba, Japan, to take a closer look. The event was held from August 28 to September 2, 2019 in a booth set up in the style of a traditional lunchbox stall in a section of the womenswear area of the main building.
Makers' Base Chiba is located in a wing of Sogo Chiba and is the second Makers' Base shared factory following the one in Tokyo.
Click here for our interview with Makers' Base Chiba
We were invited to have a look at how items are customized and made at the booth.
Customers could select a combination of different foods or choose their favorite lunchbox from the various designs available and arrange a simple lunchbox layout on an order form.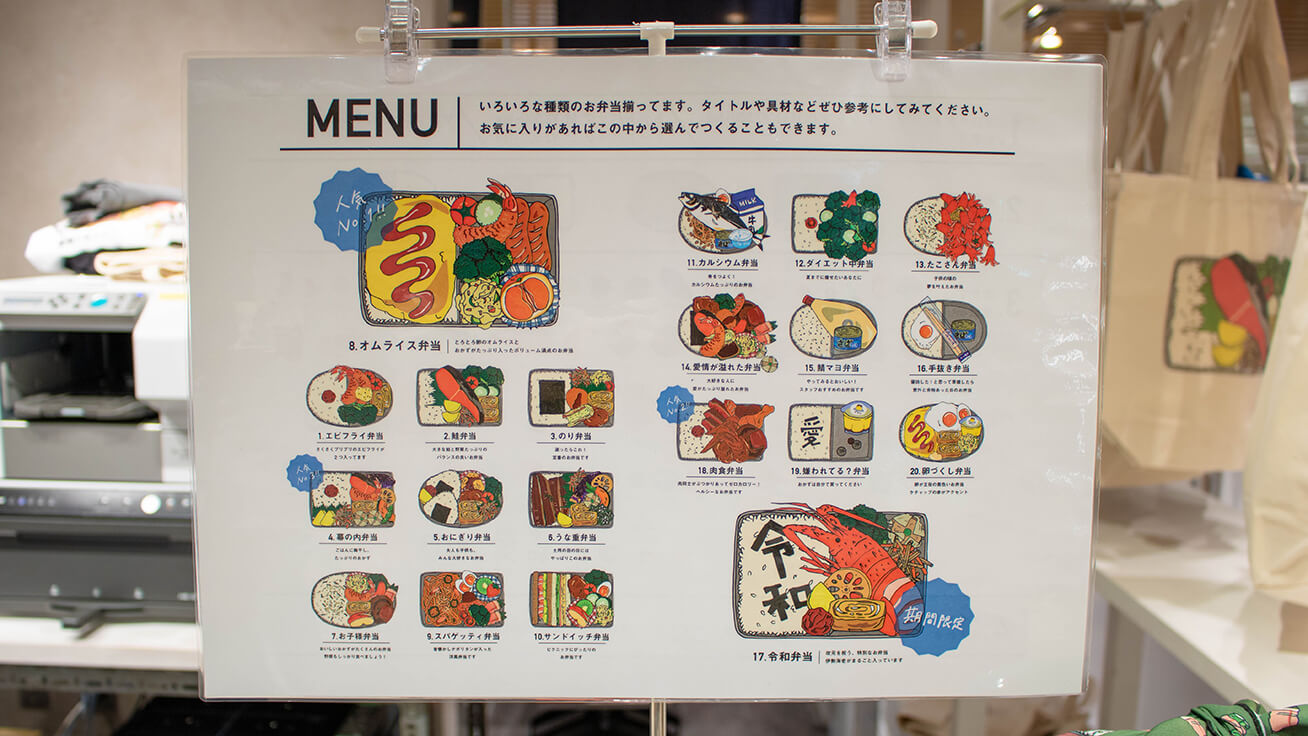 Tablets in the booth were available for customers to create their lunchbox pattern on the order form using cotodesign, Roland DG's design and print management software that is used at stores and events. Staff then print out the completed design onto items with the direct-to-garment printer in the booth before handing it to the customer.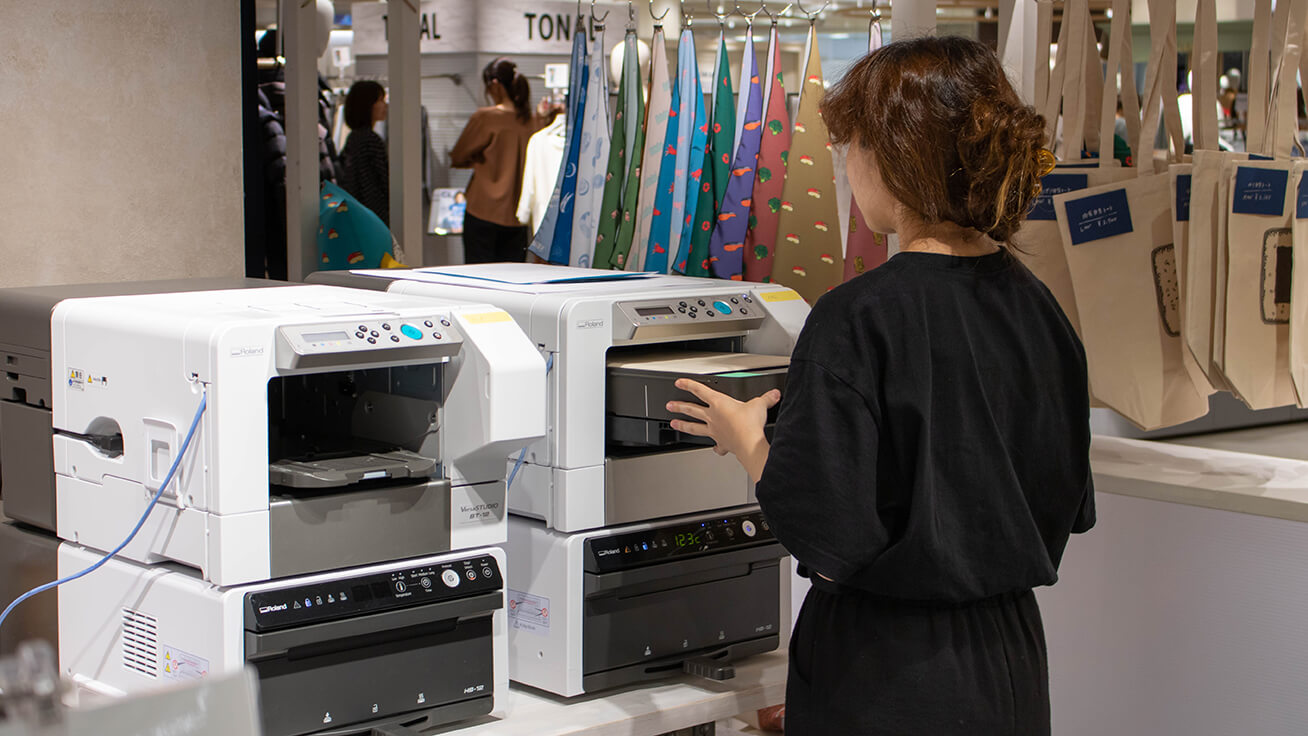 Printing out designs in the booth using the BT-12 direct-to-garment printer.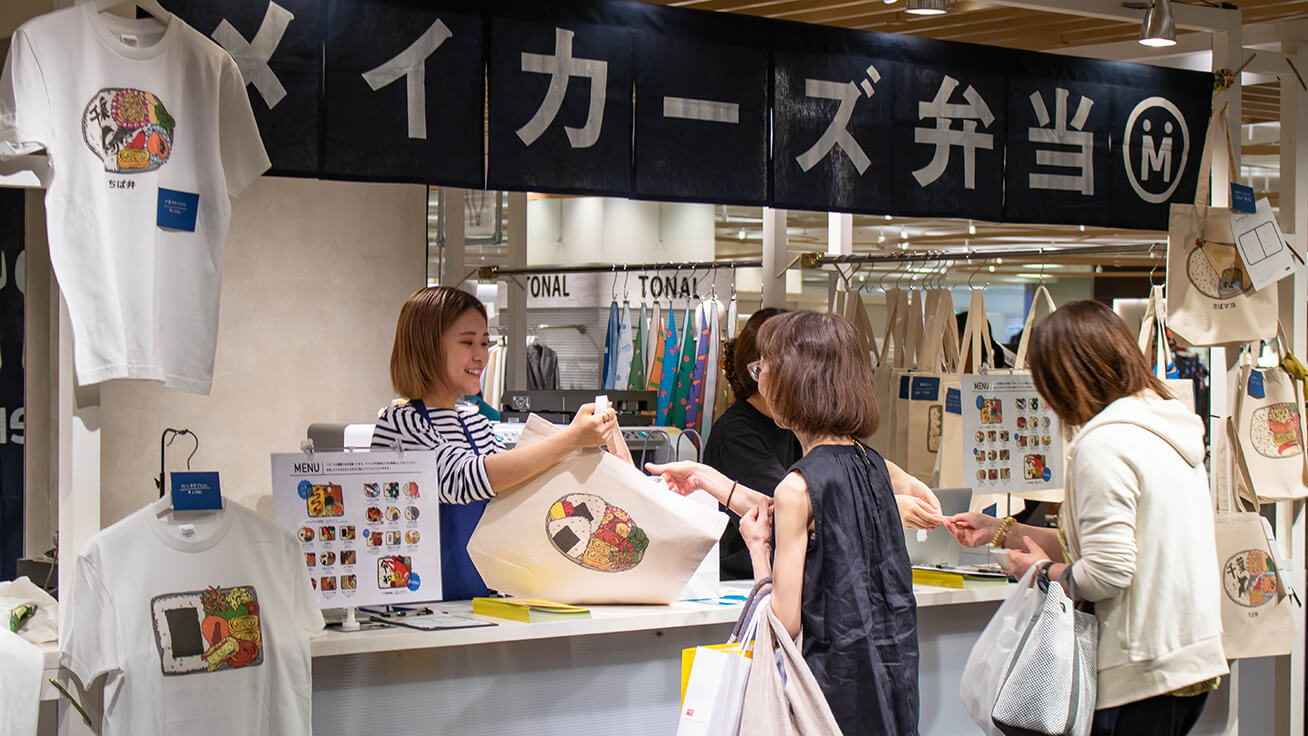 Customers can take home their printed items immediately upon completion.
Check out these items with unique bento designs!
There were a wide variety of items with lunchbox designs created during the event, from more traditional bento layouts to some truly unique ideas. Here are some designs that we found interesting.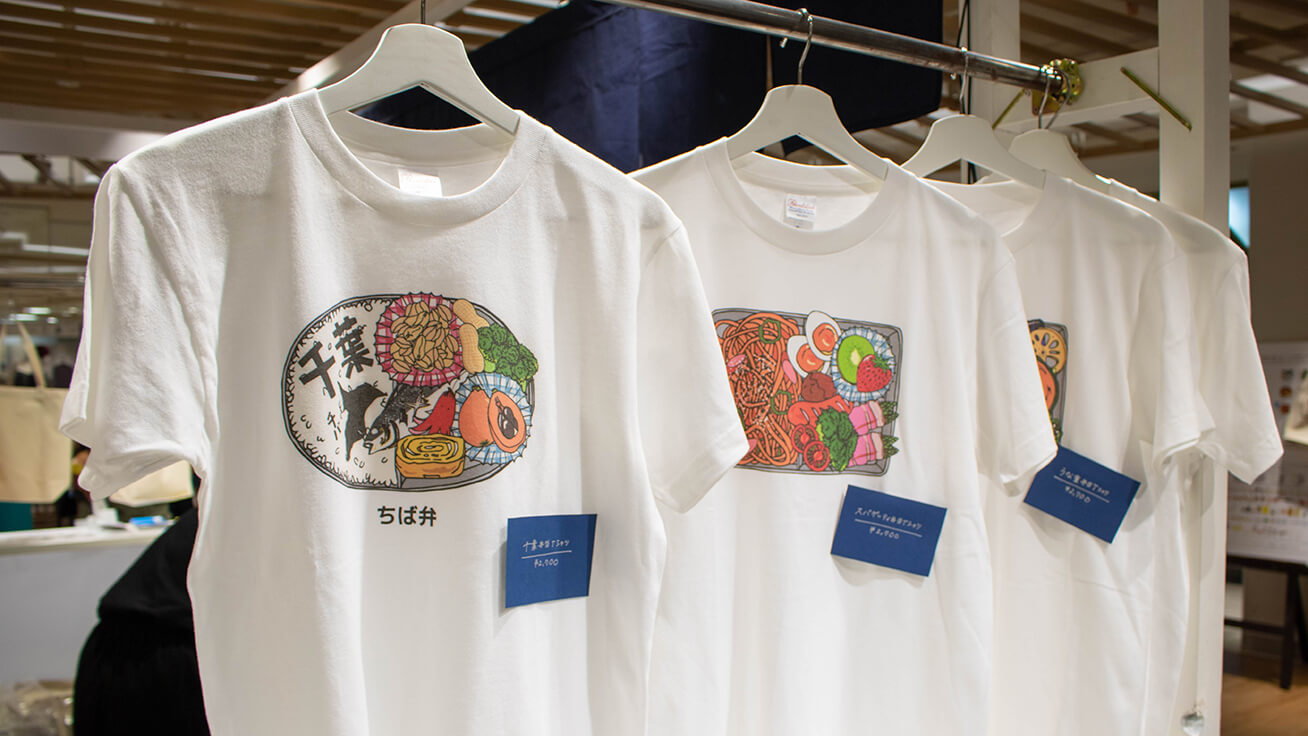 Exclusive event-only T-shirts with Chiba-themed lunchbox designs featuring local produce like peanuts (left).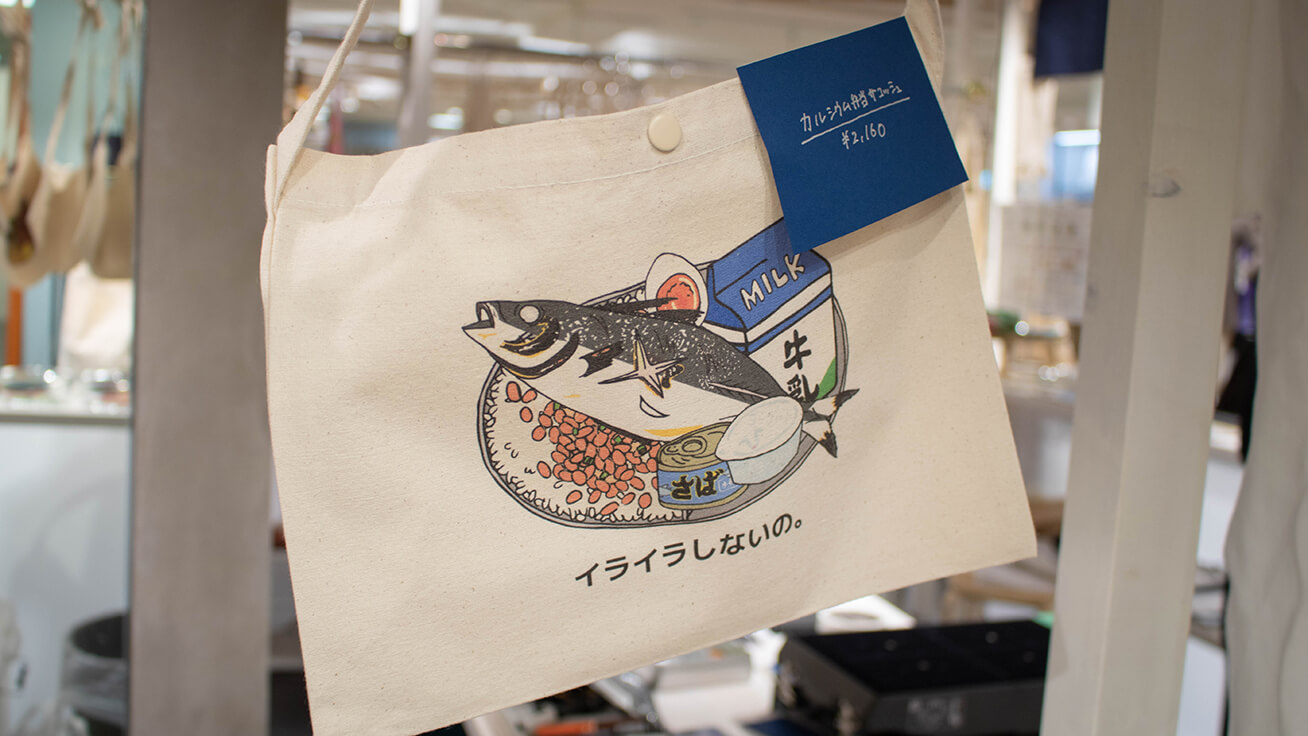 Sacoche with lunchbox concept featuring calcium-rich ingredients like fish and milk.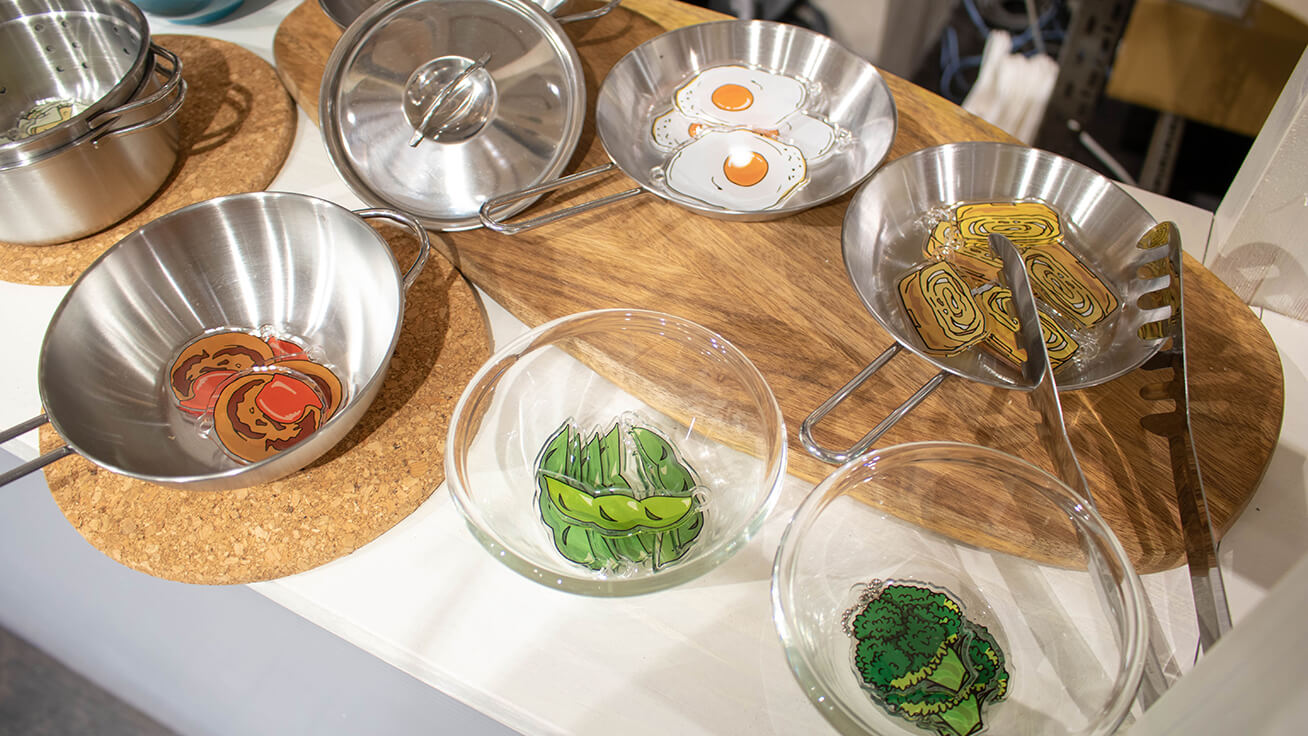 Key chains made with UV printers were also added to give bags a unique finishing touch.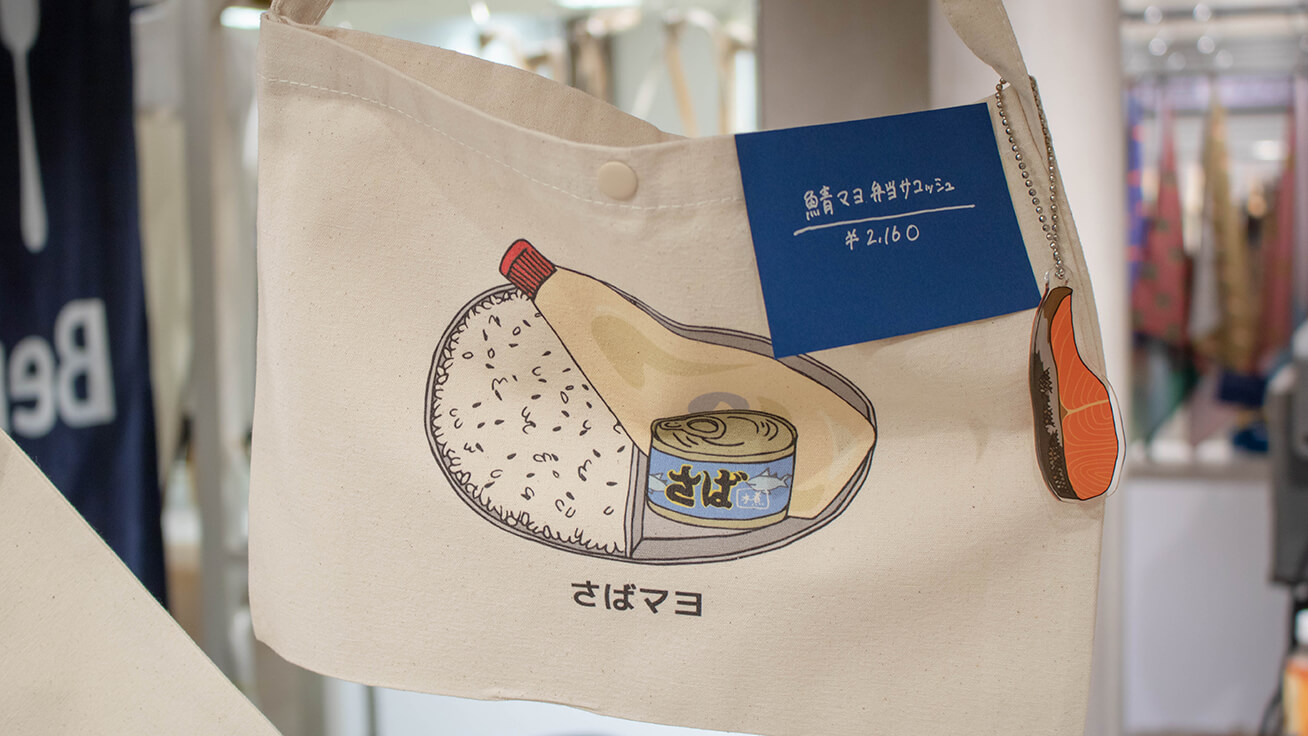 We asked Makers' Base about the concept behind this new service
We asked Junpei Matsuda, COO of Makers' Base (photo below), to provide details about the background to this new service.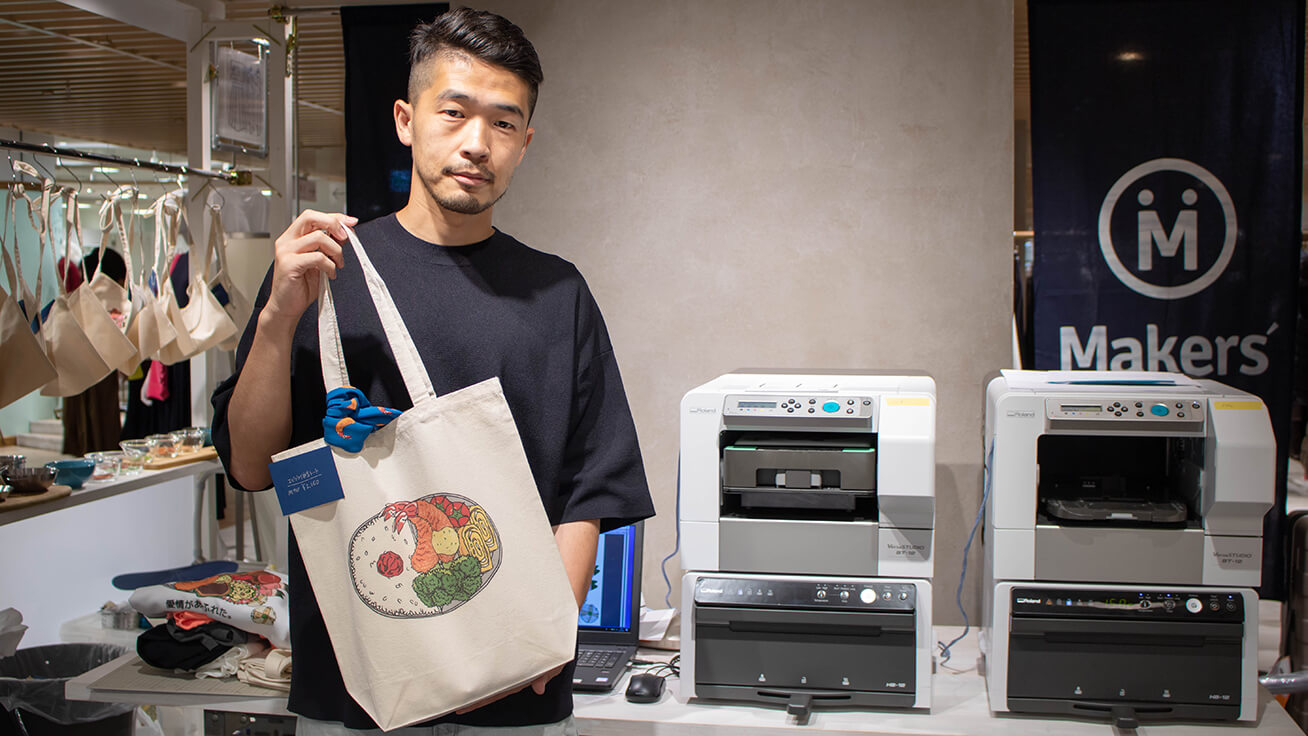 Creating items featuring your very own lunchbox design—tell us how you came up with this unique idea.
We came up with this idea in the Spring of this year when Roland DG contacted us to see if we could make something with their new direct-to-garment printer and design software.
We looked at ways we could harness the printer's feature of being able to print out items on the spot, and thought that creating items featuring your very own bento lunchbox design would be a good idea.
We ran a trial for creating items with lunchbox designs at the Design Festa art event held at Tokyo Big Sight in May, which turned out to be extremely popular. With such a positive response, we began providing a service where customers could send orders by email. We were also thinking about making the service available at other existing stores, and that is when we were contacted by Sogo Chiba about running an event. We wanted to create a truly memorable purchasing experience, and so we designed the event booth to look like a traditional store selling bento lunchboxes.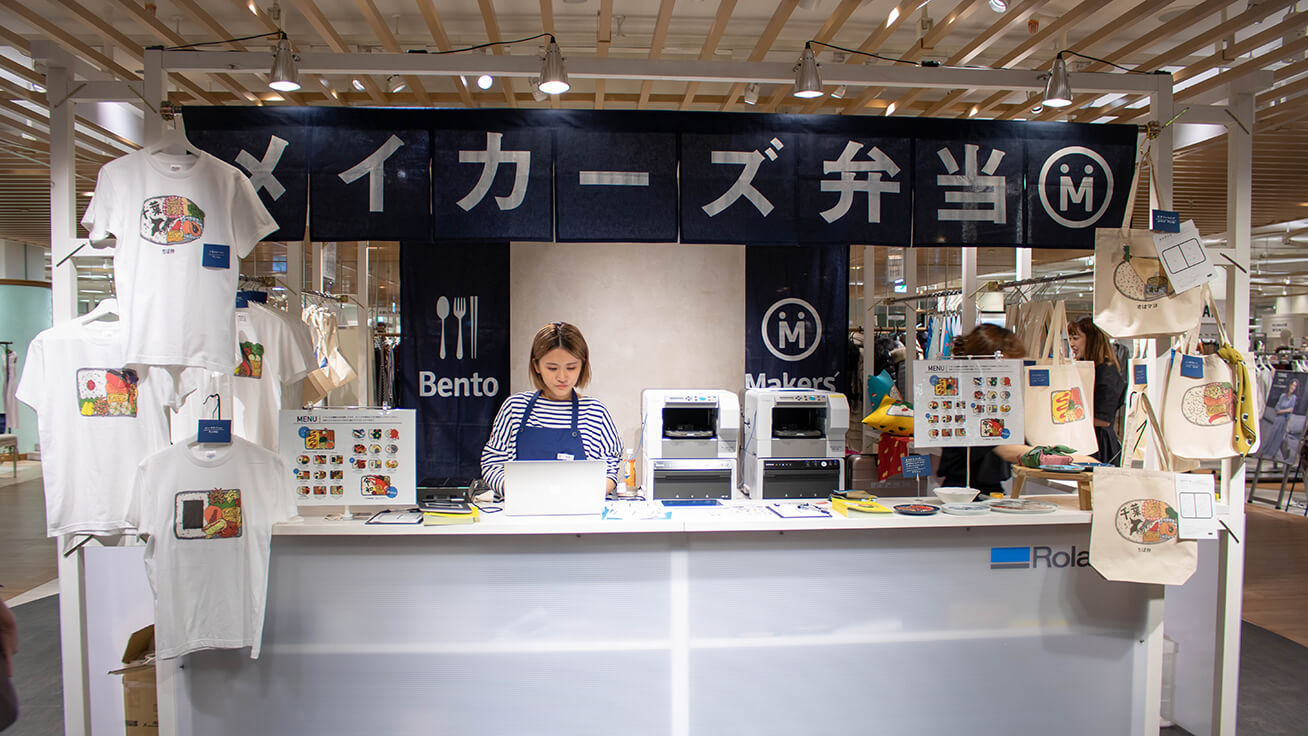 What are some of the key aspects of the service?
The main highlight is watching customers come up with some really interesting designs while they are selecting the foods for the lunchbox they chose. Ordinary customers might find "creating your own design" to be a challenge, and they may think it is too difficult or they lack an artistic design sense, but they have no problem selecting what dishes they like eating. We created the service to take out the tricky parts of the design process and to make everything fun.
We worked with our designers to create a range of different foods that everyone can enjoy.
What has the response been from customers?
The response was much better than we were expecting, and we also received many orders by email. We ran a similar event in Germany in August and many locals came to create their very own bento-themed items. It seems like the idea is also popular overseas.
What are your impressions after using the direct-to-garment printer?
We have been using Roland DG's UV printers and other products at our workshops, and recently began using the BT-12 direct-to-garment printer. This makes it so easy to print onto cotton-based products, and I think the initial investment and printing time are just right. It is the ideal product for these types of events or for providing customization services.
The BT-12 direct-to-garment printer is ideal for events and workshops.
Lastly, what plans do you have for the future?
Many of the workshops we run often attract customers who want to create their very own items. Meanwhile, accepting orders for the customization service by email seems like a convenient way to make one-of-a-kind items for people who are living further away and unable to visit, or customers who think they might lack the required fabrication skills. I hope we can expand and make improvements to this service by using the direct-to-garment printer.
Thank you for your valuable insight and for showing us around the booth.
Printed bento lunchbox designs is such a unique service, we wanted to try it out for ourselves! We hope to see the service grow and expand in the future.
Click here for details on the bento lunchbox customization service provided by Makers' Base (Japanese text only)