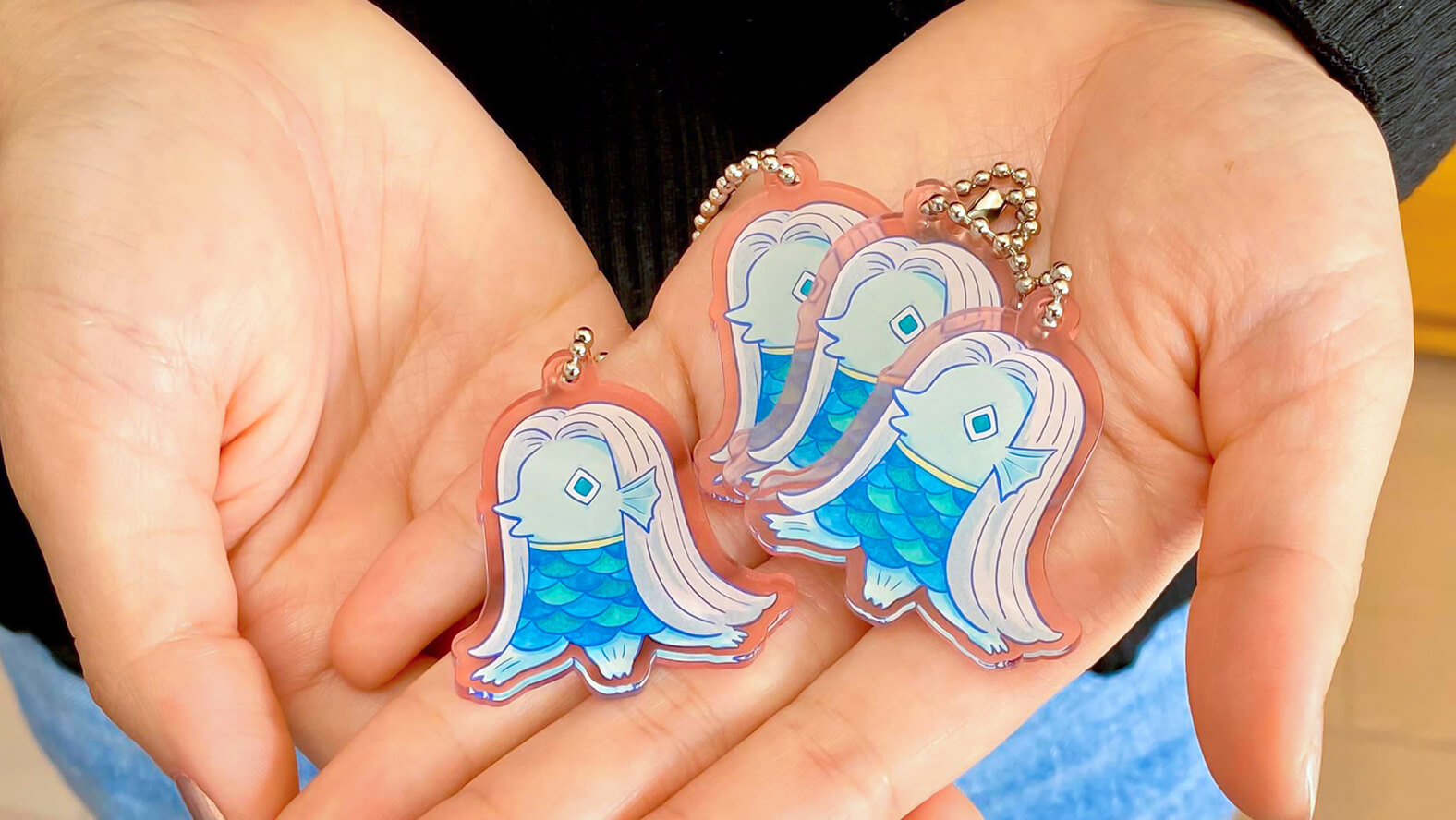 Using UV Printers to Make Customized "Amabie" Accessories for Repelling the Pandemic
07/07/2020 Digital Printing
As the COVID-19 pandemic continues to spread around the world, a mythical Japanese spirit called "Amabie" has become a popular character in Japan. Reputed to ward off sickness and viruses, images of Amabie have been shared widely on Twitter and other social media platforms — you may have already seen them! According to legend, Amabie comes from Kumamoto in southern Japan which is also where a Roland DG customer became one of the first to launch a service for creating custom Amabie-themed key chains using UV printers, making it a great way to boost the #AMABIEchallenge.
Who is Amabie?
Amabie is a yokai, or mythical spirit, that is said to have first appeared in Higo Province (today's Kumamoto Prefecture) during the Edo period, with the prophecy, "If a plague comes to ravage your area, draw a picture of me and show it to other people." The legend of Amabie began trending on Twitter around March when novel coronavirus infections were starting to quickly spread. The #AMABIEchallenge, where participants post their own images of Amabie with the hope of warding off the coronavirus, began to draw increased attention.
Virtual interview with Kumamoto design studio NEST GRAPHICS
We chatted virtually with President Nobuhiko Kawakita (photo below) of NEST GRAPHICS design studio which has been producing Amabie-themed key chains.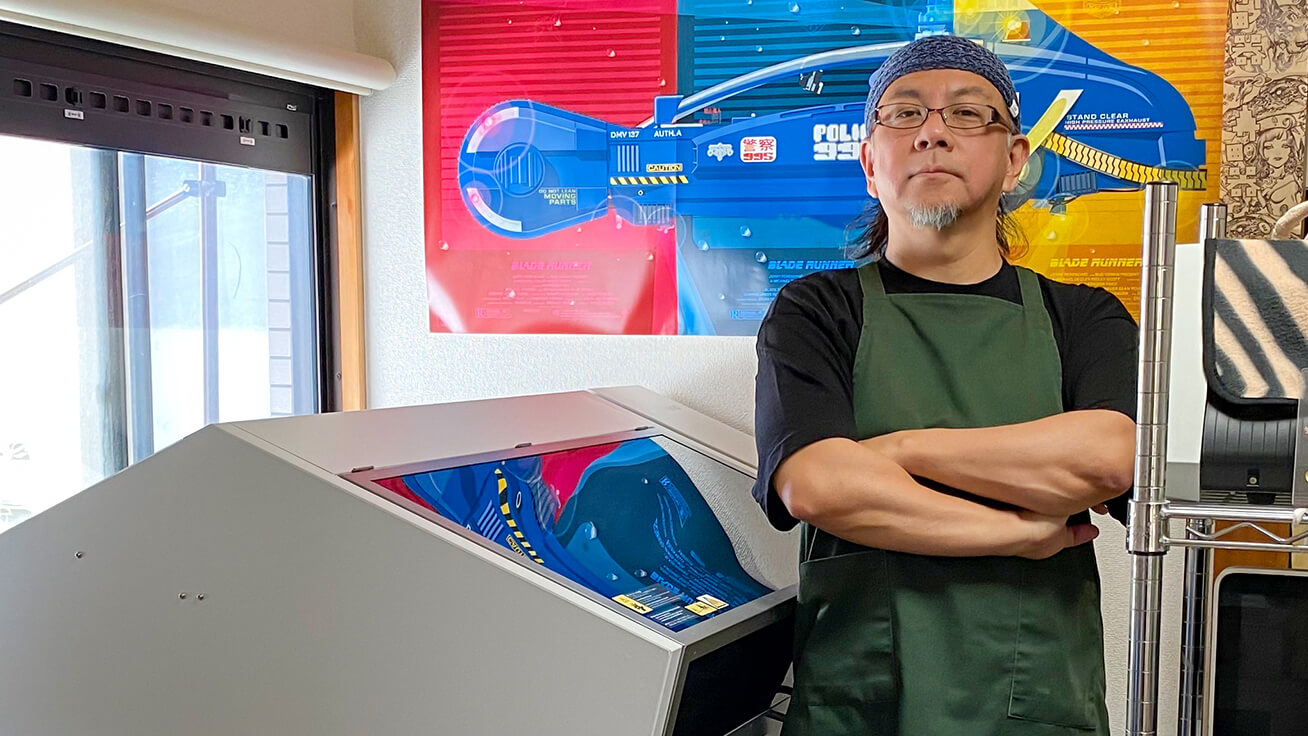 Roland DG: To begin, please tell us what type of work NEST GRAPHICS is involved in.
Kawakita: After 25 years working at local design studios and publishers, I started my own business and created NEST GRAPHICS. I have two staff members who also work here with me.
We provide advertising and logo designs for local restaurants and businesses, as well as a fabrication service for manga and anime fans and creators to make one-of-a-kind items out of acrylic (available only in Japan). We print the customer's designs using UV printers with acrylic key chains and acrylic stands being the main types of products we make.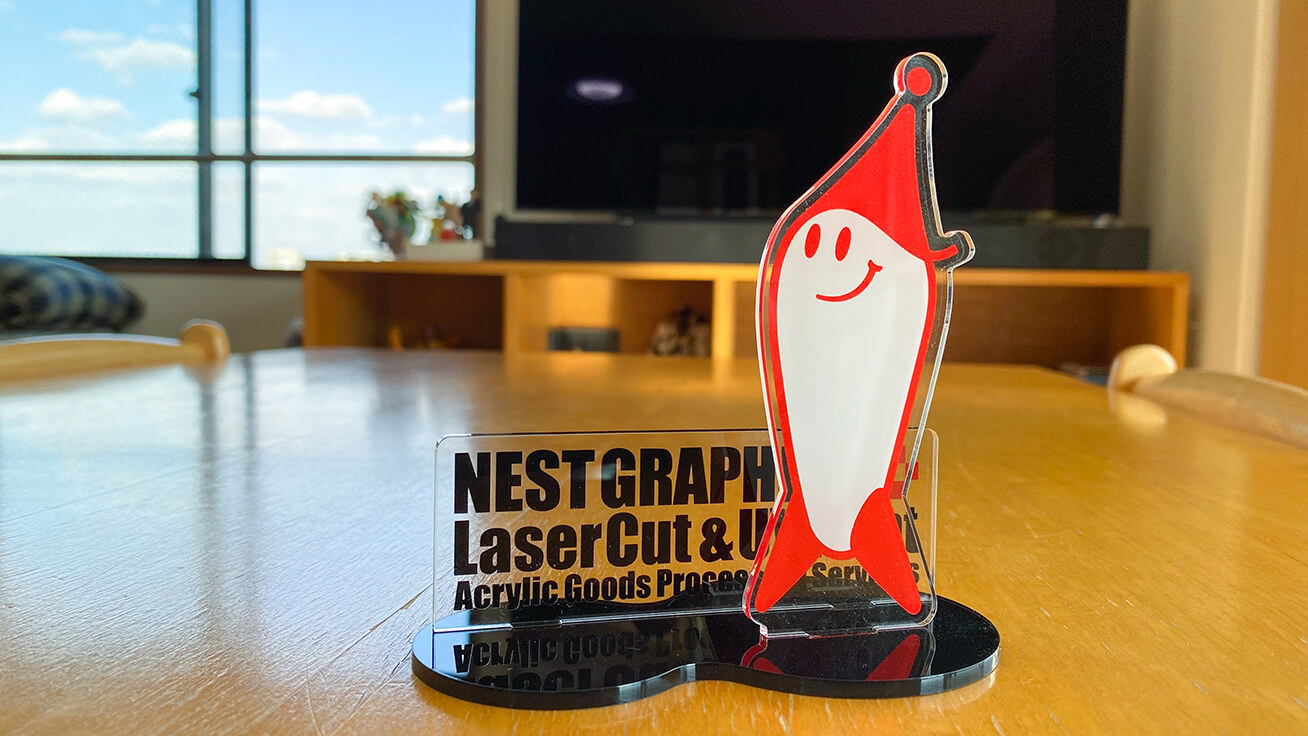 High-quality products are popular with creators. This acrylic stand features the NEST GRAPHICS character mascot.
The Kumamoto earthquakes were an opportunity to shift business to customized items
What inspired you to start making one-of-a-kind items?
I have always loved making things and I started using laser engravers about five years ago to make prototypes as a hobby of sorts. When I was looking for other ways to use the device, I attended a Roland DG seminar in Fukuoka where I learned that they can be used together with UV printers to make end-user products, which immediately piqued my interest. After comparing various models, I decided to go with Roland DG's UV printers because they had the best-looking colors.
The Kumamoto earthquakes struck shortly after, and all local design work disappeared almost overnight in much the same way as shutdowns during the current coronavirus pandemic. Customers around Japan that followed us on Twitter must have become worried so they began sending me more and more acrylic fabrication jobs, and now that has become my main line of work. Even when I am working on designs, I can make actual samples straight away using the UV printer — it is so useful for me.
What are the steps involved in making items?
We print illustrations that customers send to us onto key chains. I post the deadline for the next production run on Twitter, and it takes around 10 days to print and deliver the designs we receive for that production run.
I am always looking for ways to incorporate feedback like, "This type of service would be great," from my staff who are into manga and illustrations. We are trying many different methods to set ourselves apart from bigger printing companies, including applying our very own method to achieve better quality by printing numerous layers, or providing a service where you can print as much design data as you want onto a single A4 size sheet.
One of the first to provide an Amabie key chain service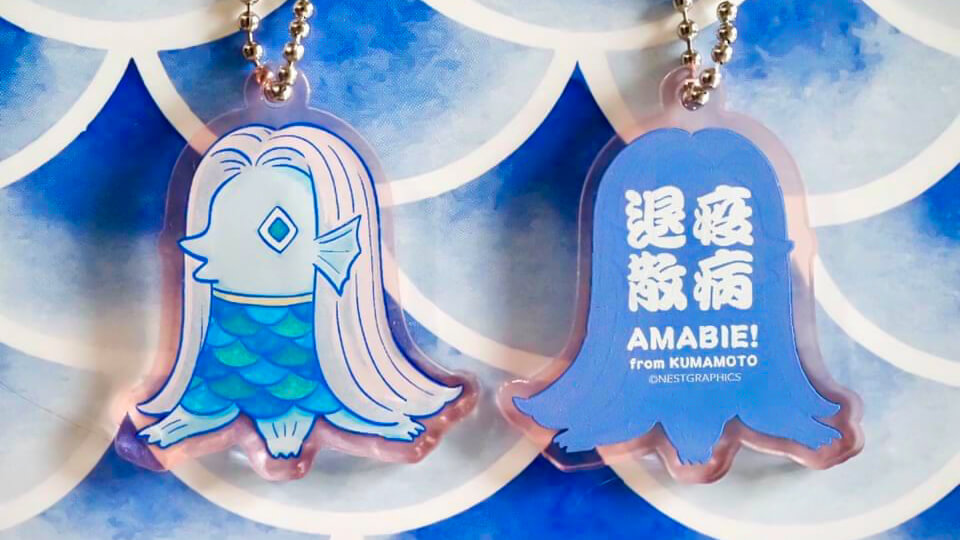 Your Twitter-based Amabie service was featured on the national news. How did you first roll out that service?
There was a general feeling of uncertainty everywhere at the start of March, and it was around that time that I noticed many people posting illustrations of Amabie on Twitter. I later learned that Amabie was actually a local Kumamoto yokai (mythical spirit), and that everyone was drawing their images with the hope of keeping the virus away. I thought that if we could make key chains featuring the Amabie drawn by others, it might help to boost their spirit just a little bit.
The very next morning, I had one of my staff who is good with illustrations draw a picture of Amabie in 30 minutes, and then I quickly made a sample using the UV printer. Two hours later I tweeted: "Want your own Amabie key chain for 500 yen?" and the response was great. It might have been because I came up with the idea before anyone else, but local and national news stations started calling, and I received 300 orders in just three days.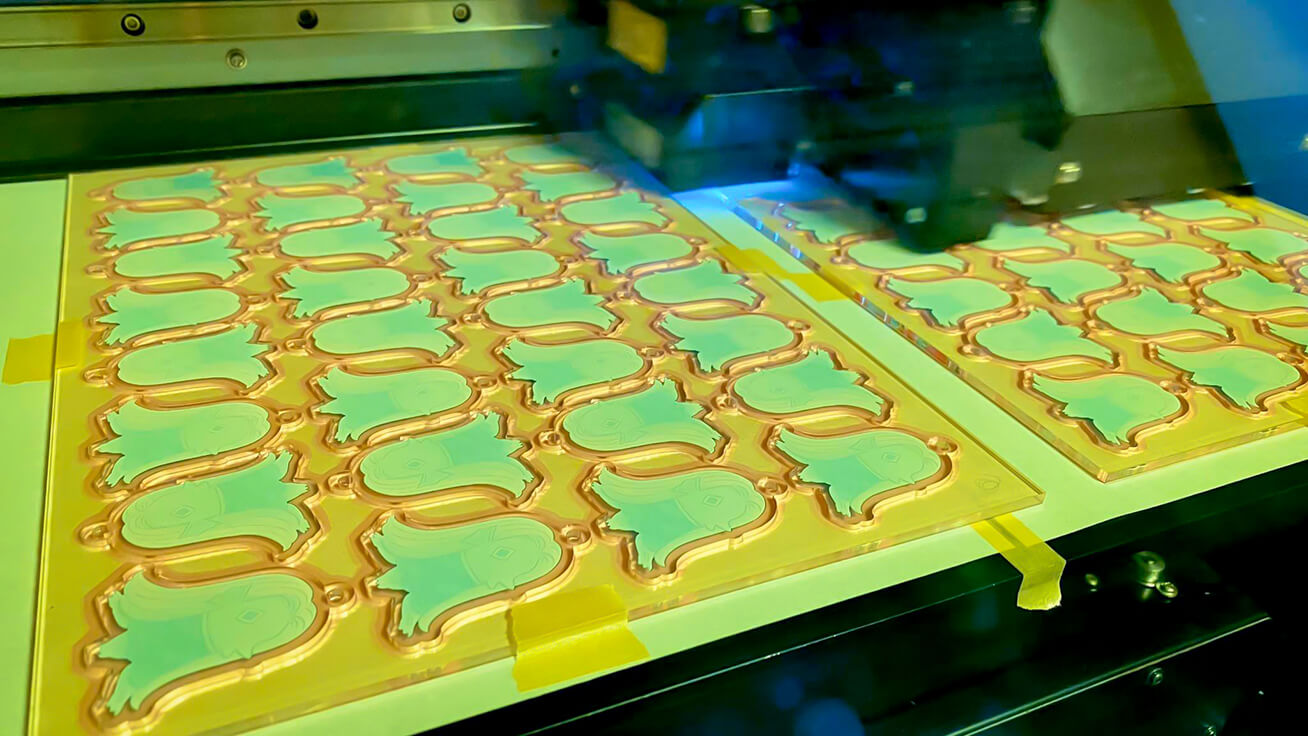 Amabie designs made by NEST GRAPHICS staff are printed onto key chains using Roland DG's LEF2-200 UV printer.
What was the response from customers?
So many customers tweeted photos of their own Amabie key chains or messages of appreciation.
We originally thought that customers would be sending in their own illustrations for us to print, but many of them told us that they actually wanted one of my sample Amabie key chains, so we began selling them. Some people have told us that they wanted to give something to students as a special charm because their graduation ceremony was canceled due to COVID-19.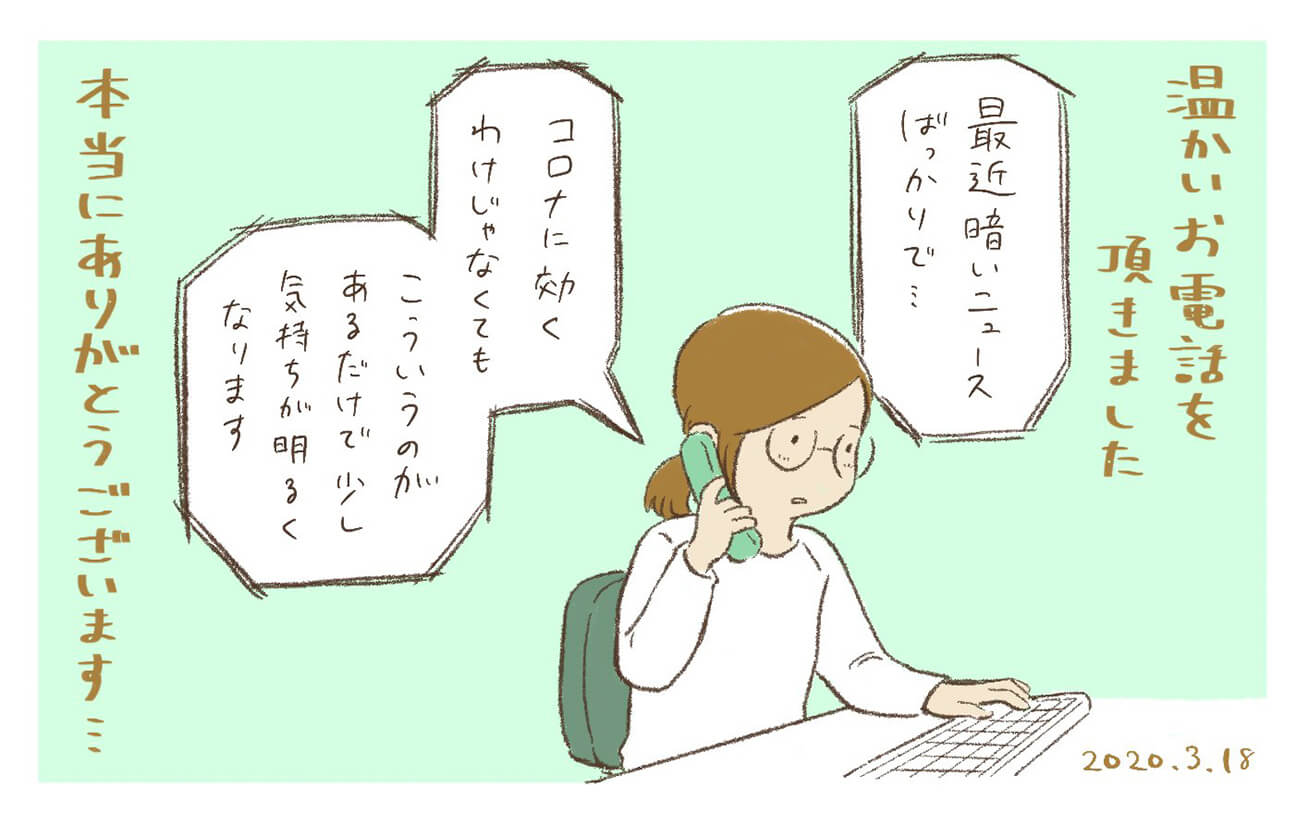 Customers living farther away even called to say thank you (illustration above from NEST GRAPHICS official Twitter page).
The key chains are supplied at wholesale prices to local restaurants, bars and businesses that are suffering from a turndown due to the pandemic with any profits going to their own sales.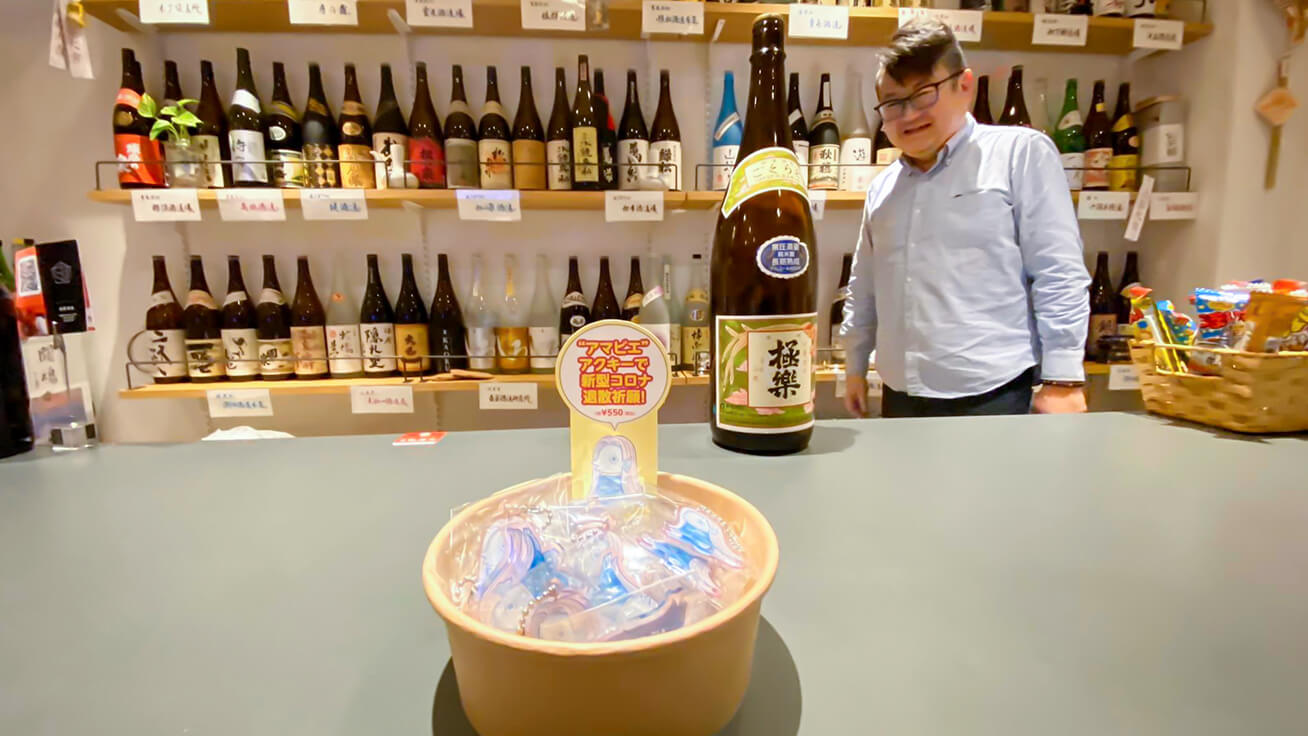 The key chains are also sold at local bars.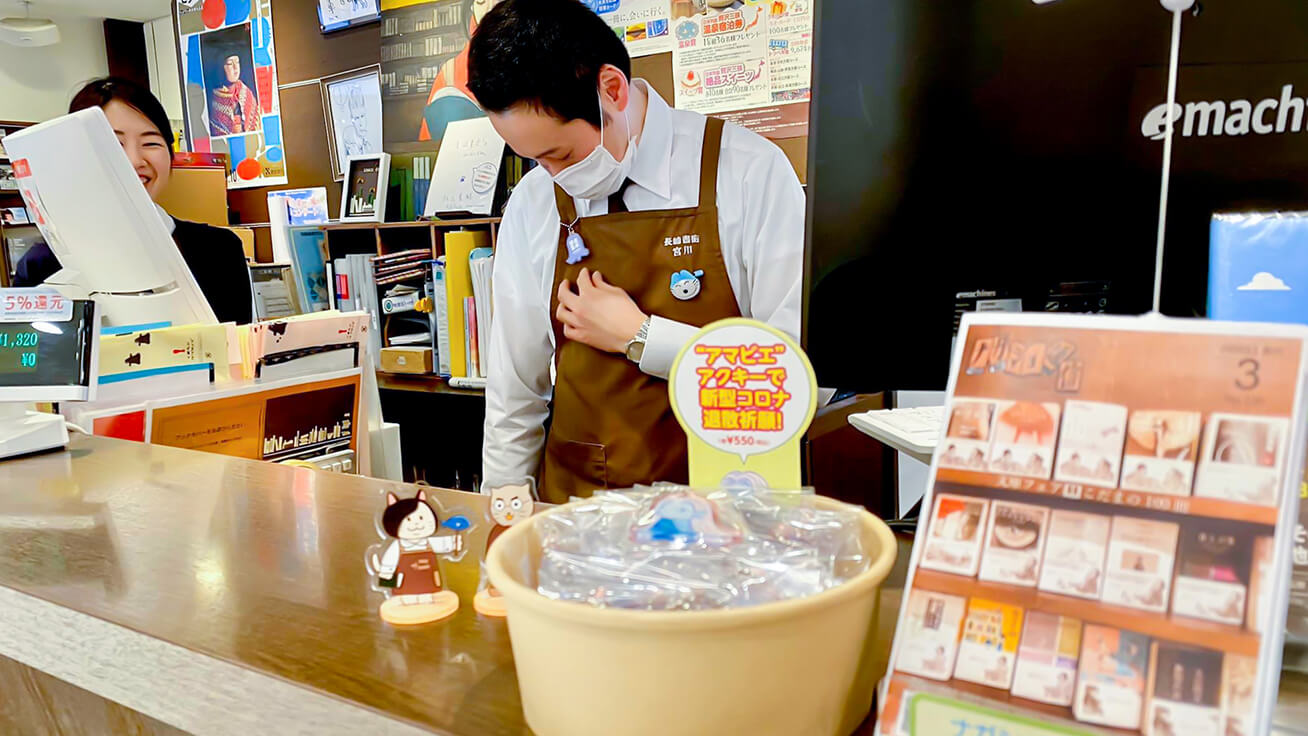 And even at bookstores. Staff members are even wearing their Amabie!
Coming up with enjoyable ideas with customers
What is the most satisfying thing about making customized items?
It is the messages of appreciation I receive like, "Thanks for making them so nicely." While we are focusing on improving quality, we also think it is important to keep increasing our fan base. To create a closer connection with our customers, we provide a range of different information on our official Twitter page, including our deadlines for our next production runs, tips for creating professional-looking data, scenes from our production workshop, and sometimes even entries from illustrated diaries by our staff.
Are there any new challenges you want to try in the future?
I thought it would be great if I could work doing the things I love, so I recently began producing items from my favorite manga artists and monster figurines. I also team up with creators who release their work on the internet to produce associated items.
Since March, a number of events have been canceled one after the next due to COVID-19, including the manga and anime industry's main Comic Market (the world's largest exhibition and sales event for self-published publications).
So instead of waiting for such events to resume, we devised plans to increase the range of items we make. Our staff is good at keeping up with the latest online trends and suggesting many different ideas, so we can produce popular items quickly. UV printers are great because we can bring those ideas to life straight away.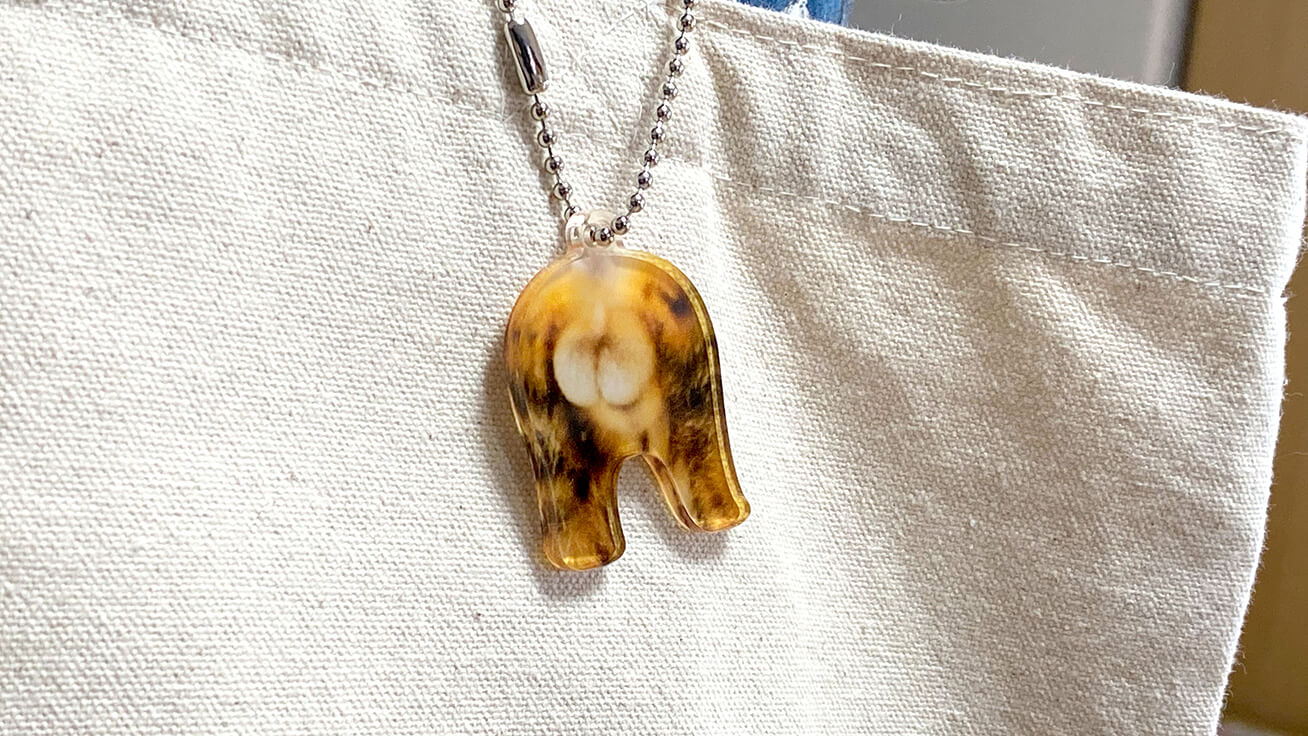 The new service from NEST GRAPHICS is key chains with photos of Cats' Behinds, a unique idea that will get people talking.
Our company name NEST GRAPHICS comes from a bird's "nest." And just like a bird's "nest," I want to continue efforts creating a place where our staff and customers come together, work together and have a lot of fun.
Thanks for the virtual meetup!
During the interview, we could clearly sense how Kawakita wants his customers to be completely satisfied with the services he provides. We can't wait to see more new items being made!