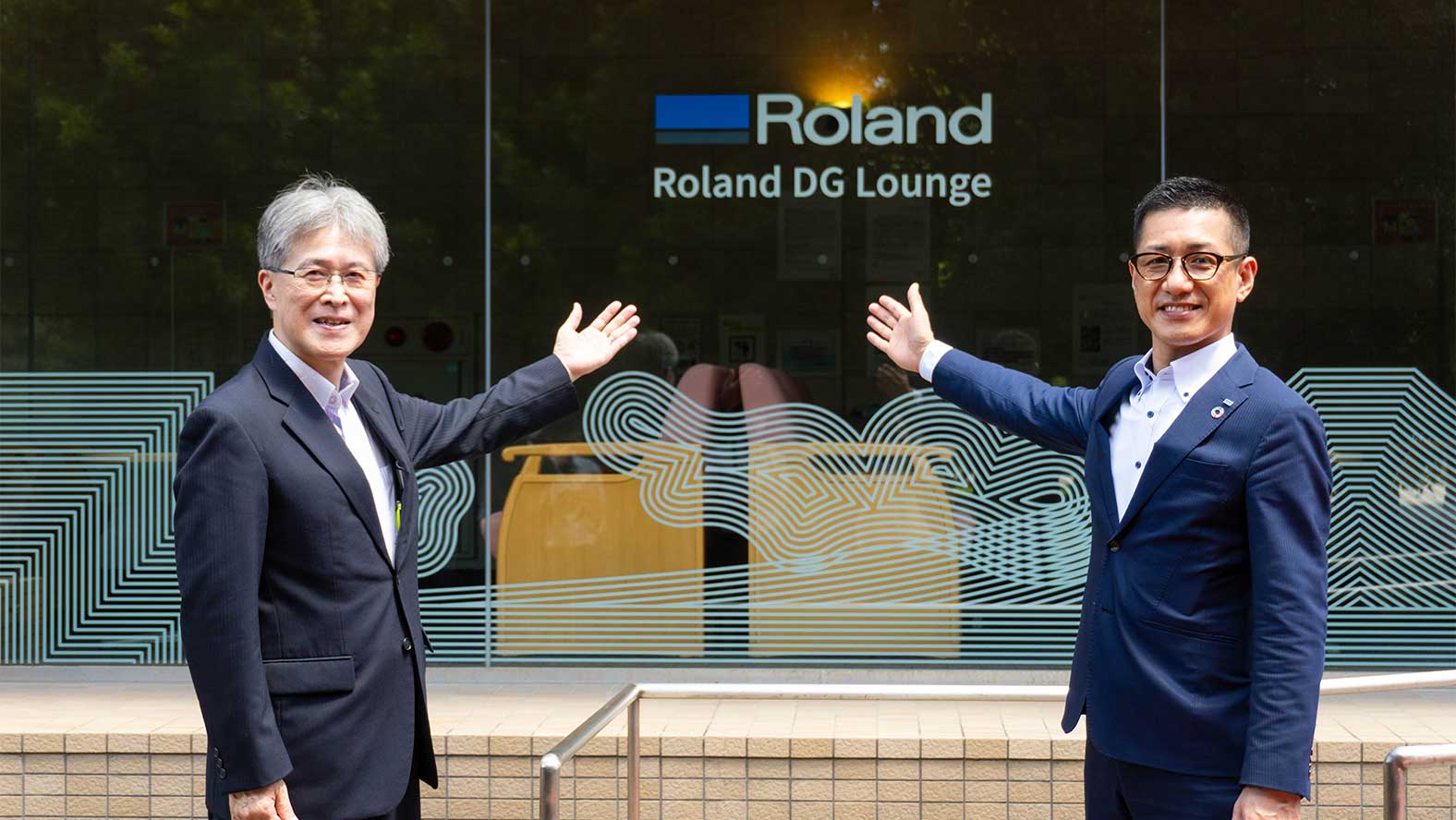 Shizuoka University Opens New Roland DG Lounge at Hamamatsu Campus
08/25/2022 Corporate Activities, Digital Printing
The refreshment space at the Faculty of Informatics at the Hamamatsu Campus of Shizuoka University has been officially named the "Roland DG Lounge," a venue where students can catch up with others, work on their skills and explore their creativity.
Photo: Shizuoka University President Kazuyuki Hizume (left) and Roland DG President Tanabe (right) appeared at the opening ceremony.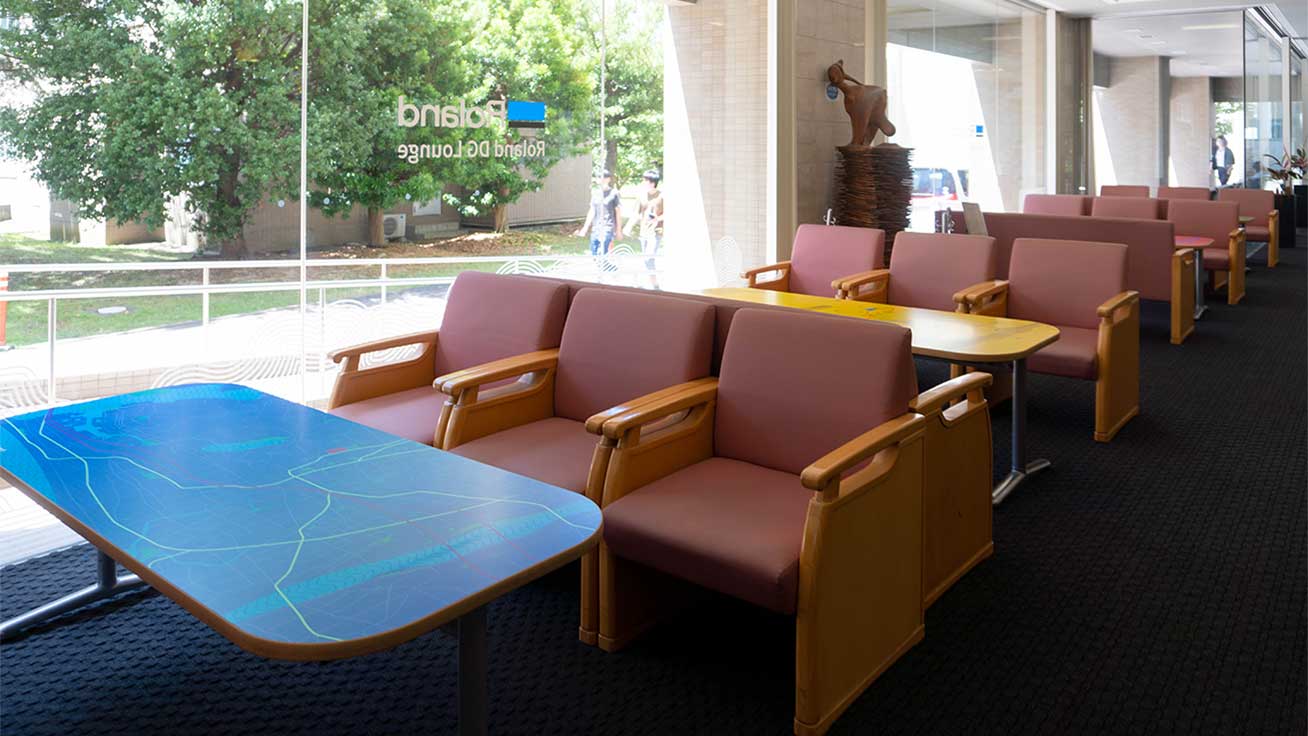 Relaxing space decorated by inkjet printers
Roland DG recently concluded the naming rights agreement with the National University Corporation Shizuoka University for the refreshment room on the ground floor of the Faculty of Informatics Building 2, which is now named the "Roland DG Lounge." Japanese national universities have recently begun increasing naming rights agreements in order to increase revenues and improve the research environment.
One of Shizuoka University's campuses is in Hamamatsu City where Roland DG's head office is located; numerous graduates from the university now work at Roland DG. Following the acquisition of the naming rights, window graphics and table wraps were printed with Roland DG's inkjet printers and have been set up around the lounge to allow informatics students to discover more about the capabilities of Roland DG and its inkjet printer technology. Companies using the TrueVIS VG2-540 wide-format inkjet printer/cutter and VersaUV LEC2-640 wide-format UV printer/cutter assisted with the printing.
It is hoped that the Roland DG Lounge becomes a venue where students can enhance their learning or come up with fresh new ideas. We also envisage that the Roland DG Lounge will be used as a place for students to mix-and-mingle with others and discover a broad range of information.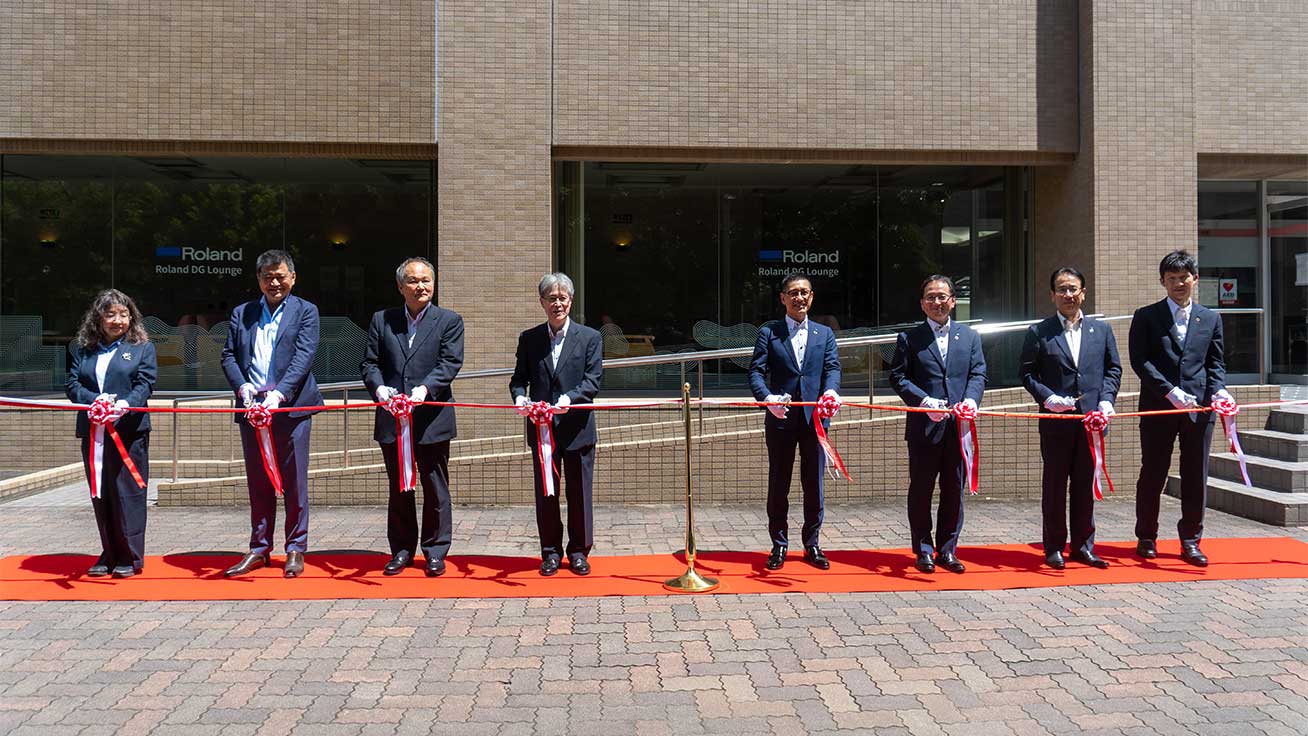 An opening ceremony was held on July 29, 2022. Taking part in the ribbon cutting were (from left to right) Shizuoka University, Faculty of Informatics Dean Megumi Sasahara; Trustee/Vice-President Shin Katada; Trustee/Vice-President Yoshimasa Kawata; President Kazuyuki Hizume; Roland DG President Tanabe; Director Uwai, Managing Executive Officer, Division President of Corporate Division Ogawa; and General Manager of Human Resources Department, Corporate Division Mineyama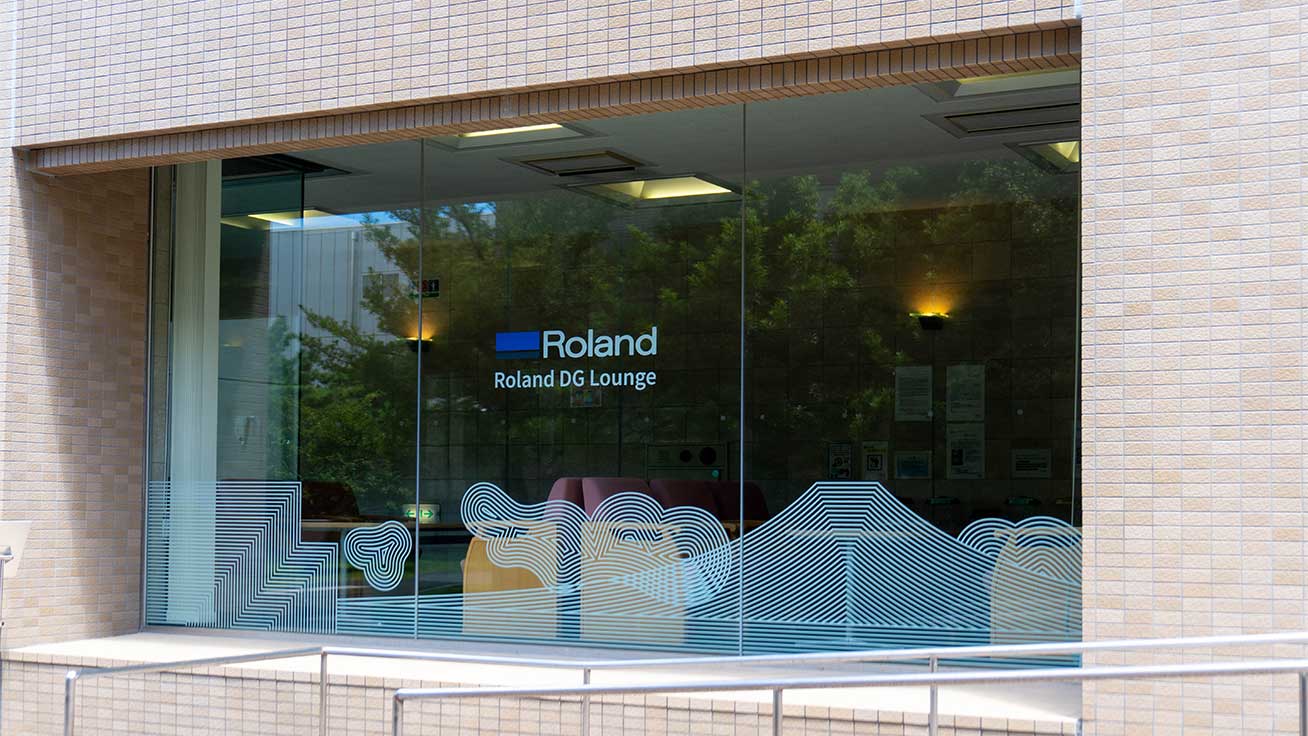 Window graphics featuring a Mt. Fuji theme were printed in white ink with an LEC2-640. (Printed by MADOCA INC.)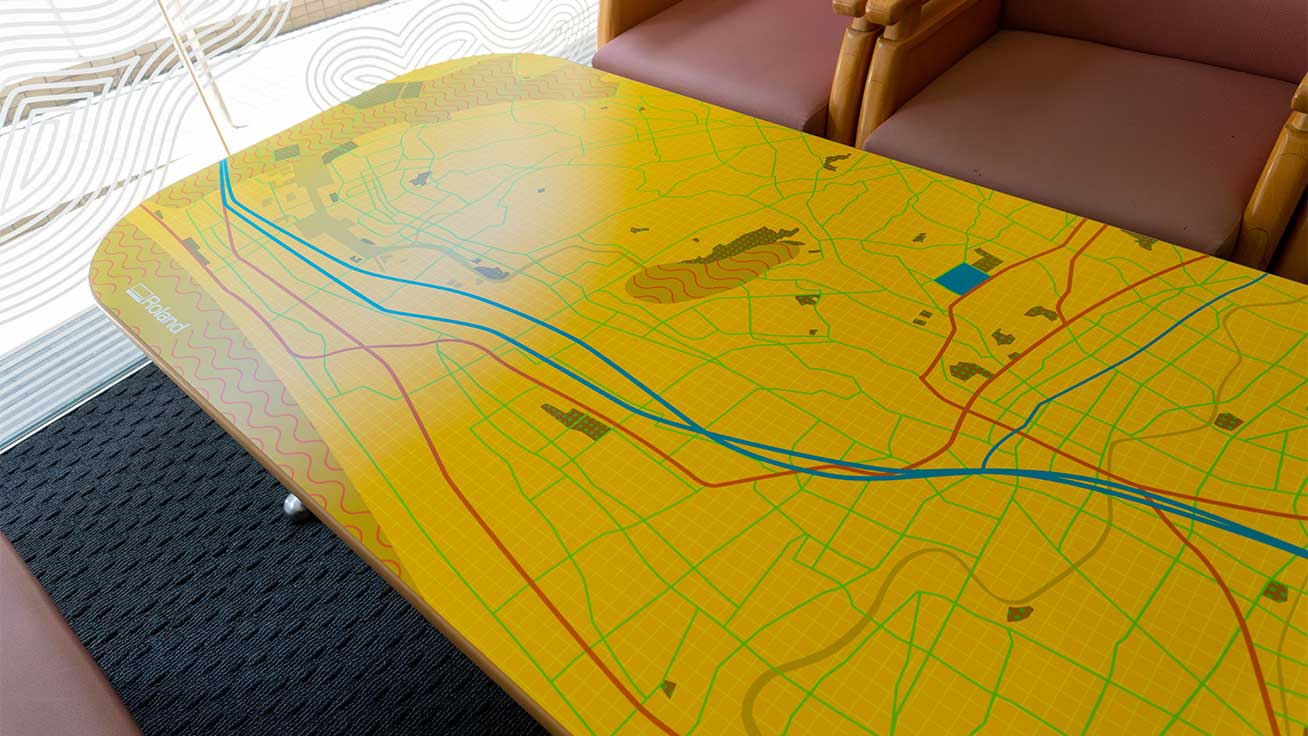 Table wraps feature a map of the area around the campus printed in brilliant colors using a VG2-540. (Printed by Fukuda Signboard Corporation)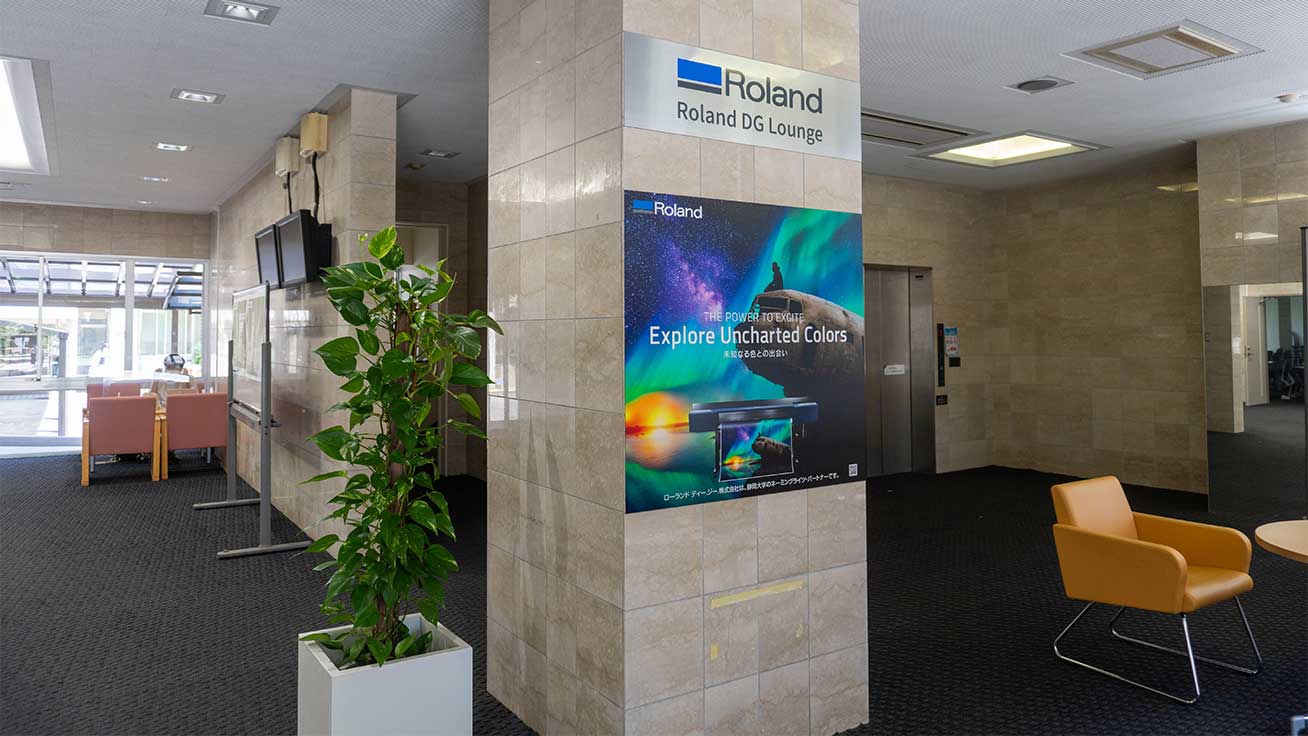 Signboards showcase Roland DG products and technology. (Printed by Fukuda Signboard Corporation)