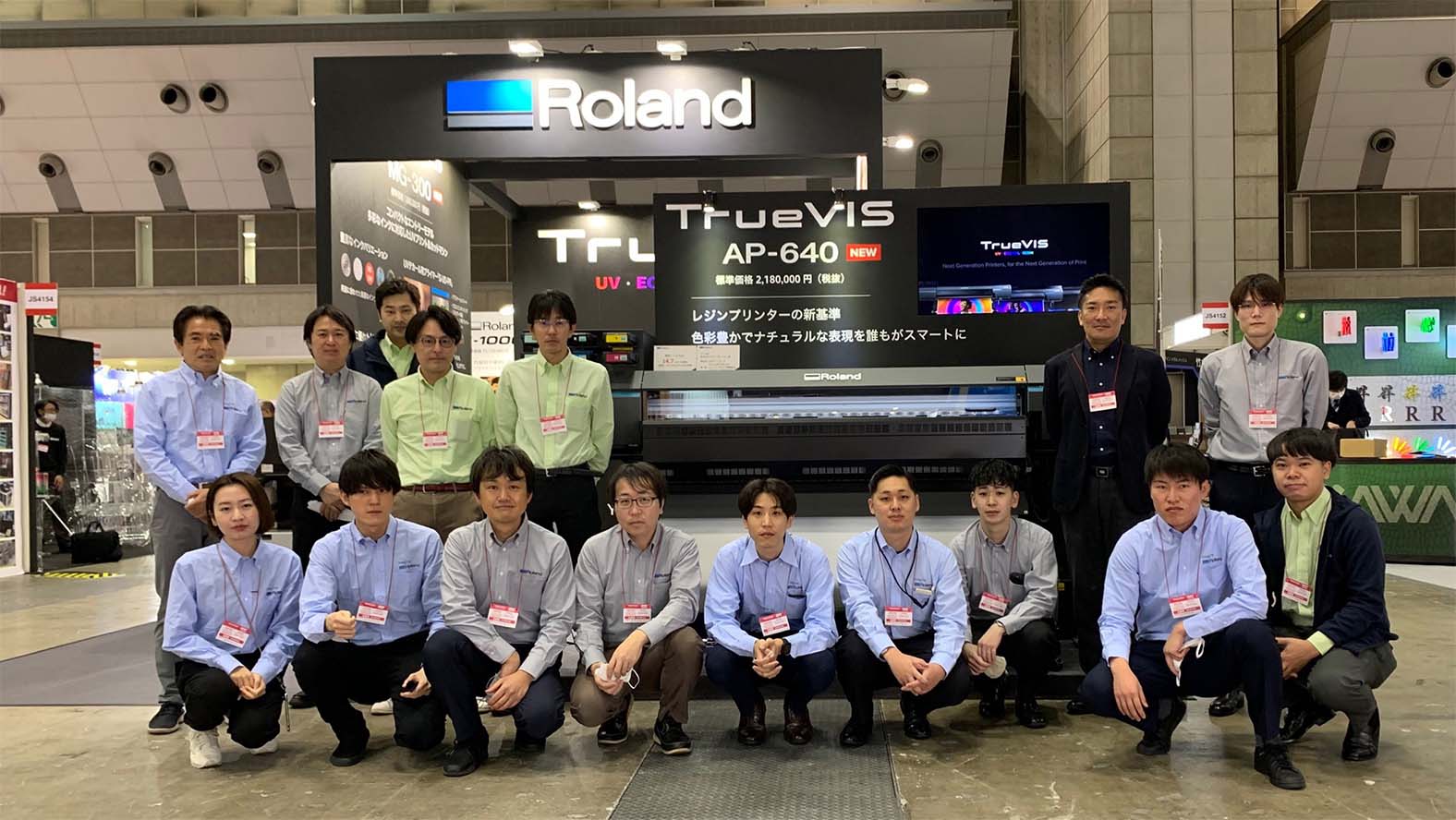 Expanded TrueVIS Series Printer Lineup Introduced at JAPAN SHOP 2023
03/06/2023 Digital Printing, Events & Tradeshows
Roland DG showcased the latest models of the TrueVIS inkjet series, which were launched on January 26, at JAPAN SHOP 2023, the 52nd International Exhibition for Shop Systems and Fixturing, held at Tokyo Big Sight from February 28 to March 3, 2023. Roland DG unveiled resin, UV, and eco-solvent inkjet printers. Members of the Japan sales department as well as those involved in product development participated daily as staff.
New AP-640 resin printer receives praise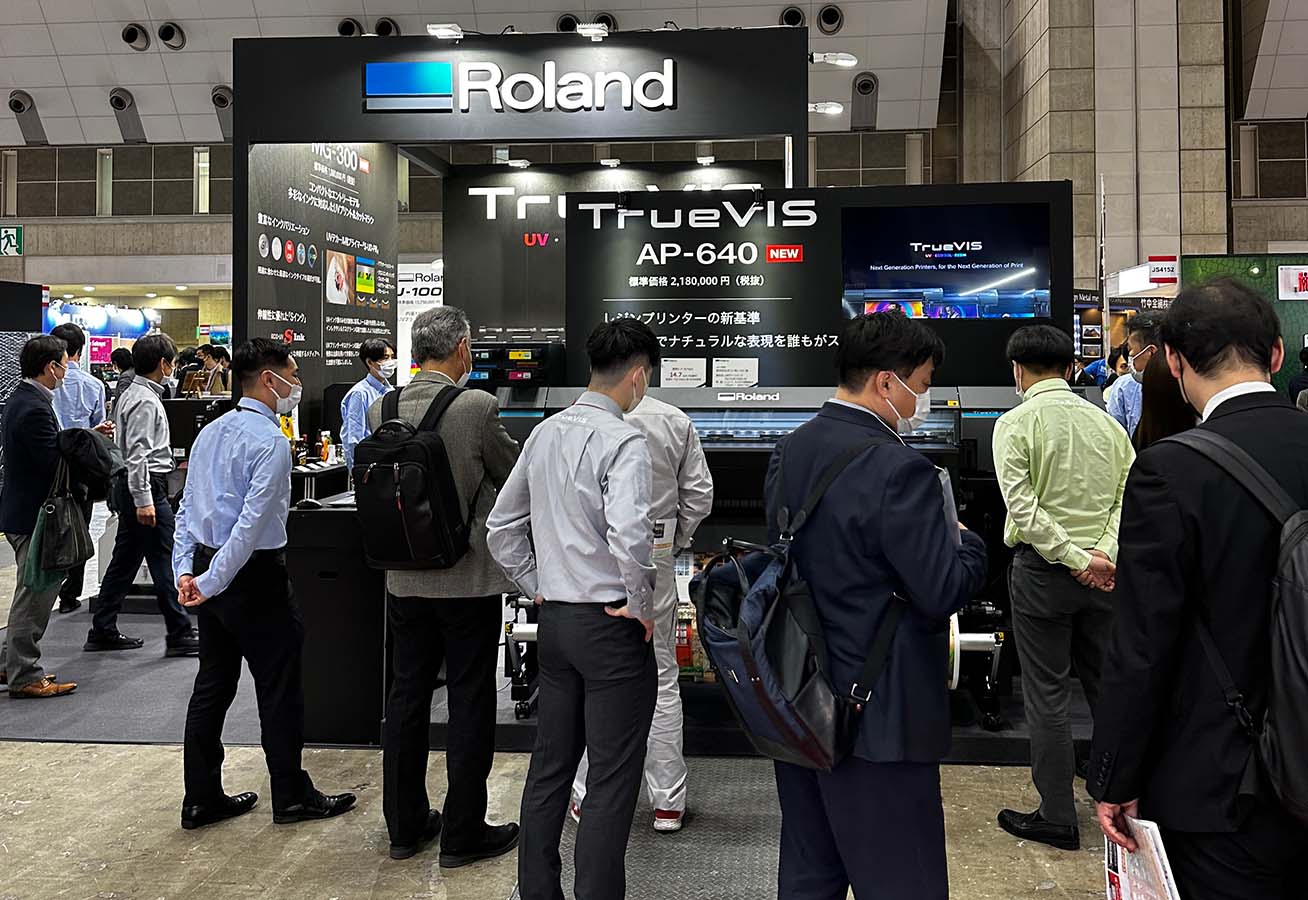 Visitors' interest in Roland DG's first resin printer was evidenced by the many times a crowd was gathered around it. Some visitors eagerly listened to the explanations given by sales representatives. Many were surprised by the color that did not seem like it was printed by a resin printer and by the speed of printing. Roland DG's AP-640 resin printer offers a unique balance of image quality, speed, and usability. Environmental concerns may lead to restrictions on the types of printers and media used for advertising materials at the future 2025 Osaka Expo, which is expected to drive up the demand for aqueous resin printers with weather resistance equivalent to eco-solvent printers. Some visitors commented that they are closely watching whether the sign industry in Japan will continue to be dominated by eco-solvent printers or whether resin/latex printers will become more popular.
LG-640 UV high-productivity printer/cutter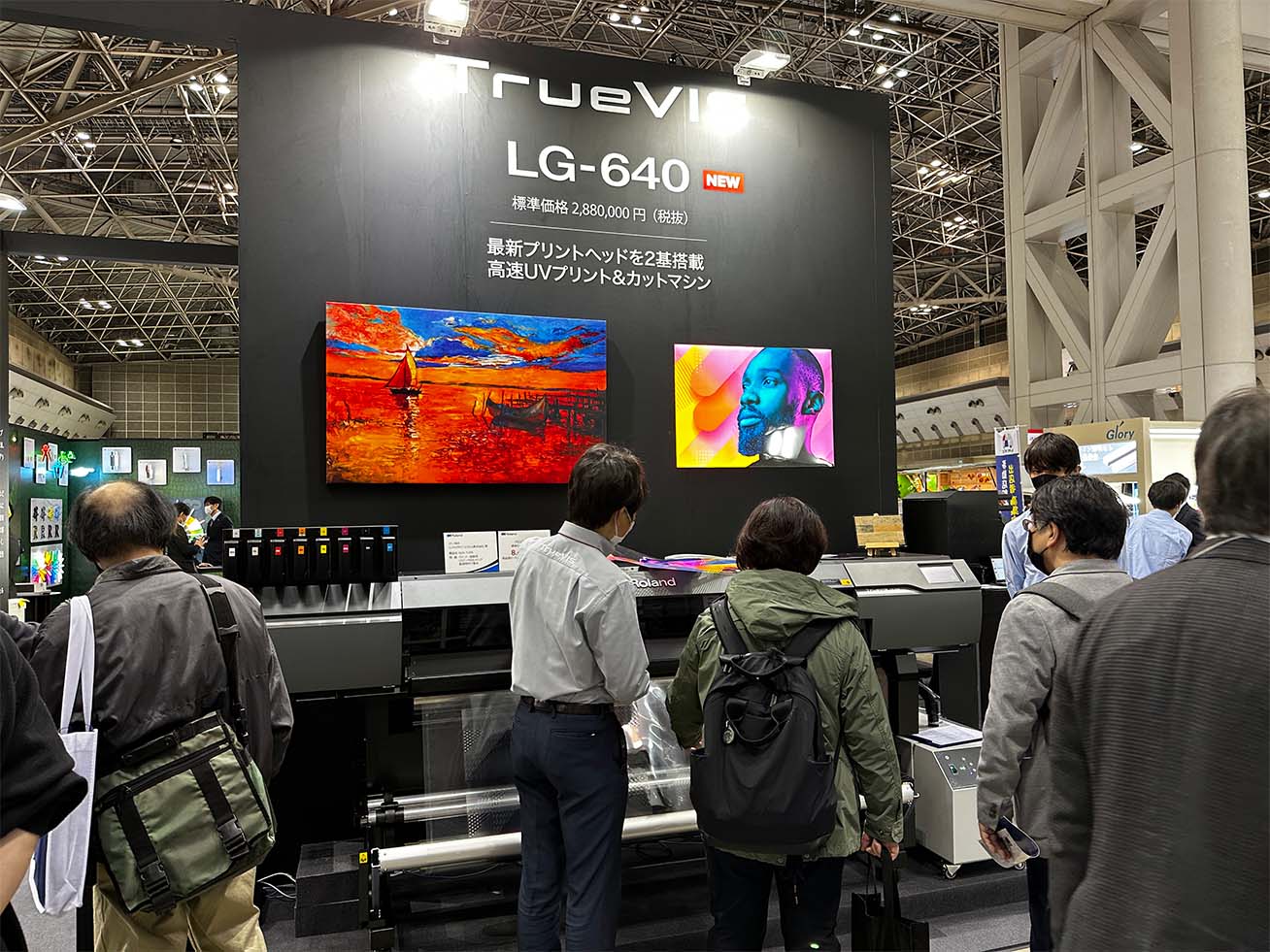 The LG-640 combines the extensive knowledge and technology accumulated by Roland DG to achieve the highest productivity among our UV printers. At this comprehensive store exhibition, not only advertising sign industry professionals but also those involved in the architecture and building material industries stopped by to observe printed samples that reproduced the unevenness of real wooden boards. Even those who were already printing on building materials with flatbed UV printers were surprised by the speed of printing. UV printers that can print on a wide range of materials are expected to continue expanding their range of applications.
The compact entry-level MG-300 UV printer/cutter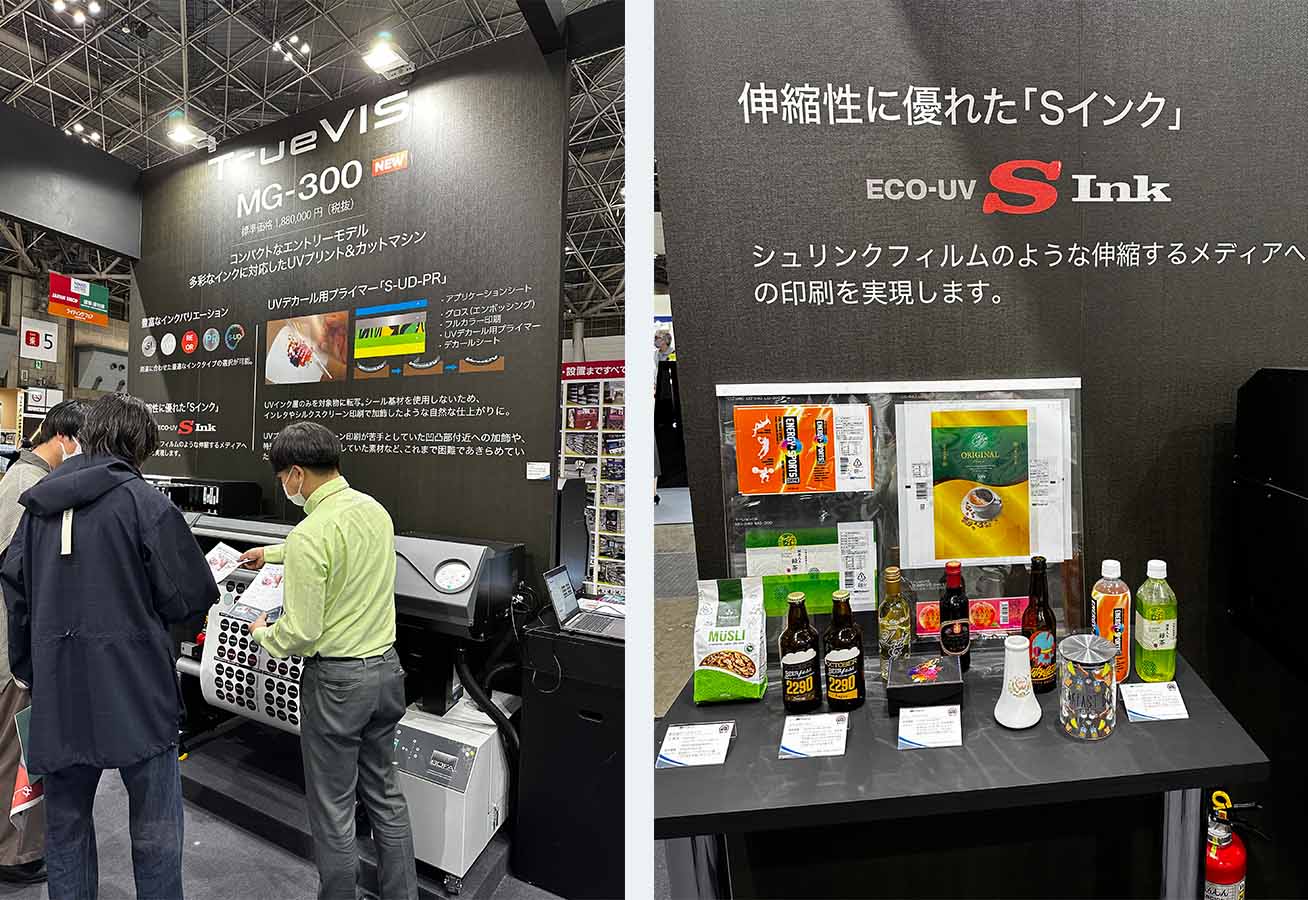 At the booth area featuring the entry-level MG-300 UV printer/cutter, there was a lot of attention focused on samples of the flexible ECO-UV S ink. More than 10 years have passed since the ink's release in 2011, but it is once again drawing attention for its ability to meet the increasingly diversified needs for decoration.
The eye-catching vibrant wallpaper exhibited in the booth for the VG3-640 eco-solvent printer launched last year drew attention (left), as did the booth area for the new BN-20D Direct-To-Film (DTF transfer) desktop inkjet printer launched on January 20, 2023 (right) which has the potential to greatly change the apparel business.
Thank you to all the visitors who kindly participated in the interviews at the venue. Roland DG has expanded its product lineup with the TrueVIS, VersaUV, and VersaSTUDIO series, offering a greater choice of products to meet the diverse needs of our customers. We hope to assist in empowering creativity and excitement worldwide by providing products tailored to our customers' needs.
We held full-lineup preview events at each sales office in Japan and the final event will be held on March 15 at Tokyo Creative Center.