Roland DG Team Awarded Excellence Prize at Hamamatsu Innovation Challenge 2022
03/20/2023 Corporate Activities, Events & Tradeshows
Following participation in last year's inaugural program, Roland DG employees joined the Hamamatsu Innovation Challenge 2022, a program organized by local Hamamatsu companies aimed at developing new business ideas, and won the Excellence Award.
Local enterprises unleash new business opportunities through the Hamamatsu Innovation Challenge
Local companies in Hamamatsu gathered for the second edition of the Hamamatsu Innovation Challenge, a multi-company program aimed at generating new business opportunities. Automotive clutch manufacturer F.C.C. Co. Ltd. organized the event, sponsored by Hamamatsu City, with support from consulting firm Alphadrive Co., Ltd.. Co-startup Space & Community FUSE provided the venue.
Six teams participated in the program: F.C.C., Yutaka Giken Co., Ltd., SUYAMA Group (SUYAMA CONSTRUCTION, FRAME-ARTS CORPORATION), SALA Corporation, and Roland DG.
Click here for further information on the previous year's program
The program was held for approximately four and a half months beginning in October 2022. Participating teams learned business development methodologies at workshops, and developed business ideas while interacting with other company teams and mentors. On March 10, 2023, the final pitch competition was held at Co-startup Space & Community FUSE. Each team presented their business ideas developed through the program in a 10-minute presentation in front of judges invited from the participating companies and Alphadrive, followed by judging and award presentations.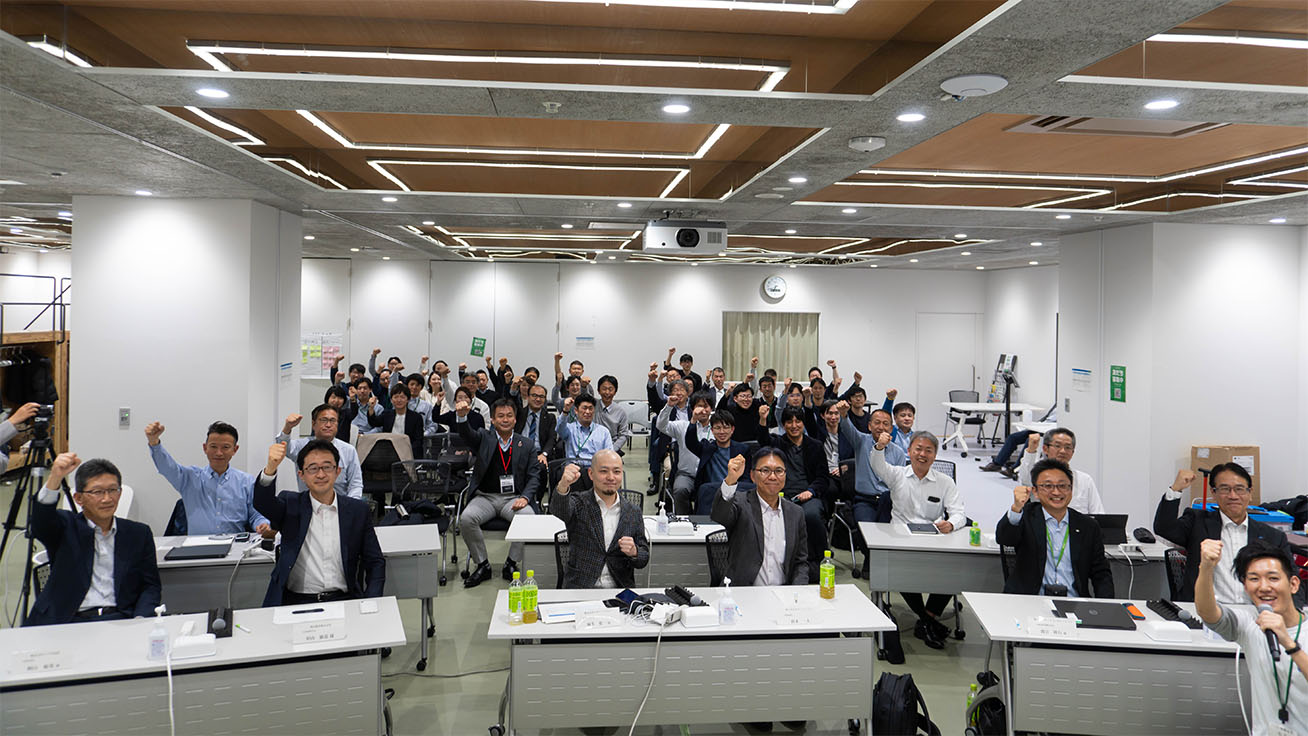 The pitch competition was wrapped up with the "Yaramaika" pose, reflecting the enterprising mindset of Hamamatsu.
The results of the pitch competition led to Team A from F.C.C. being awarded first place for their agricultural pest visualization service idea. Team B from F.C.C., which proposed a service to reduce fuel consumption for farmers, and Roland DG's team, which proposed a service to preserve keepsakes in a new form, were both awarded the Excellence Award. The participating teams will bring their business ideas back to their respective companies and work towards further development.
Enriching everyday life through cherished keepsakes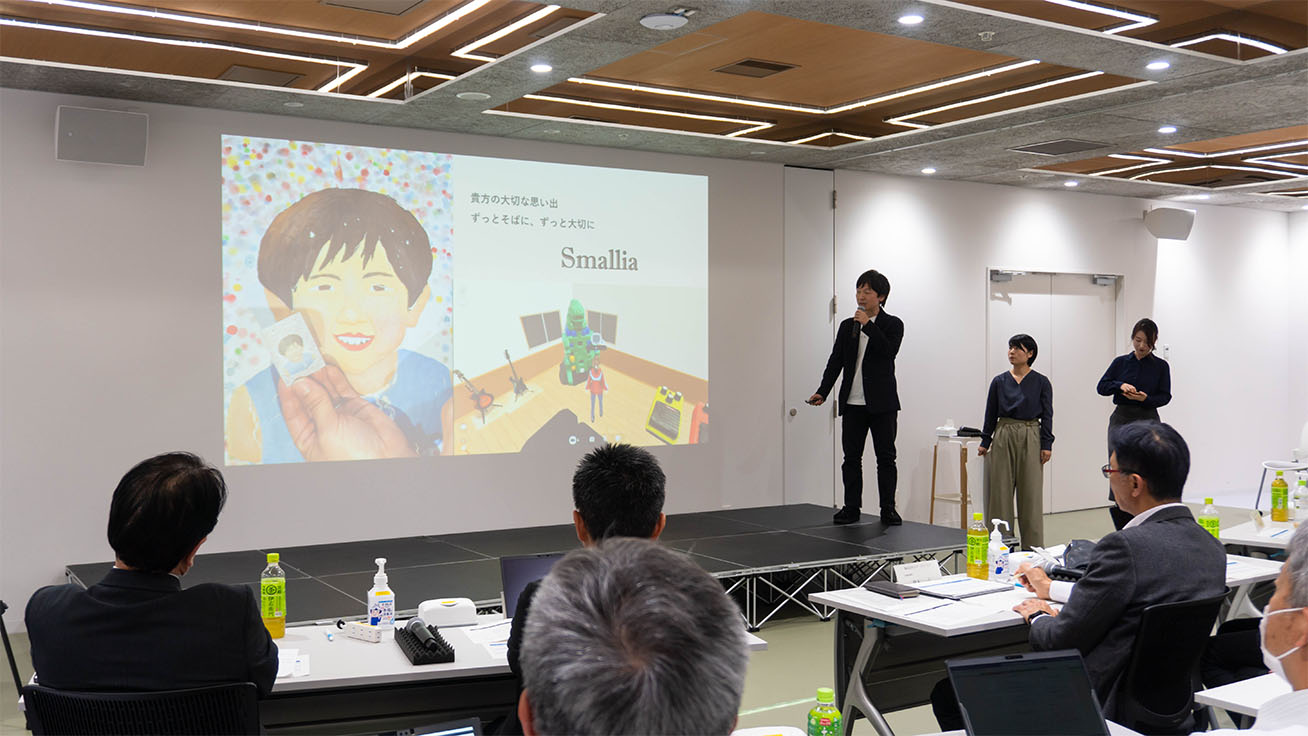 Presentation by the Roland DG team.
The team from Roland DG proposed the "Smallia" service, which aims to make important memories such as children's handicrafts more accessible. The service offers two methods: by 3D digitization through a smartphone app that saves files within the virtual space of the Metaverse, and by miniature 3D printing. The goal is to transform keepsakes into a more heartwarming and enriching world of everyday life. The presentation highlighted the service's appeal in line with Roland DG's purpose of "To Empower Creativity and Excitement Worldwide."
According to participants, this service was inspired by members who have young children and struggle to store their children's crafts. They conducted interviews with employees and local kindergartens to develop the service concept. They asked employees to contribute their keepsakes, such as artwork created by their children or art pieces made during their student days, and conducted prototyping, such as miniaturization.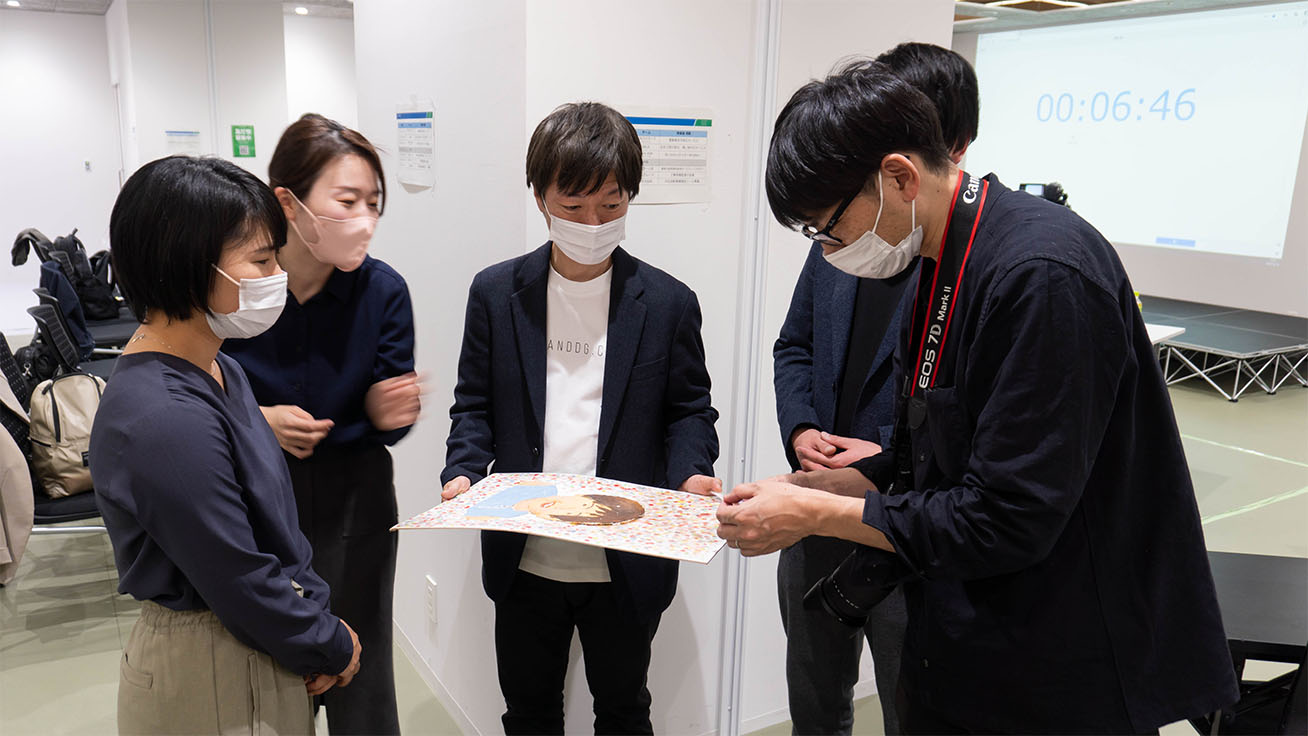 Real keepsakes and tiny replicas captured participants' attention.
The name "Team ASK" was taken from the initials of the three members' names. We asked the members about their overall impressions of the program.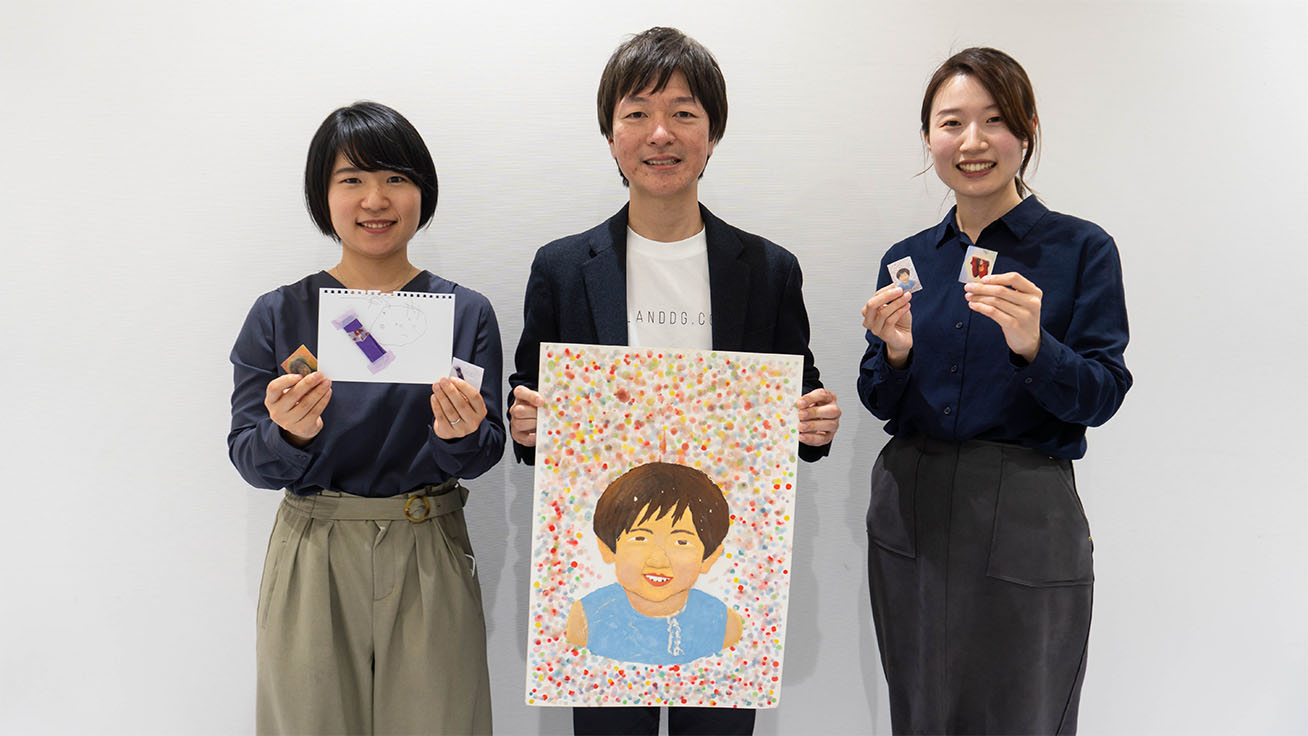 Ayaka Matsunaga (left)
In charge of ink development at the Product Development Department
"The team members utilized their respective strengths in the project. Furthermore, we had the opportunity to communicate with customers who are not usually encountered in regular development tasks, leading to a valuable experience."
Sho Matsumoto (center)
In charge of hardware development in the Product Development Department
"We were able to learn practical techniques for conducting customer interviews. I hope to apply these to our future development work."
Kasumi Nagashima (right)
In charge of marketing at DGSHAPE Corporation, Roland DG's subsidiary for designing and marketing products for the dental industry and 3D fabrication industry
"The support of team members made it possible to complete the project. I plan to utilize the skills of summarizing and communicating concepts in my work tasks."
Comment from Team ASK
"Thank you very much to everyone who supported our activities! We kindly ask for your ongoing support in the future."
Thank you very much. We look forward to your future activities with excitement.