Social Contribution Through Business
Supporting Traceability Management and Maintenance Work of Medical Instruments
In recent years there have been increasing efforts throughout the medical field to revise conventional management and maintenance methods for medical instruments in order to prevent the spread of infections in hospitals and to ensure the safety of patients. To achieve this, regulatory authorities around the world are stepping up initiatives for more comprehensive management of instruments used at medical institutions.
In response to these moves, Roland DG in 2012 launched direct part marking devices for imprinting two-dimensional barcodes on medical instruments to allow traceability management, and has been promoting the devices mainly to manufacturers of medical instruments and medical institutions in Japan and around the world.
The "Digital YATAI* (digital cell production system)" used by Roland DG at production sites is also being applied to enhance the efficiency of specialized operations including disassembly, cleaning, set assembly, and sterilization of medical instruments and equipment after surgery, as part of joint research efforts with the Hamamatsu University Hospital of Hamamatsu University School of Medicine to develop optimal solutions.
Traceability management of medical instruments involves managing the inventory and location of instruments to achieve a better understanding of usage conditions as a way of preventing the spread of infections in hospitals and ensuring the safety of patients. Maintenance support systems using digital manuals aim to transform the implicit operating knowledge of experienced staff to explicit knowledge and bolster that with information technology, to eliminate operations only available to certain individuals and help resolve labor shortages.
This overall system has already started being used at private hospitals in Hamamatsu City, and its usefulness will be enhanced further through cooperation and collaboration with hospitals, with the view of expanding business to hospitals around the world.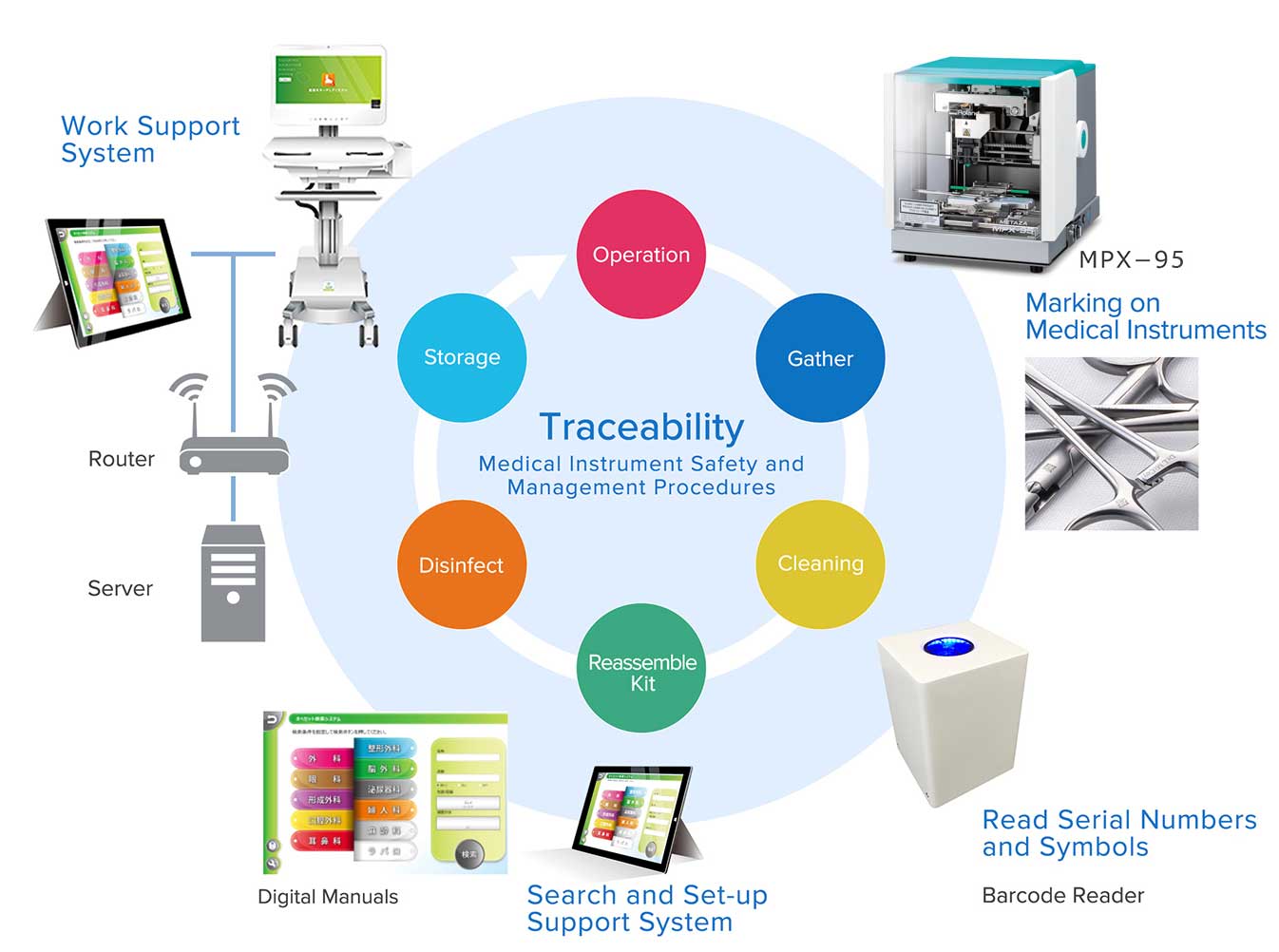 * Digital YATAI: Roland DG products are assembled with a digital cell production system originally developed by Roland DG. Operators follow the 3D graphical manual displayed on their PC screen and take out components required for each process from a parts bin. They then use the electric screwdriver instructed in the graphical manual to assemble the product. This concept not only prevents incorrect parts or screwdrivers from being used, but also allows quality inspections to be conducted for each process, which ensures that quality is maintained through each step of assembly. The system harnesses digital technology to support the operator's memory and attentiveness, and one characteristic is that the system is capable of achieving both a high level of quality and productivity. Log data of operations performed at each cell is stored on a server to give site supervisors better insight into work progress, and data analysis can be used to make improvements. Another major feature is that the system allows optimum control of production, not only of individual cells but across the entire production plant.
CSR Activities Contents